US FALL RIDE
ARRIVING TEXAS
Got a plan for a biz trip to US. Well, it's quite a long way from Vietnam, and of course not easy to make a trip like that.
Therefore I took a week of during my time there, engaged with some of my forum inmates (TWT and VFRD), planned for some days ride out.
My first trip destination is Houston TX. I had a weekend free and that's for a ride to Austin, experienced ThreeSisters.
Second destination is Smoky Mountain. Some of my great friends arranged for me an awesome trip from Atlanta GA, to Smoky Mountain, passing North and South Carolina and Tennessee.
Those were all great days with very nice riding buddies and wonderful fall scenery.
A lot of communication flying back and forth to help me arrange for the trip. Day by day waiting for the time to come….
Finally, the trip really happens…
Got into the plane, try to sleep to cut short the waiting time – but I could not. Awake all the time for watching movies: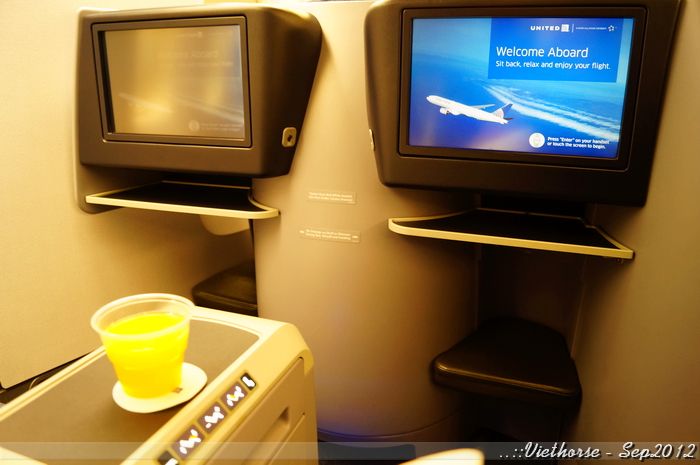 It's not easy to fly directly from Vietnam to US, unless I have my own airplane 

Transit at Narita Airport, Tokyo Japan – I have tried to drink lots of beer, try to have something which could knock me down and get me to sleep: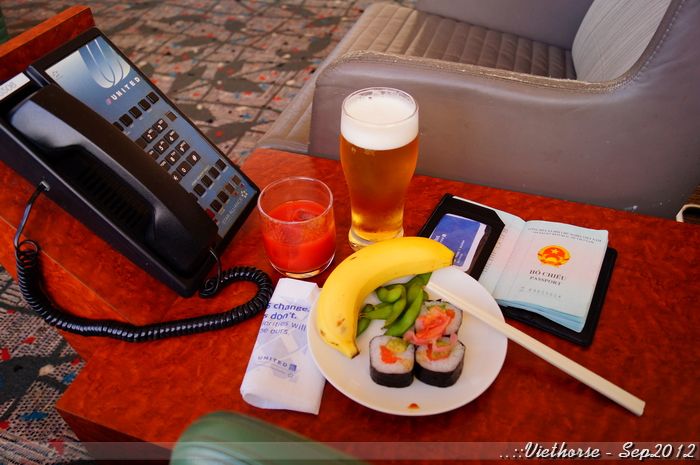 (Noticed that the Air Lounges in Vietnam and Japan are much better than in US).
Landed Houston airport, got this Avante from Avis: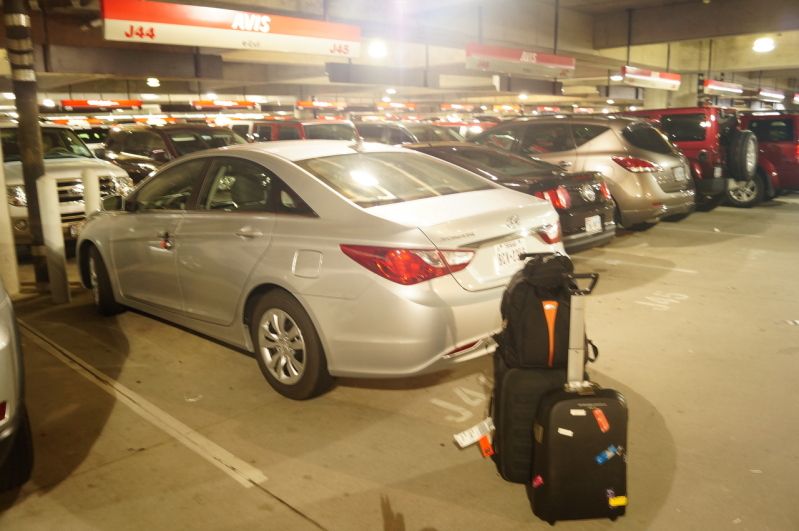 During biz time in Houston, visited a friend of mine there. Looked at his collection then think of the near future ride: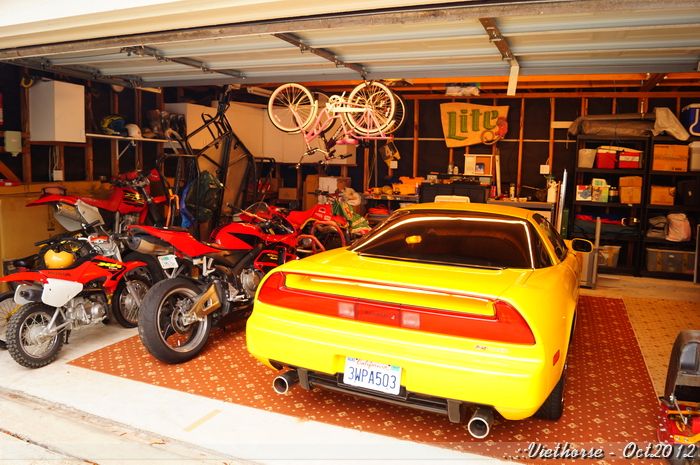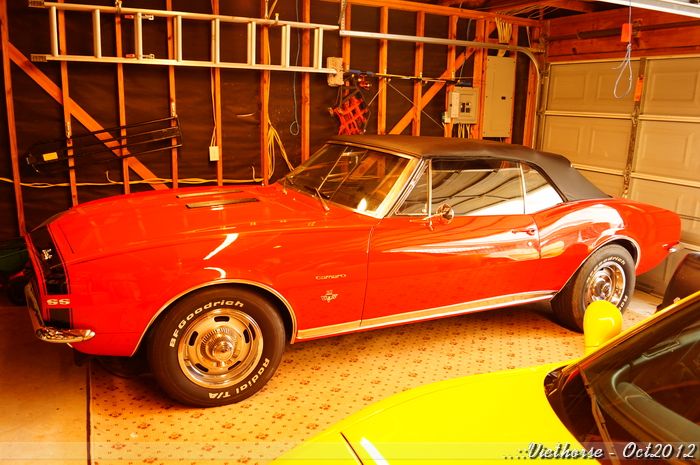 His Acura NSX is one of the 6 NSX in the world was produced in this color and some more options:

Could not stand beside his CBR600, tried it without proper riding gears: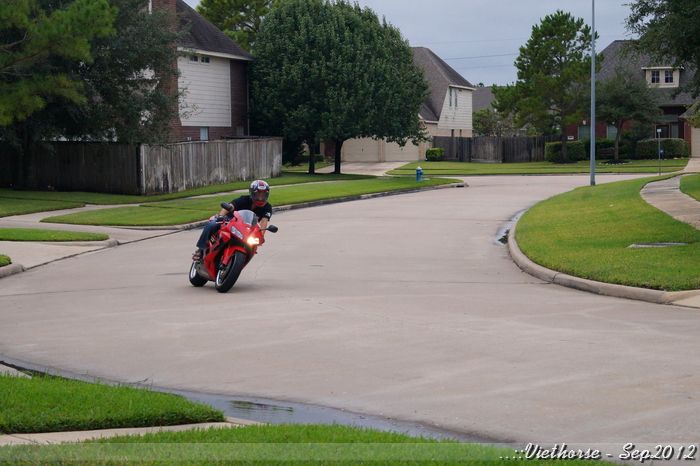 And tried out craw fish: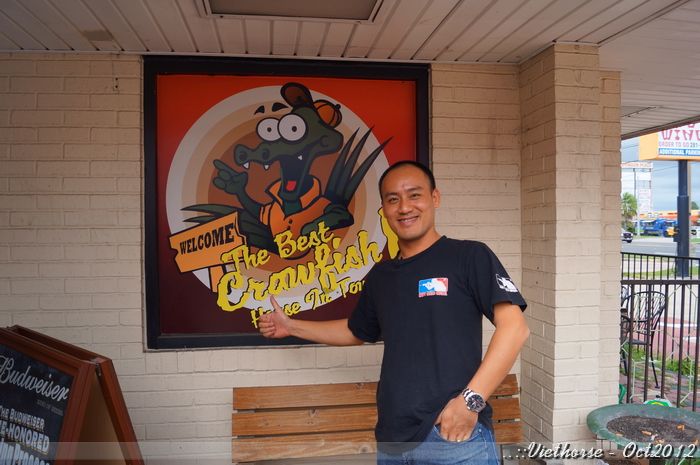 The restaurant is owned by a Vietnamese in Houston. Crawfish was not so big but that's really nice stuff: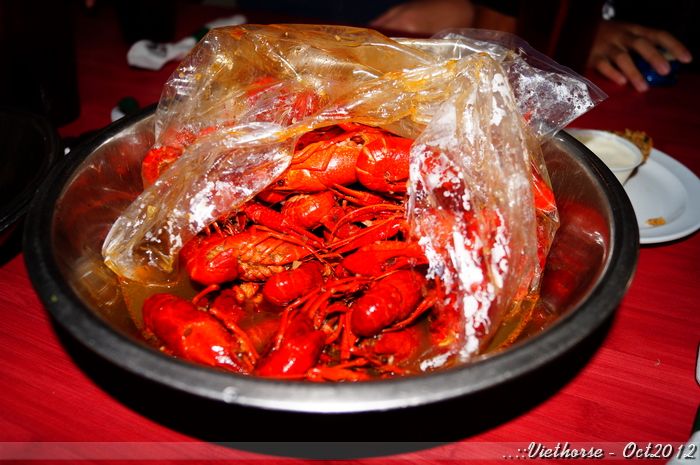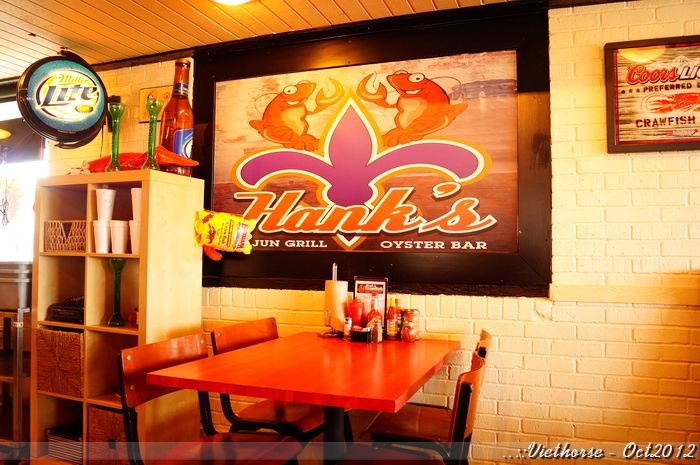 TEXAS RIDE
Before flying in, I have contacted and arranged with some other friends in TX for a ride there.
I borrowed the helmet and jacket from my friend in Houston, and all are ready for a ride: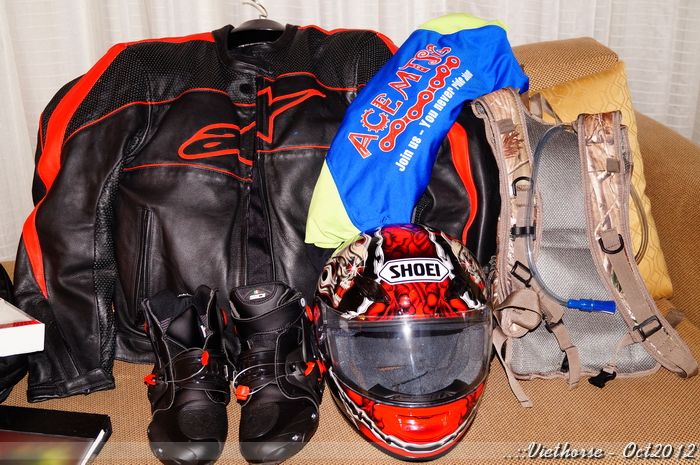 Thursday afternoon, got this bike: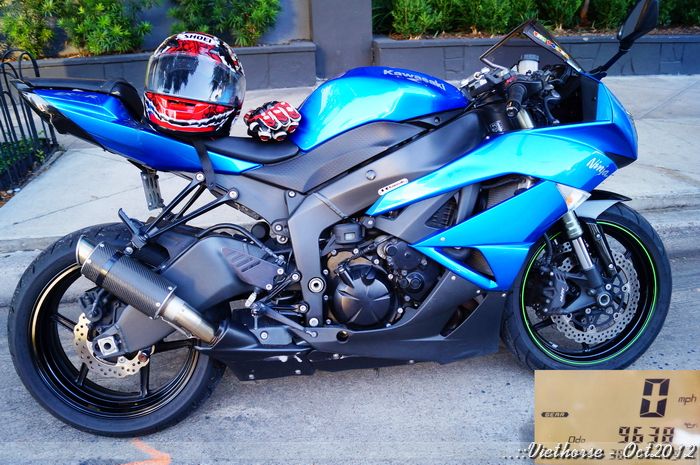 A ZX6R 2009, quite new and all stock, except the muffler – really loud.
Friday early morning, rode around 20miles to the meeting point with a friend – Camilo, stopped at a McDonal: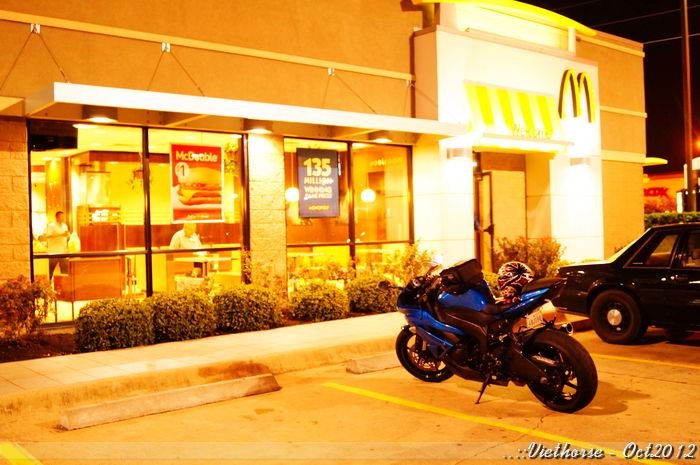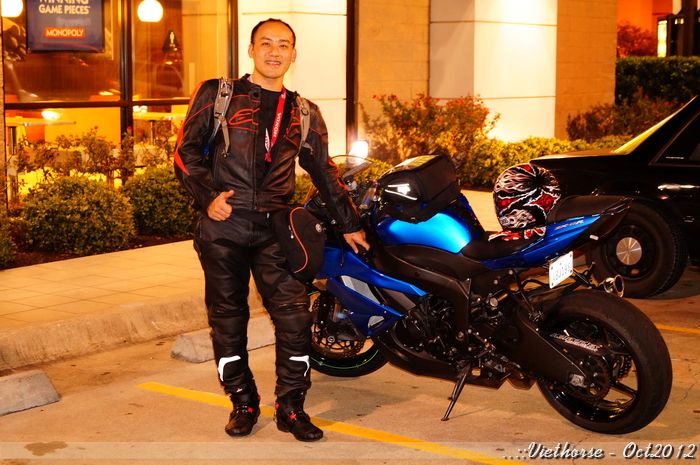 He came on a pretty new BMW K1600: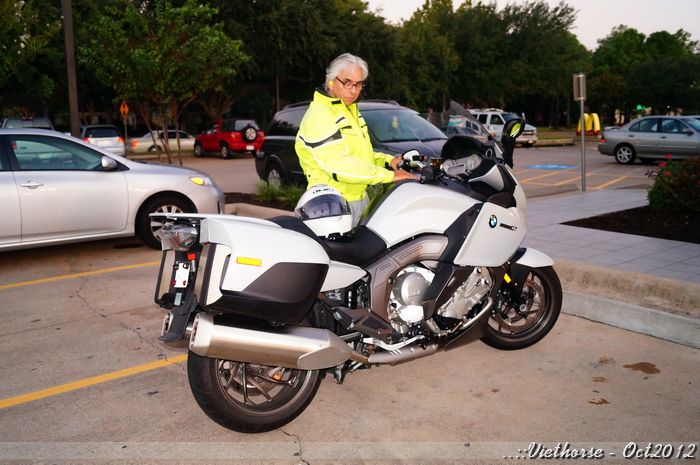 We were ready: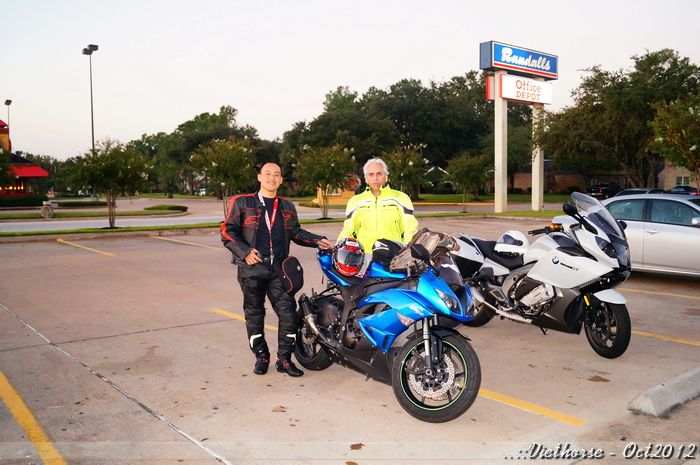 Met up with an other friend after around an hour ride – It's a GS1200 rider – Tourmeister:

The ride in Texas started with the large, long and straight roads: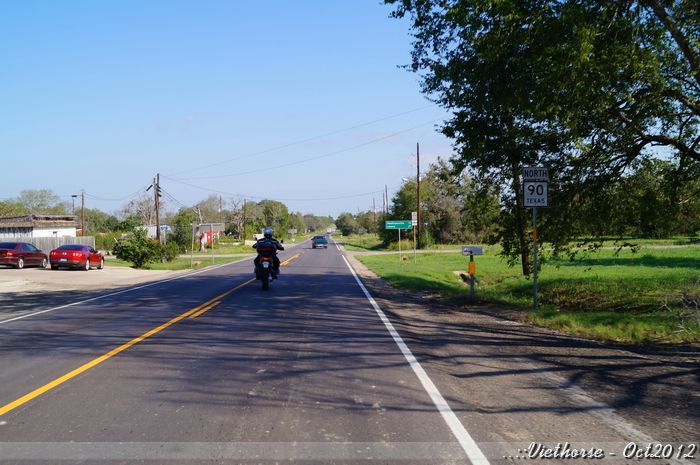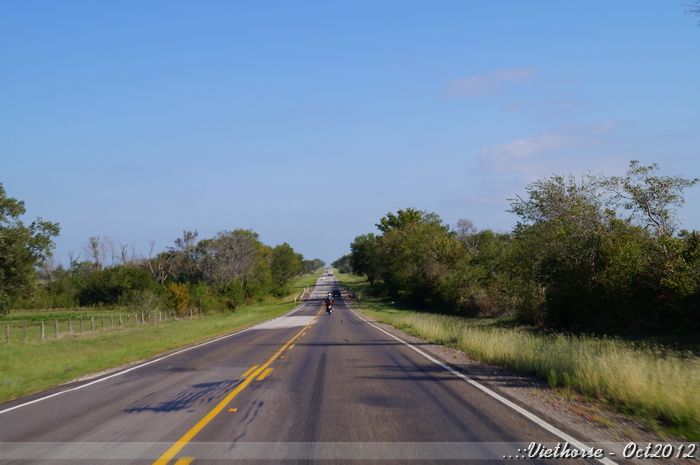 Most of the roads which we rode thru are going between the country side, between the grass field and country villages: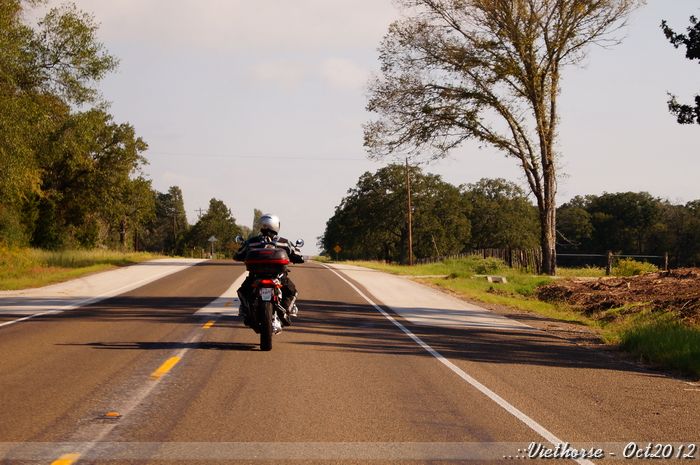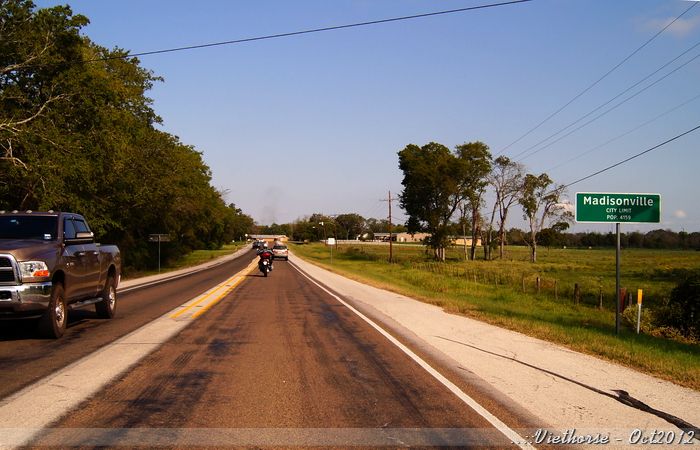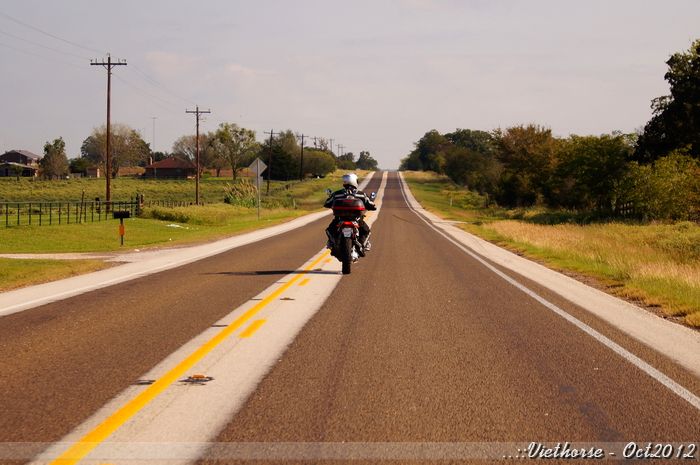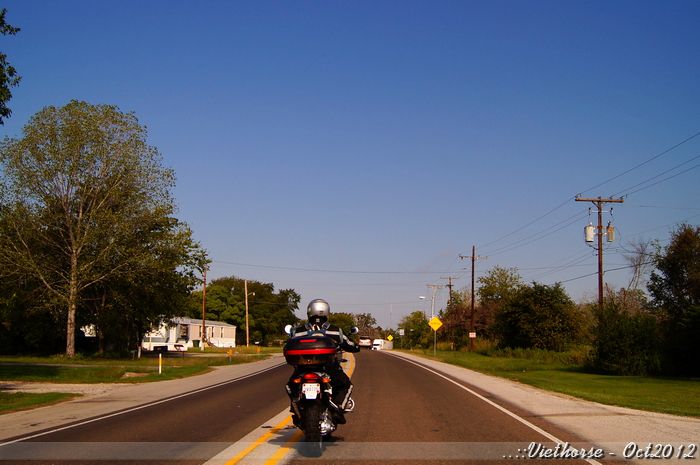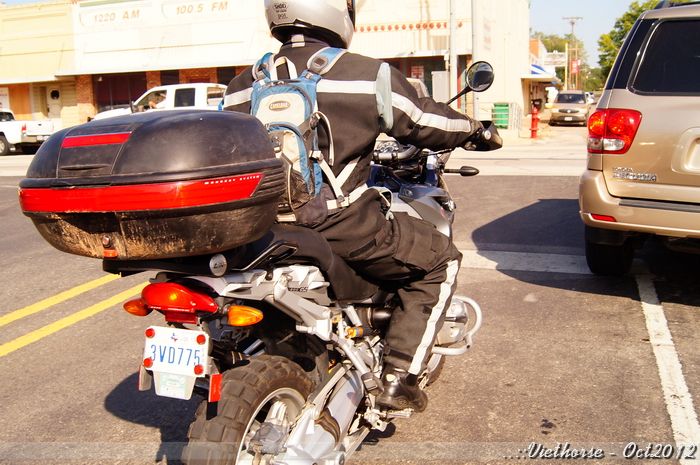 Some more pic for the first day ride in TX: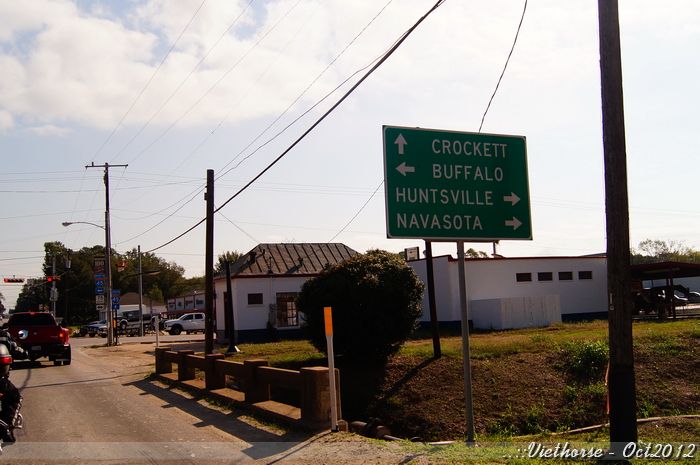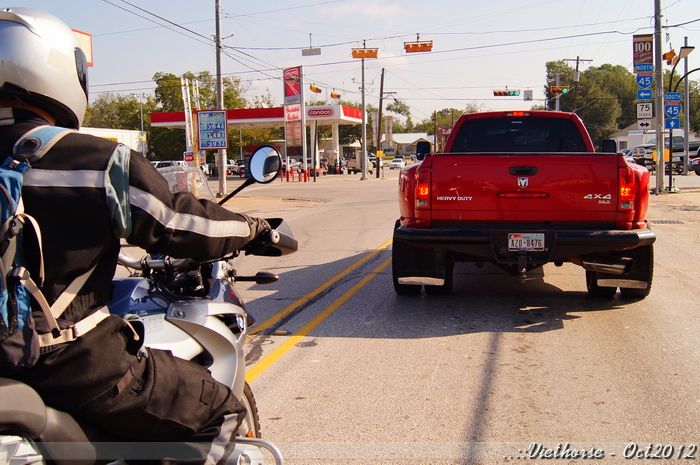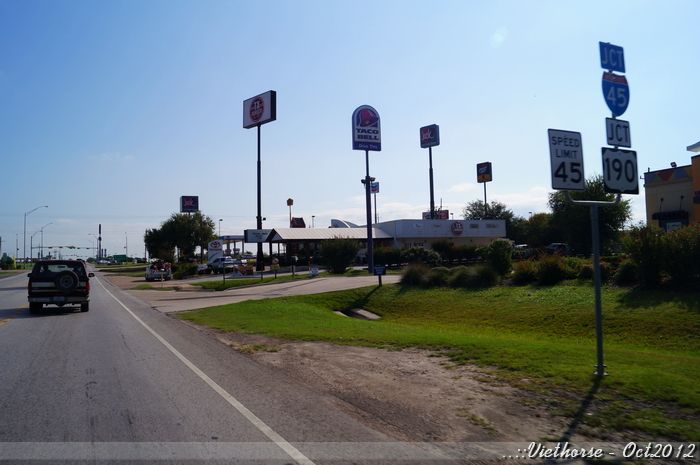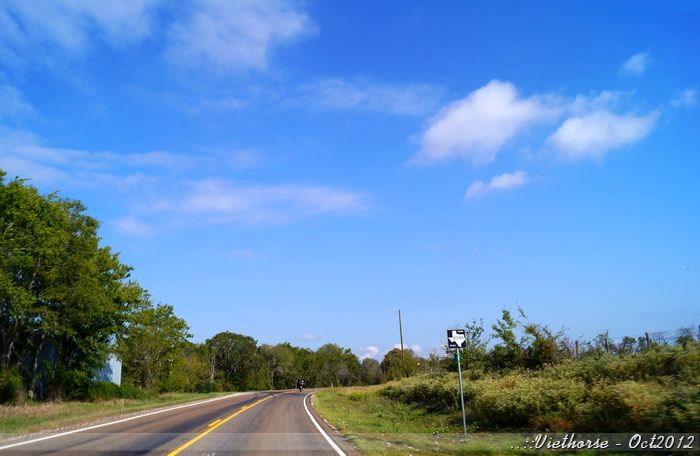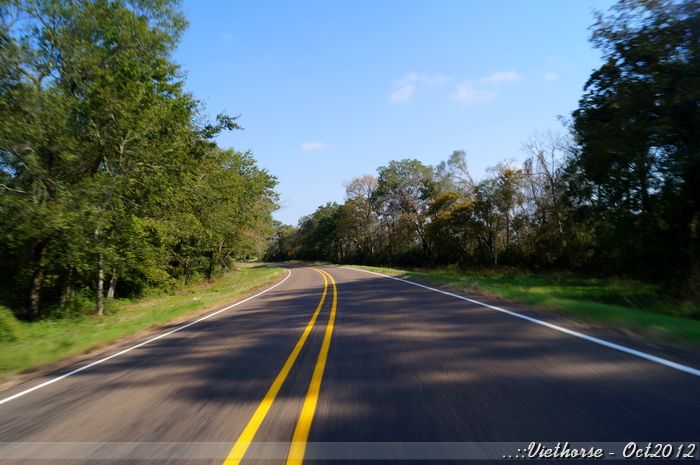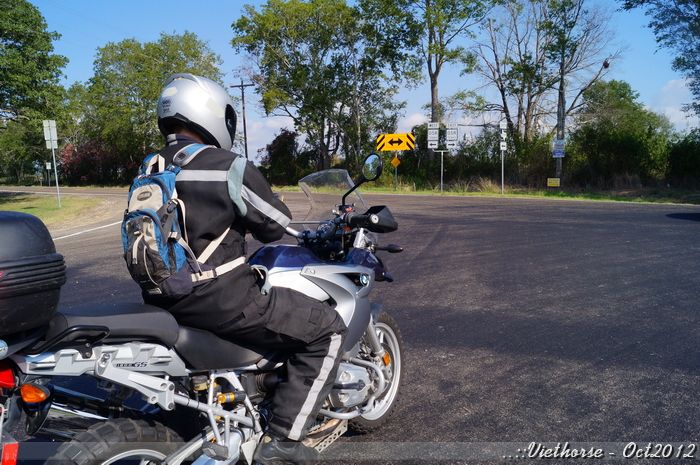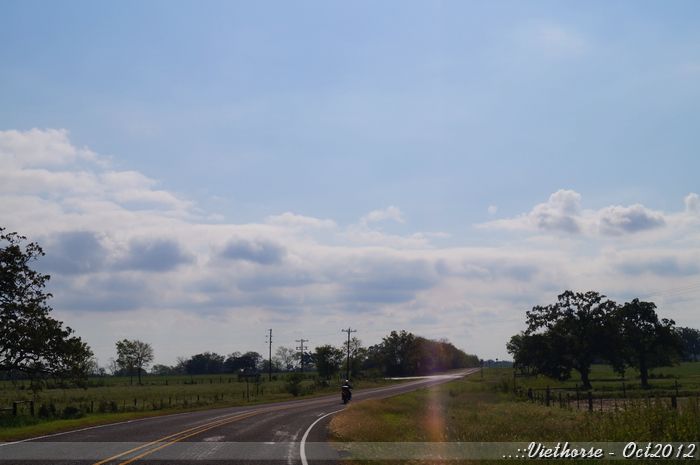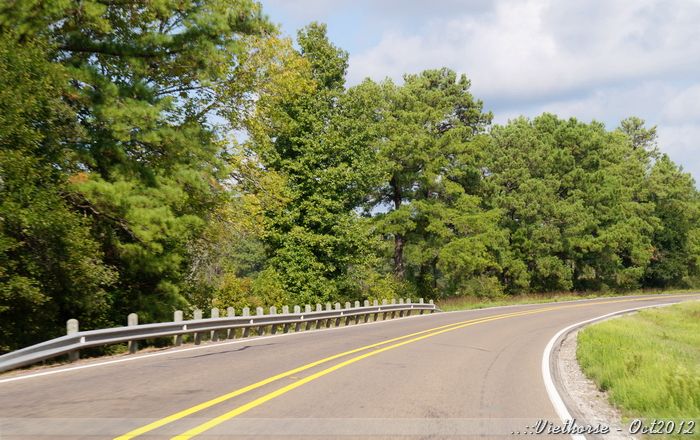 It was really nice day for a ride: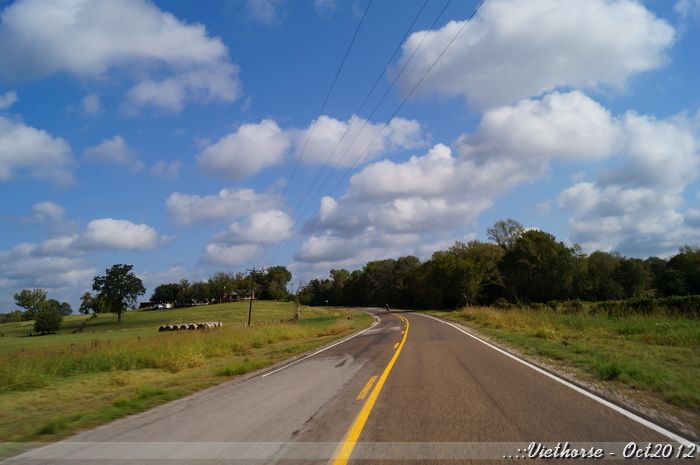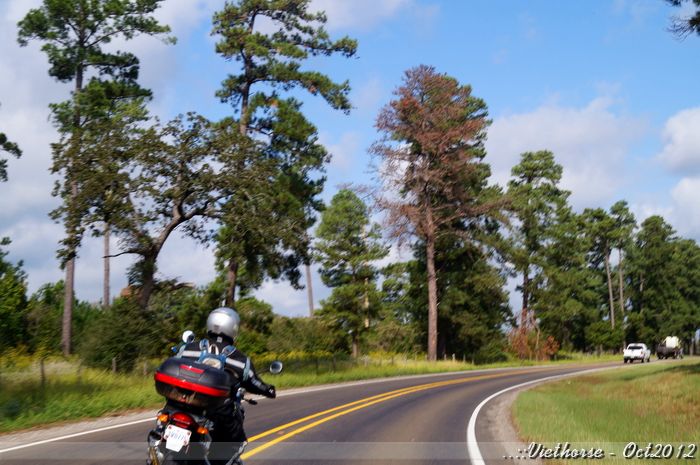 Stopped for a short rest: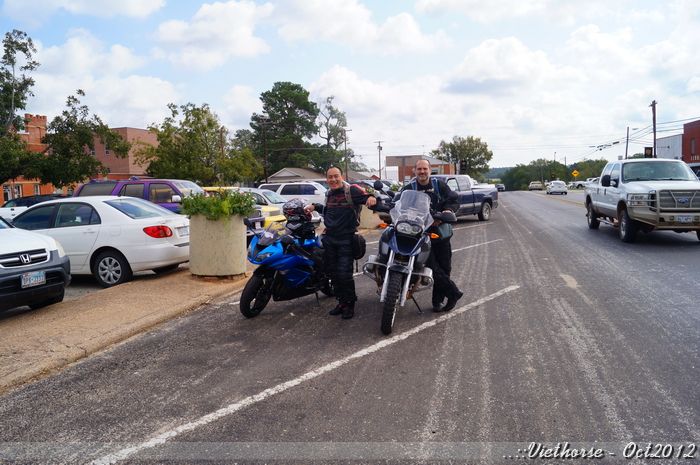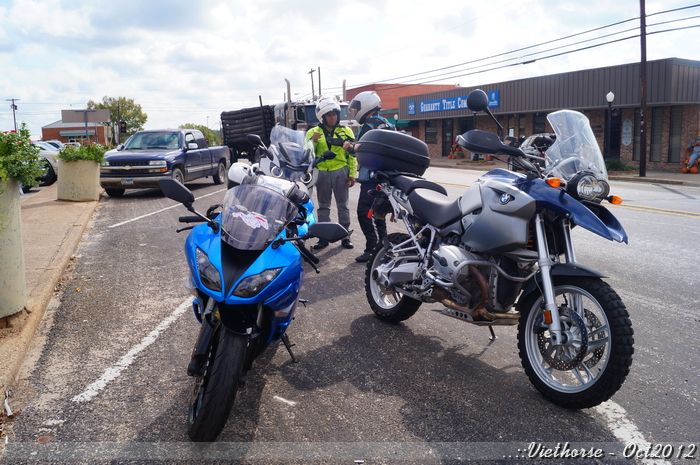 A court house which has been renewed recently: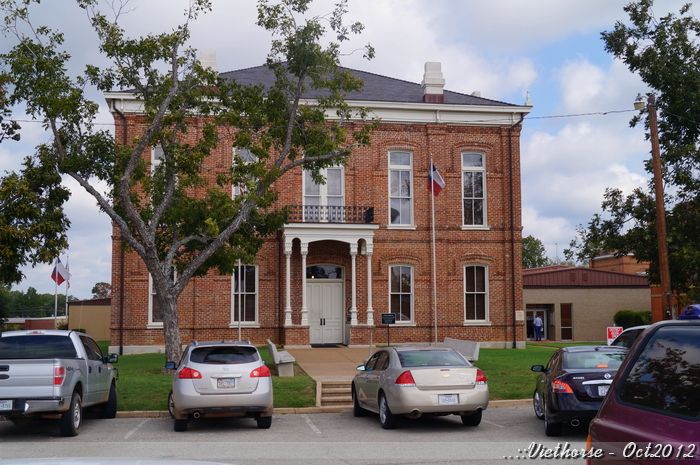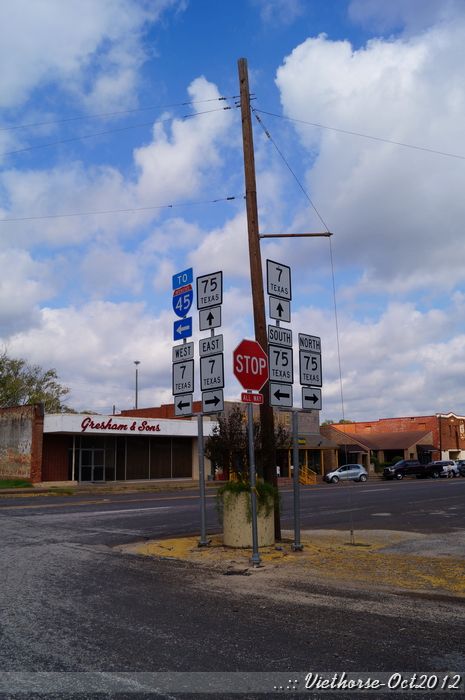 Gas price is almost as in Vietnam: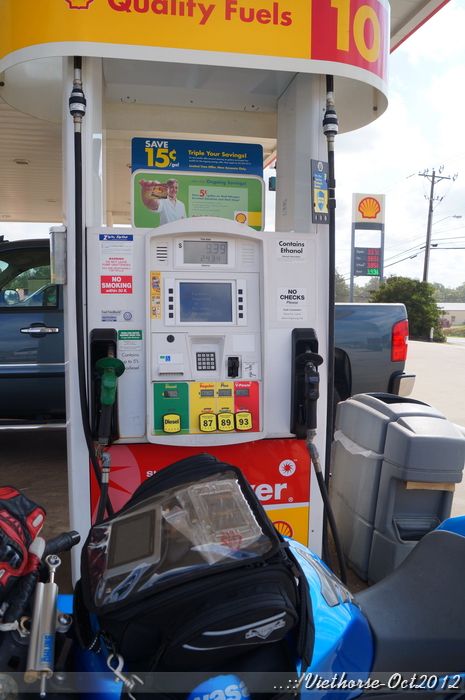 Keep riding: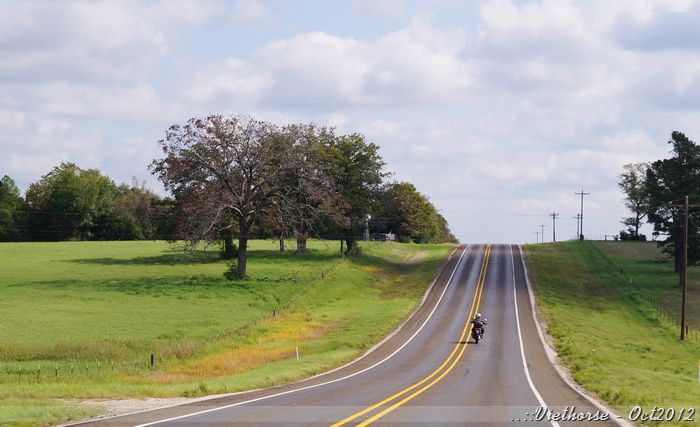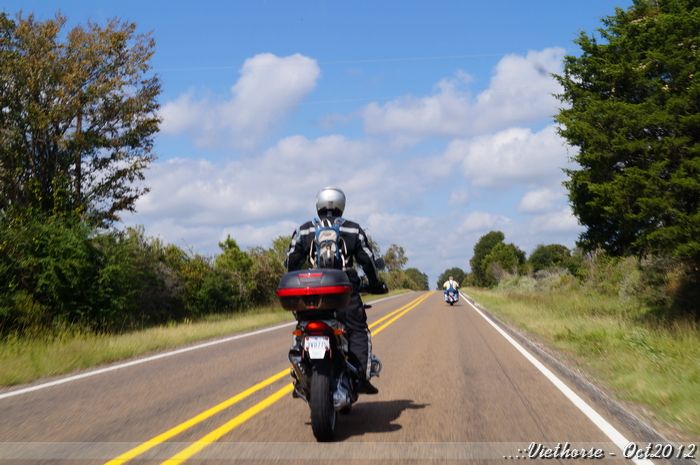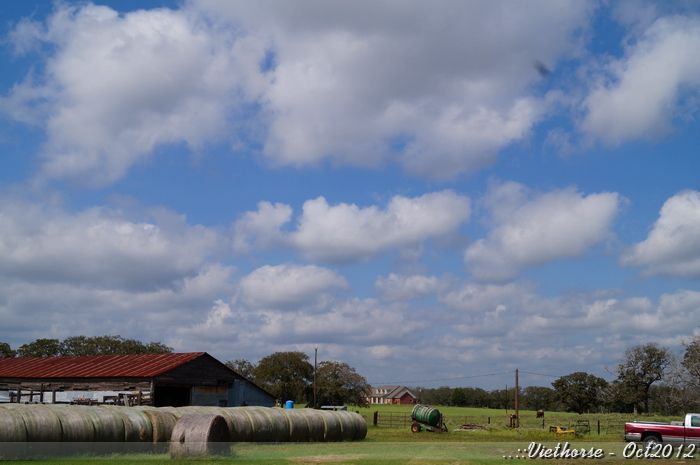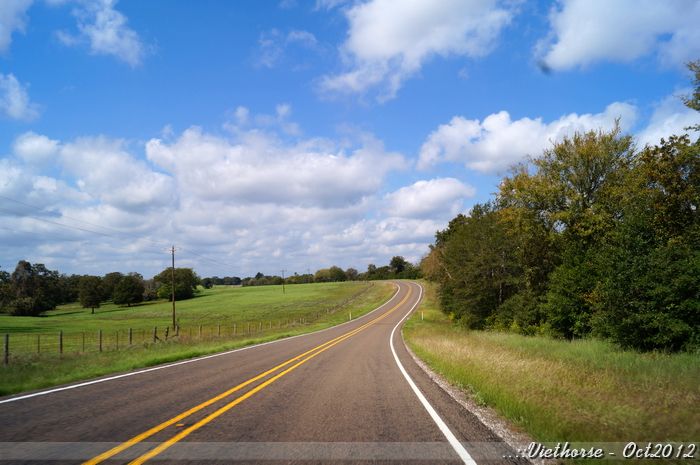 Lunch time, also in front of a renovating court house: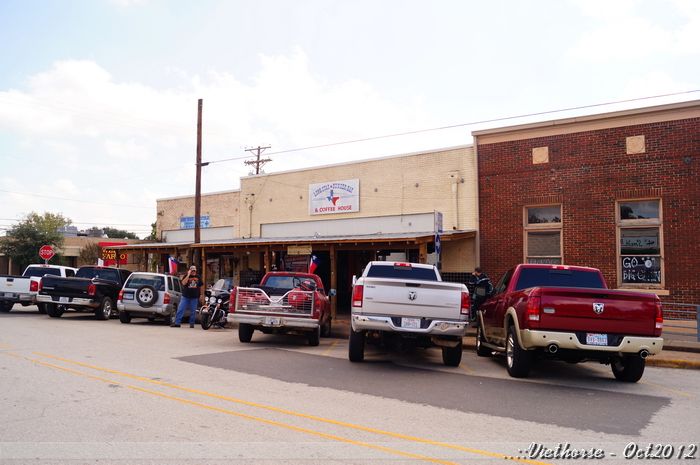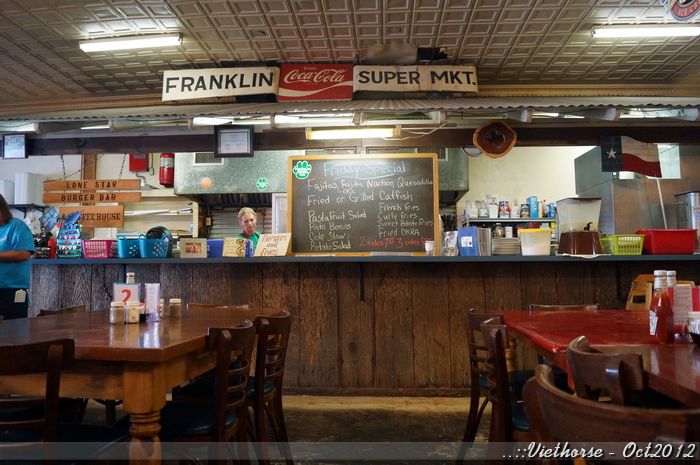 Saw some deers beside the road – Scott kept telling me about crossing deers. I quite worried when passing some corners with lots of trees: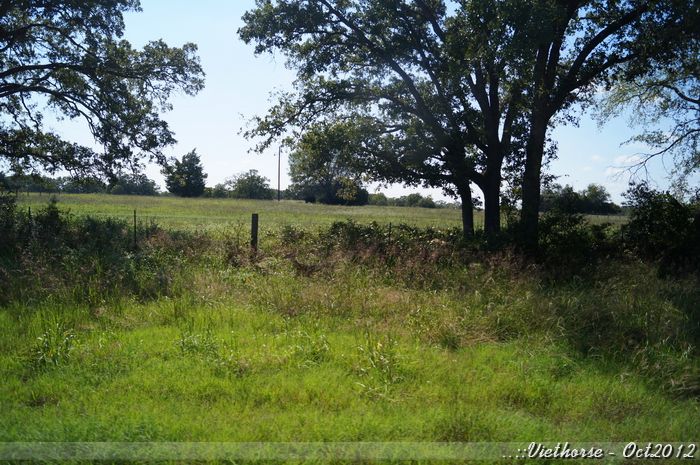 Lucky me, all my ride, I don't have to use my brake in front of any deers.
A nice house, seems to be a representative symbol of this area: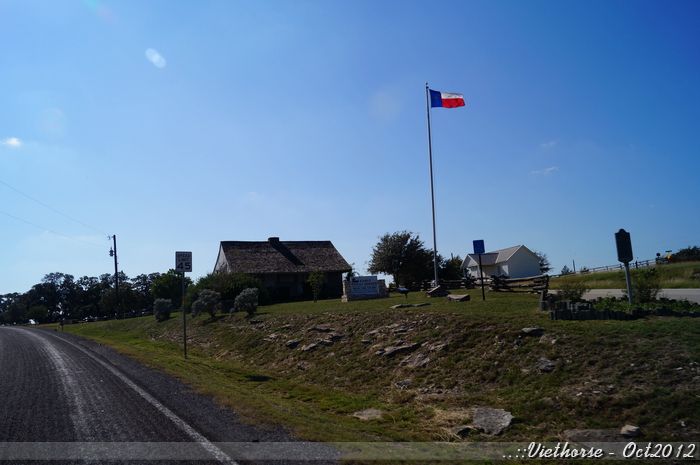 Long road ahead: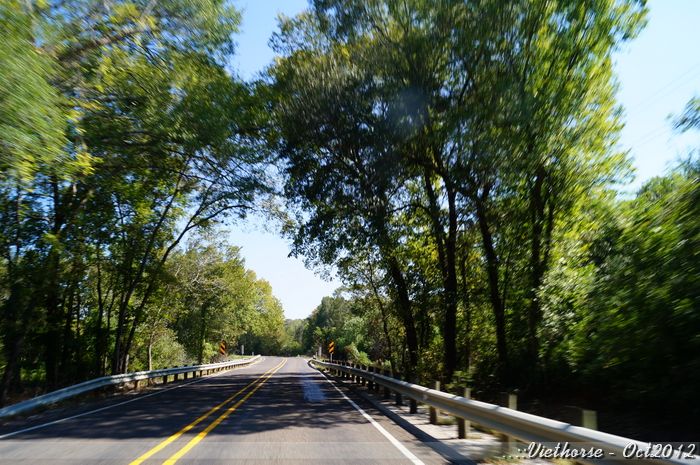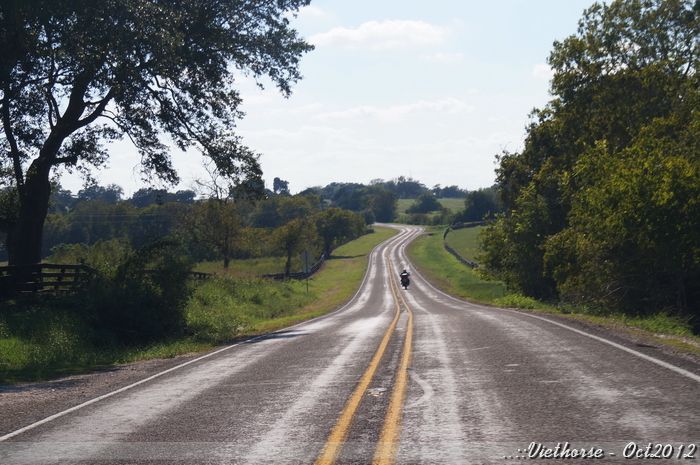 I stopped on the way to take photo of the bike with the oil well background: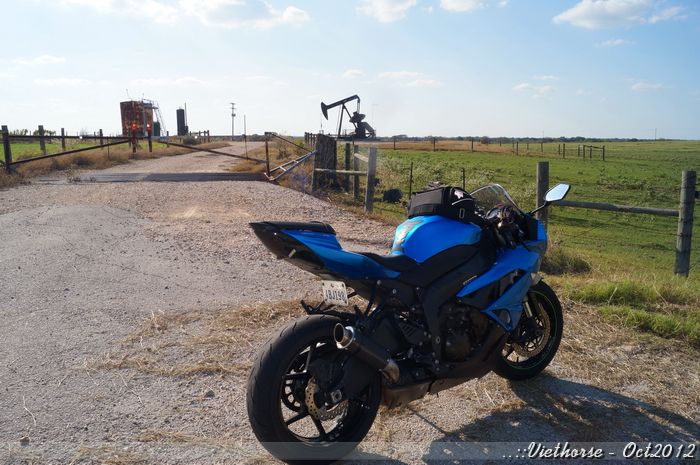 Felt sleepy that time, asked my friends for a short nap at this place: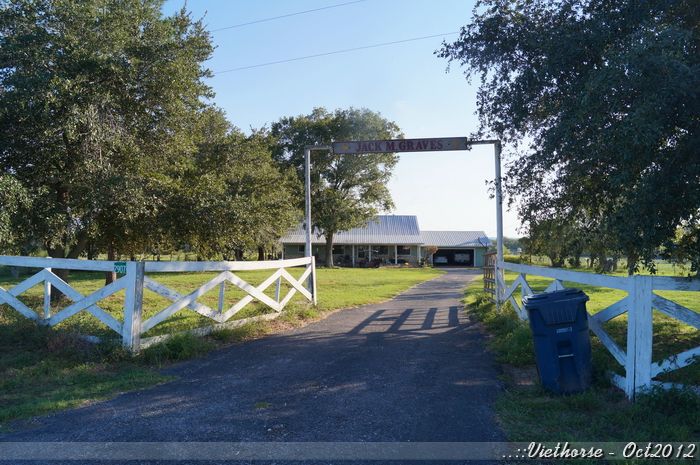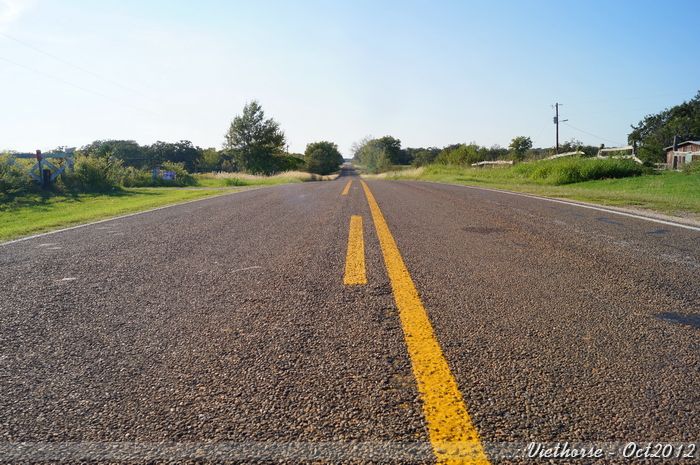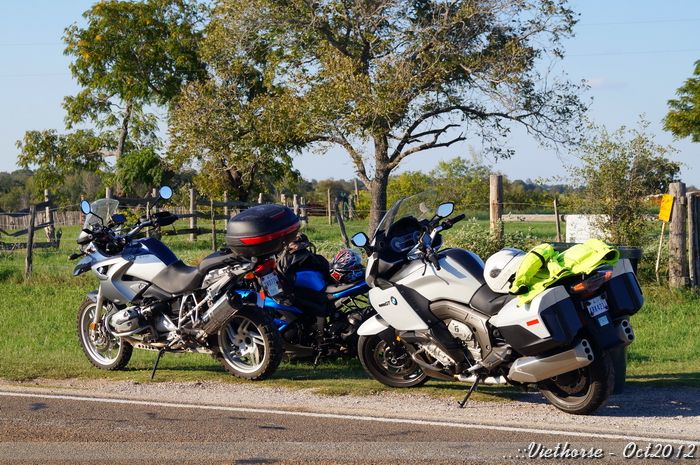 After that, we headed to a friend's house in Austin. We have BBQ there at his house, too hungry so I forgot to take a pic.
Friday night, say farewell to Camilo, who was on the BMW K1600 as he gotta visit his children nearby.
Saturday AM, we had some more riders come and joined.
The Sport bike ZX6R seemed lost among the GS gang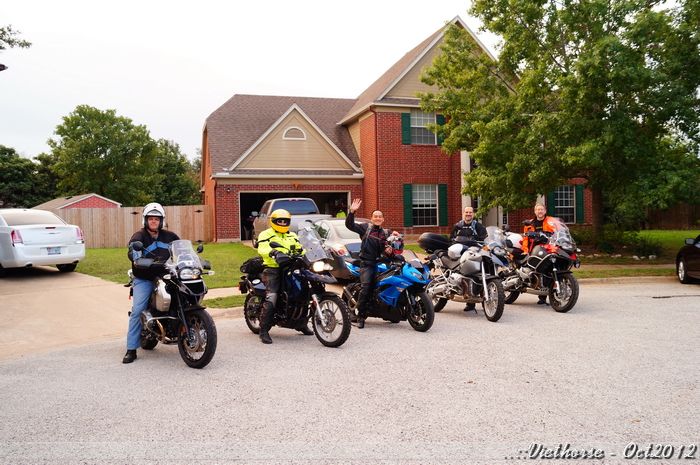 Got fueled up – I used to fill the Premium until the guys told me not necessary. LOL…: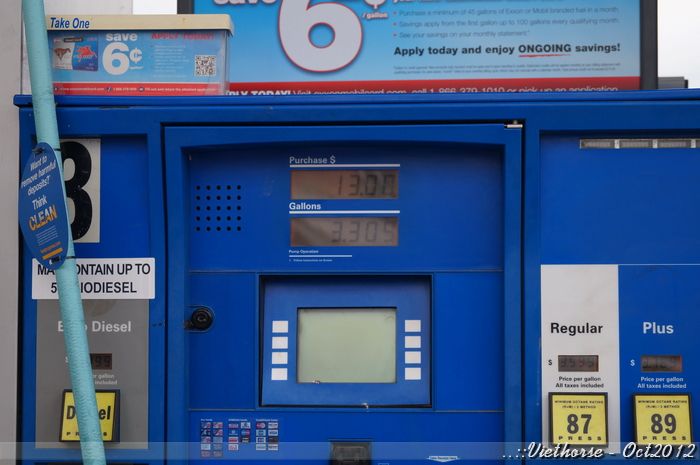 Some first view of the roads – unlike what we had in Tennessee and North Carolina :

A really flat view ahead: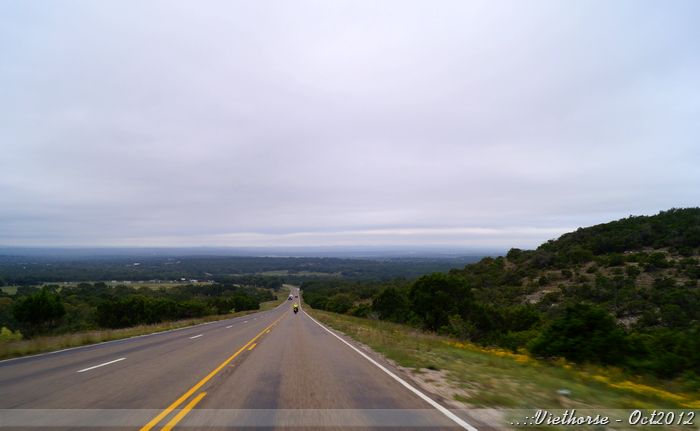 My riding buddies: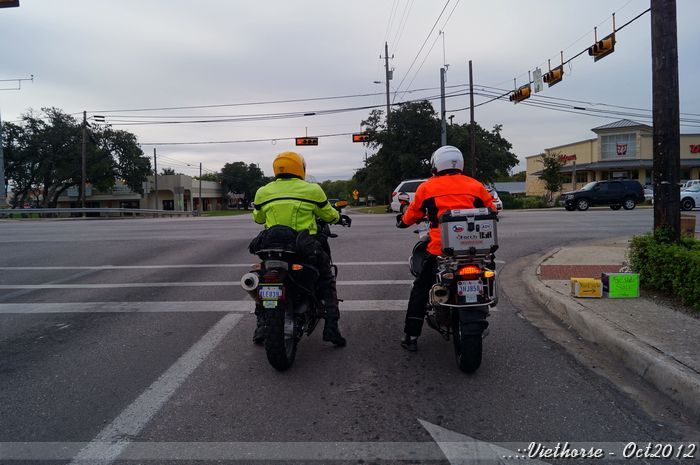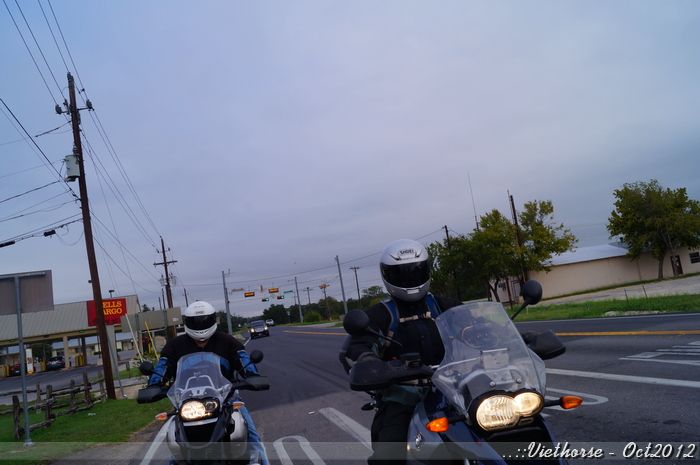 Stopped for a quick rest before getting to the twisty route: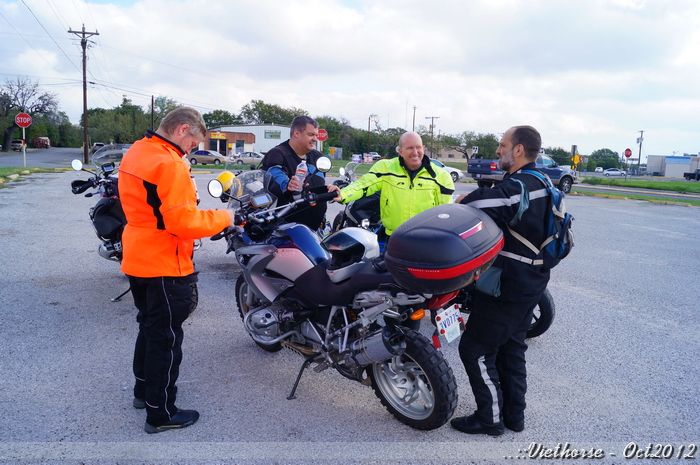 Full equipped GS: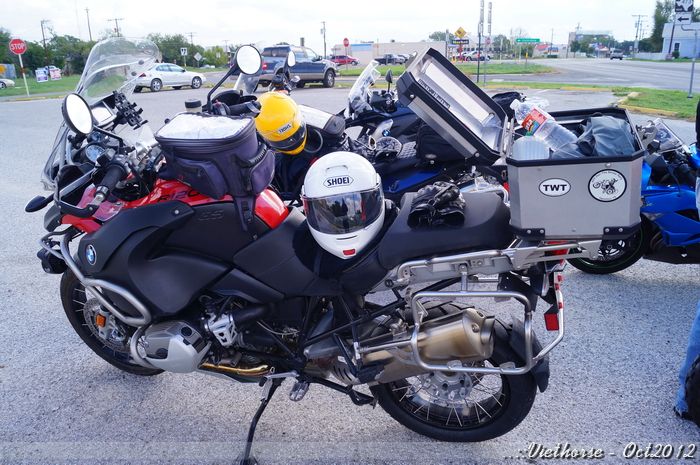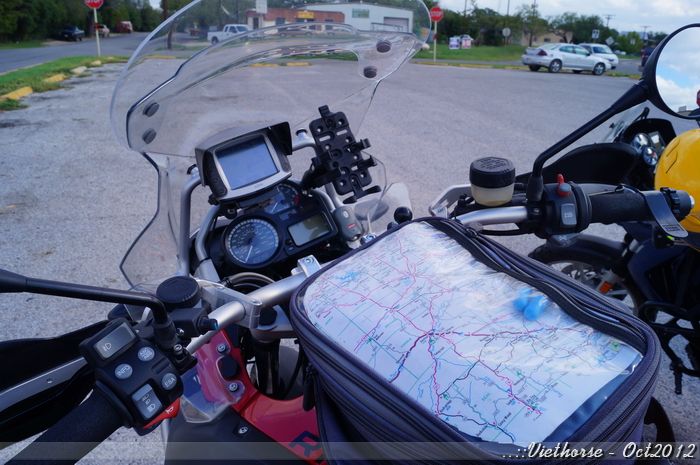 During my ride in North Carolina, I was thinking of getting the Spot like this – good for the ride to the middle of no-where, and alone:

Tested the GoPro view: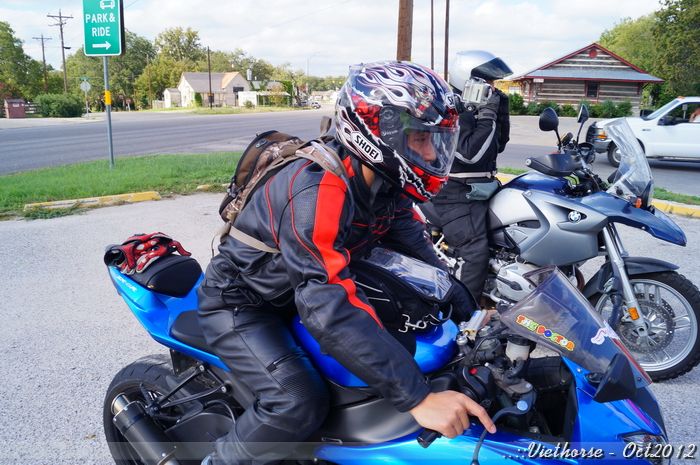 Ready faces.
Rusty, who hosted me for two nights in Austin: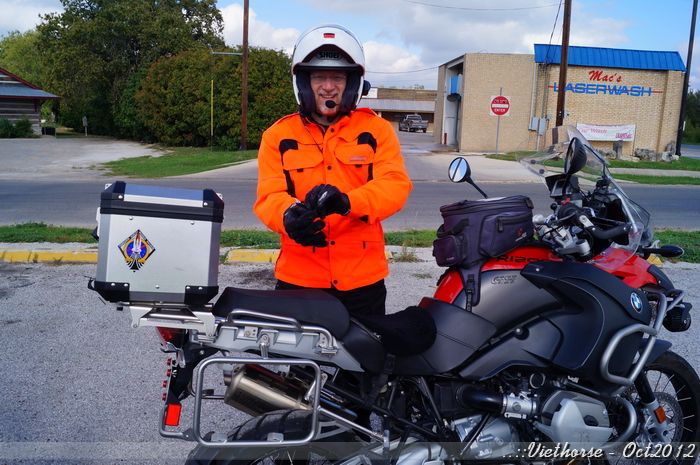 Scott, who was the one like Sy (RollingAgain) and Ed (Wrestler), feed me tons of advice before I come, setting up the route and invite the inmates to join the ride:
Kurt, who just moved to a GS from a Goldwing: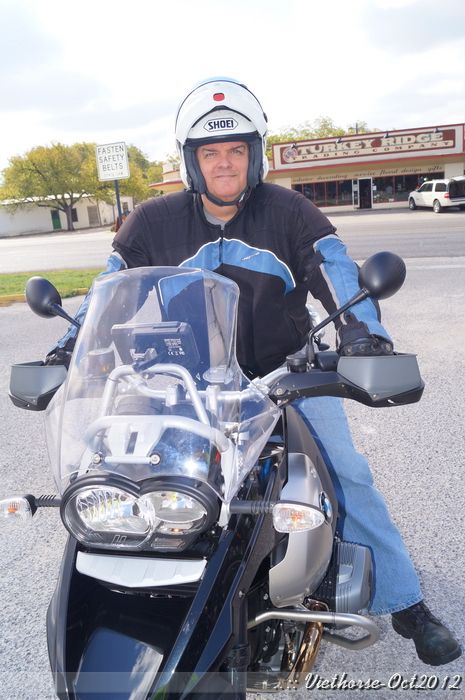 Nice road started. Now I really don't remember which routes we have been thru. Just know they are Three Sister something.
Well, dam, it a small dam: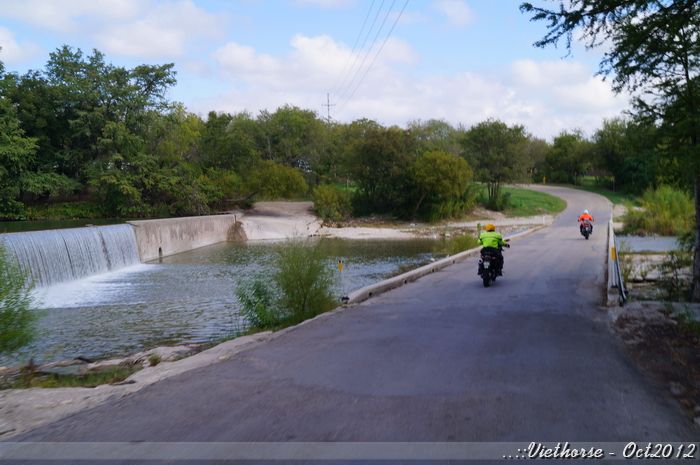 A few cruisers: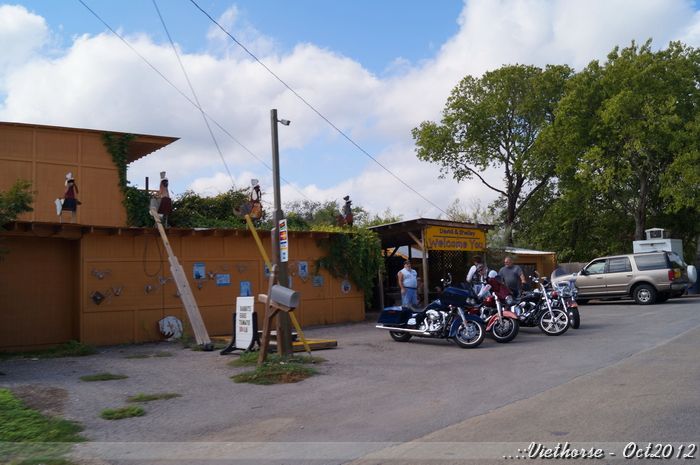 The twisty roads was so strange to me. And also the GS guys rode too fast. The sport bike make me uncomfortable with the Camera in hand, I gotta concentrate on the road and having no photo for this.
There are some other view after that: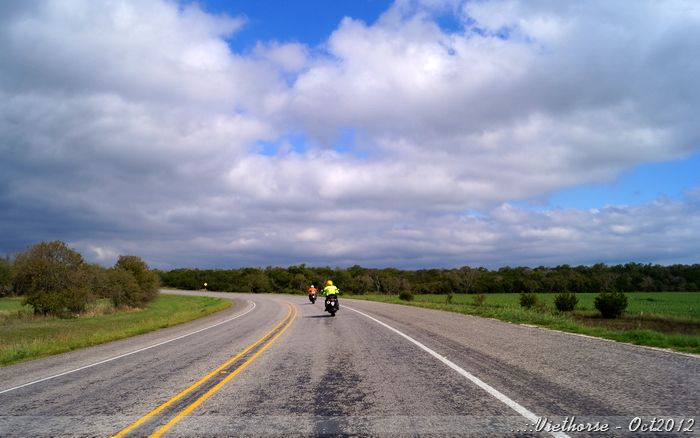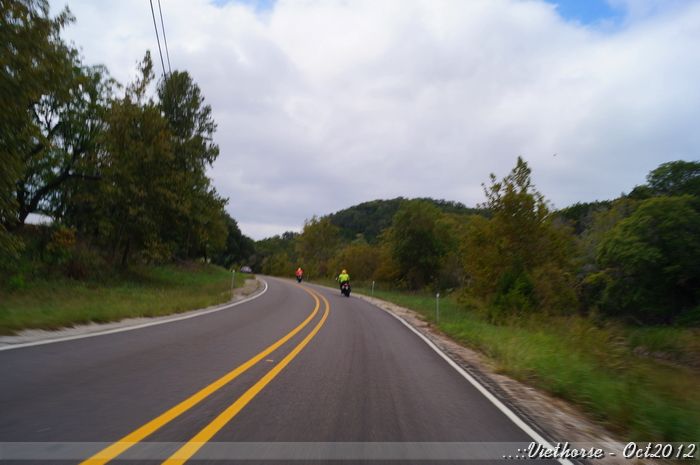 Here's how a reporter work: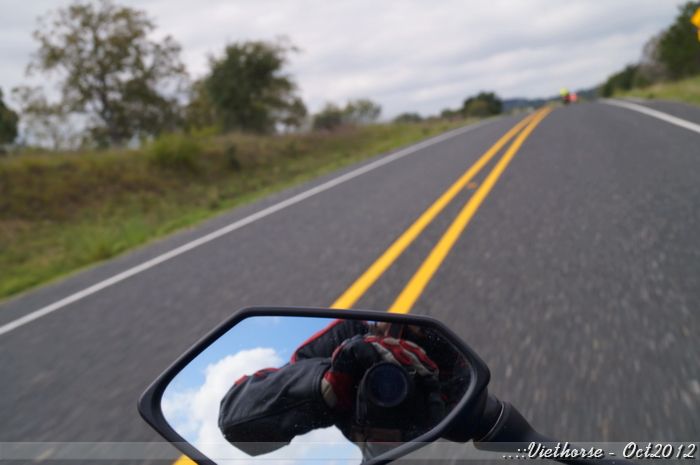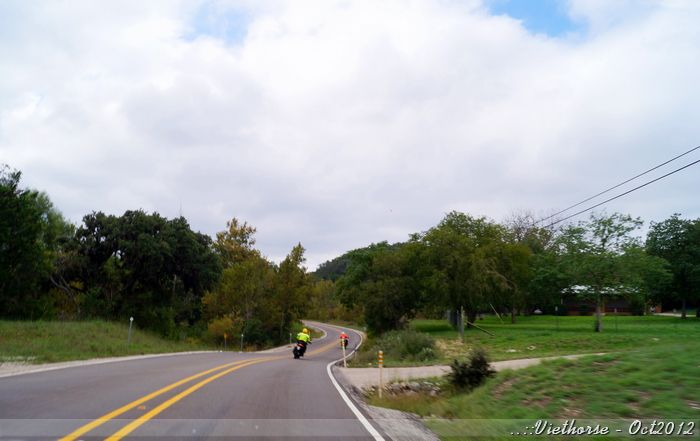 Noon time, we stopped for lunch: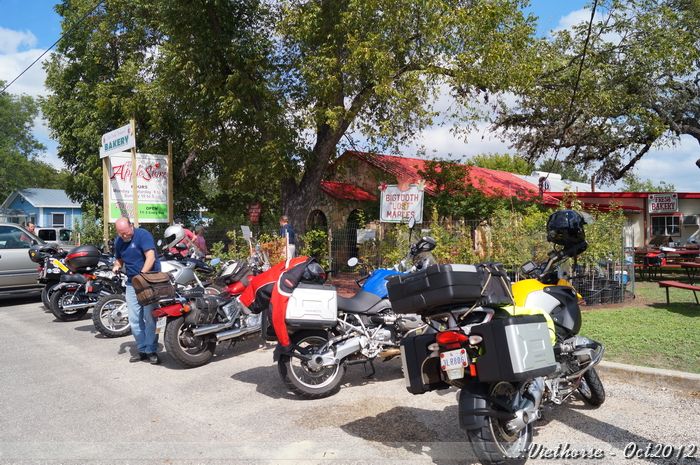 Nice place, seemed familiar with my buddies:

Welcome Y'all. Such a Texans banner: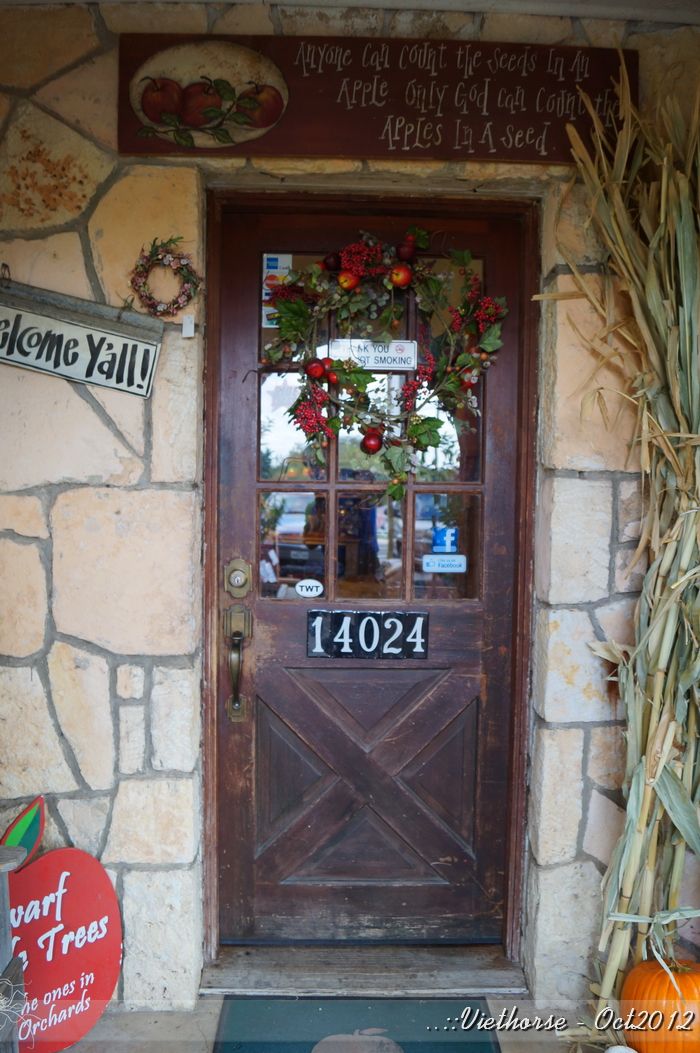 Nice decor inside: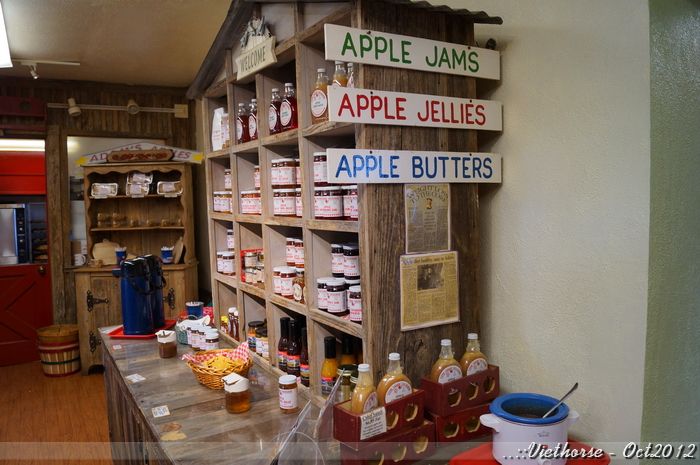 This place seemed to be a tourist point also: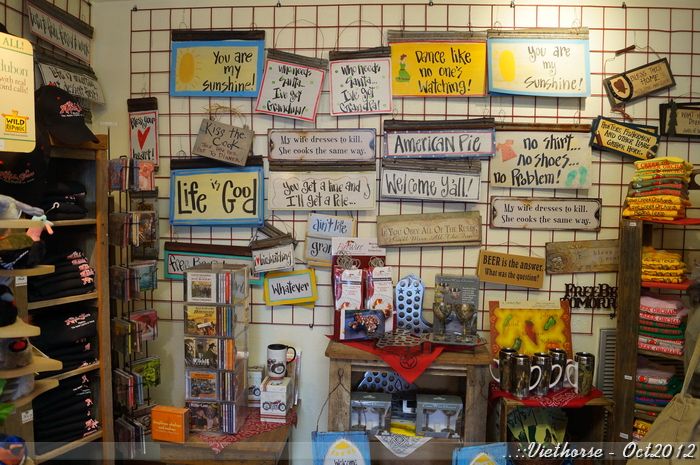 Happy lunch: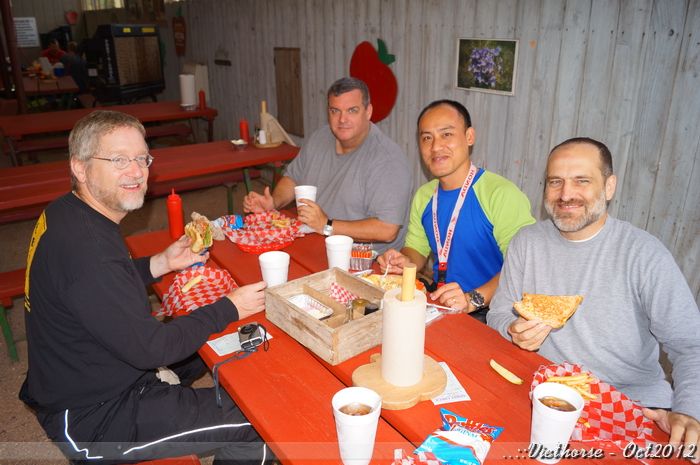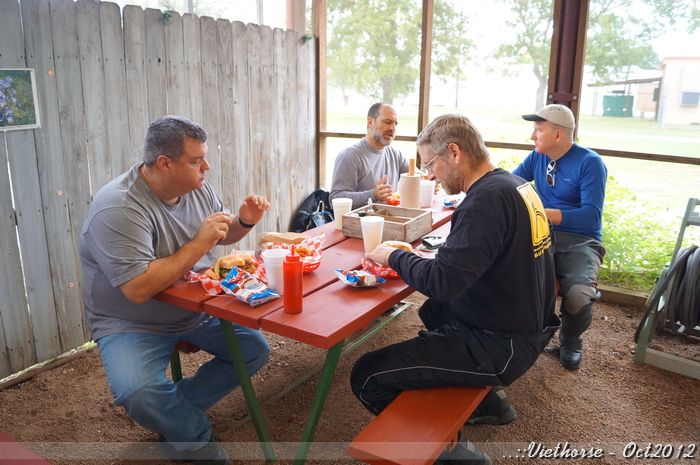 Oh, this was mine, looks okay huh: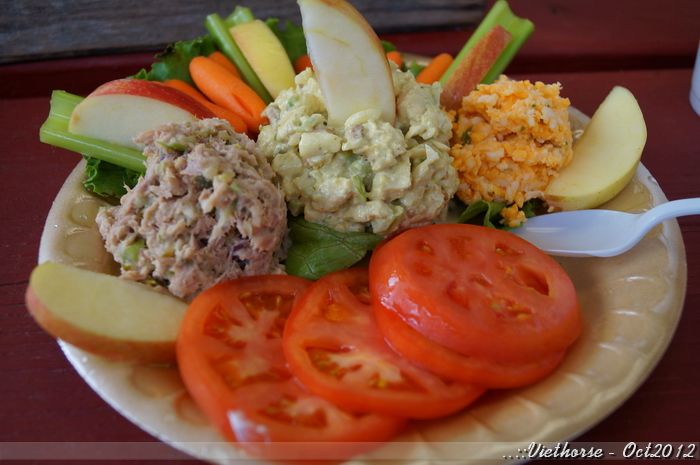 The road after lunch time was good as well.
I was trying to talk to Rusty that we were missing one rider 
 but he kept going… 
. One of our GS (Kurt) felt sore on his back after long time no riding then he headed back home after lunch.
I was not familiar with the roads so did not dare to ride too aggressive. Sometimes, at the 15-10mph corners, I saw lots of tire marks on the road surface then I gotta pull the brake.
Really nice mountain roads: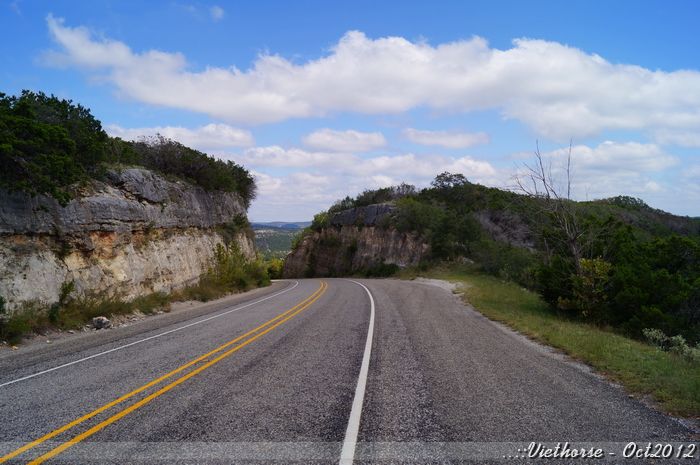 Stopped for some air: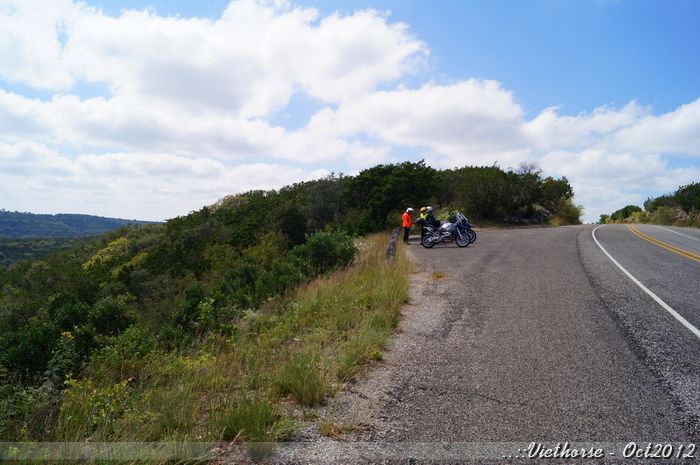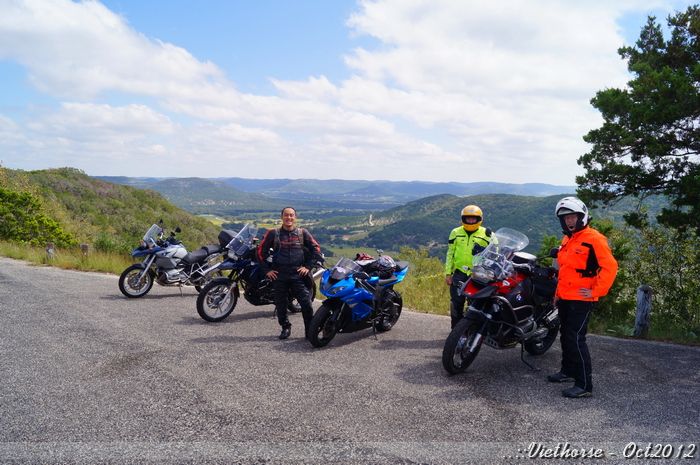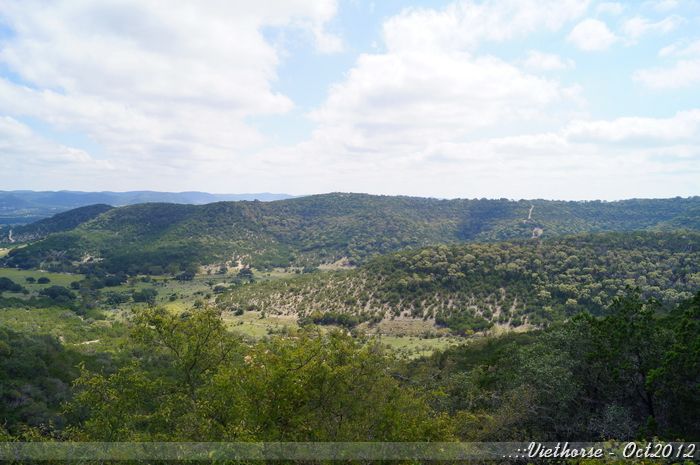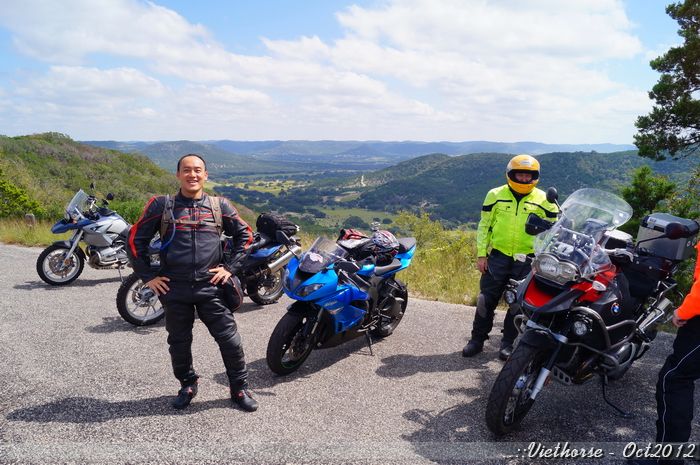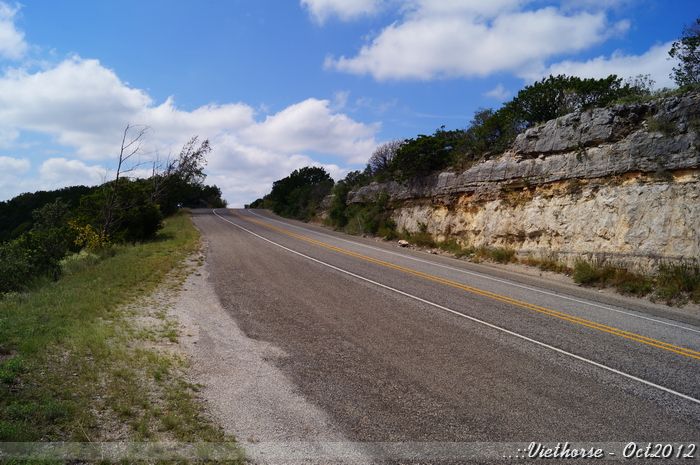 He said: I will buy this area :


(actually that 's how he stretch his legs and arms after a long ride)
Kept moving with the twisties, we were quite disappointed with a bunch of Harley affront.
Passed the Harleis, we stuck with this: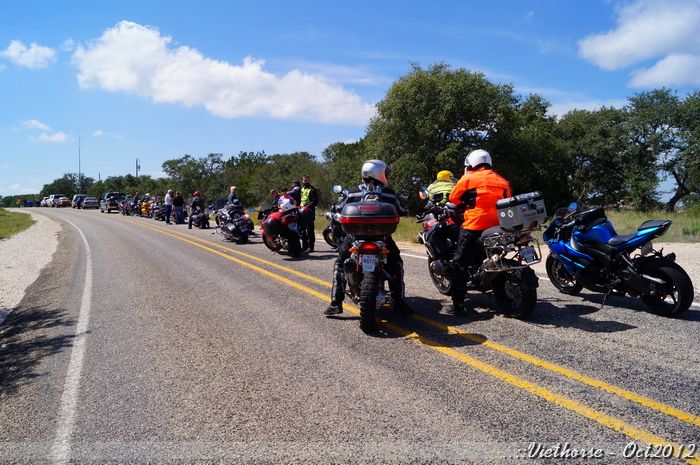 Scott asked Rusty – what's going on!?
I wish I know – said Rusty.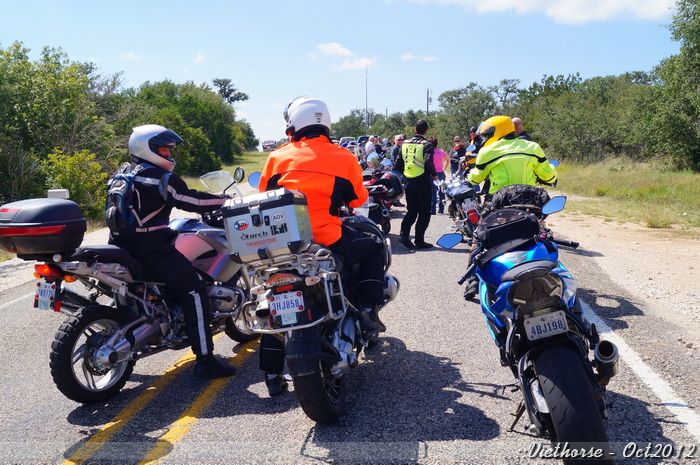 Oh, I was there as well, but don't know exactly what it was: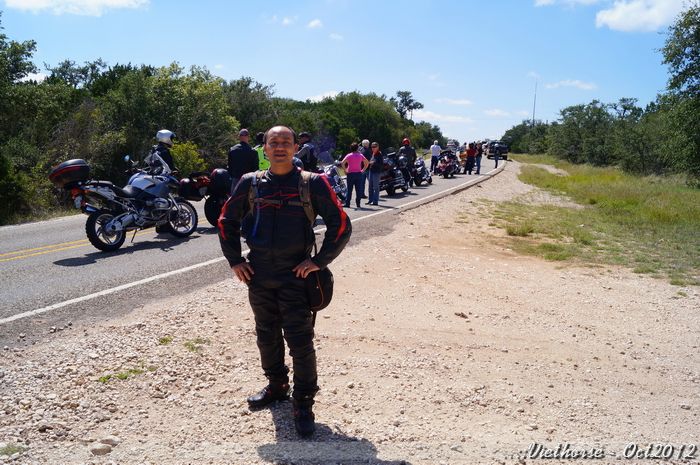 There was a chopper just flying up, seemed the good time to start moving: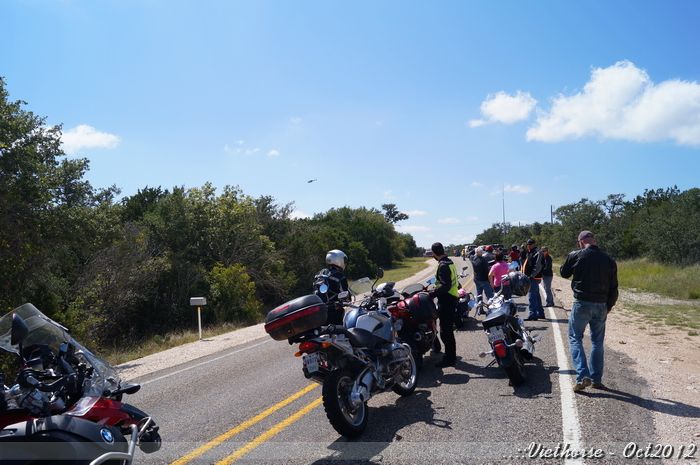 Started rolling again: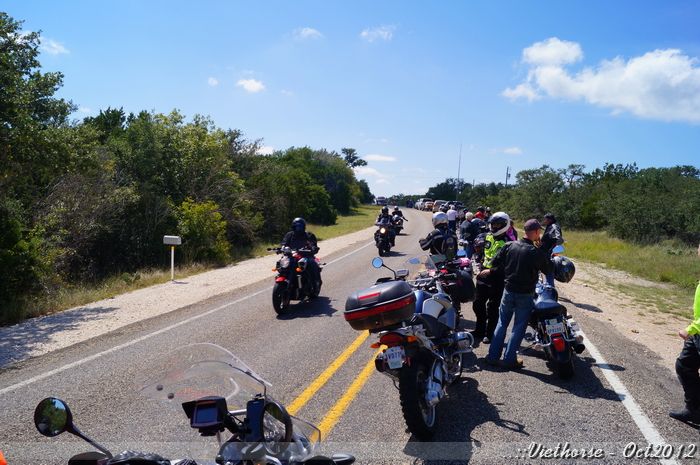 I don't know what they was discussing about: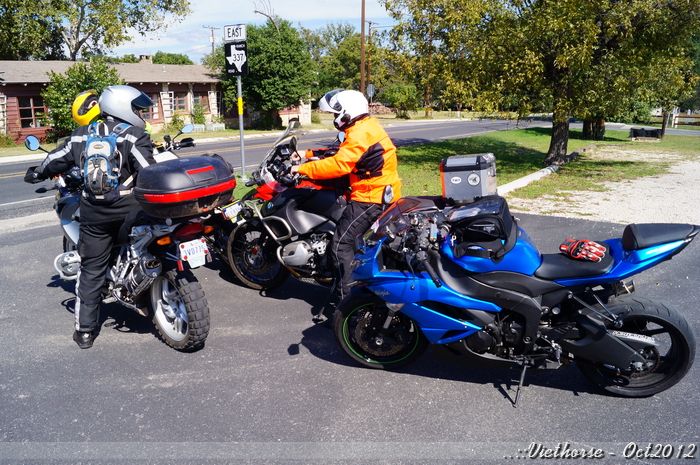 Just beside the HOGPEN – I have no idea what the HOGPEN means: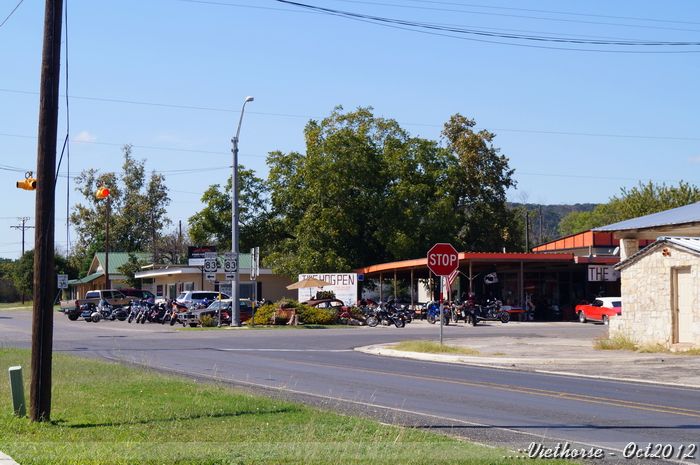 Cornering for a while, we stopped for rest at the place where I knew that we had passed on the way in: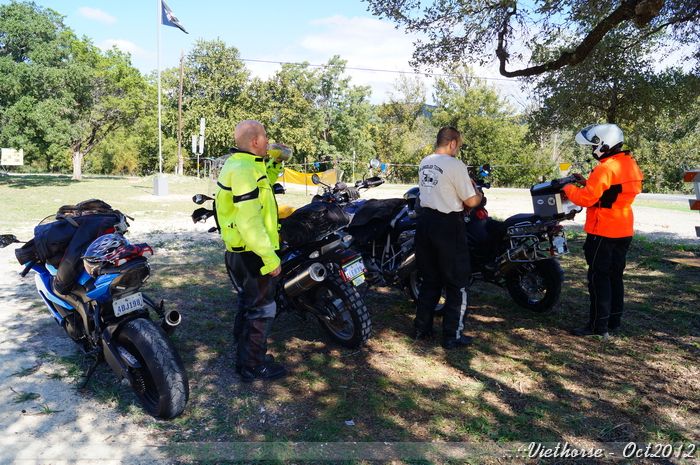 Some more good roads: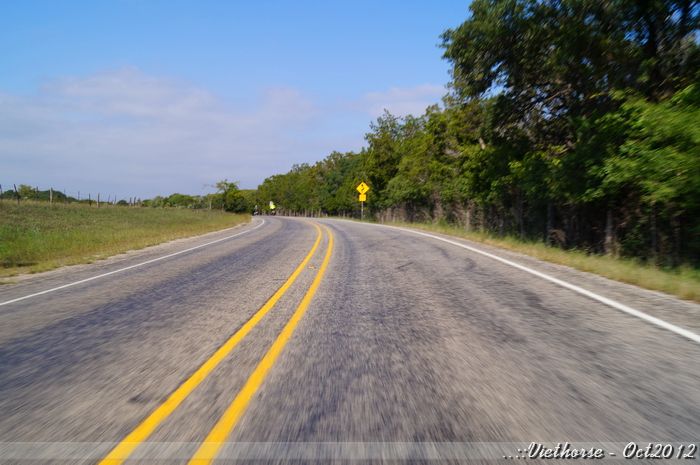 His GS seat may not so good. So he kept standing up like that most of the time LOL…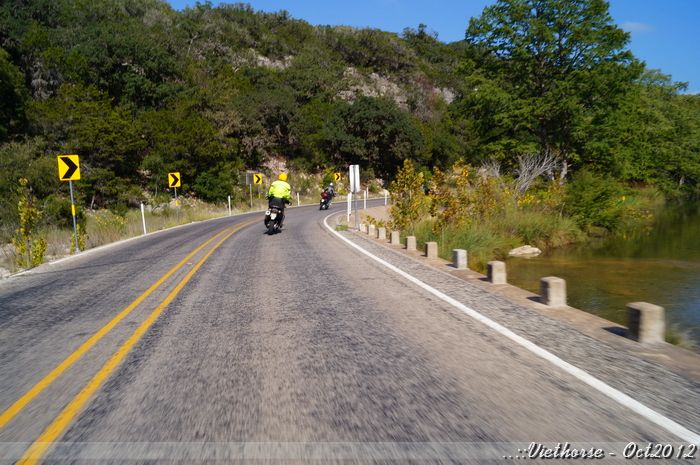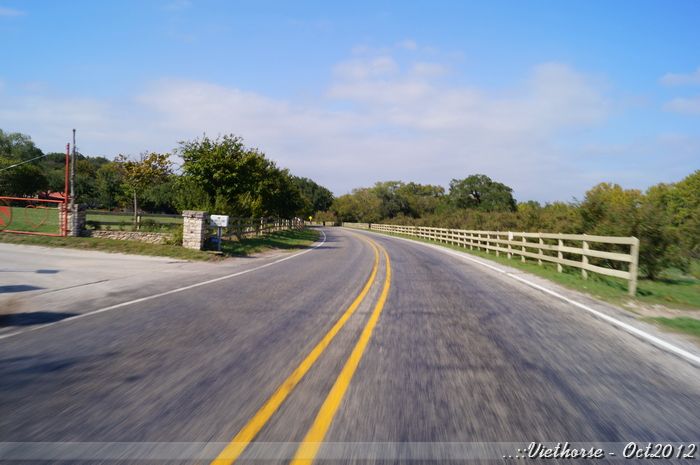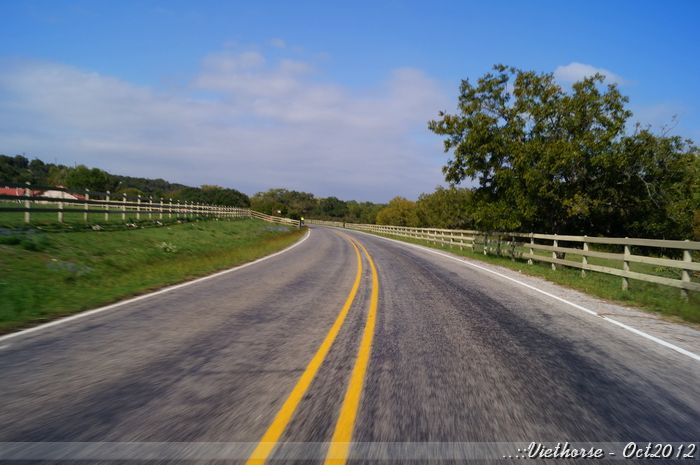 4:15PM, it seemed like my last fuel up for the day: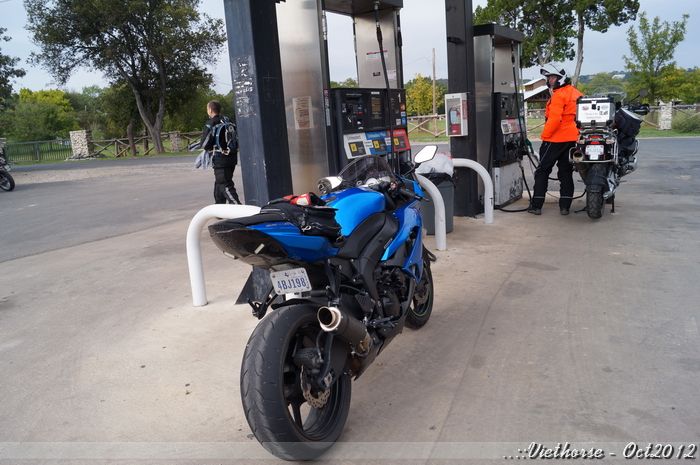 It was starting to be chilly. I did not prepare for such kind of weather.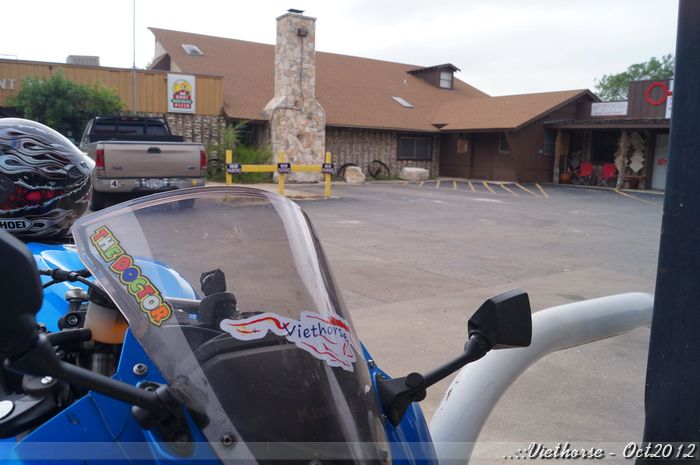 We rode along a river for a while, then to a freeway. Doh, that time I really felt cold. I have only one more thin layer behind the leathers only. My gloves is for summer as well. My body started to be shivering.
Tried to take a photo to make me warmer when buddies stopped for discussion: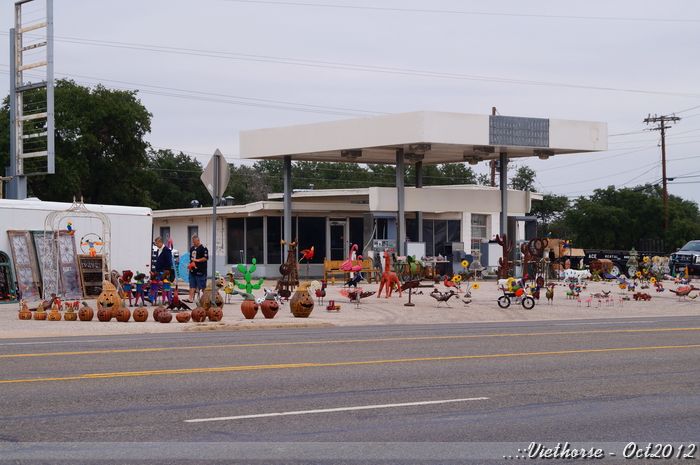 Finally, we got to the dinner place. Thanks God. I survived: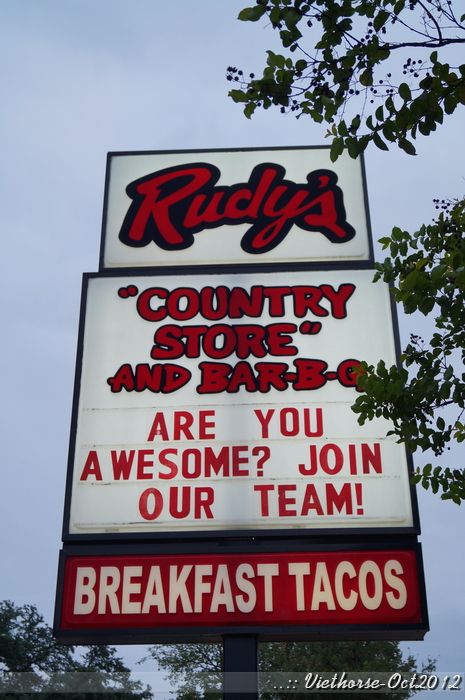 Really nice place. We were arriving on time as we did not have a long queue as some minutes later: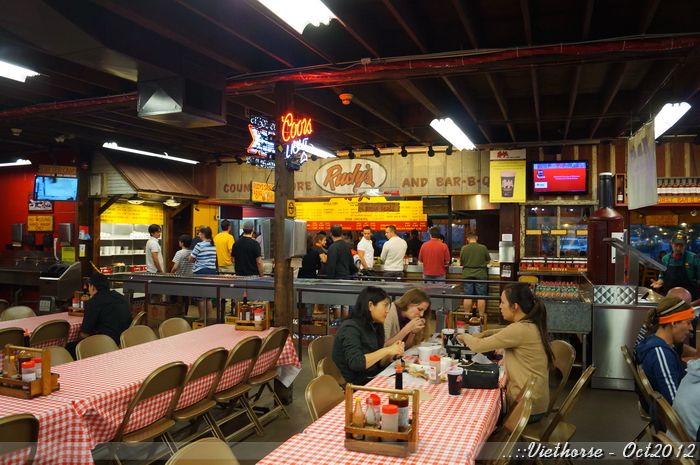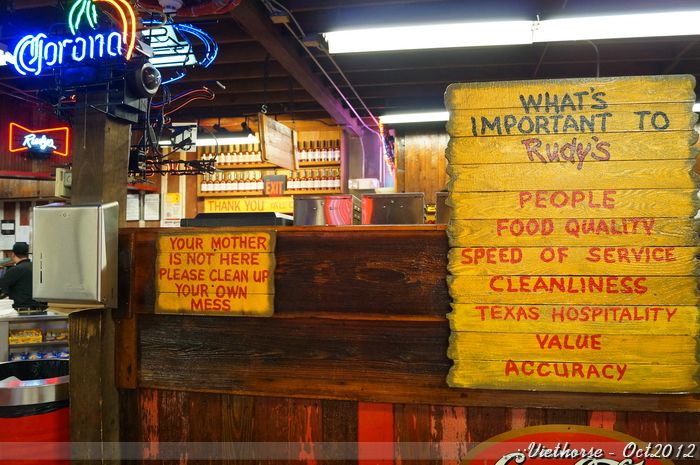 One friend of mine said it's a good place: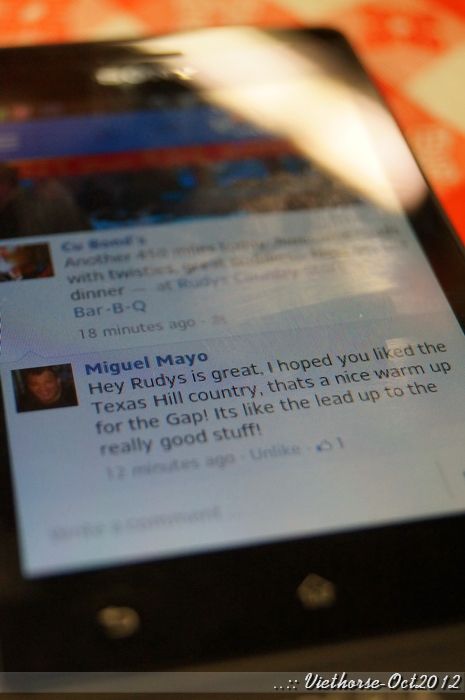 Mine – really great BBQ: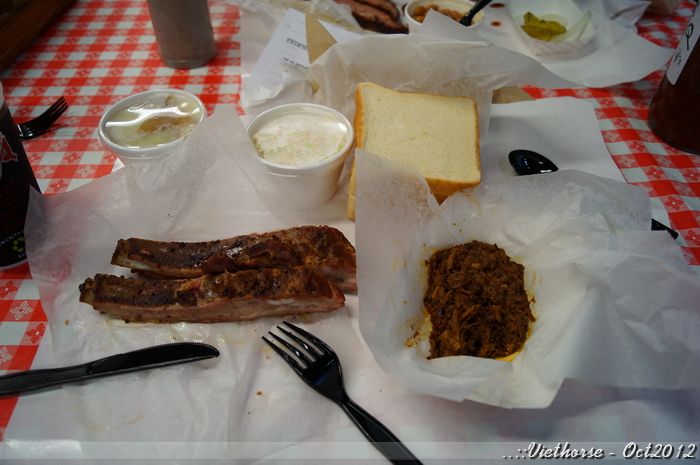 Enjoyed the dinner: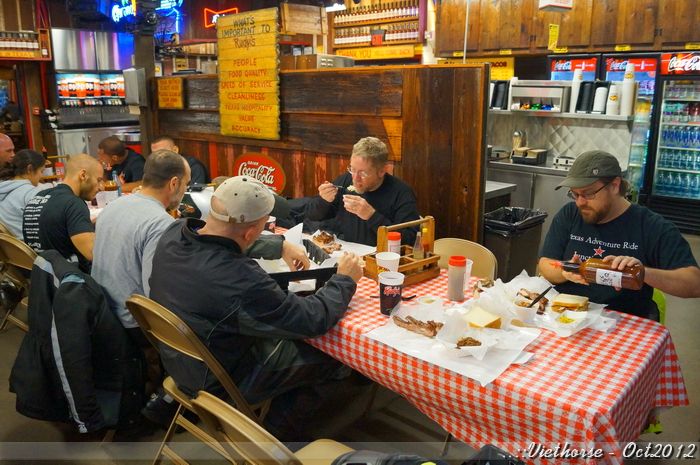 We went back to Rusty's and chitchat until midnight. Slept very well that night.
Woke up in the morning and really did not want to get outside. It was very cold. I had not be prepared for that.
Gotta wear all of my T-shirt which I brought with and two more TwowheeledTexans shirts from Scott.
Look at me, I was too fat in comparison with my normal status because of all the T-shirts.
On the way back, I had to use my own towel to cover my neck and hooped down under the windscreen to avoid getting cold.
Thank to Rusty's gloves. They saved my hands.
Stopped for fuel, my throttle clamp came loose. I was thinking of it had been loosen since we were on ThreeSisters.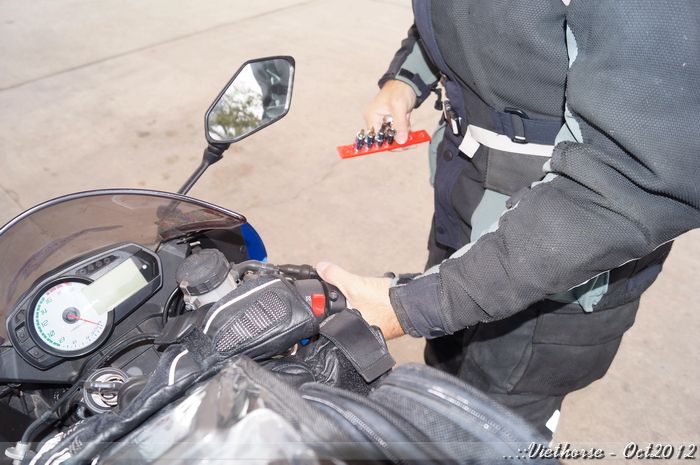 Scott guided me thru a Country roads again. The roads was almost no traffic, with open air, good road condition… and it's really cold.
We stopped for a while at the middle of the field: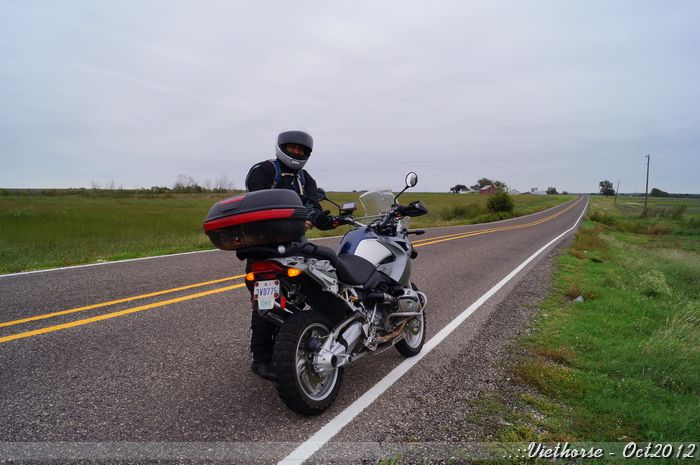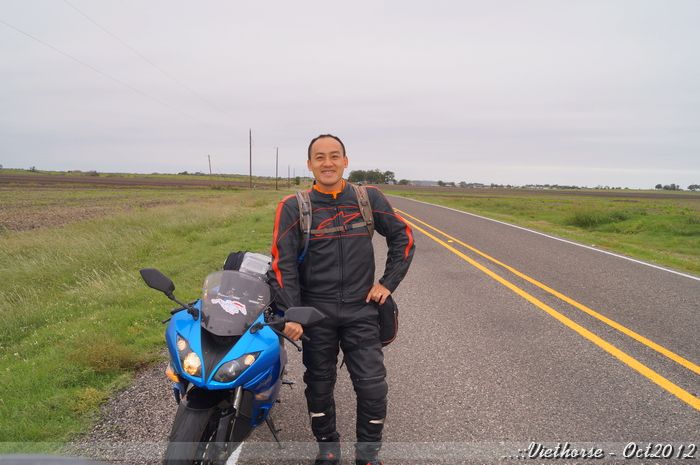 After passing Texas A&M University, where Scott had his Degree, we said goodbye to each other.
I turned right and get on to the Hwy-6 then I-290 to back to Houston downtown.
My last fuel stop on Hwy-6: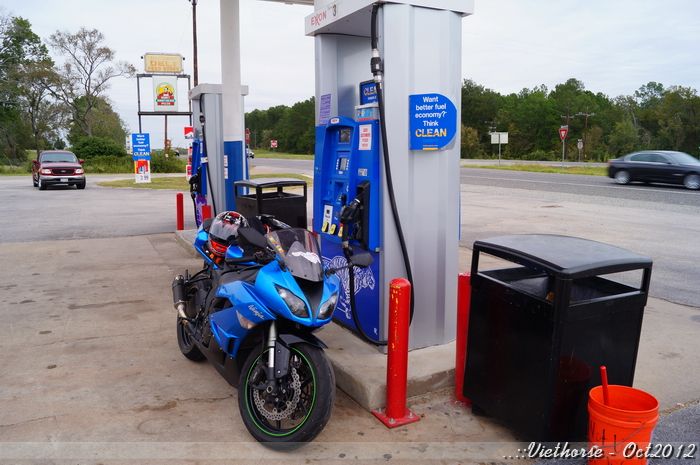 Got back to the hotel just after lunch. Returned the bike without any issue.
Well, that's it. That 's my wonderful riding trip Texas with all great people. Really want to ride with them again
….
Awaiting for my next adventure – a trip to wonderful Great Smoky Mountain with famous Tail of Dragon!!!
ATLANTA – GEORGIA and ALABAMA
After getting all my things done in Texas, headed to Atlanta with some other friends and a new riding plan to Smoky Mountain.
Thursday morning, took the 7:45A flight, cheap one, by SouthWest: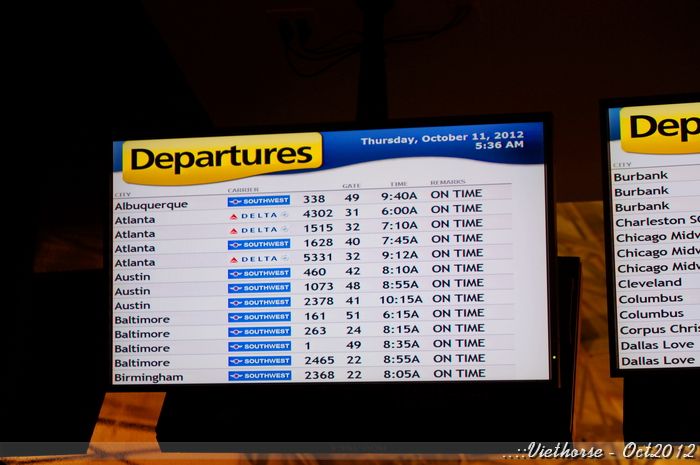 Landed:

A friend of mine came to pick me up from the ATL airport: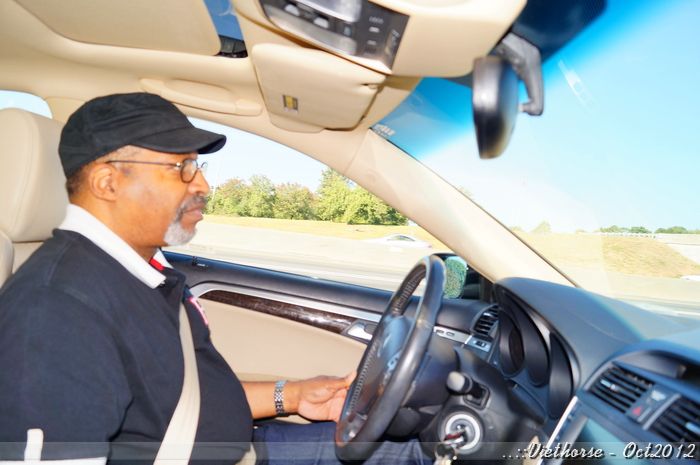 He left for me this room in his guest house in Atlanta – two beds, with all other stuff i.e. kitchen, laundry etc…: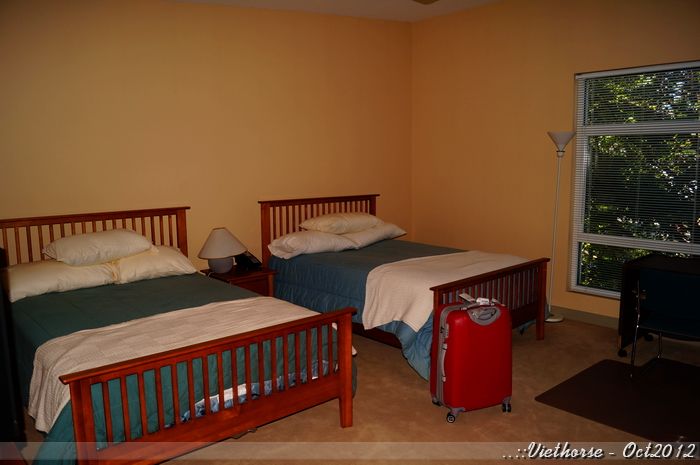 Get all my package stored at his house, he drove me to Alabama.
On the way, feel the heat of motorcycle, which I hard to see in Houston: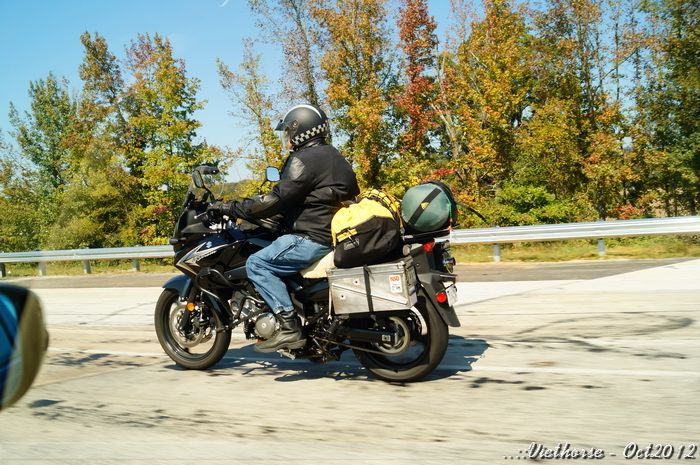 Arrived Alabama: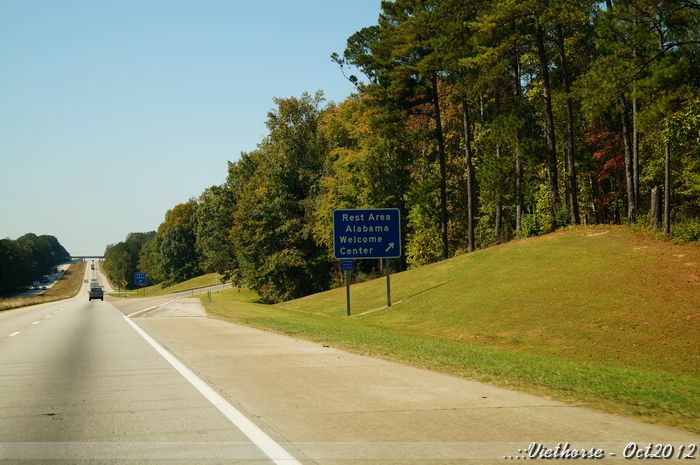 And almost there: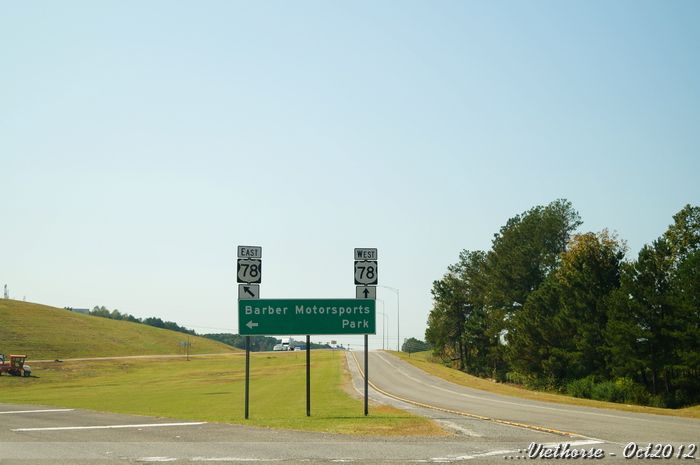 We stopped outside for lunch. The accent of people here make me difficult to understand. However, all the thing around lunch was motorcycle related – all the guys around talking about motorcycle, wearing motorcycle shirts… etc… What an impression!
Into the gate of the Museum: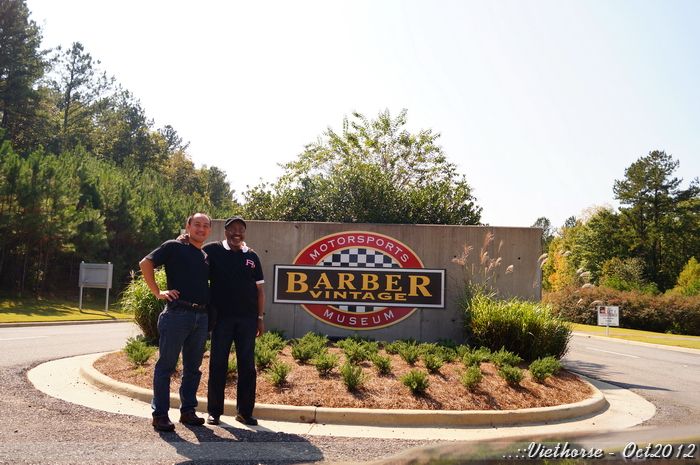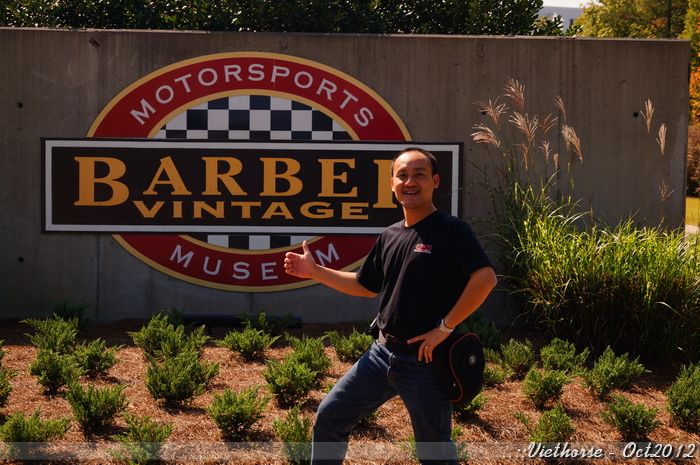 Baber started his collection from 1989.
1994 he opened the non-profit museum.
Now there are around 1200 bikes models showed on 05 stories building.
Front view of the museum: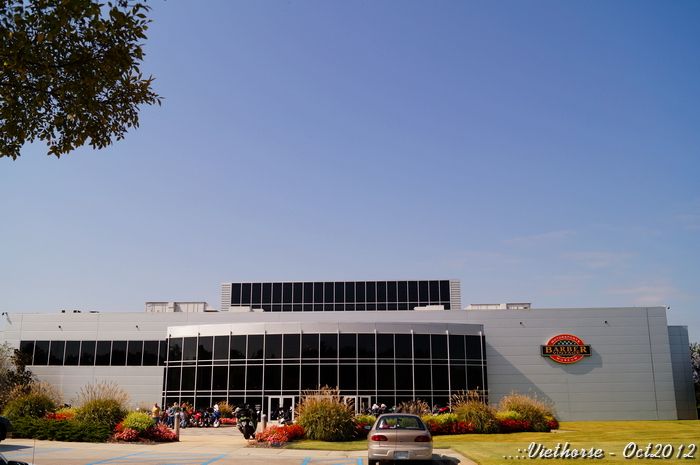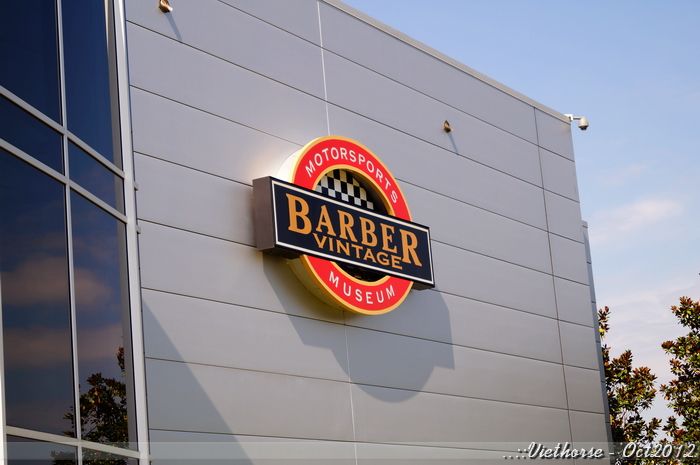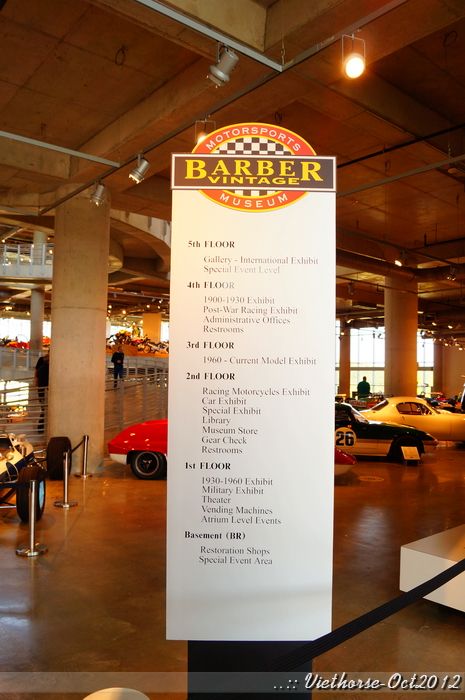 These Ducaties right at the entrance of the museum: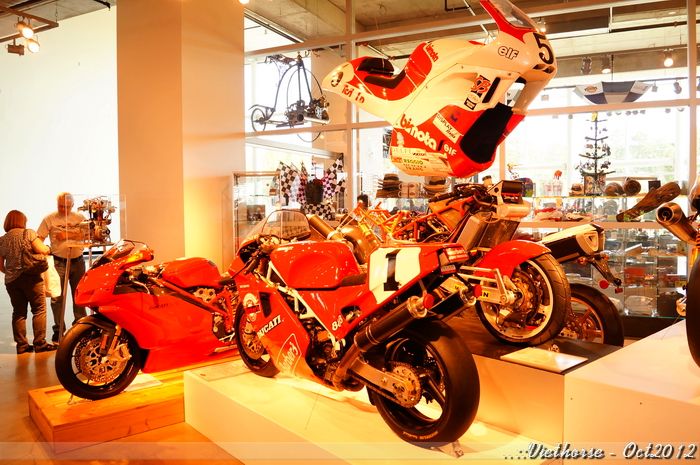 Some small stuff: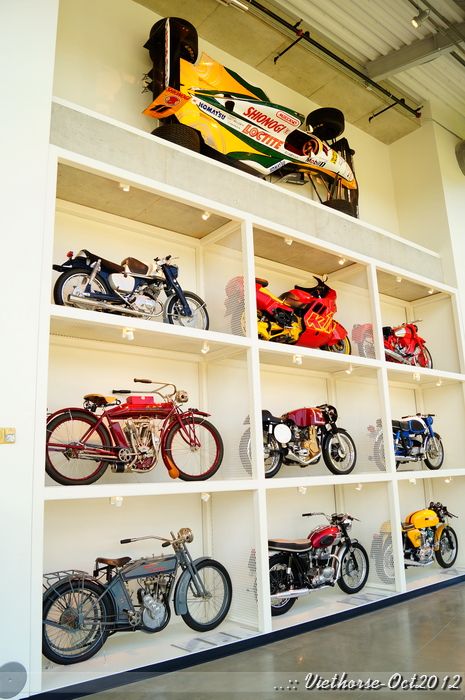 The museum is arranged with a "mixture style". Means you can see all kind of bikes (naked / sport / cruiser…) and all year of them (old and new) on the same floor. I have asked the admin there, and he said that 's the intention of them. They don't want anybody come in the Museum and miss some good stuff. They want all the visitor can experience every kind of motorcycle during their visit.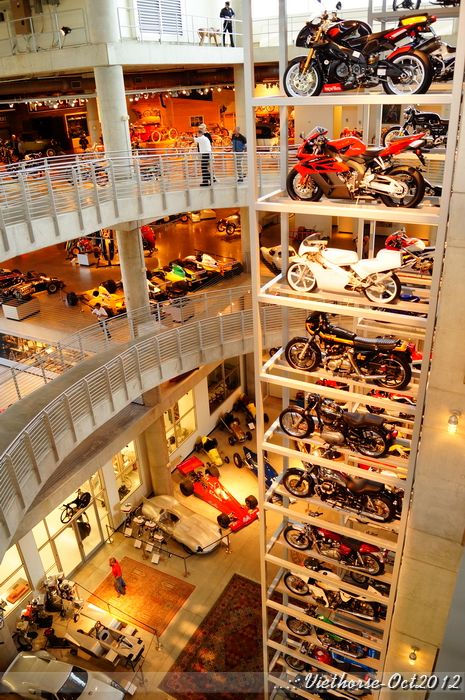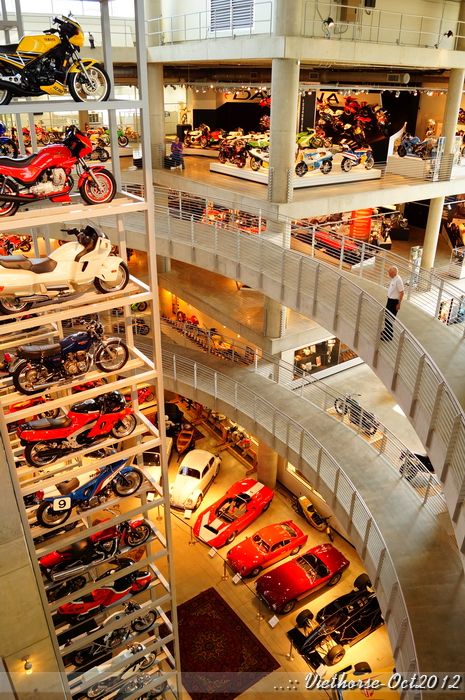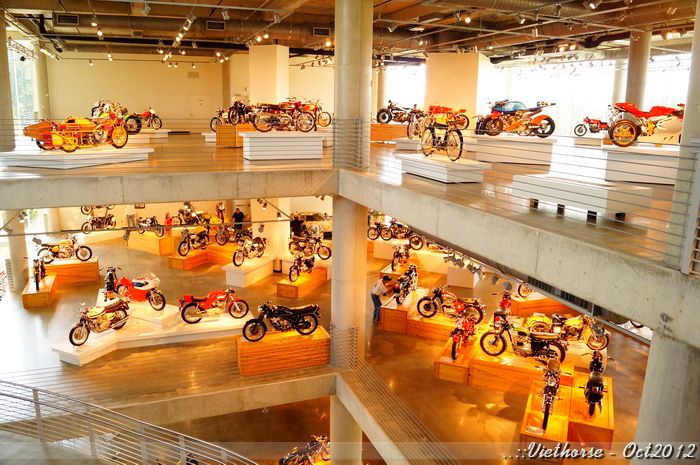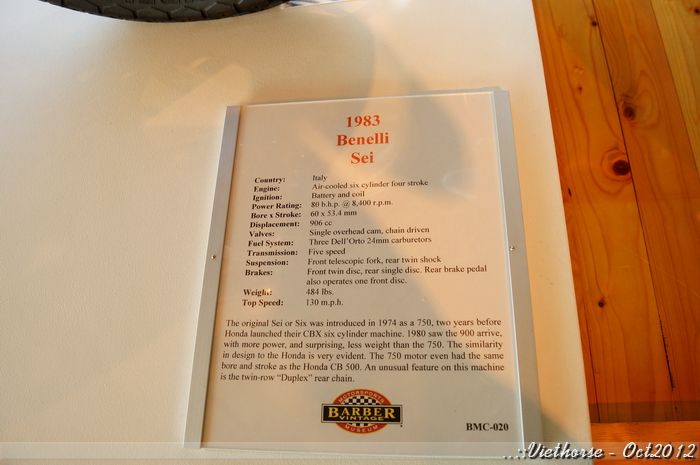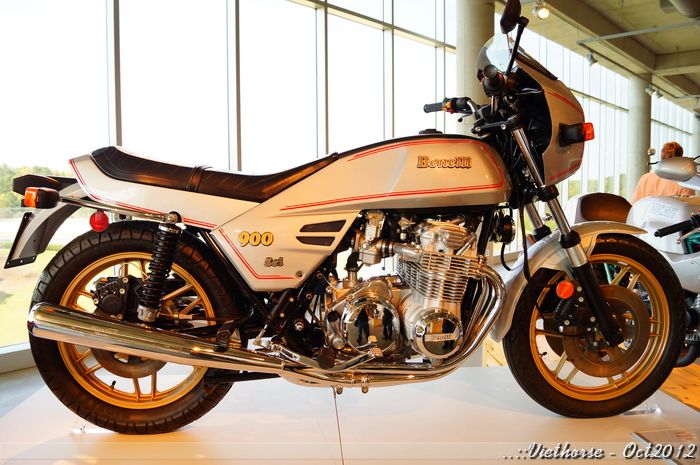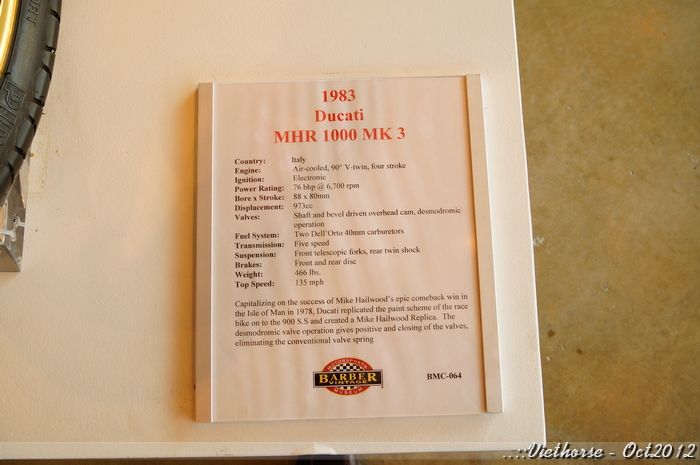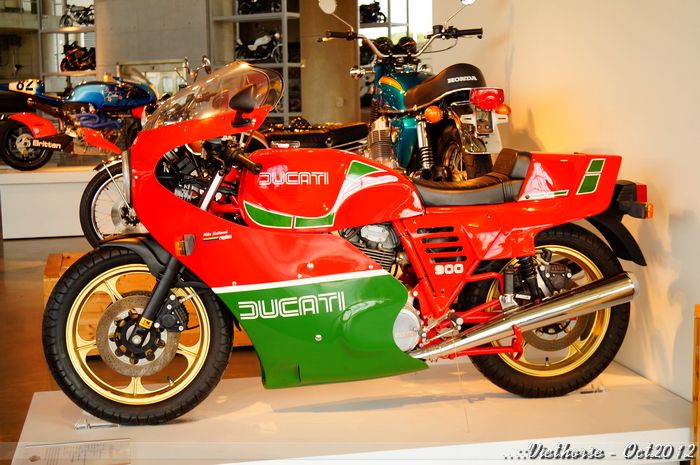 Many bike brands which I 've never heard: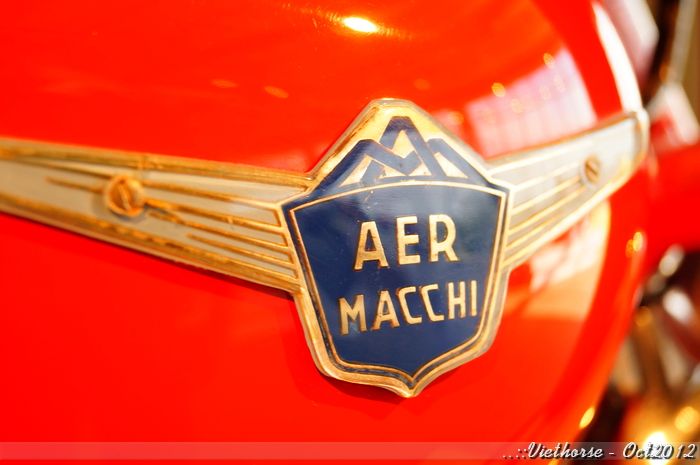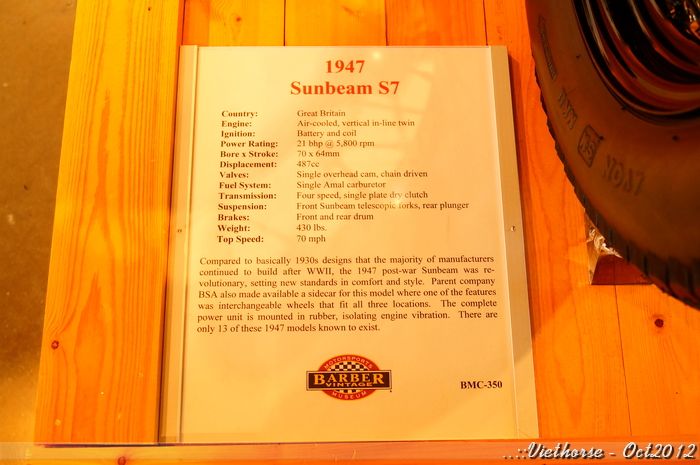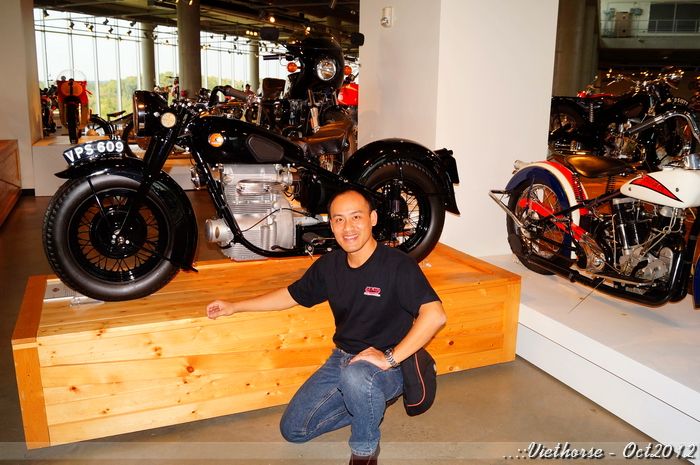 and many more….
During my visit, they had so called a qualification practice of the Vintage bike racer on the track behind the Museum. Enjoy seeing all the beautiful beasts in the Museum and hear the racing sounds from the windows – what a feeling!!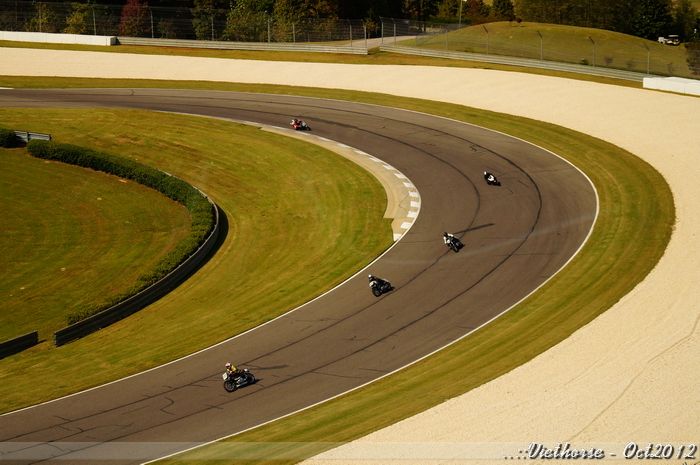 Oh, this bike looks sick: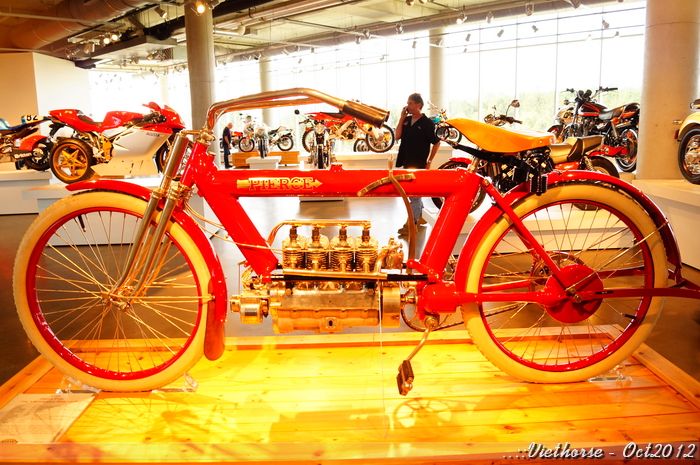 This looked pretty new, even the wooden parts: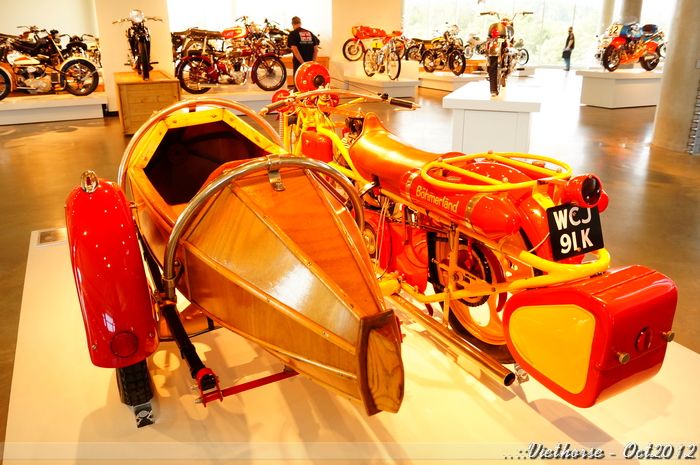 An interesting info is the starting point of this Museum was from three VFR – hehe, I am now riding a VFR as well 
: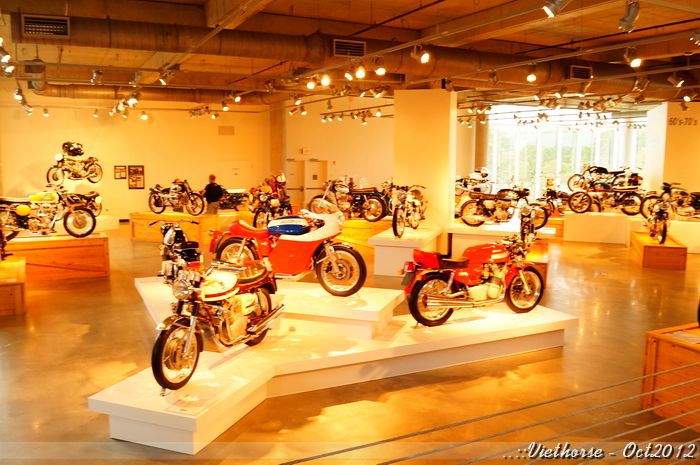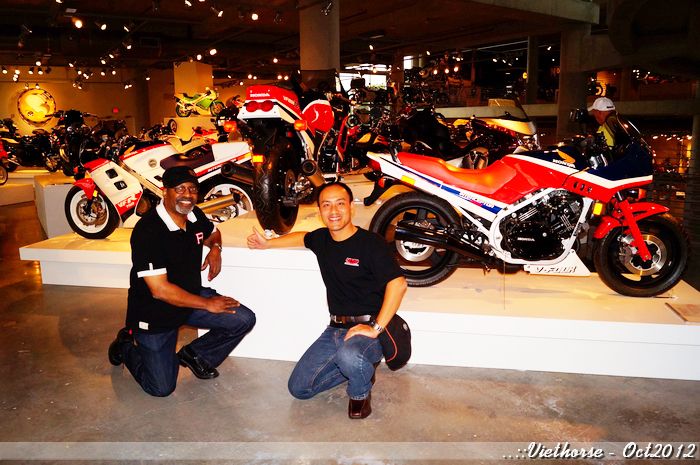 Cool set up – feel like on a track: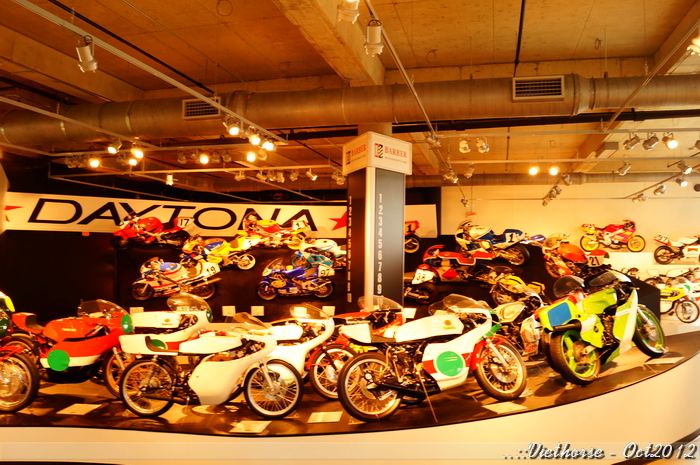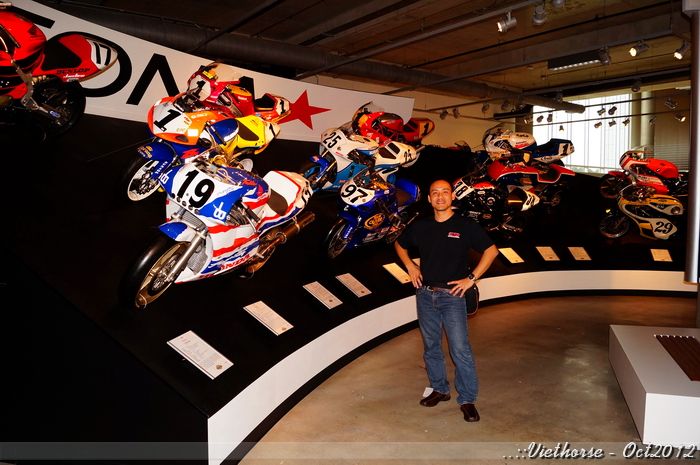 Some special stuff, i.e. Micheal Jordan's racing bikes: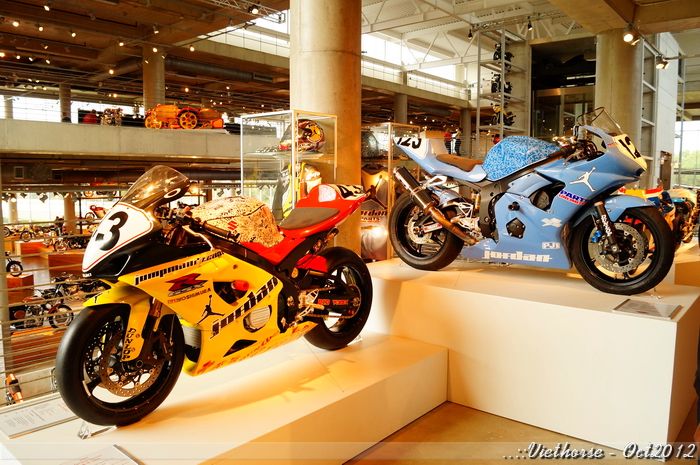 Or a steam bike: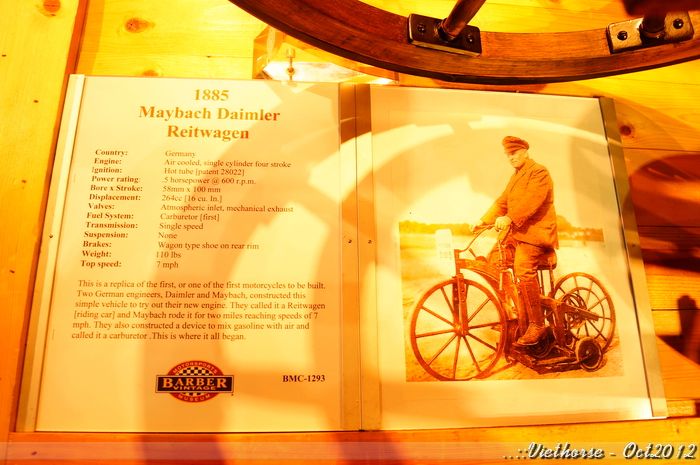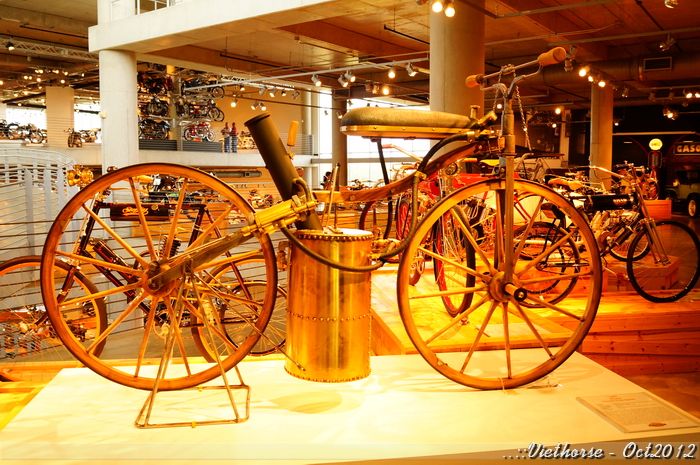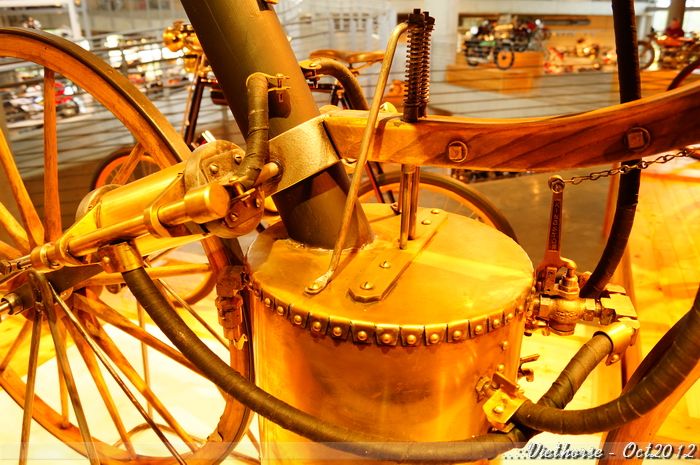 Just wanna have them all !!!

Spent some more time with the bikes and the souvenir shop, then we headed back to Atlanta for a dinner.
Here was where we had dinner that day:

The place is a meeting place of Atlanta bikers every Thursday night. That night was the last one before all the bikes are stored in the garages until next year riding season: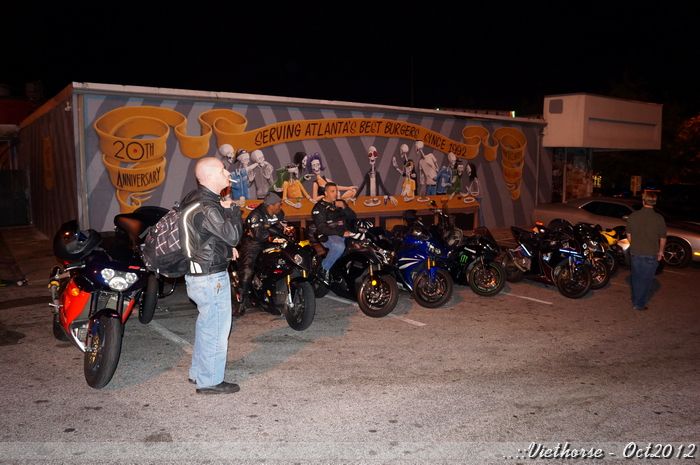 Great opportunity to meet with a friend, who is very impressed to me with his strength and great recovery after a serious accident: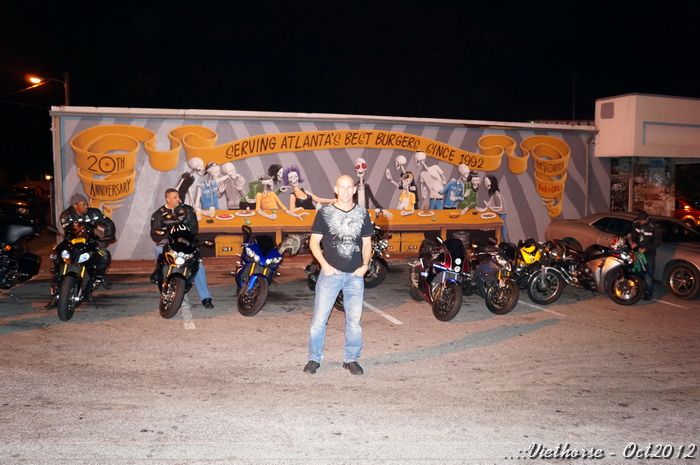 He looks great as always: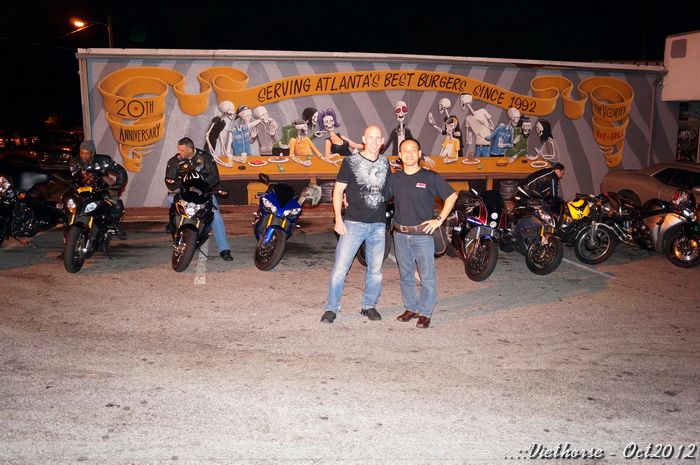 And he could drink well, too: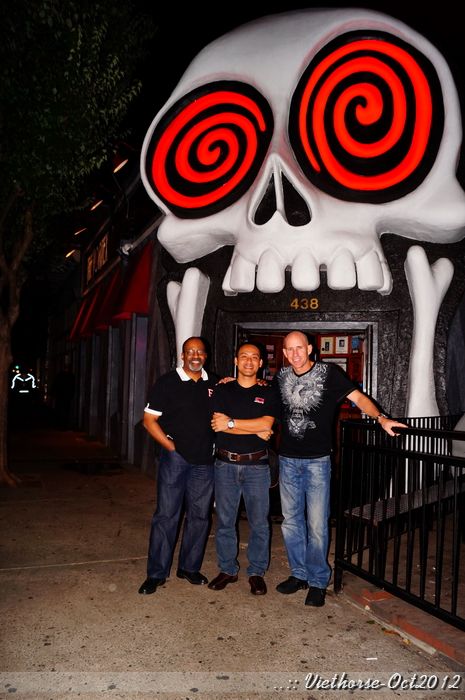 Went sleep quite late that night for packing stuff for the long ride from the day after.
DAY 1 – RIDING FROM ATLANTA (GEORGIA) to ROBBINSVILLE (NORTH CAROLINA)
Friday morning, 12Oct, Wrestler and me two-up on his Red VFR to Sy's house.
Until now, I still don't understand what made Wrestler missed the road and went further than Sy's house may be around 10miles. LOL….
At least, we get to the right place, Sy was almost falling into sleep.
Beautiful white pearl VFR was up on the trailer, ready for the trip: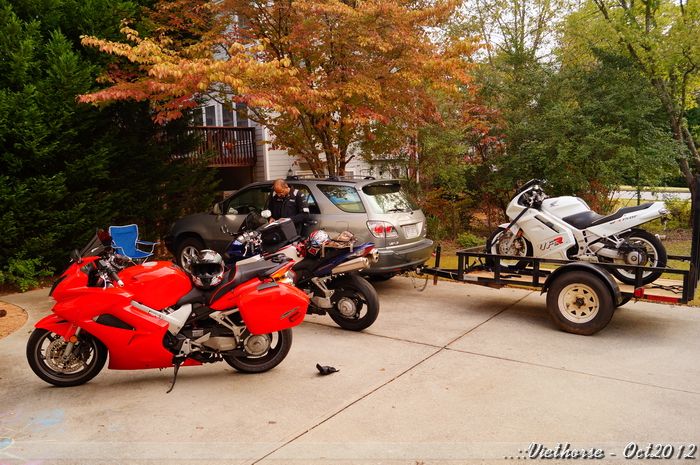 Getting Sy's bike, check around and make all the baggage organized and ready to roll.
His bike is almost the same as my bike in Vietnam, just the difference is mine is ABS version. It 's really great that he installed the Power outlet on this bike, it's good for me to use it for my GPS. Thank to my great GPS, I brought it from Vietnam, installed the US map myself and it works fantastic since the time I was in Texas.
Our first stop was for gas. Here was the second stop, for our stomachs. Hahah…

Sy was so amazing, he got the things so well prepared and organized. He was a bit too excited with the drinks LoL…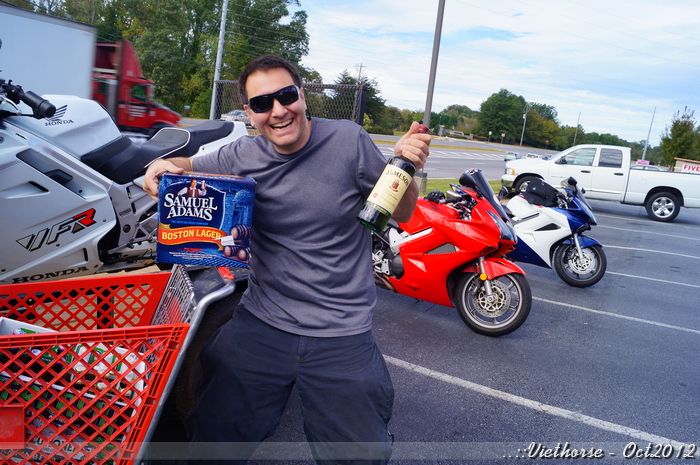 Wrestler was, too: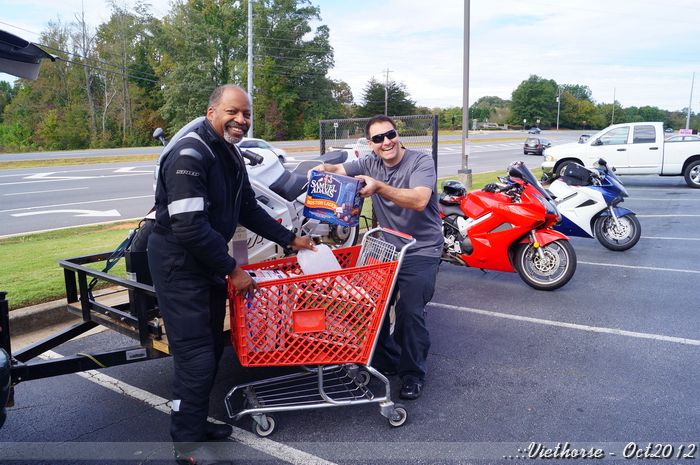 You have been caught, Mr. Wrestler: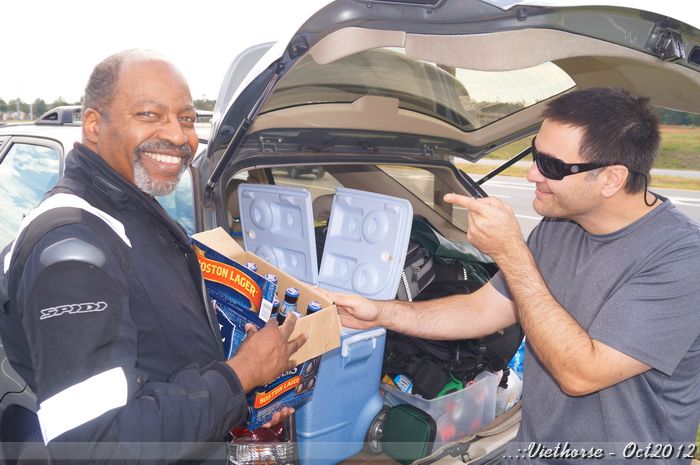 Then we were heading to the Blood Mountain, where Sy said it's a good start for a mountain ride.
At this junction, Sy was making a sudden turn to the right. Wresler missed the turn and we gotta wait for a while: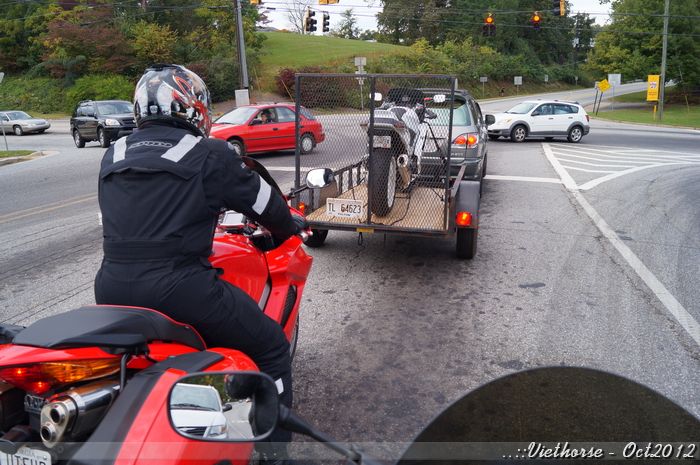 Nice lake beside where we stopped: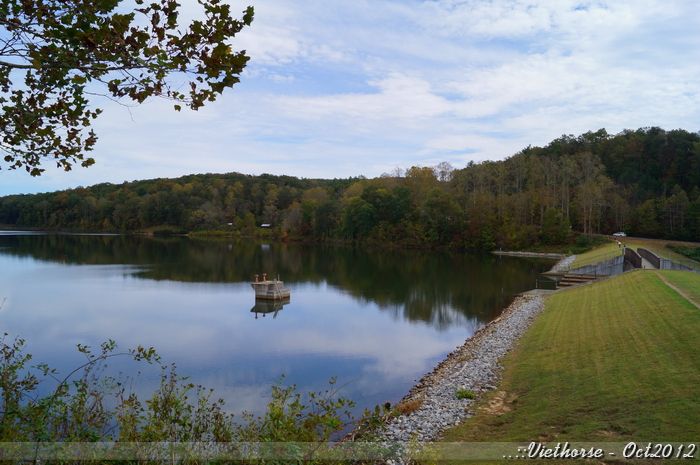 Wrestler came in!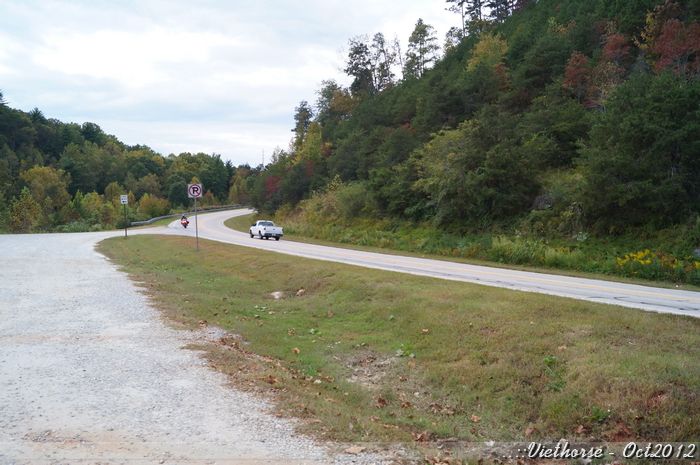 Prepared to roll again:

Nice roads ahead: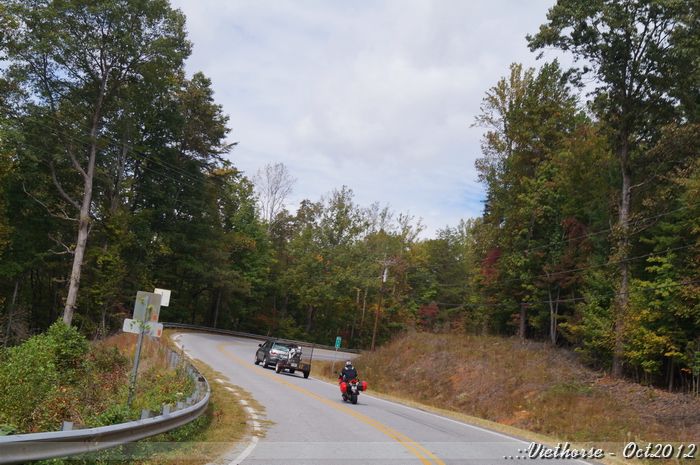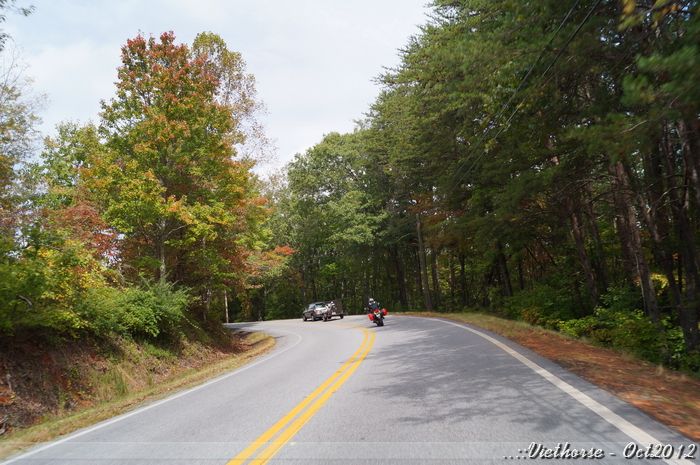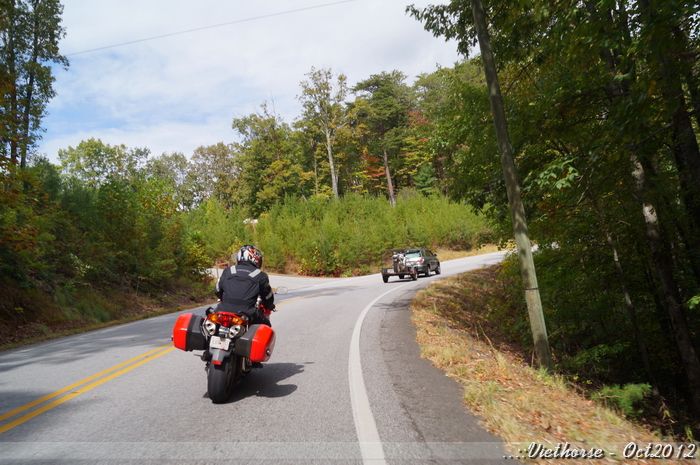 I could not stay behind the trailer, even though there was a beautiful VFR on it. Push more gas, rode on my own GPS: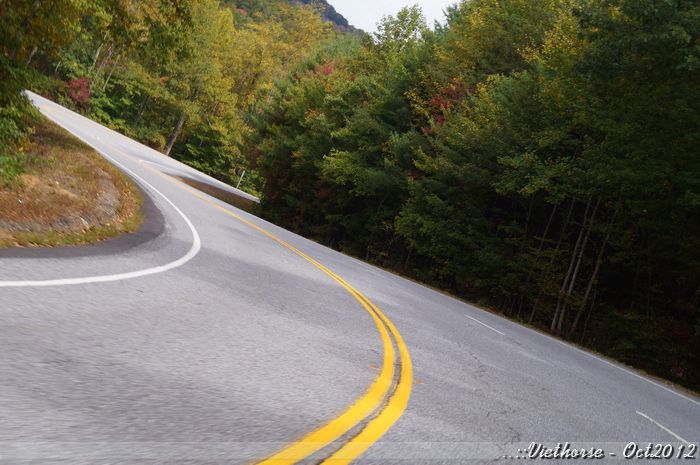 After around 15mins cornering, we stopped at a tourist place: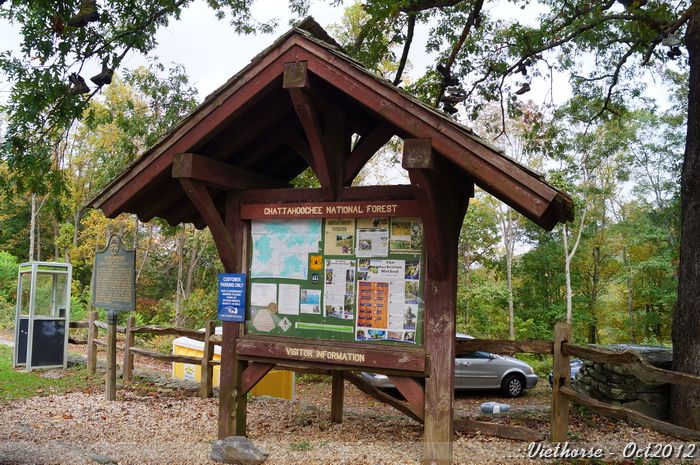 Wrestler came in:

I was there with the RWB VFR: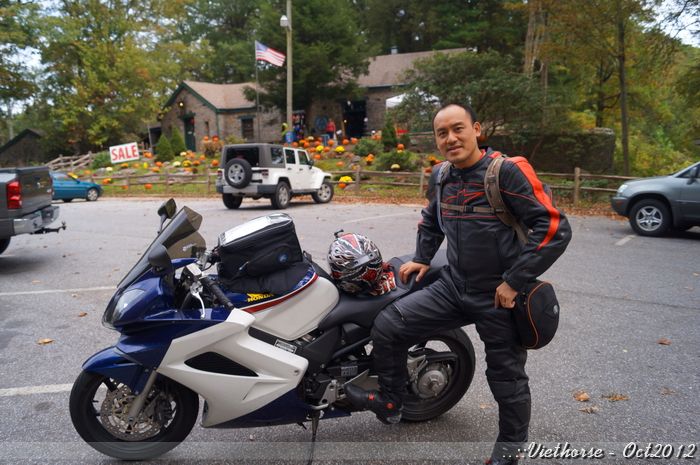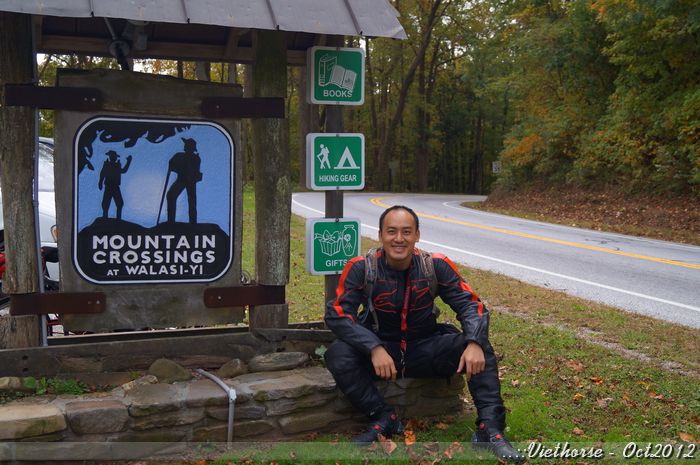 I have no idea why people hang a lot of shoes on this tree:

At the time we arrived, a singer was sitting infront of the shop, playing a country song with his guitar. Great moment with the nice view, nice song and music, with good friends, in a bit chilly weather.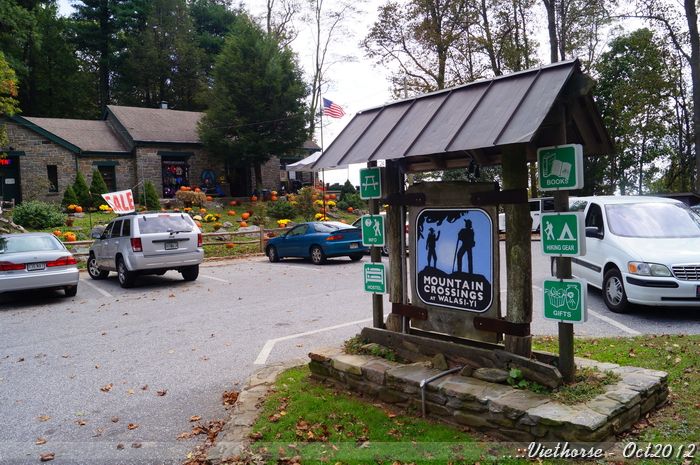 We on road again: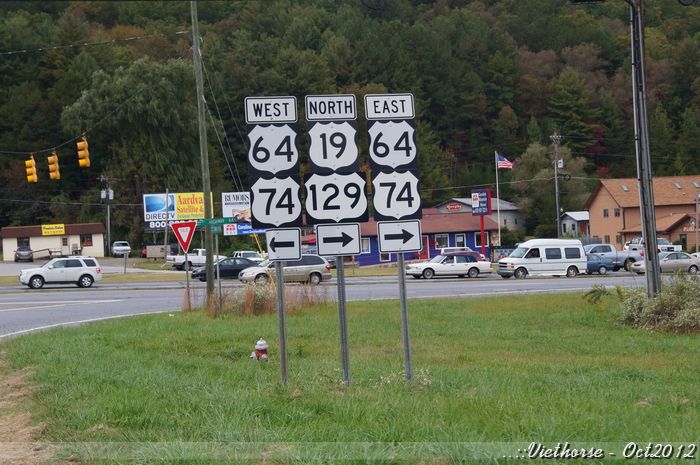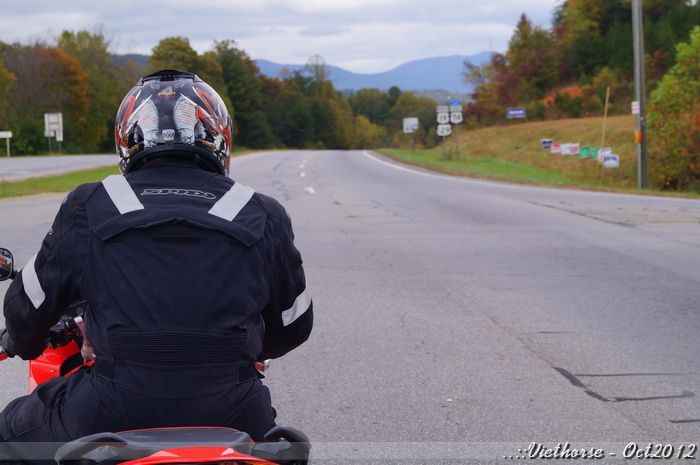 We started to see the fall color: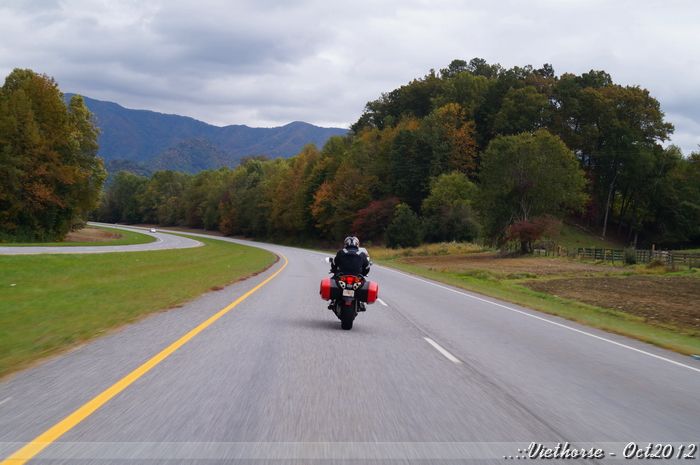 Fall smell, color and feeling are all around…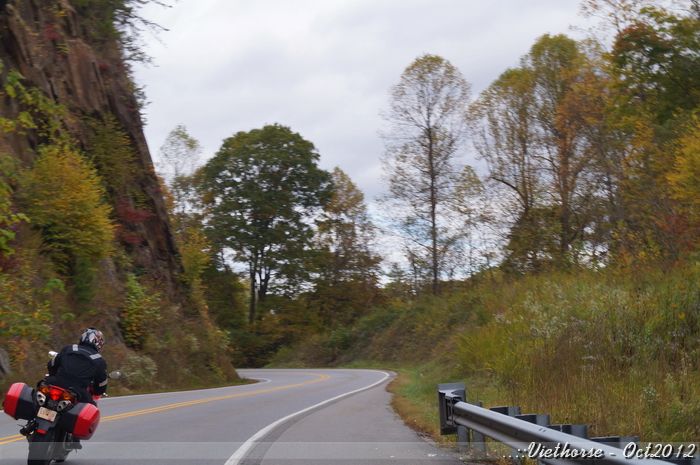 The road and view was too beautiful then, I was so excited, so that I keep riding ahead, passed the entrance of the cabin.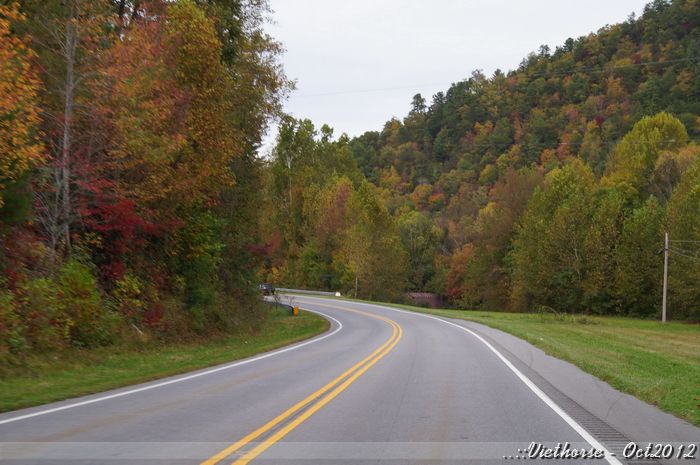 Rode for a while, not seeing Wrestler in the mirror, I stopped beside of the road to wait: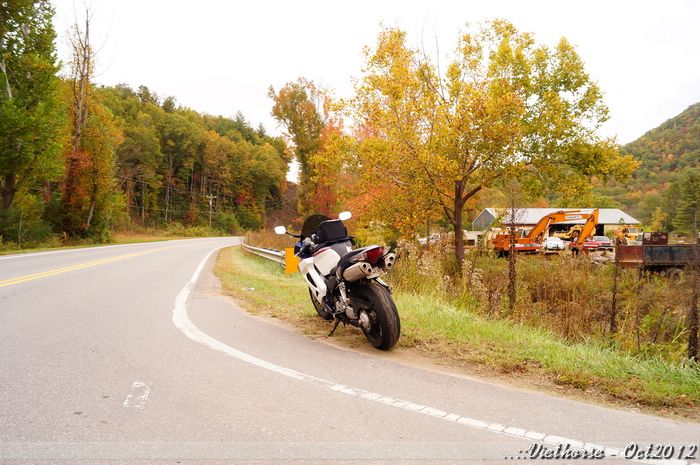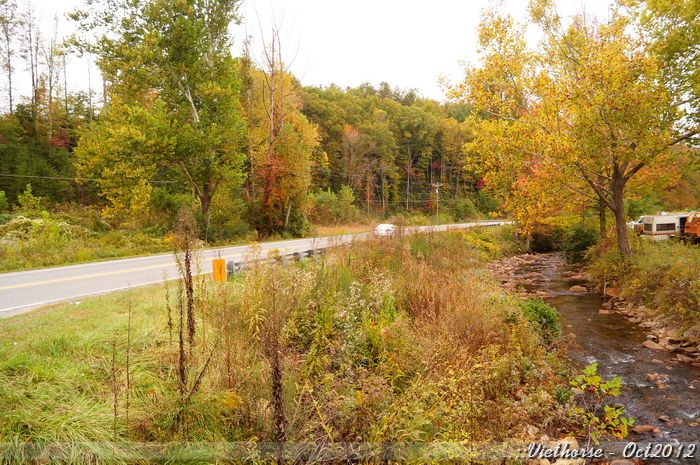 Then I saw him, he asked me to return as I passed the destination.
We head back, and I saw Switchblade, other inmate on the way. We all came to the cabin.
Finally, arrived the cabin. The entrance:

Wonderful color, which I only see on the internet: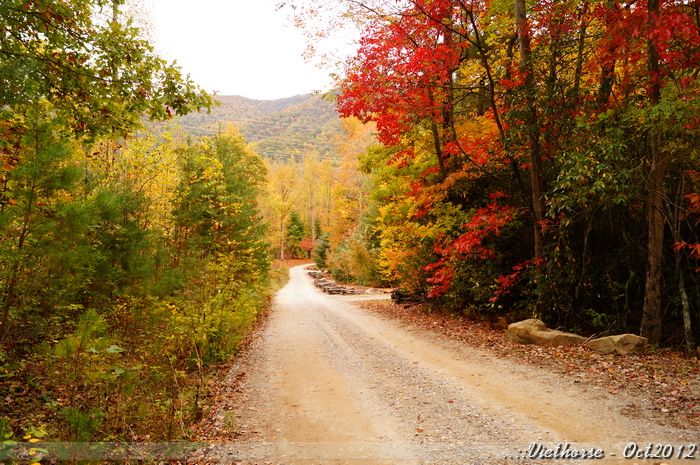 Front view of the beautiful cabin: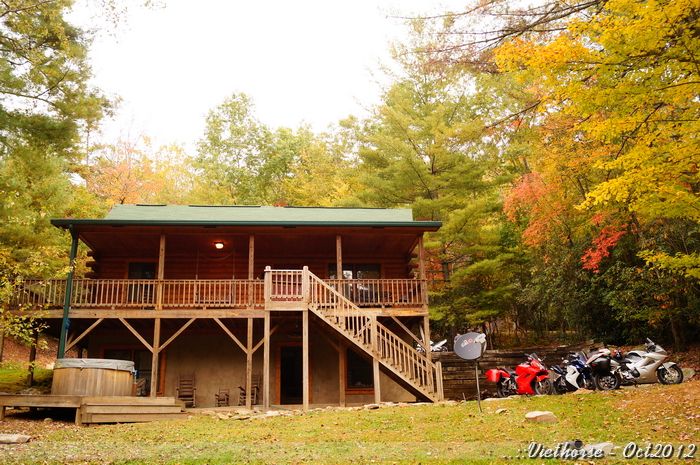 04 bikes at that time (Sy's, SwitchBlade, Viethorse, Wrestler):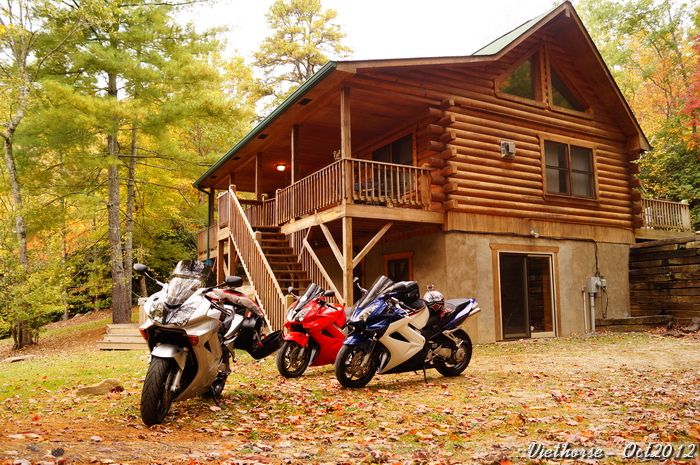 Sy and SwitchBlade were offloading food and drinks: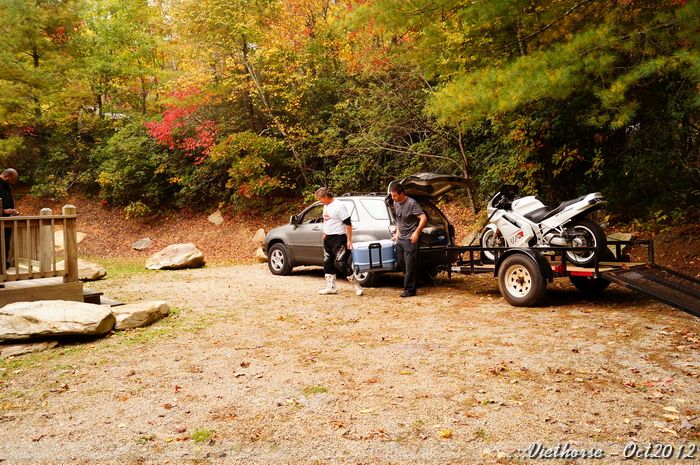 Some nice view around: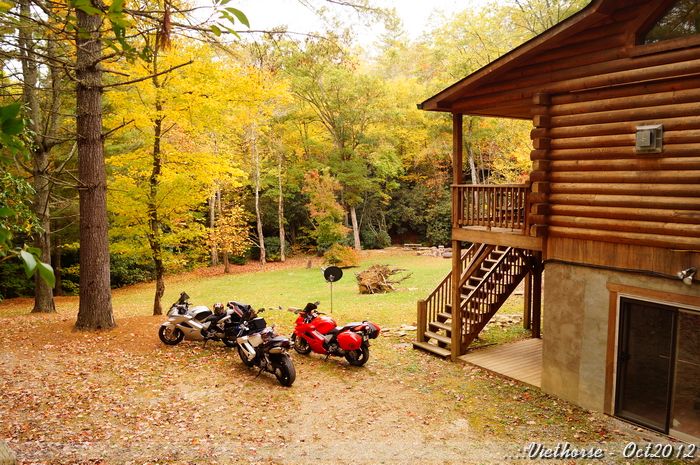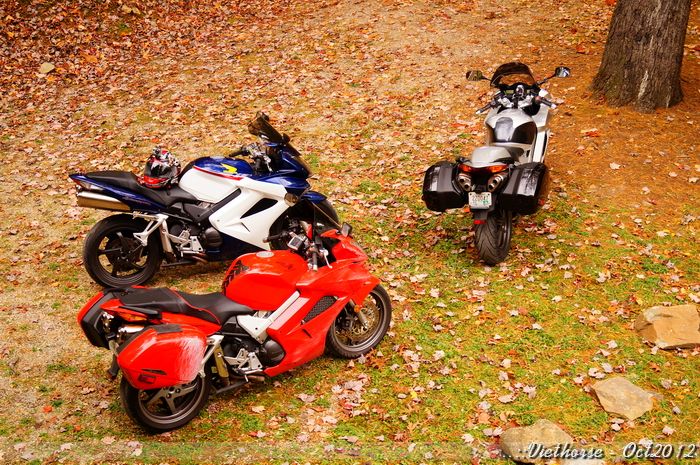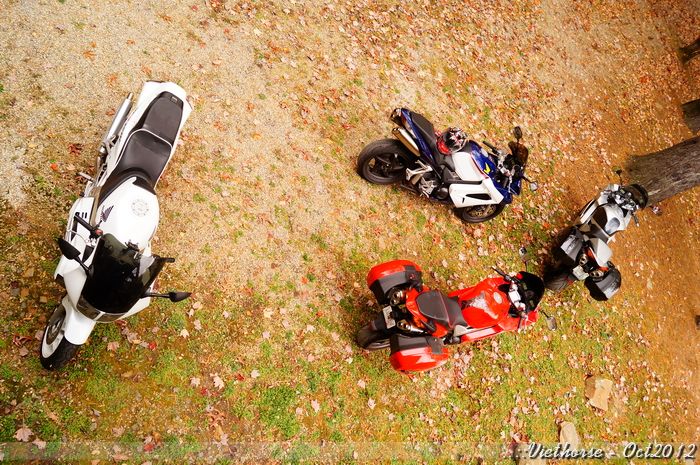 Front yard of the cabin, where we had a big fire on the next day. Awesome place: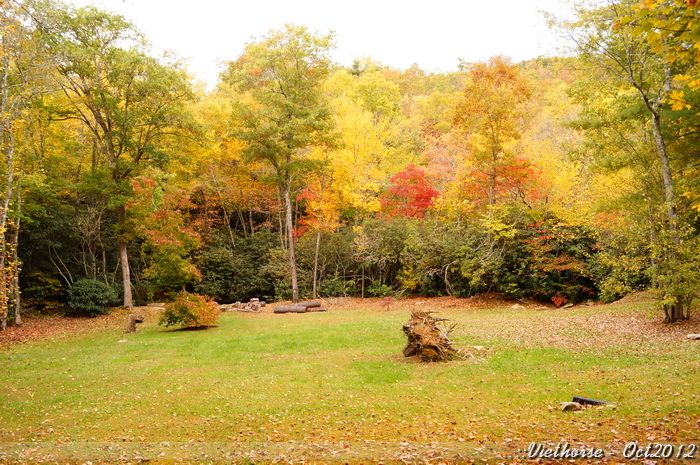 Someone so excited before going for the dinner:

Dinner menu – Good Friends, Good Food, Good Times: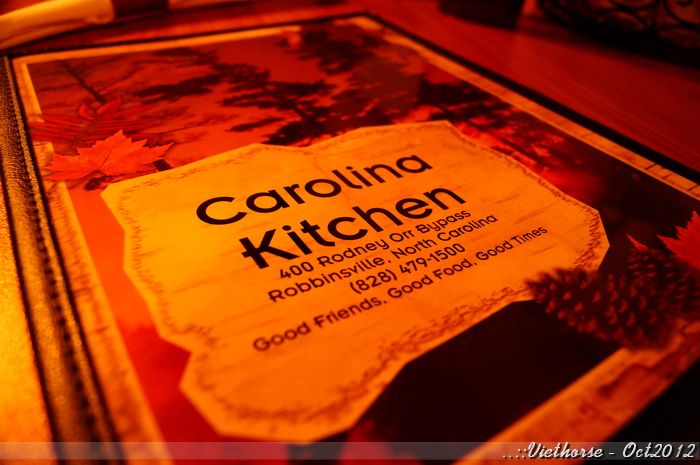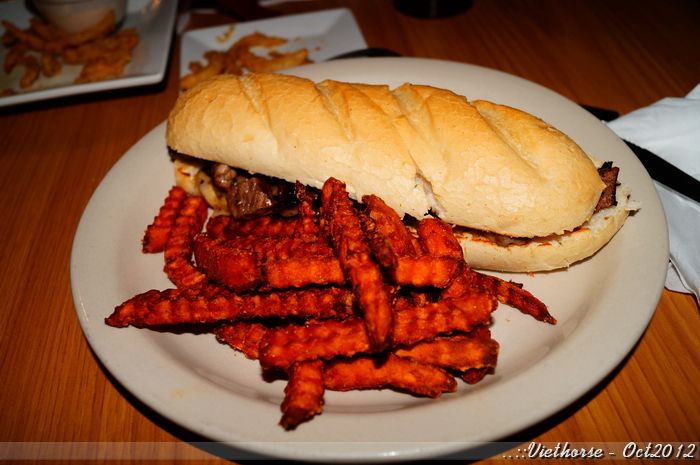 SOUTHEAST RIDE – DAY 2 (TAIL of DRAGON and CHEROHALA)
Saturday morning, discussion for the ride: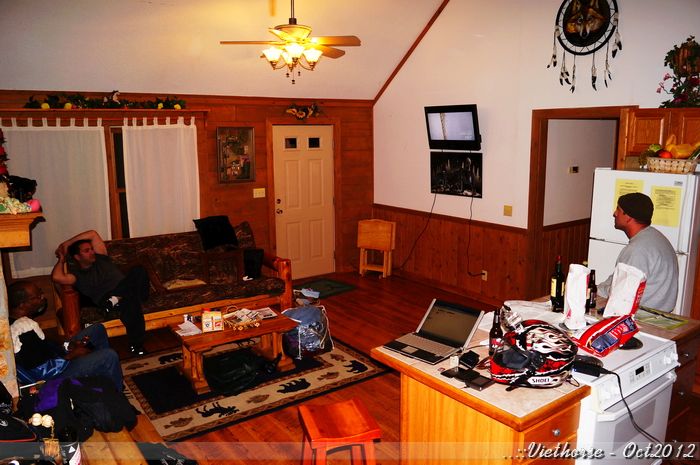 BR was ready for his Dragon session:

8:40AM, we reached the Deals gap: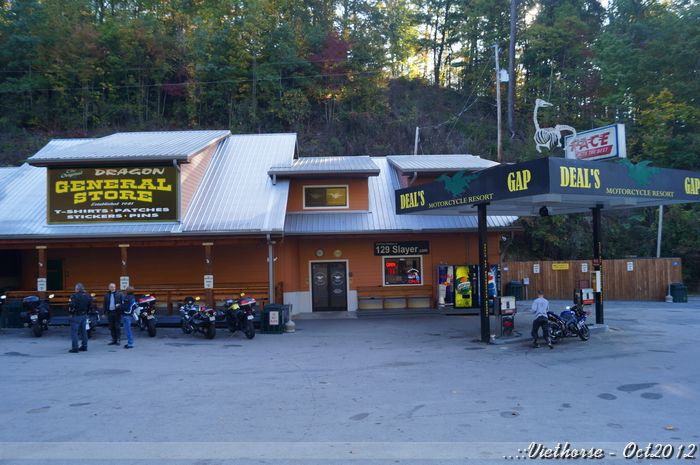 A group photo in front of the Deals Gap store. RA was the one taking this pix: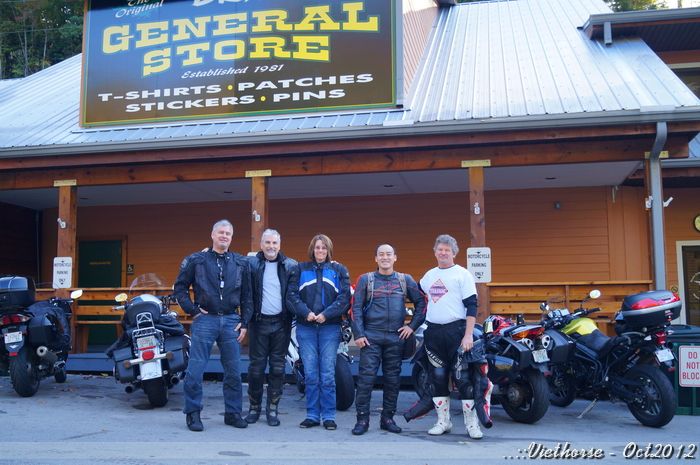 Took some photos here, it was my dream to be there and ride there: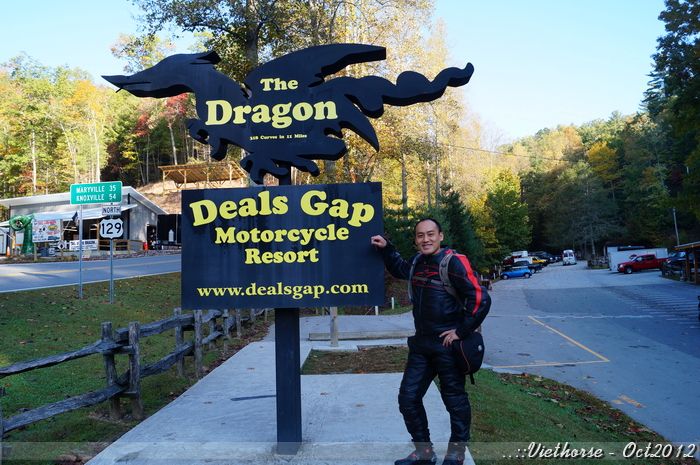 My great friend: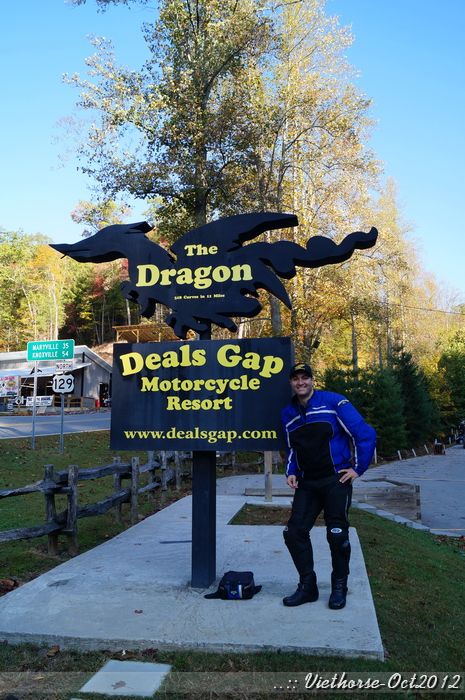 Other pics of the place: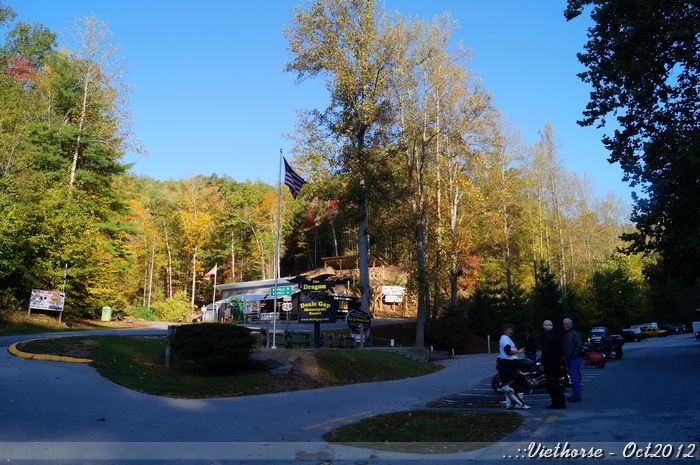 It was quite early so there were not many bikes: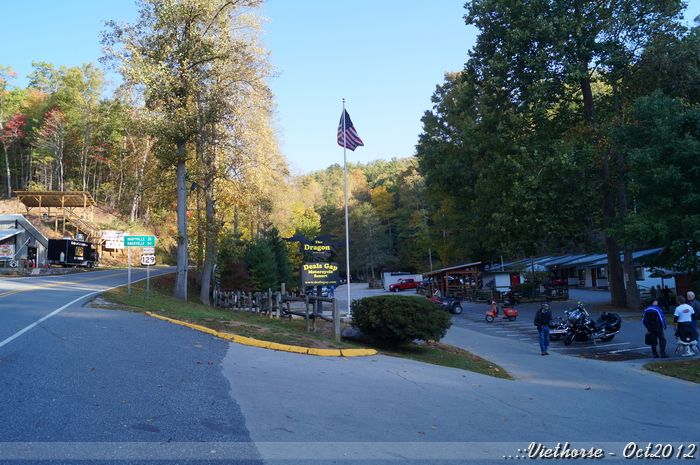 Kebrider, Switchblade, and probably Adam have done some Dragon laps before. Just me, BR, Sy just arrived.
People was considering of having breakfast first then slay the Dragon. However, I myself was so excited of the fist time there, and I think Sy and BR was most likely prefer do the Dragon right away.
I quickly grabbed a Snickers to ensure my stomach wont do any revolution before the real breakfast.
People was trying to warn me of the dangers and some precautions should be taken..
Then we headed to the Dragon, damn, I was so excited…
I still remember that since beginning of my trip planning, my core is always the Dragon. Well, it quite easy to understand that the Dragon has been being marketing so well, it became a very well-known place. And it seemed to be the only and the most preferred riding place to me, as I have no idea about the Blue Ridge Parkway or Cherohala, etc….
I saw all the guys, BR, Kebrider and his wife, Switchblade are all familiar with the road. They seemed remember every curve on the Dragon. I felt a bit in-confident. I think I did a lot of brakes in front of each decent curve.
I did not take any photo while riding on the Dragon.
I dont know what they called this place, but that is the end of 11miles Dragon: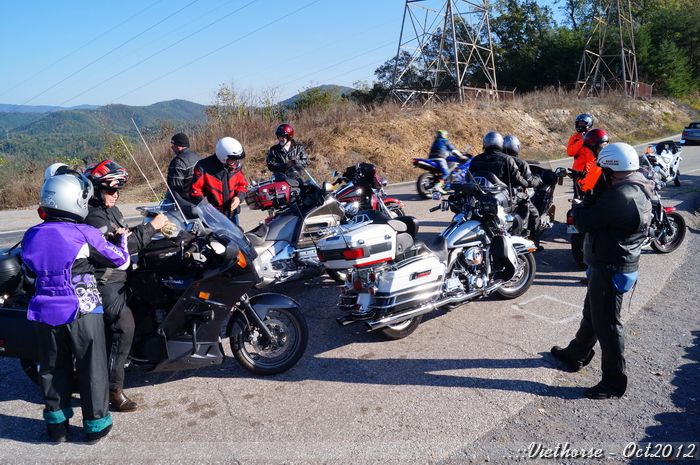 The lady was cornering very well on her Vespa. I passed her and her buddy about 1-2 miles befor getting to this place.
She head back early, may be did not want me to slow her down. LOL…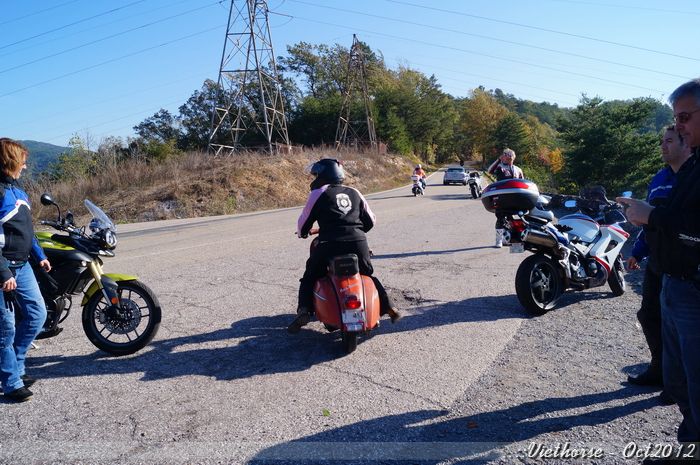 Some more view there: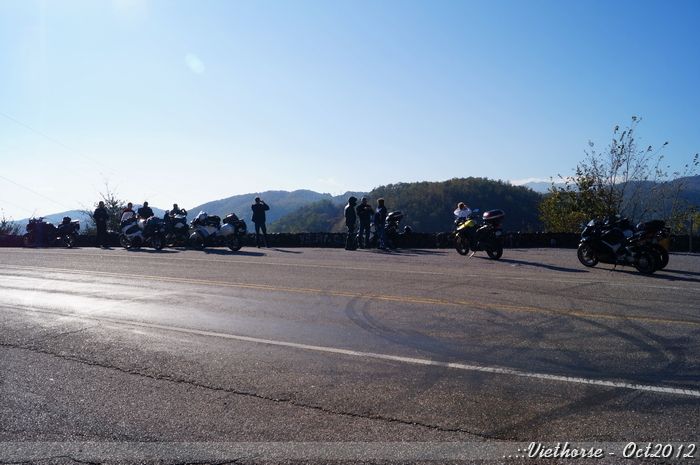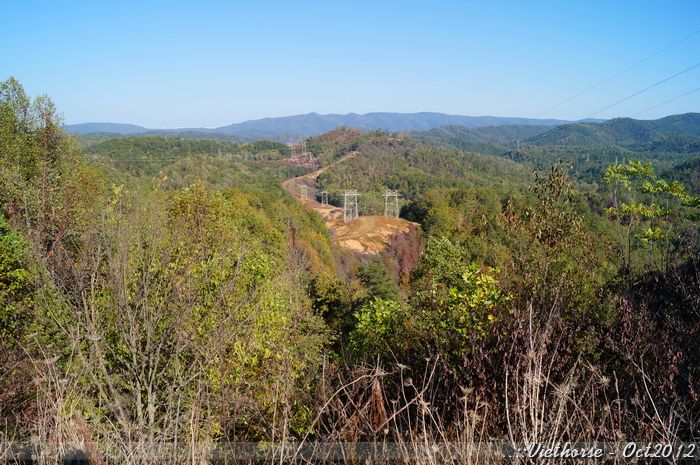 This 's way back to the Dragon: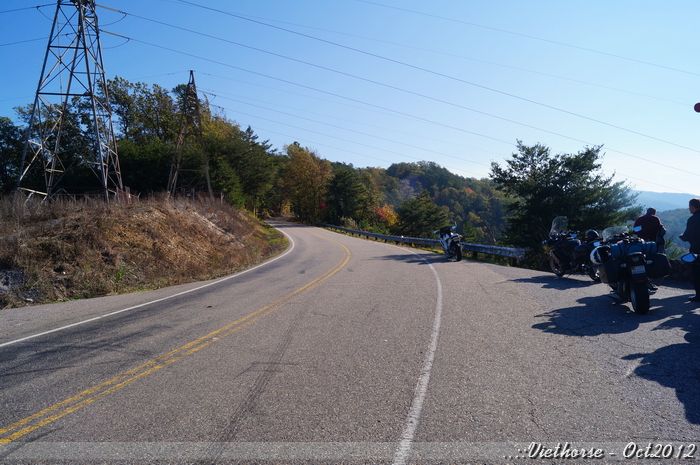 On the way back, I had chance to stop once more time here: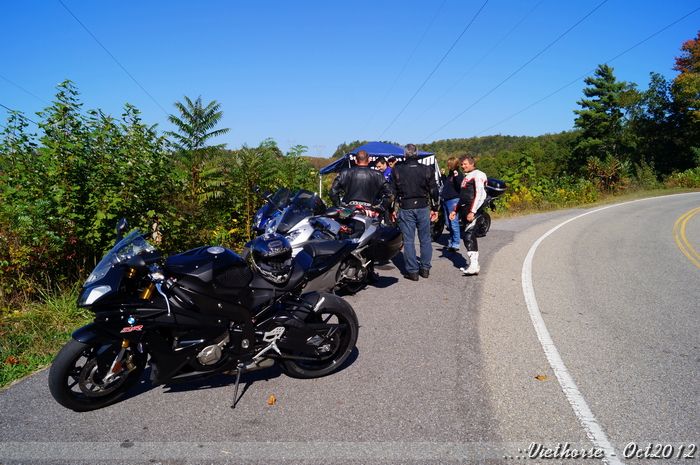 And had chance to take photo with the Killboy cameraman: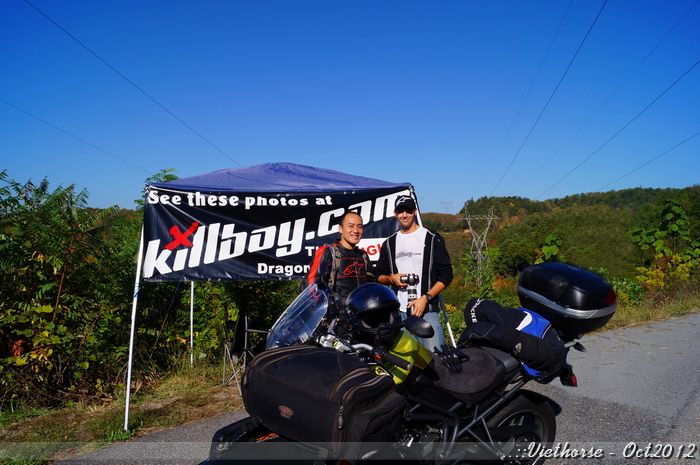 Because RA was having a lowsided just infront of the Killboy guy: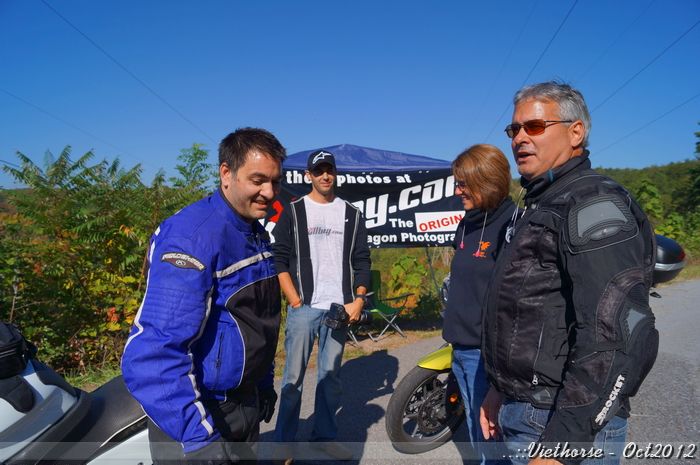 He might not have such happy face if he could not find his tankbag. There was a lot of money inside: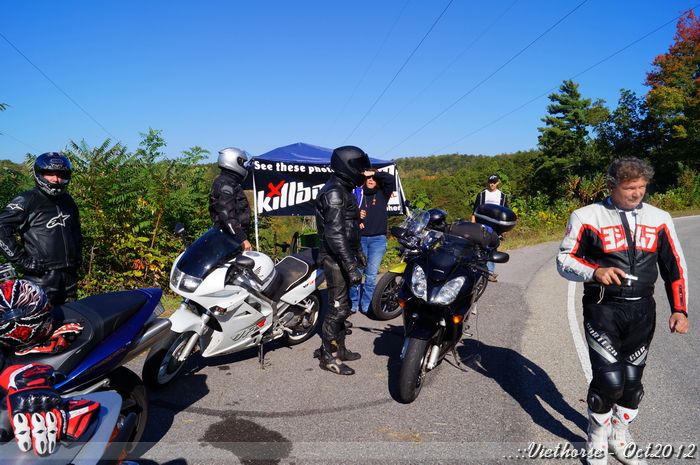 Killboy guy has put up his photos of my friend when he had low side with his beloved 3rd gen VFR: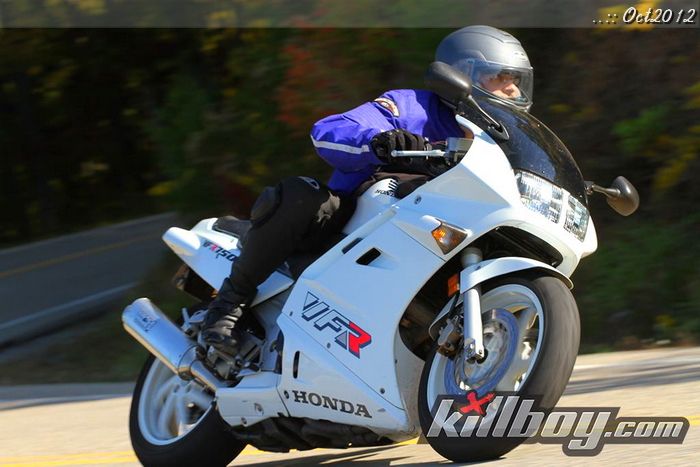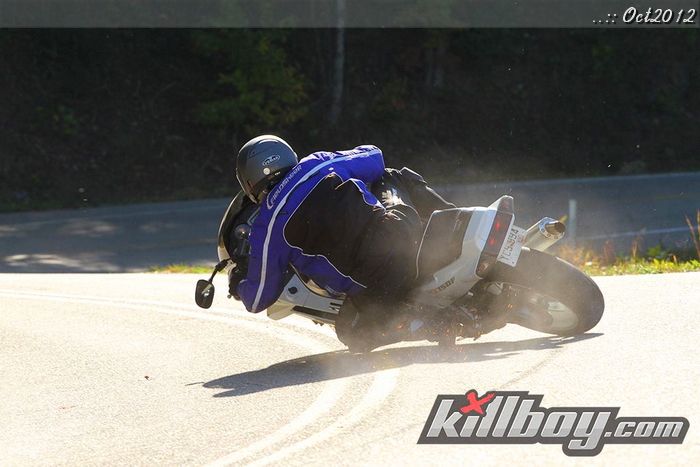 It was really badluck to him. He loves the bike so much.
Back to the Deals gap resort, more bikes were coming: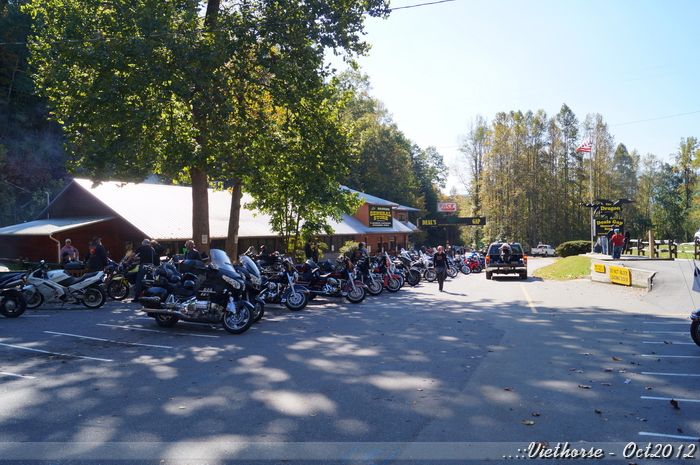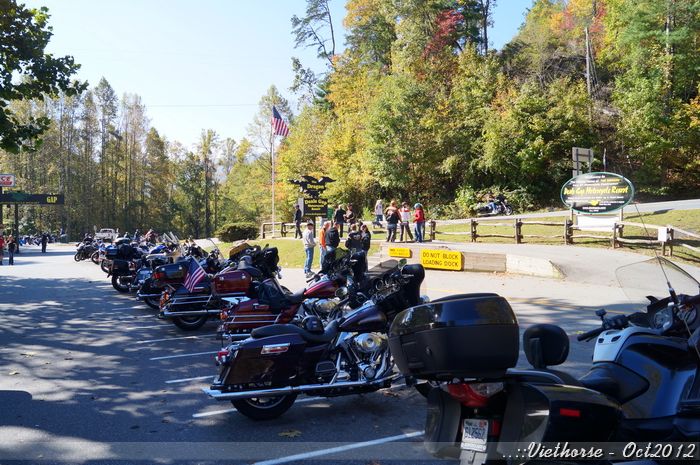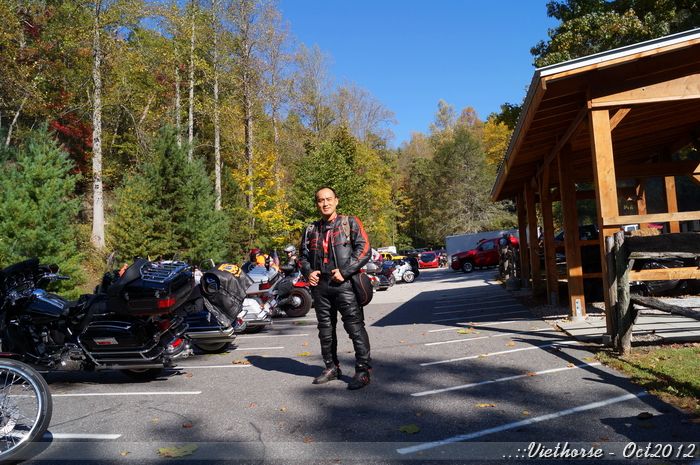 I did not have anything to hang on here: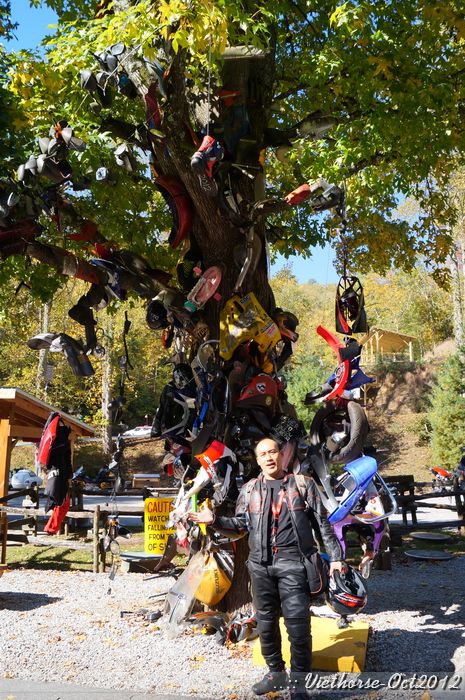 Someone climbed quite high to hang the stuff:

Breakfast: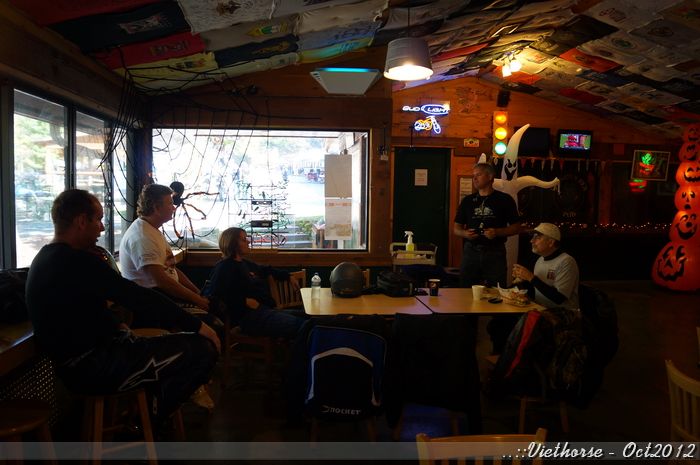 It's nice place and really impressed me, the things I had only seen on internet: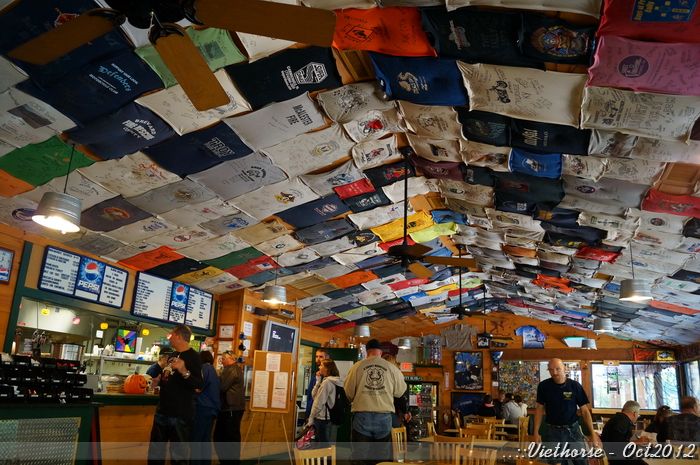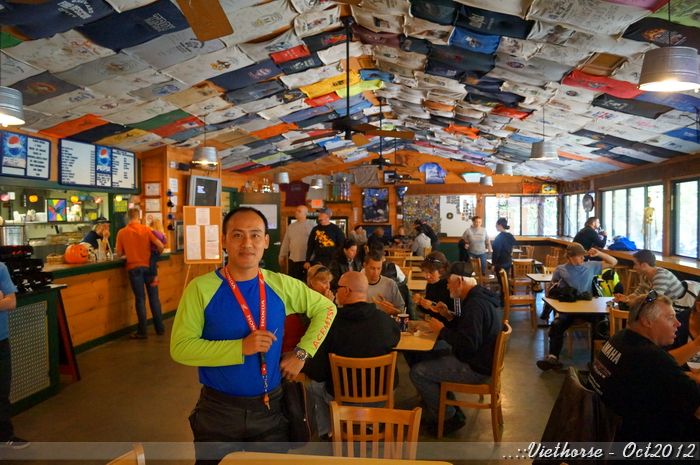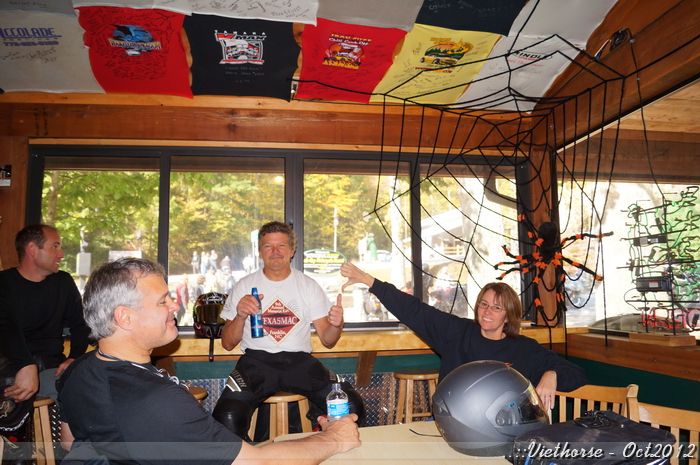 Dave showed me his big photo on the wall. Great one!

Done the breakfast, we prepared for Cherohala. I was told that this Cherohala skyway is one of the most beautiful riding road during this season.
So, what to wait for?? Just took some more photos before departure: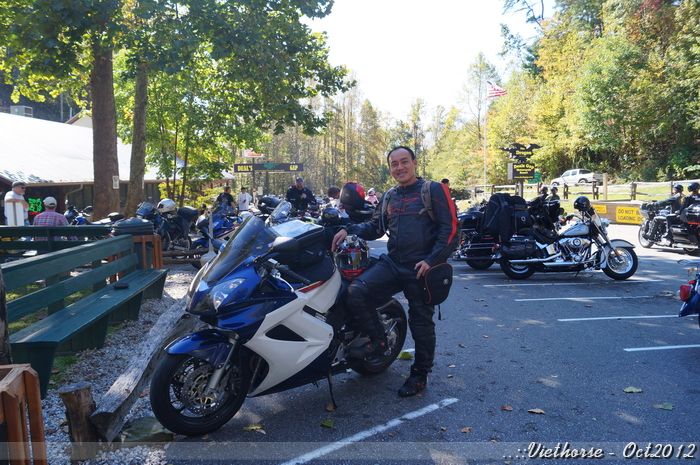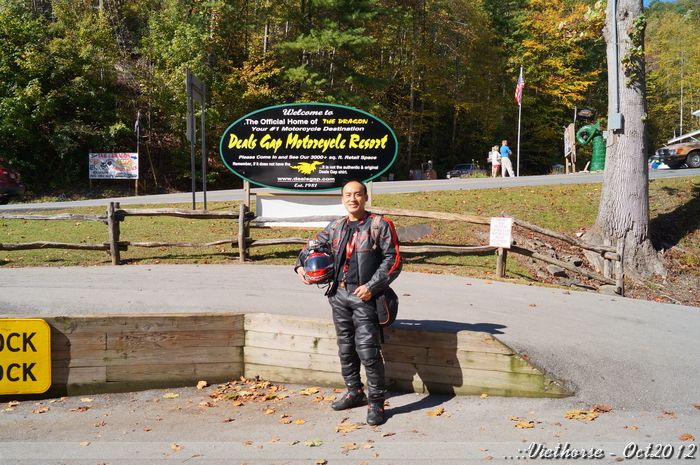 Left the Deals gap, we rode on the Hwy-80 heading to Cherohala Skyway.
Stopped for fuel: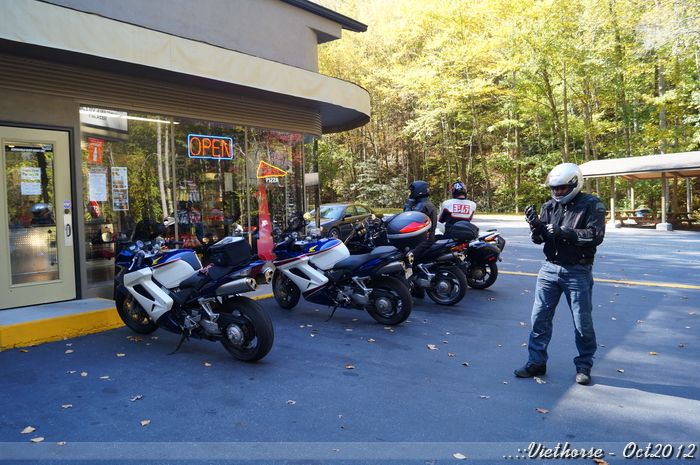 My excitement before going to the new road: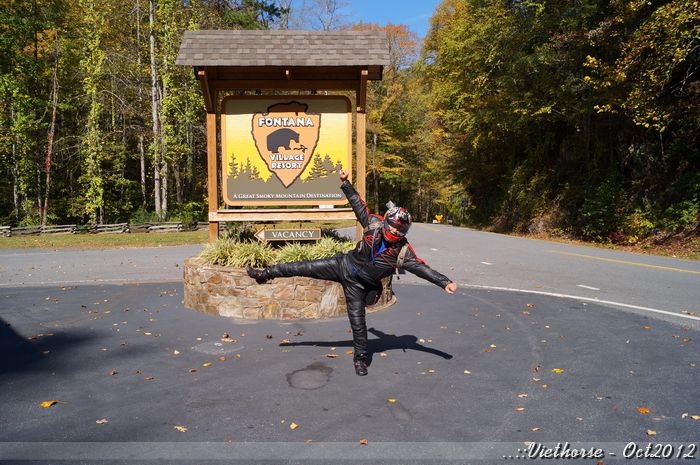 As per my request, Kimball lead us to visit the Cross, where we tribute to a passed away friend: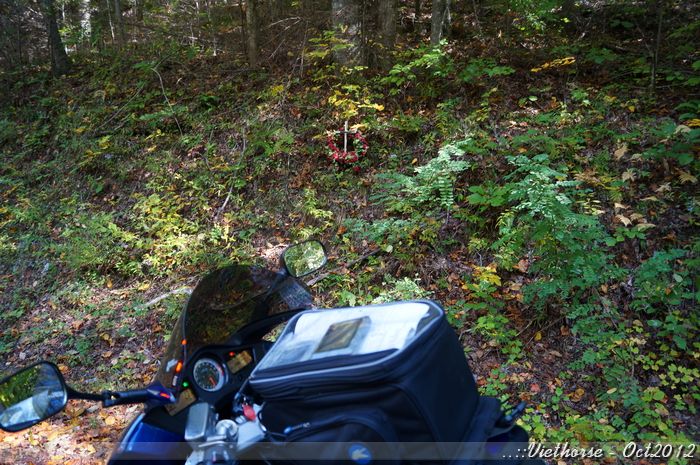 The road after that was really amazing. Left side was the cliff, right side was a river. That day I could not stop to take any photos there. However, I have tried to have some photos during my lonely ride later on.
Fall colors: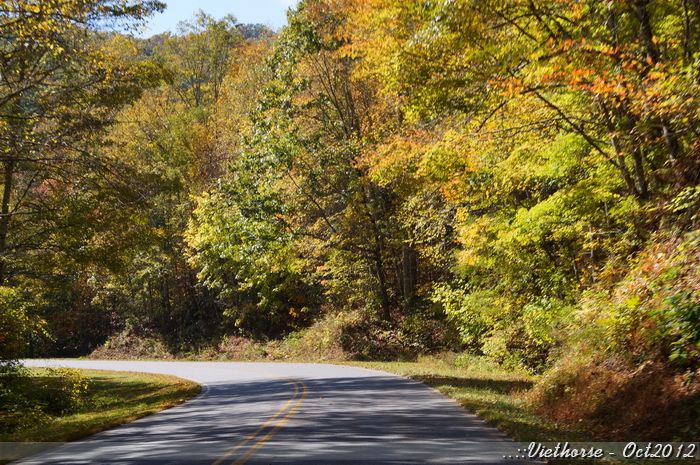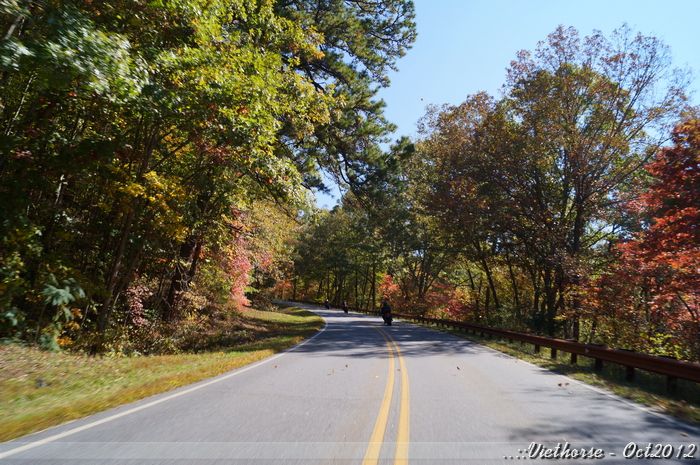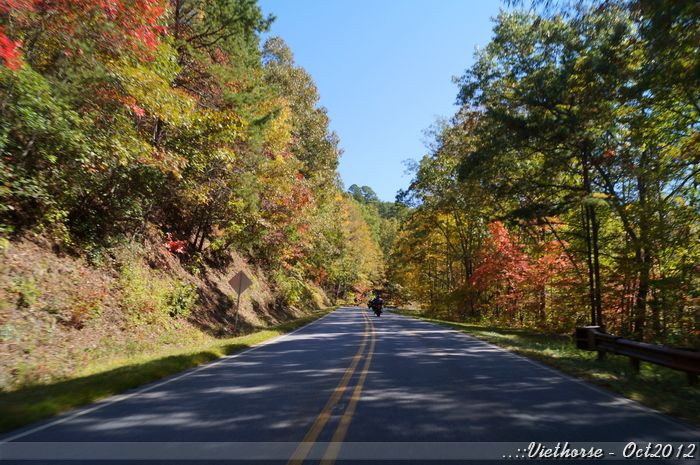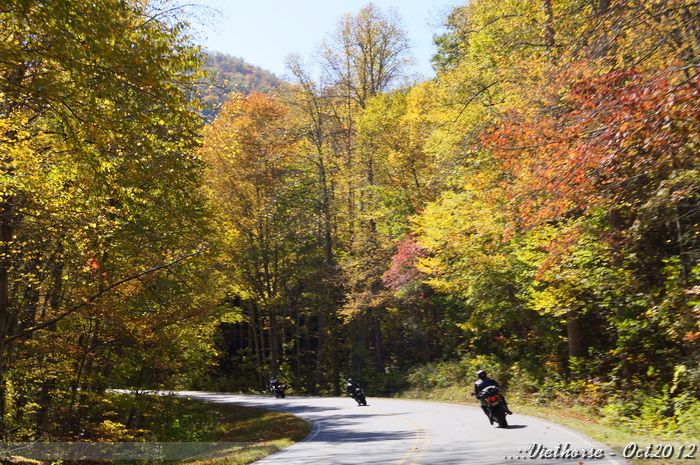 It's very nice curves: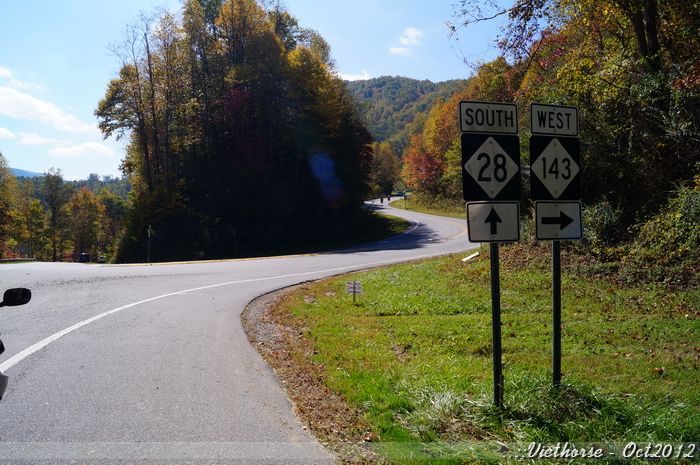 ….
Dave was heading back and we didn't understand why we stopped: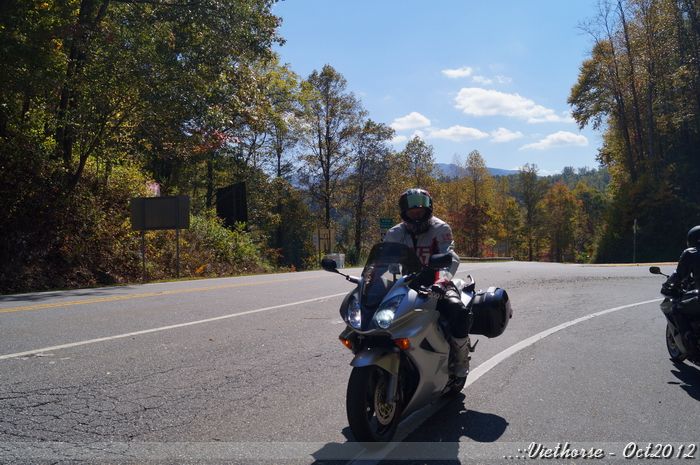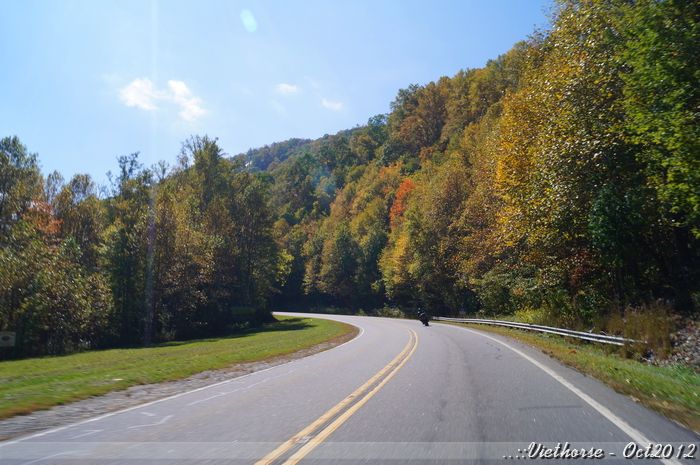 Really great weather to ride out: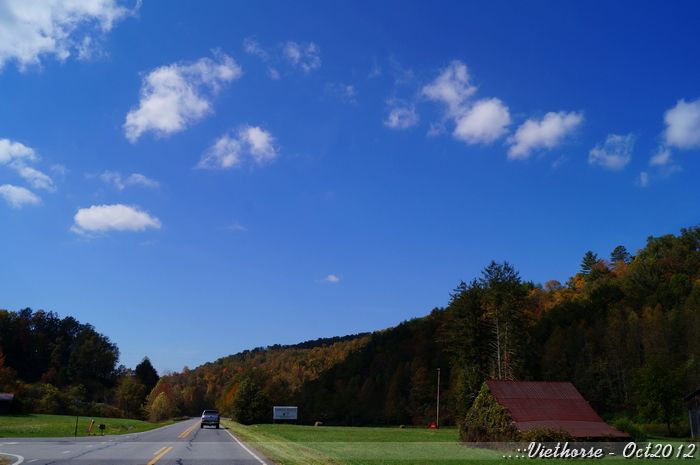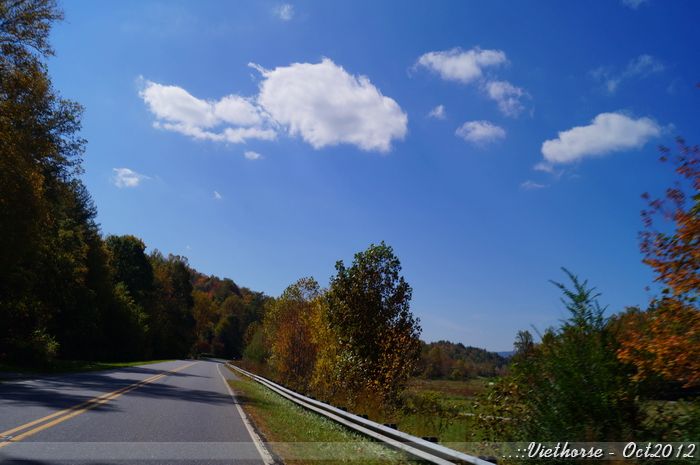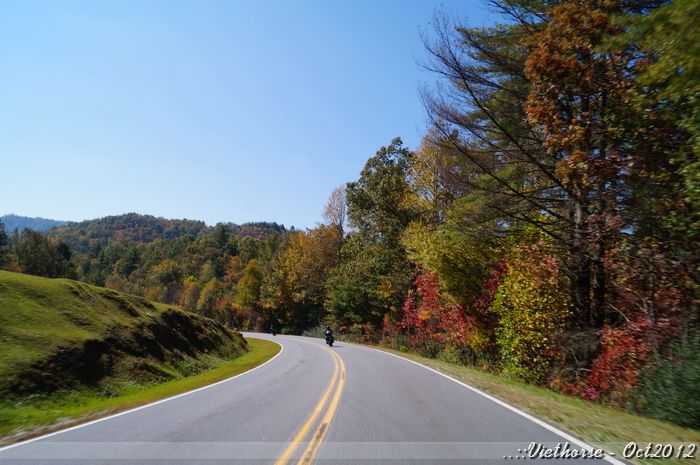 We stopped at the beginning point of the Cherohala Skyway. They have the information board which has very Asian look: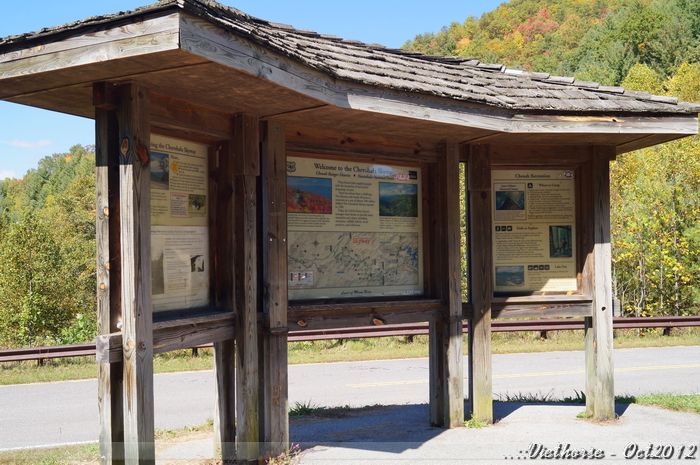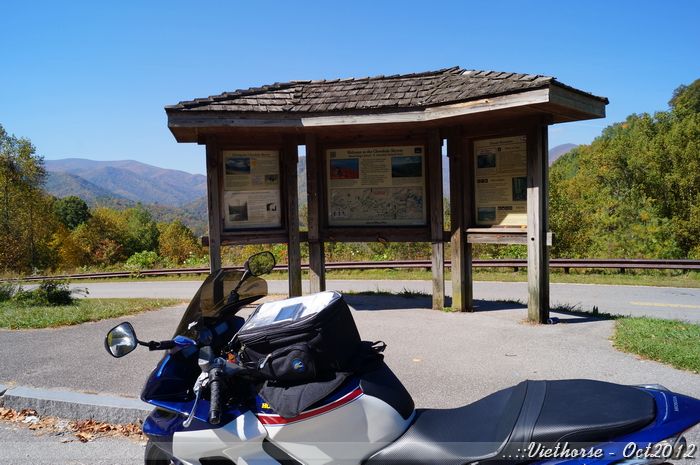 Kimball may say something which Kevin and Adam never know!!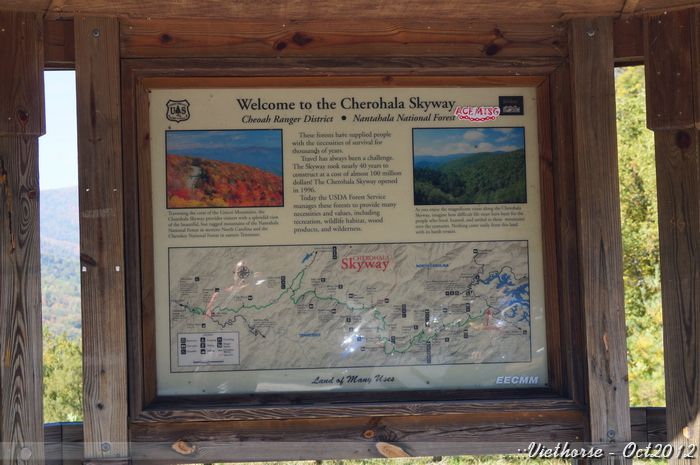 This point is not too high: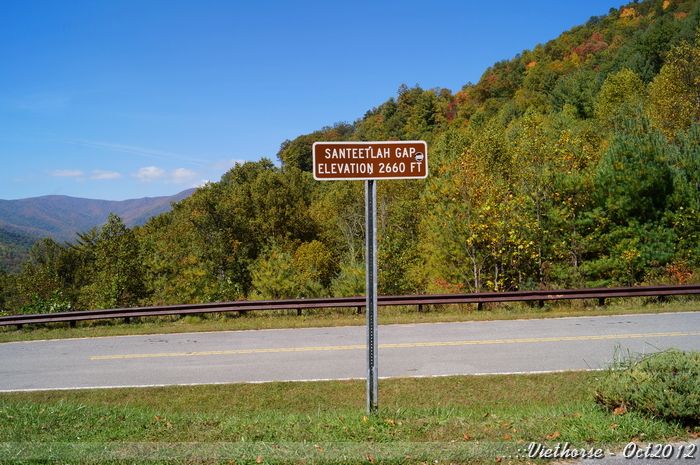 I think Adam haven't got any photo since we met – he loves his new BMW1000RR so much: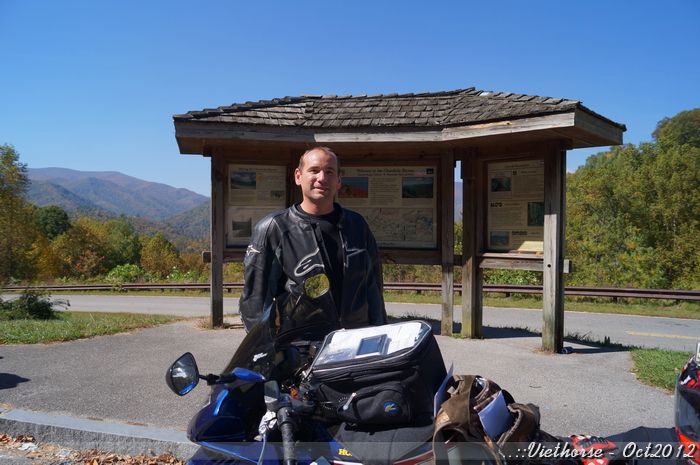 Group photos for all the ppl riding that time:

We started moving:

And I continued with the photos:

Nice road, nice weather so there were a lot of bikers: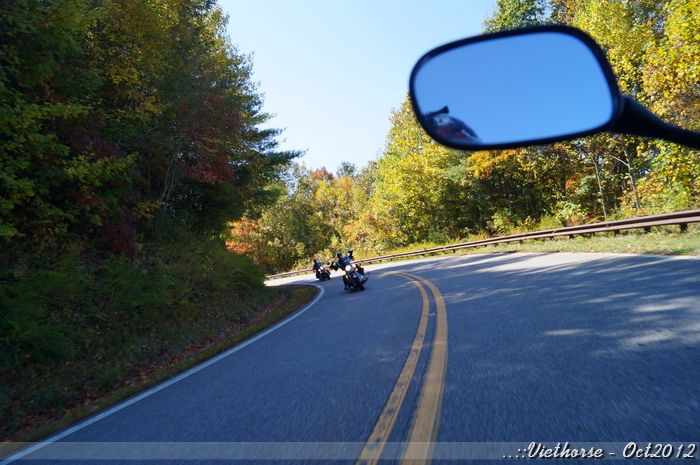 Adam told me that he loves Cherohala the most, nice scene with the long curve, he can lean his bike for much longer time than on the Dragon:

I love them all !!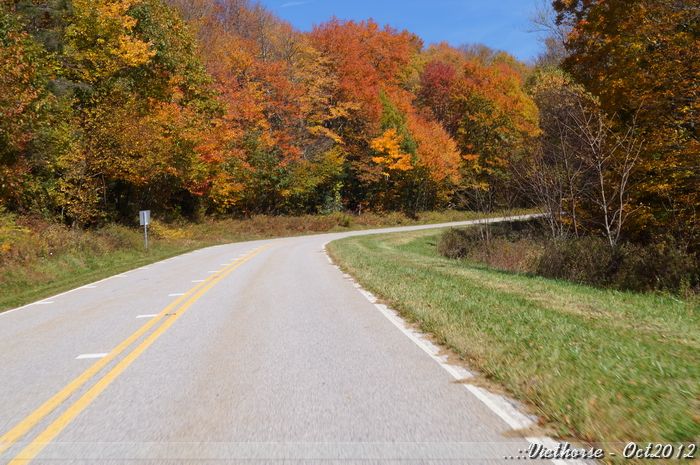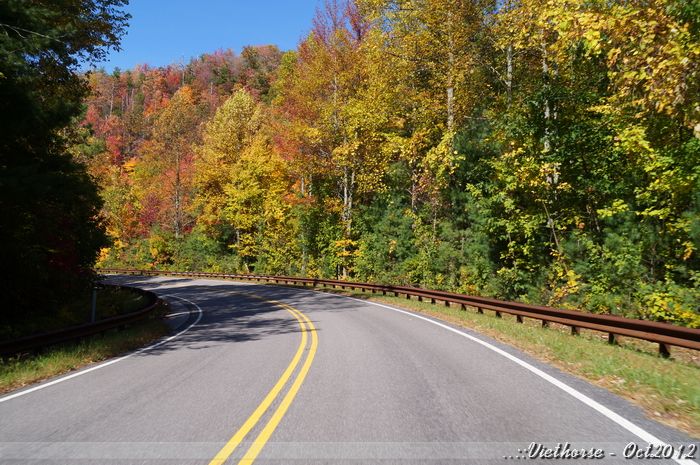 Don't know why they have the white lines on the road: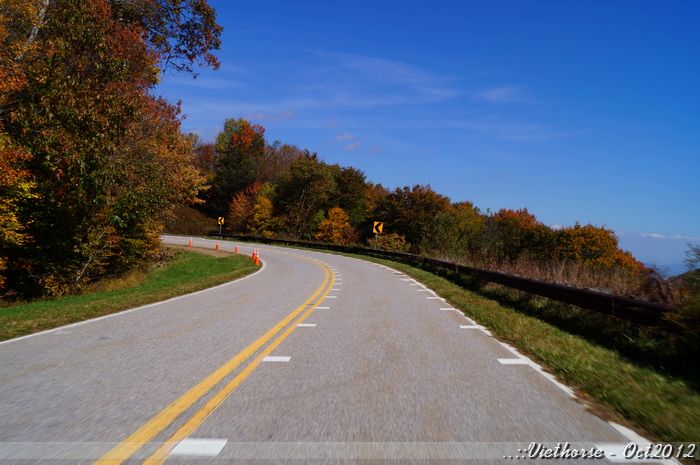 Thanks Dave who has been standing sacrifices behind me to make sure I don't have any more issue 

Sometimes need him at the front for photos: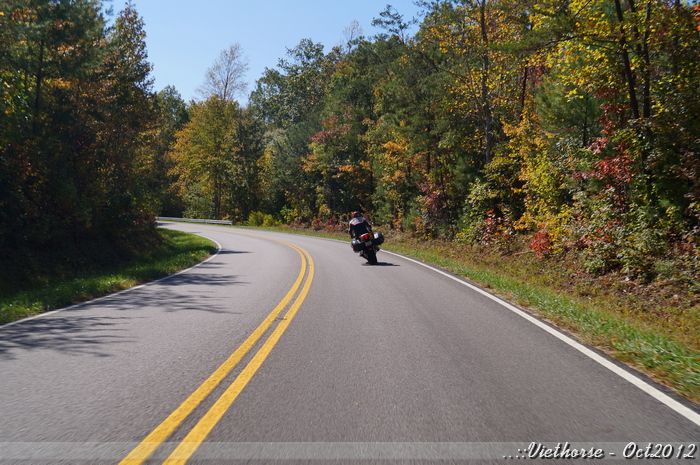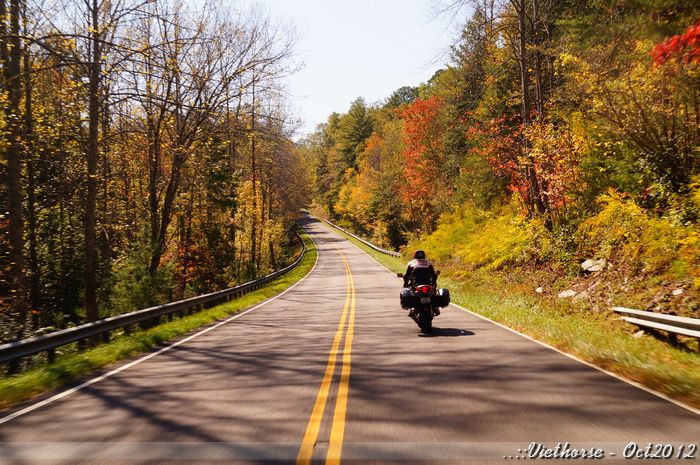 14hrs, we stopped for lunch: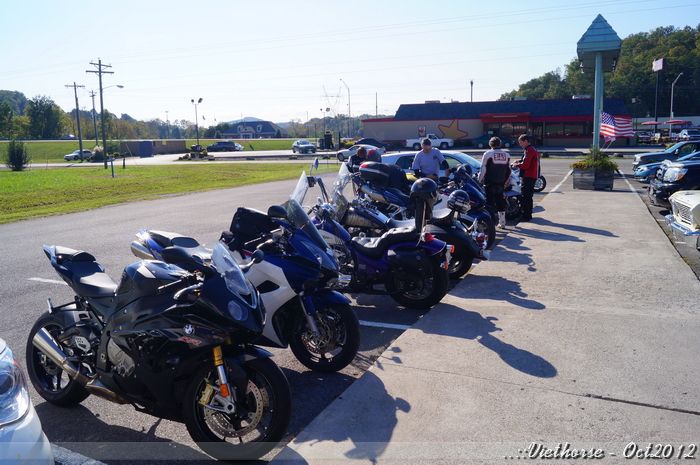 It was my dish: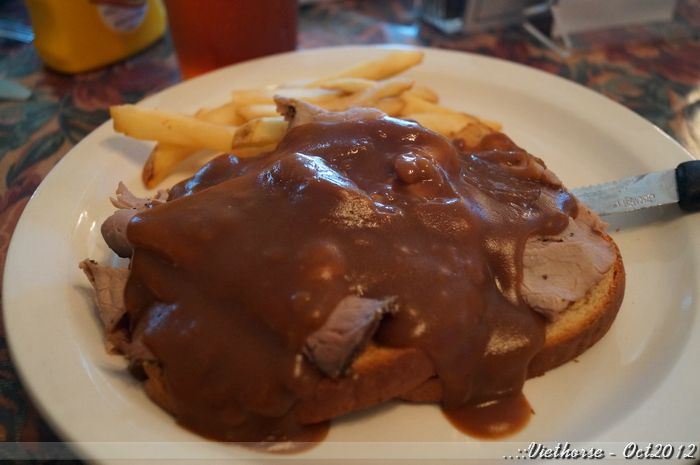 Kimball invited me to try the soup there, I don't remember the name but it was really nice.
Then we returned with the same route: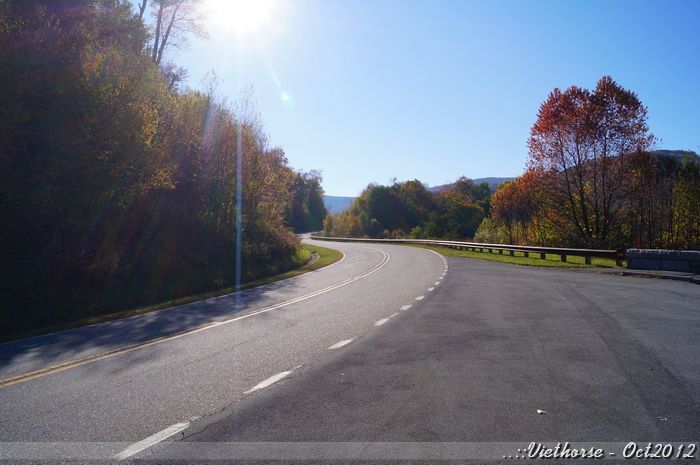 I was stopping there to wait for taking pix of ridding buddies:
I had been waiting for too long. I think they were waiting for Bill (with Multistrada).
Took the time for shooting around: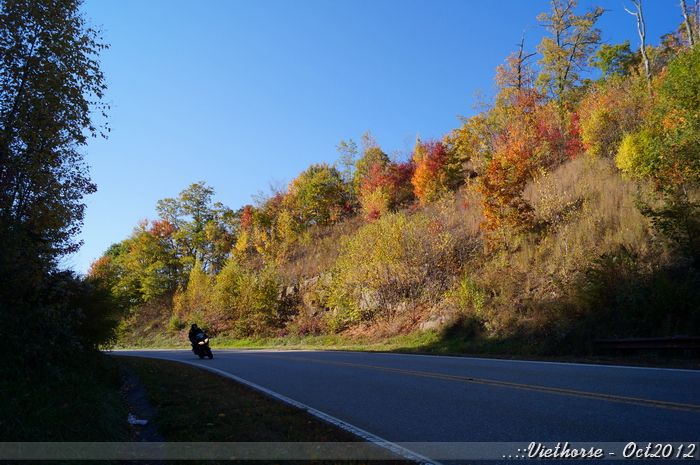 Really clear, deep sky: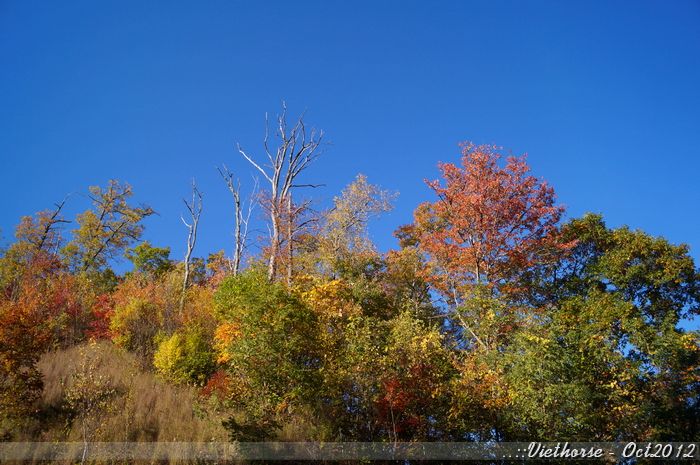 Nice VFR, however the sun was going down: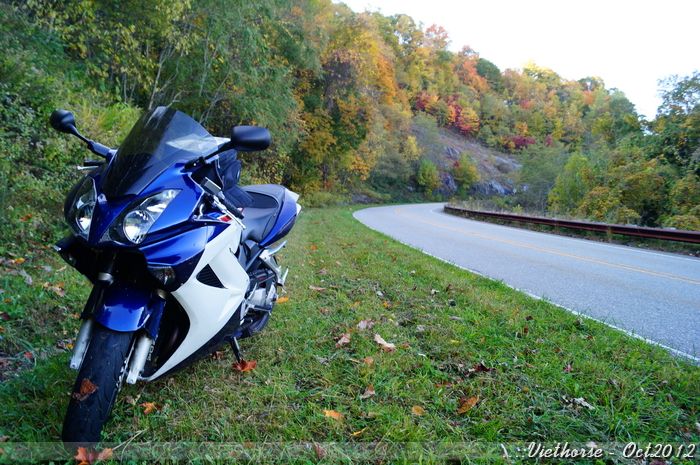 Then the guys came in when I was about heading back to find them: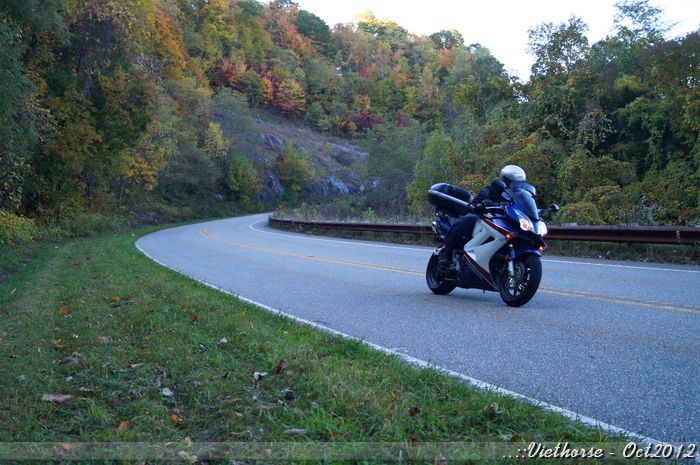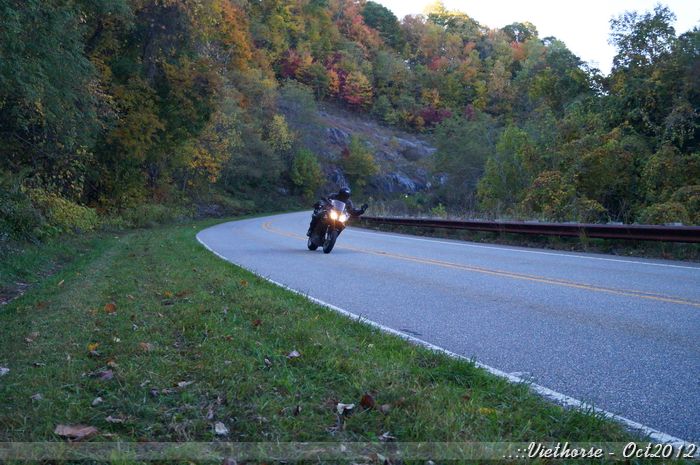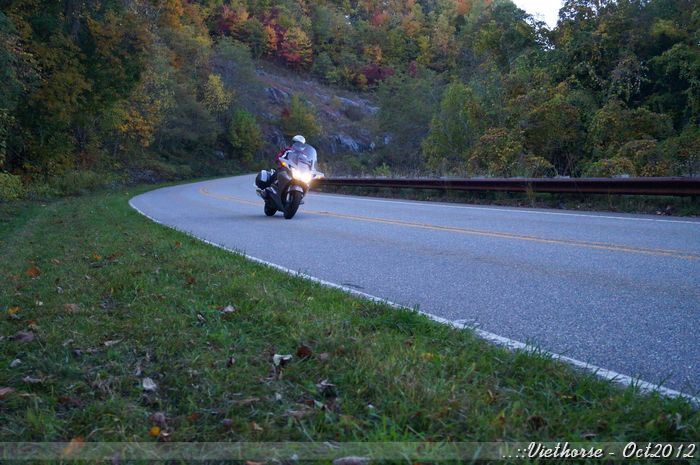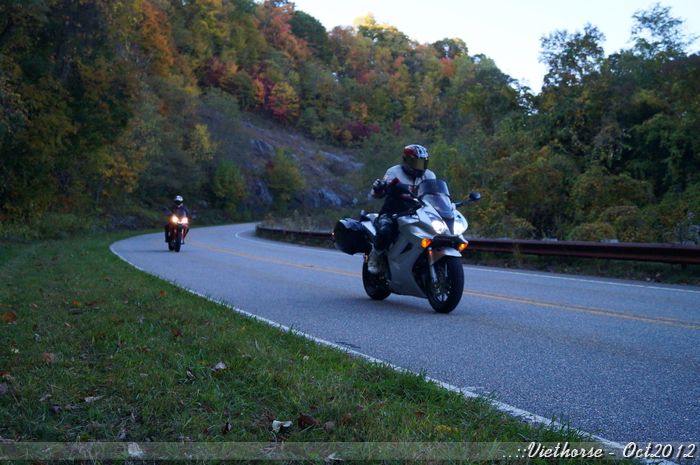 We all headed back to the Cabin. The road near the Bear Creek also very nice:
I stopped outside of the cabin to take some photos: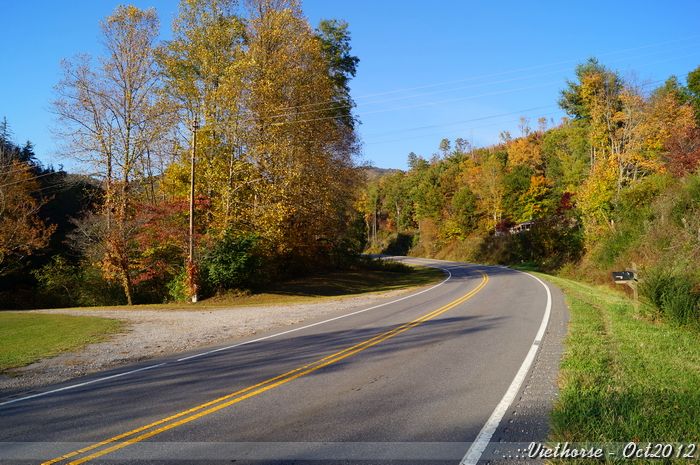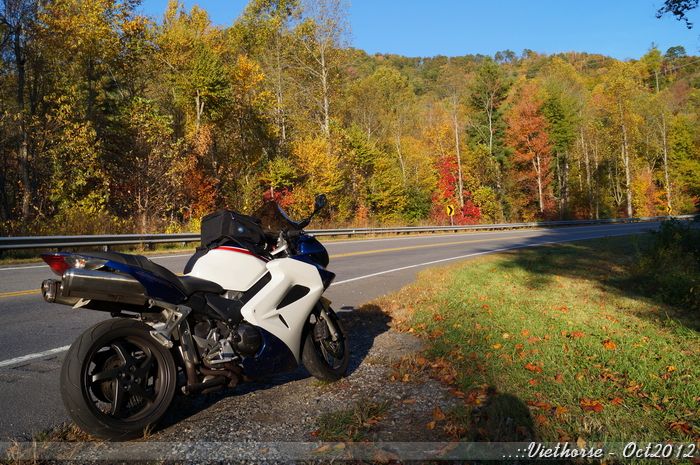 Reached the cabin: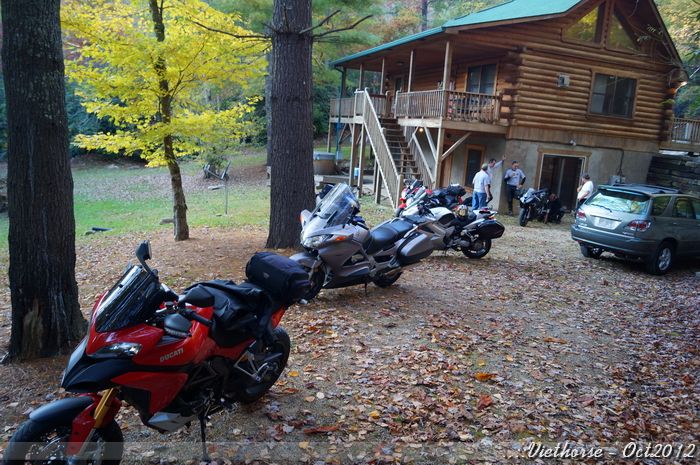 BMW1000RR seemed so attractive: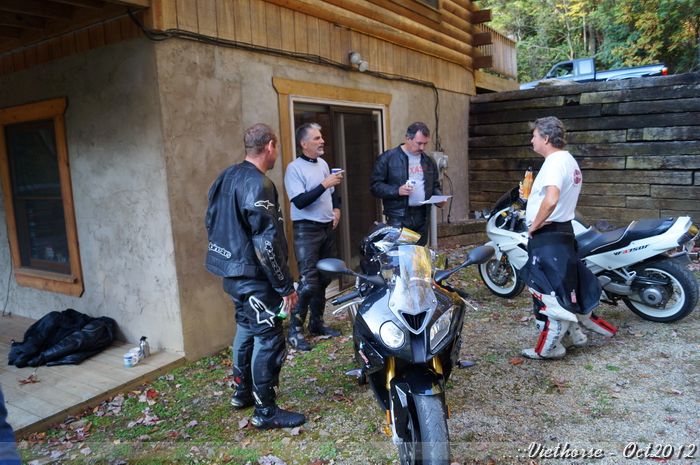 For sure the VFRers did give lots of jokes to the Bimmer: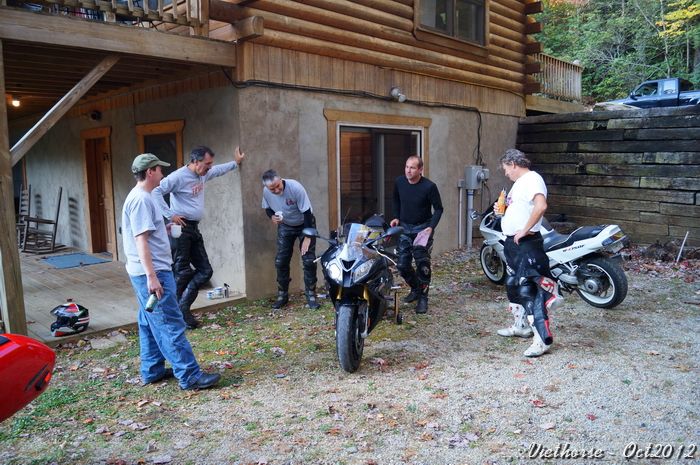 Back to the second night in Robbinsville. Sy and Ed were super good cooks.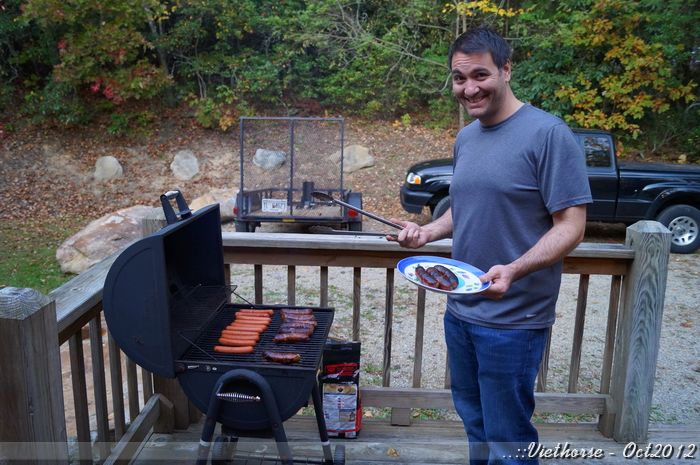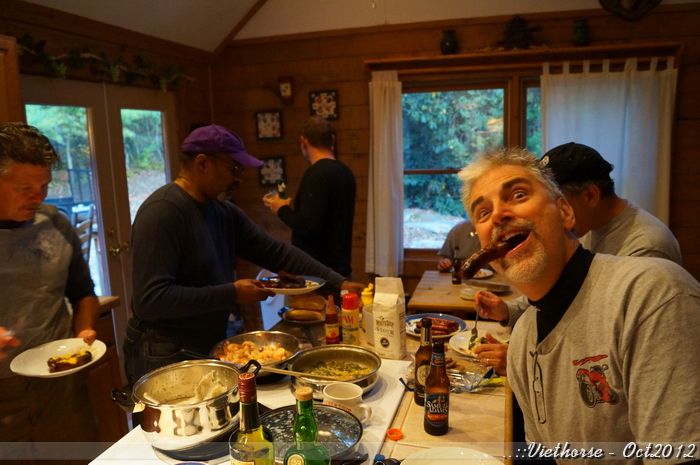 They made awesome foods for us and ready as the time we comeback from Cherohala: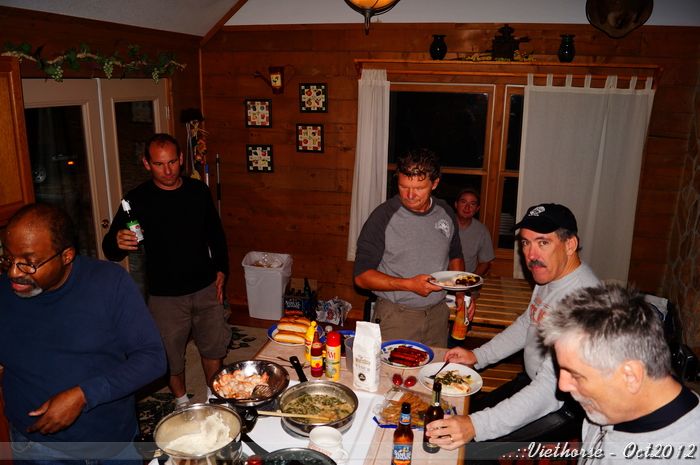 That night was really chilly outside, but I was so happy. It 's really kind of bikers spirit. We had Hot tub available there, but who cared? We have lots of things to talk with each others:
The dinner prolonged until Midnight. We moved outside as a big fire had been lit up: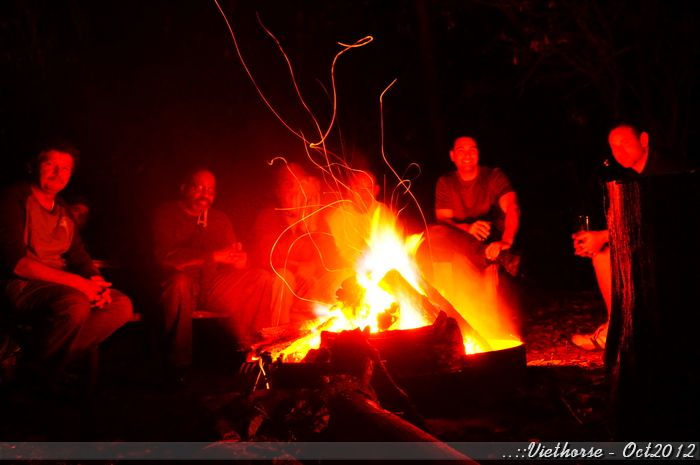 Just sitting around, drink, chit chat…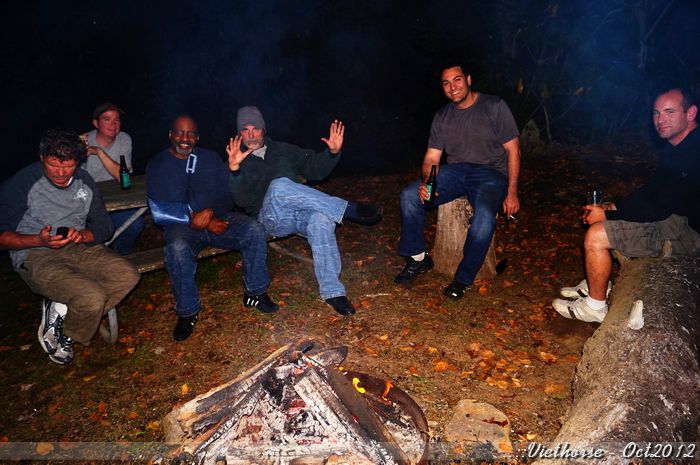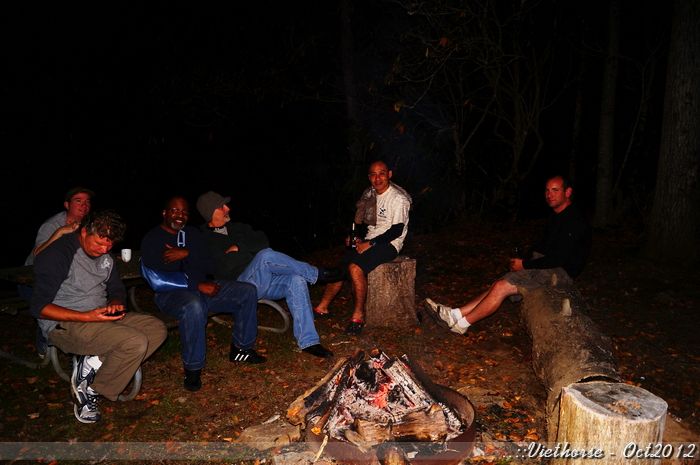 The cabin was looking great at night: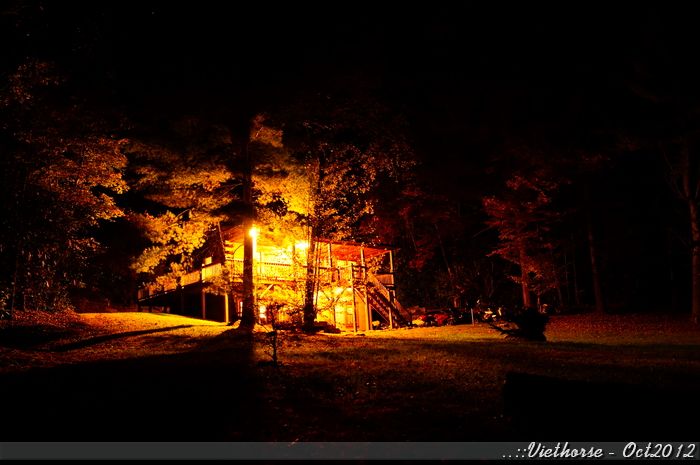 I was also so brave and happy that Kevin (ST1300) brought the VFRD Flaf there for me to sign – that's awesome, a Vietnamese member been there and physically sign on the Flaf which only presented in US. I may be the furthest member on VFRD to sign on that.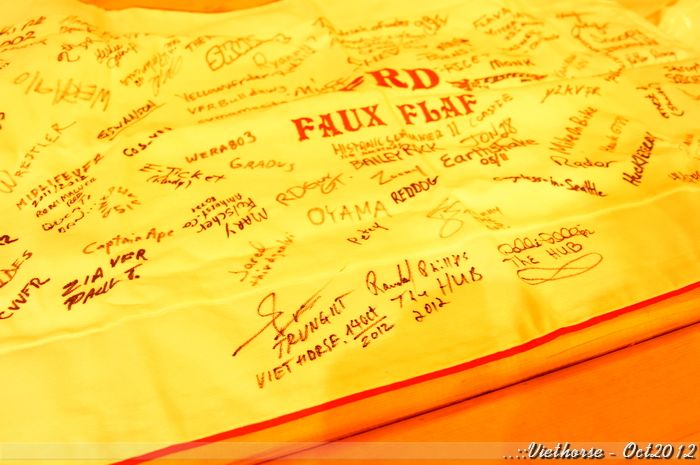 Slept tight that night….
SOUTHEAST RIDE – DAY 3  (CHEROKEE – BLUE RIDGE PARKWAY – DRAGON)
Day 3 with VFR – Sunday.
Good morning: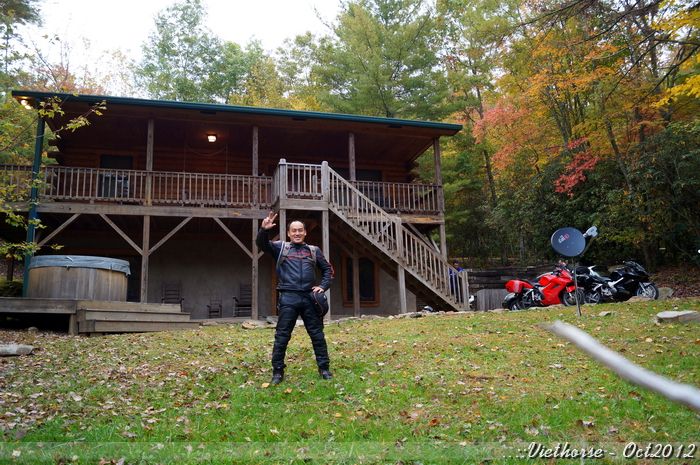 Morning, we divided into groups.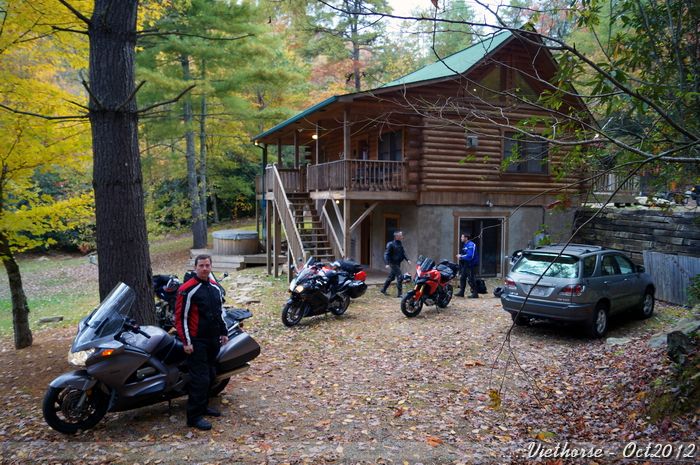 There were three of us (Ed, Sy and me) in the Cabin and ready for the ride to Blue Ridge Parkway:

Tracklog for the Sunday:

A bit chilly in the morning, but then it was sunny day around Robbinsville: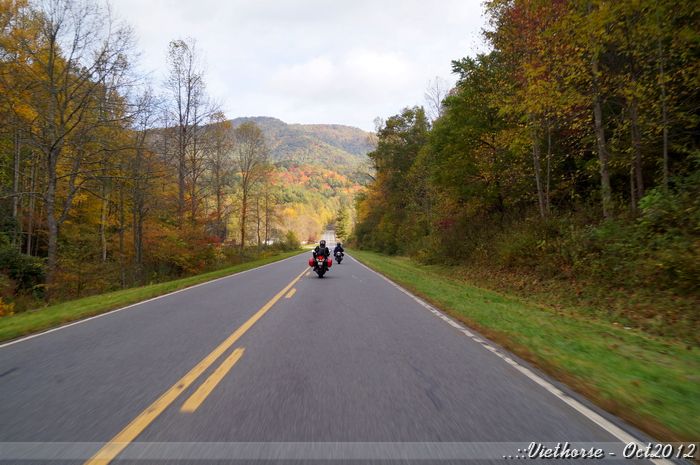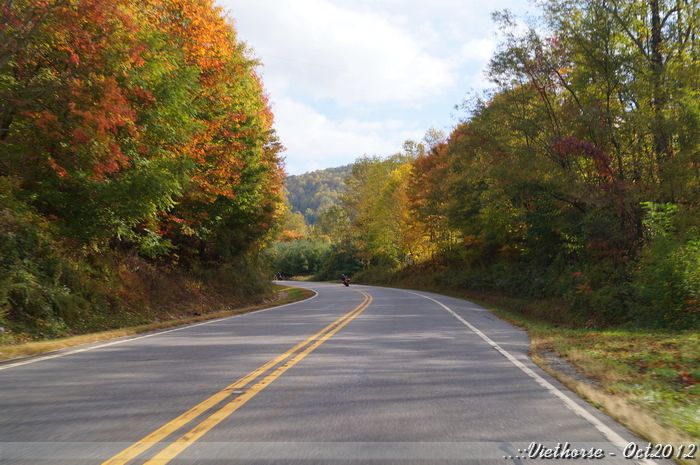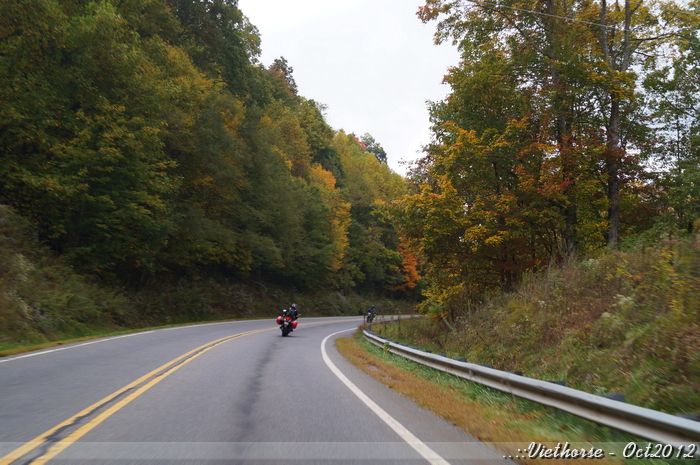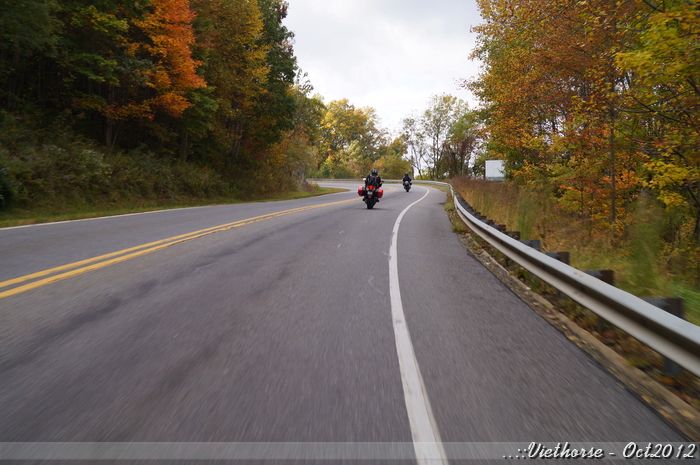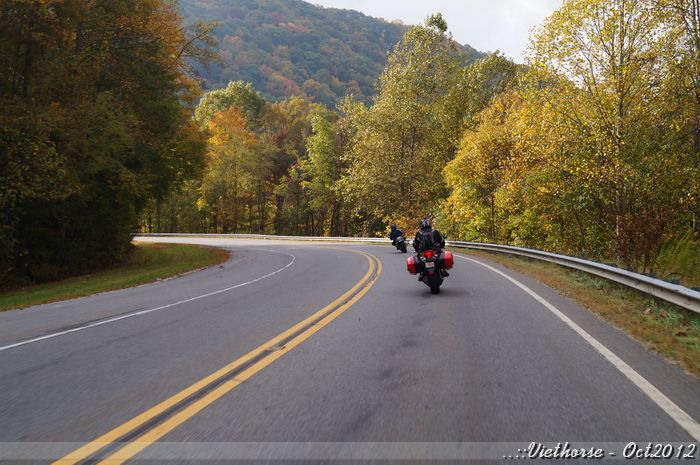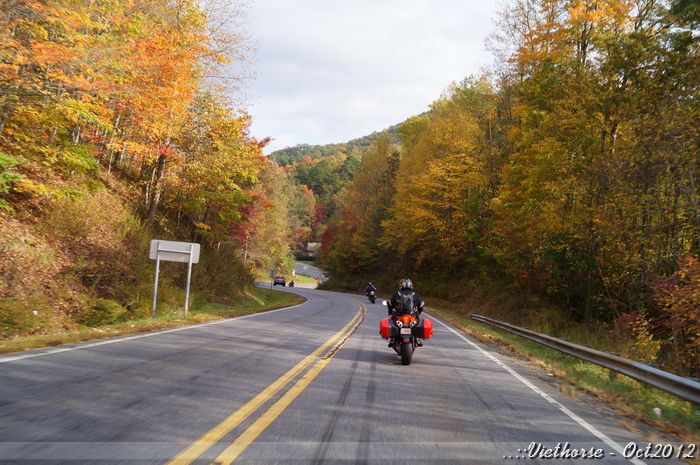 I don't remember exactly if we turned right for this exit?!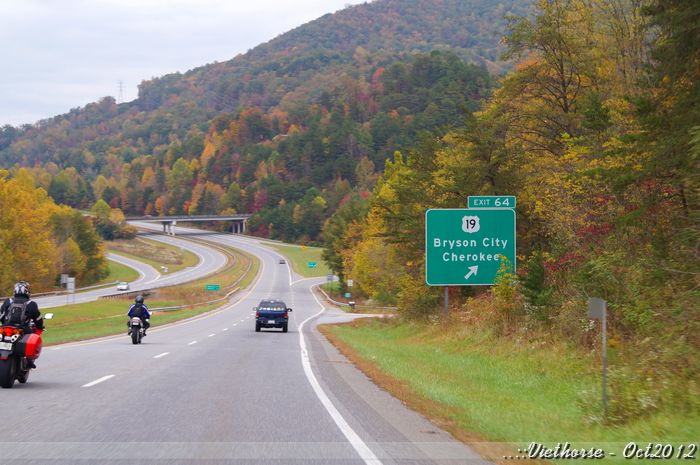 However, this was the exit we took: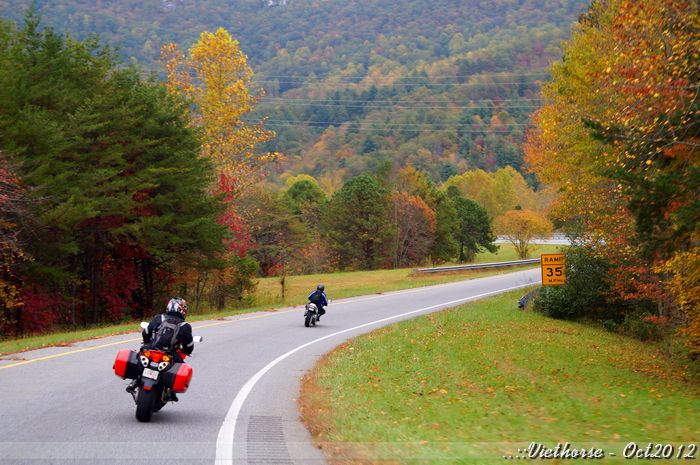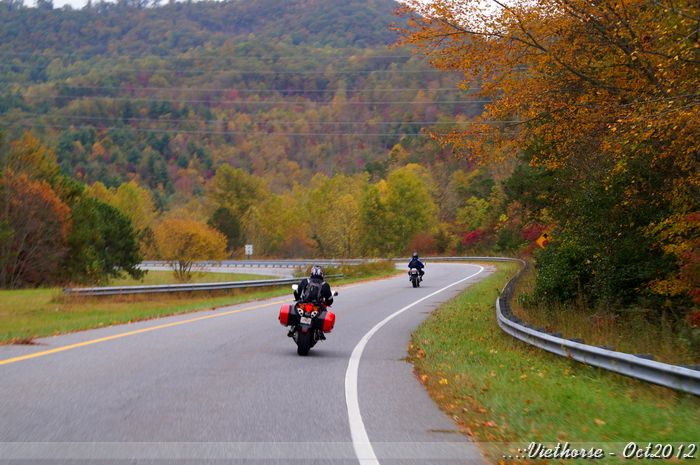 Morning fuel: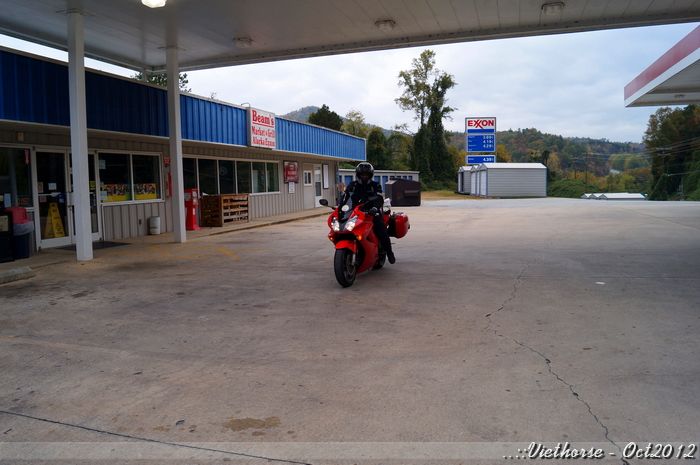 He seemed still sleepy. LoL…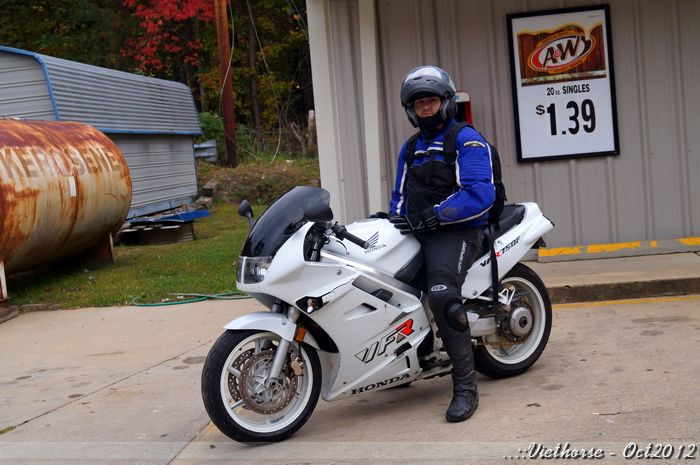 We headed to the Smoky Mountain, to the Blue Ridge Parkway:

Stopped at a small village (Cherokee, I think) for some photos: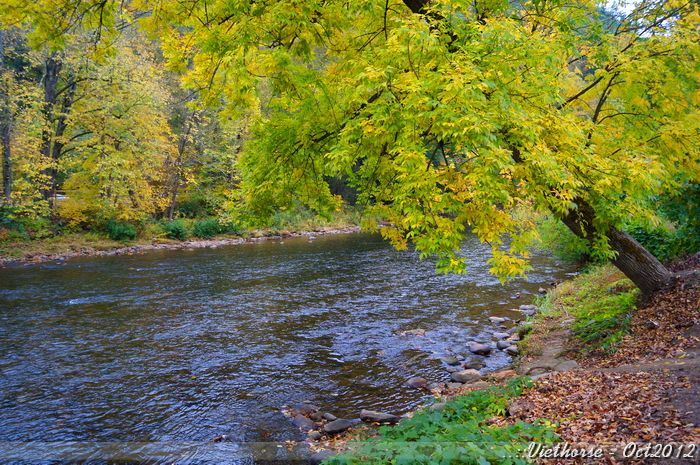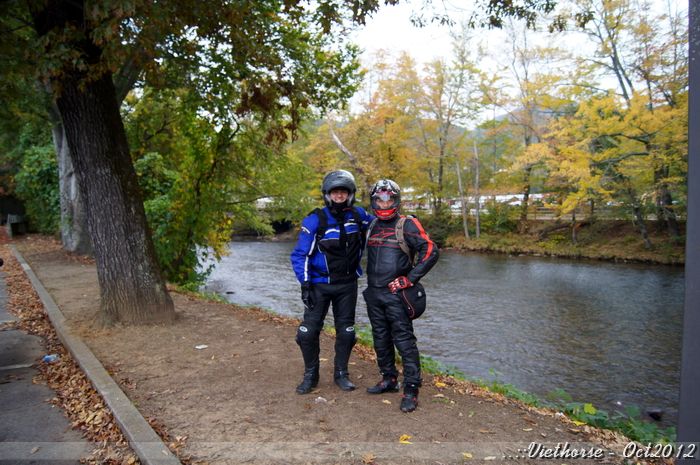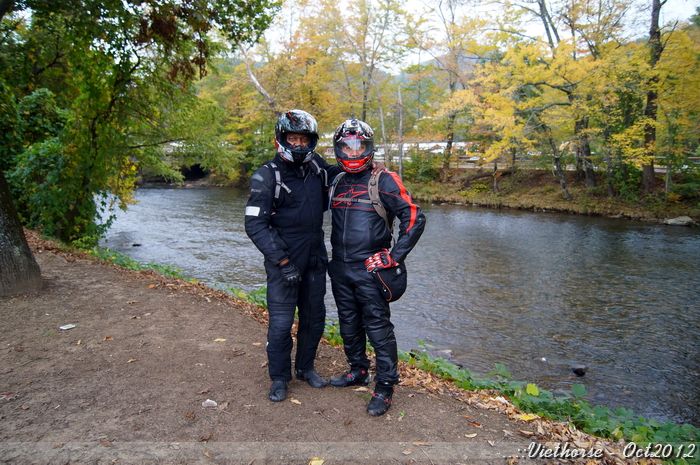 Right, that was Cherokee. I was missing some chances to visit and take photos of the Cherokee/Indian museum, which is quite near to the street: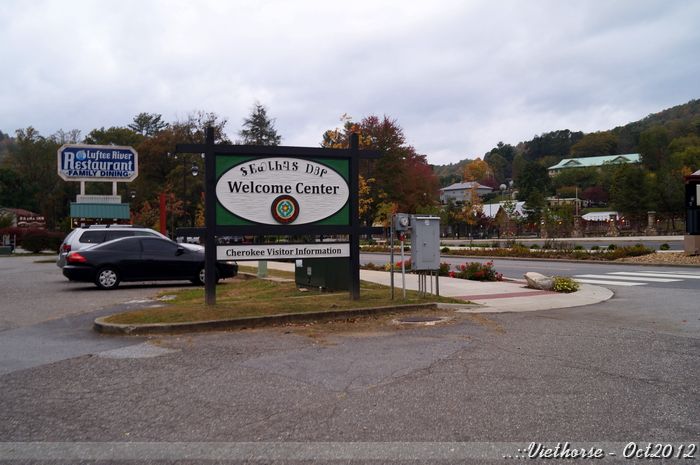 We were passing Cherookee: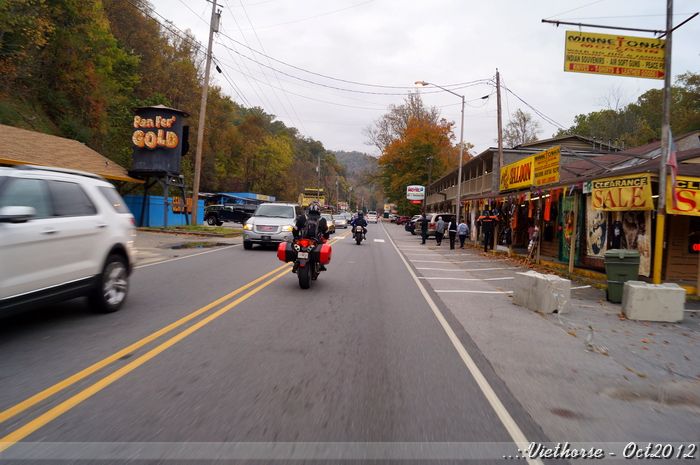 I heard about Blue Ridge Parkway many times, all the nice words, except about the Po Po…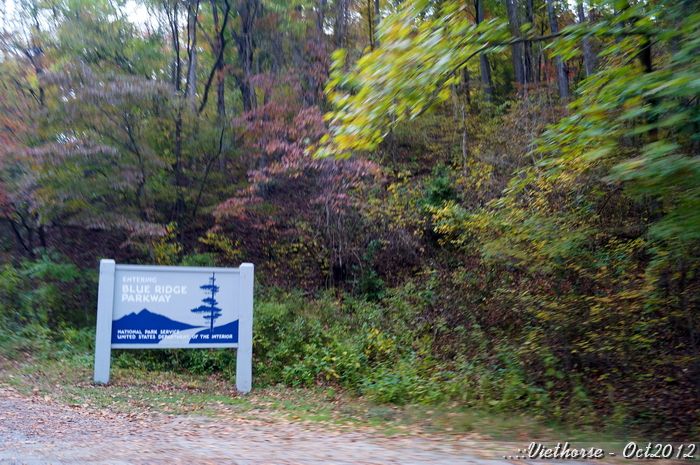 The road to BRP started to be wonderful. It was quite chilly and a bit wet.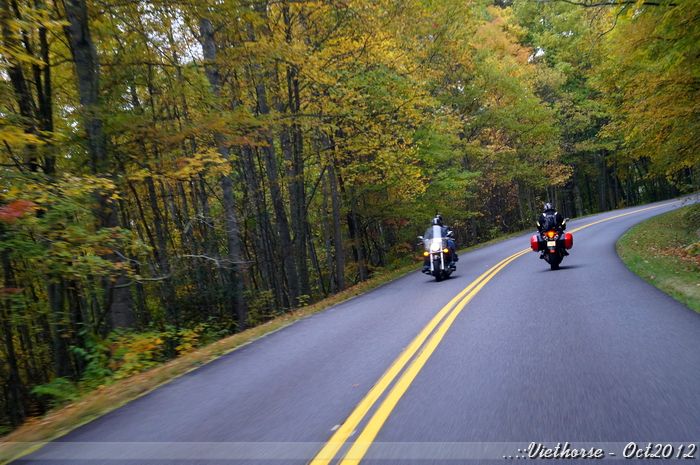 I was thinking of taking lots of photos that day, as I went riding with Sy and Ed, who may not too aggressive with speed.
At an overlook: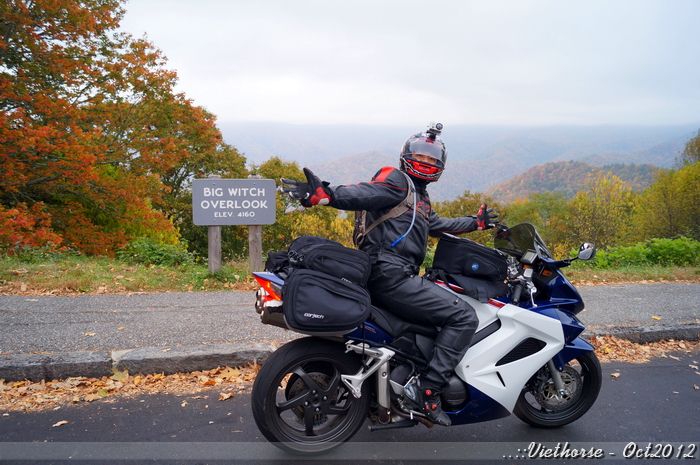 Awesome fall color:

@4160ft high:
You will never see this signboard in real, as we already threw them away – or may be it has been rebuilt, I don't know: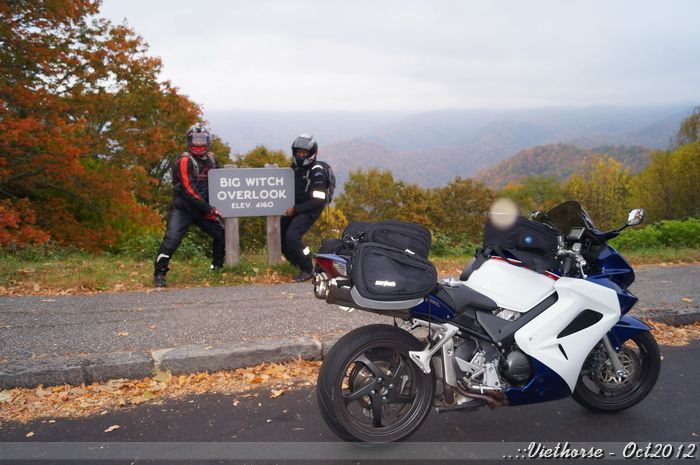 We kept continue riding up the mountain. The roads seemed weter and weter as long as the higher elevation, it was more and more foggy as well. We could not go fast and have to be very careful with the wet road. We stopped at another overlook area: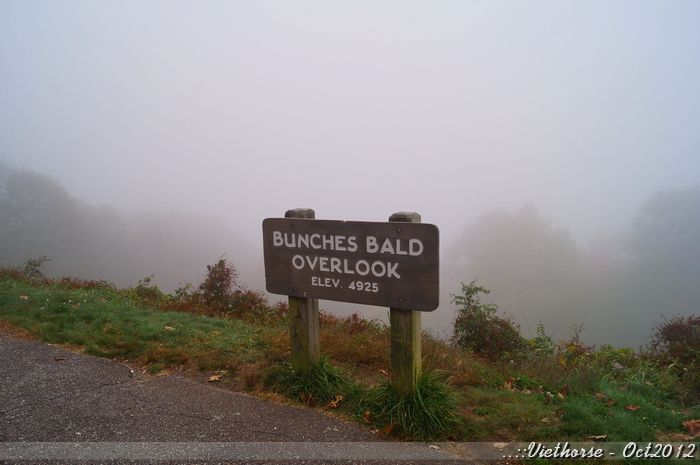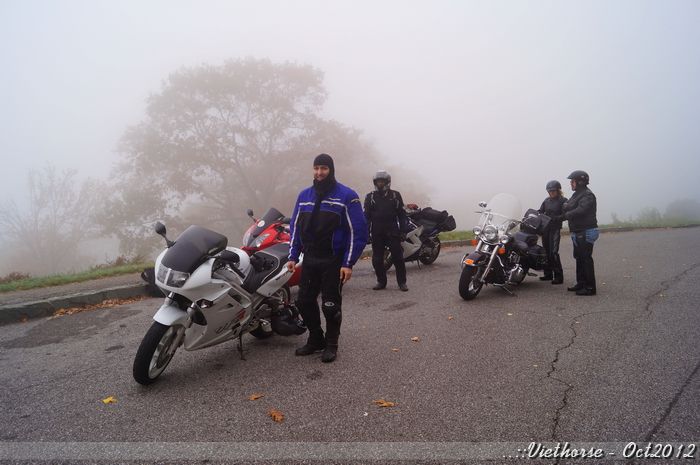 We were discussing of wearing raincoat and also heading back with incompleted BRP: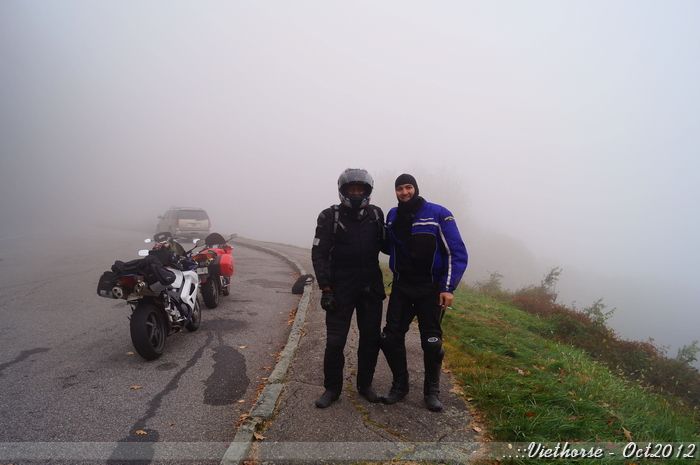 Whatever it is, It was nice experience to me though: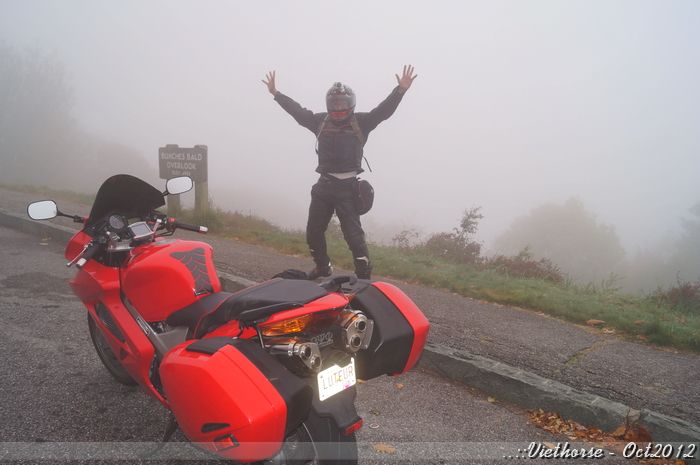 Left the Overlook area, we kept continue for some miles then come back. Too bad that the weather did not permit us to enjoy the Blue Ridge Parkway on that day. We took exit to US19 (Soco Road) and back to Cherokee.
Some more nice view on the way back: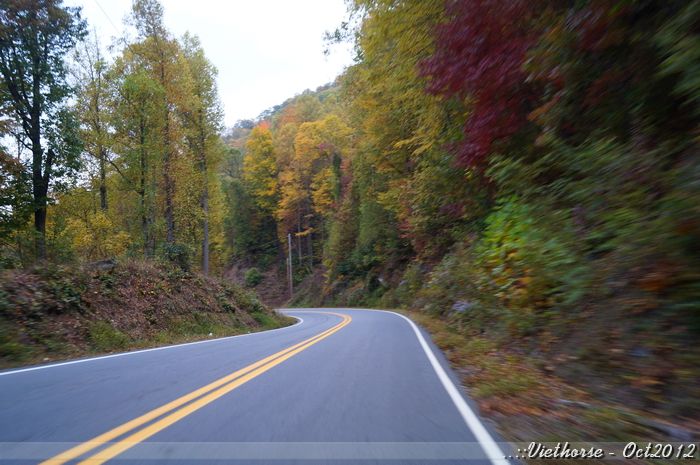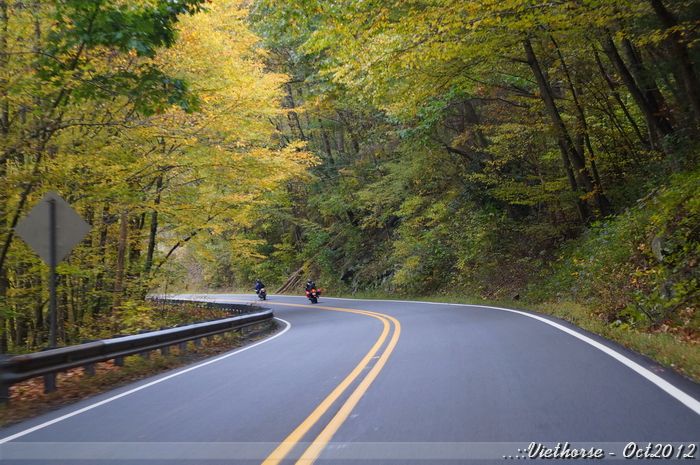 Arriving Cherokee: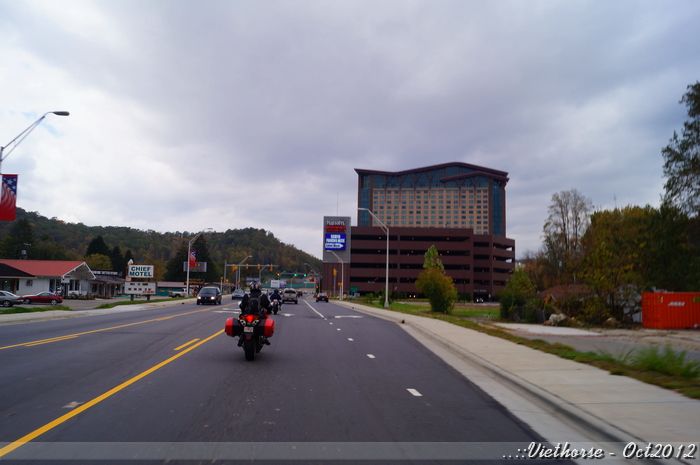 Stopped for a rest at a gas station: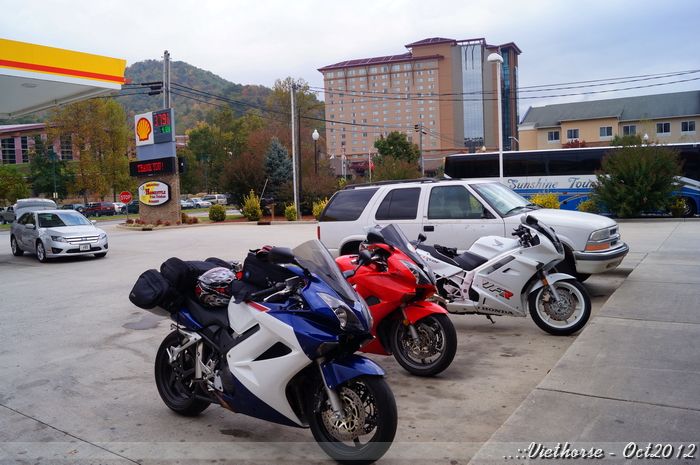 The big building at the background of the two above photos is a big Casino in Cherokee. People say that Gambling is kind of biggest income for this area.
I was hopping that we could see some sunlight from the sky. If so, we could come back to Blue Ridge Parkway and do the rest of exploration. Especially myself and Ed never been there. However, the cloudy and dark sky made us to come back Robbinsville.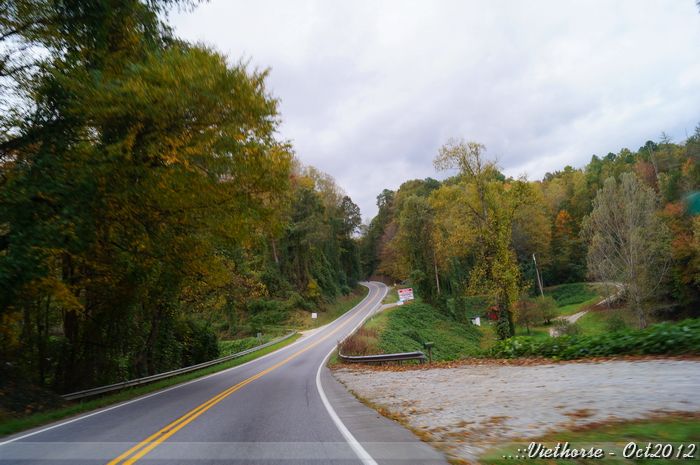 Sy helped to save the riding day by making a round trip. We did other route back to the Cabin.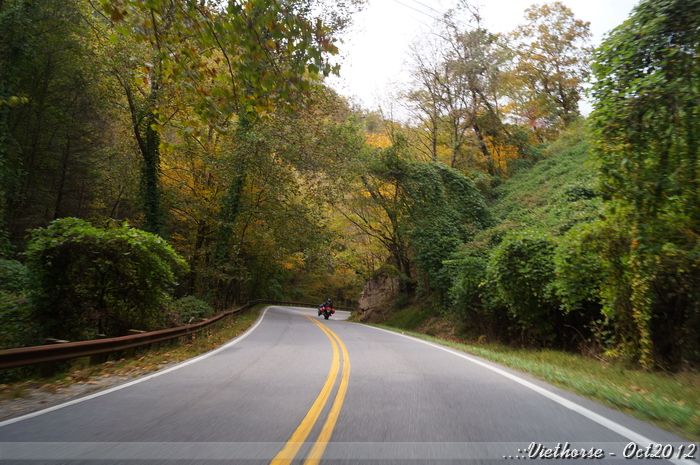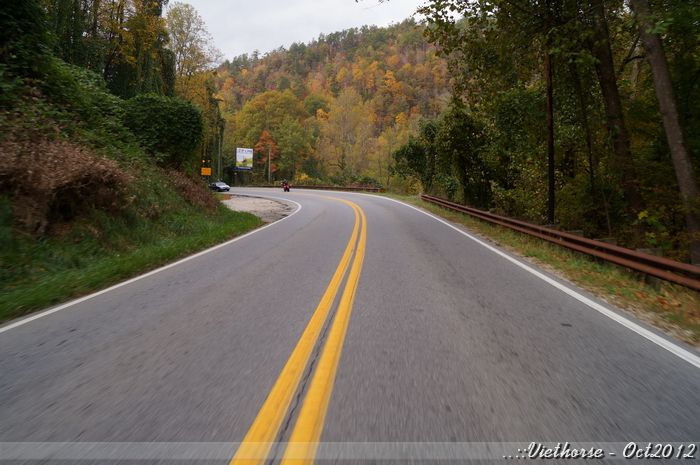 Another stop, beside the Nantahala Outdoor Center.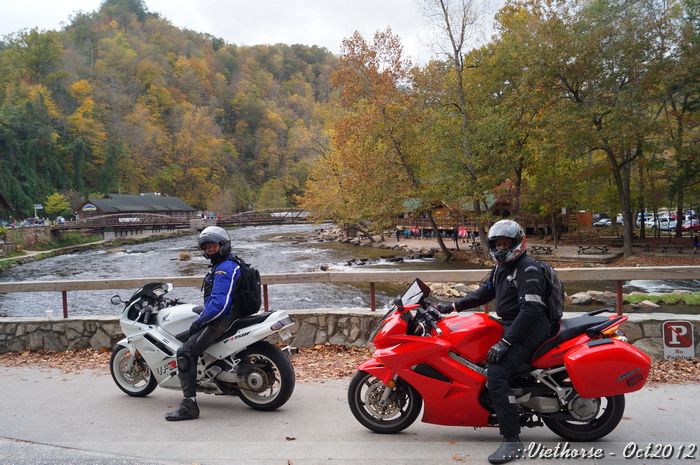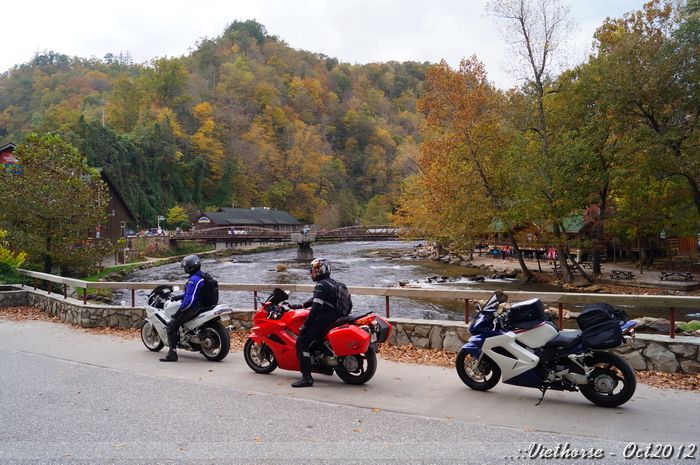 I don't really understand the first three lines on the board: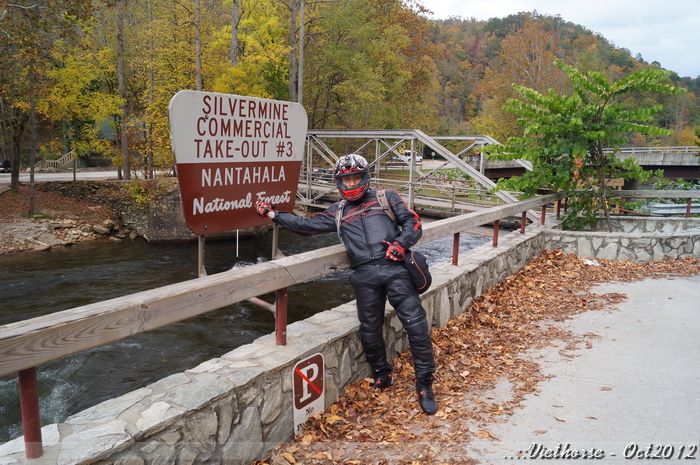 Is that the Export gate #3 of the Commercial Silvermine?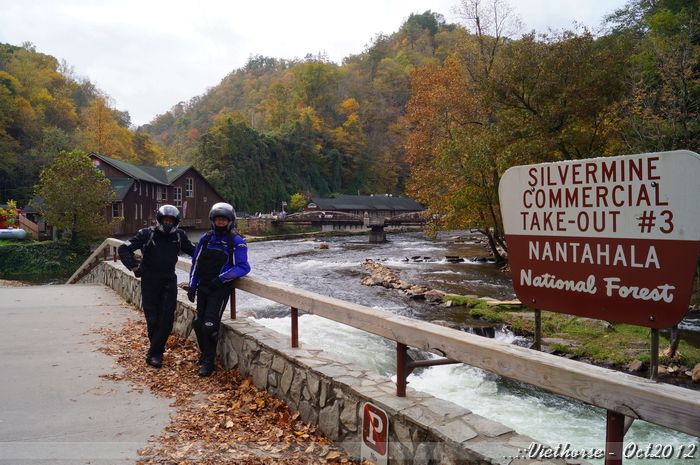 Cold water but it is more enjoyable than the mist on the Blue Ridge Parkway. I was played canoeing for a while 
 :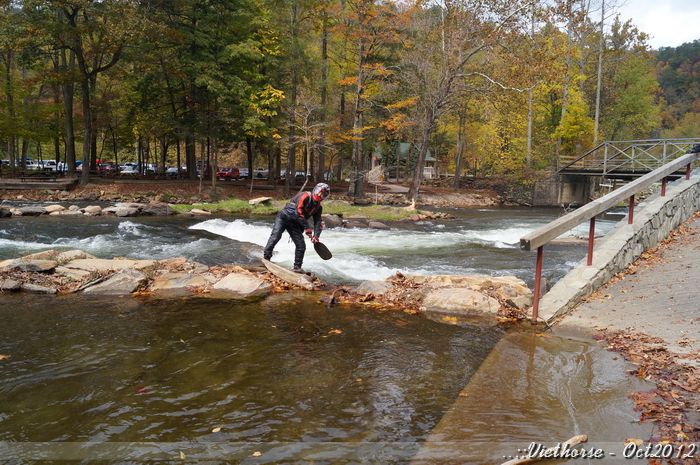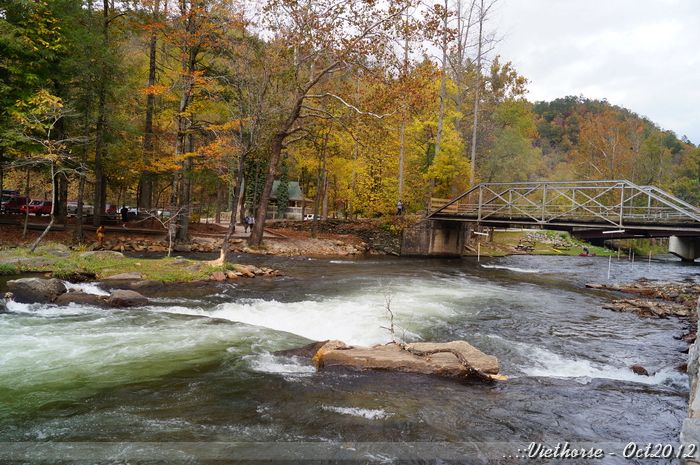 Three of us back to the Cabin, that time was till quite early.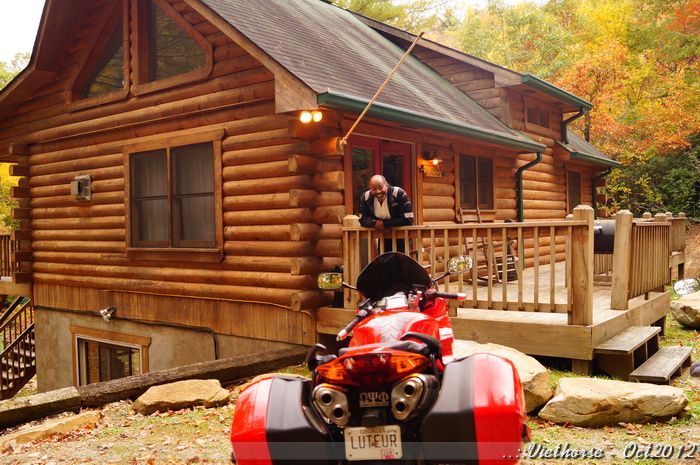 Some nice shots around the Cabin: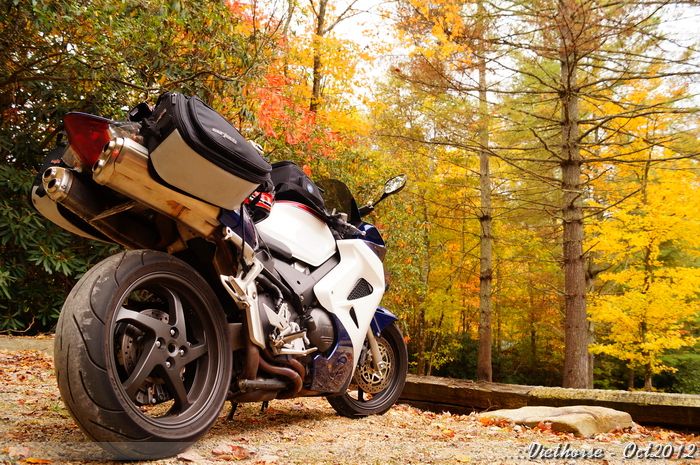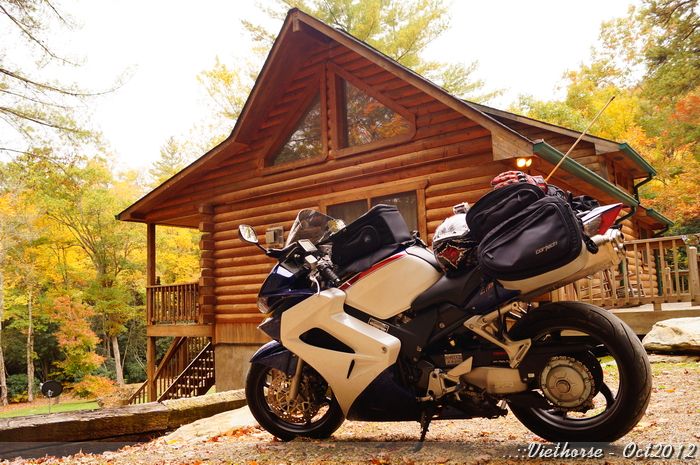 Then I myself headed to the Dragon. It was almost no traffic on the Dragon. This time, I done the Dragon for two times without any issue.
I put my team's logo (ACE MTSG) here: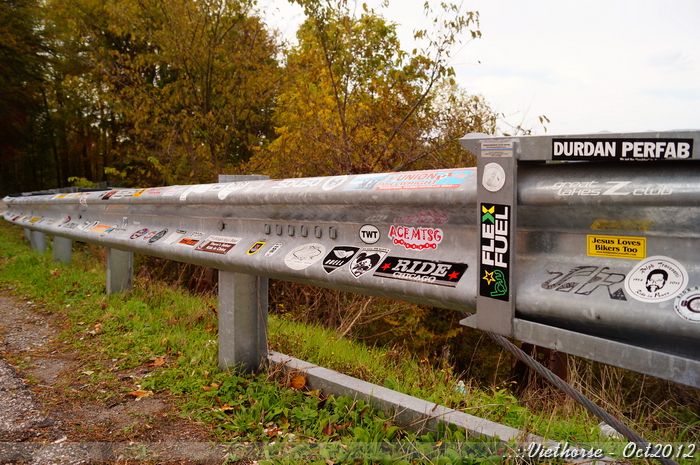 And I even have time to stop at some places to take photos and chit chat with Killboy and US129photos cameramen.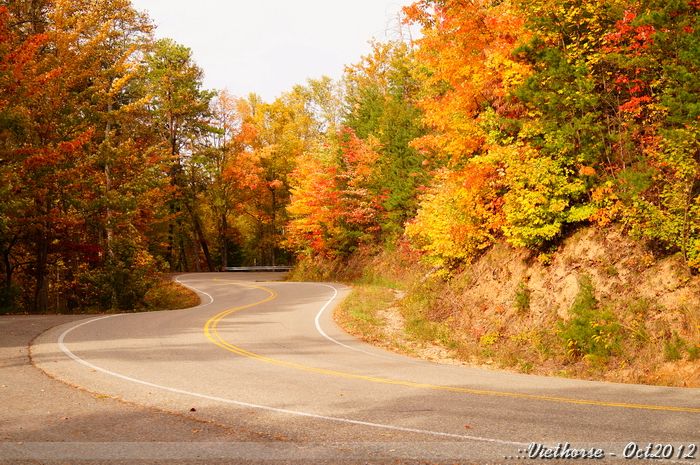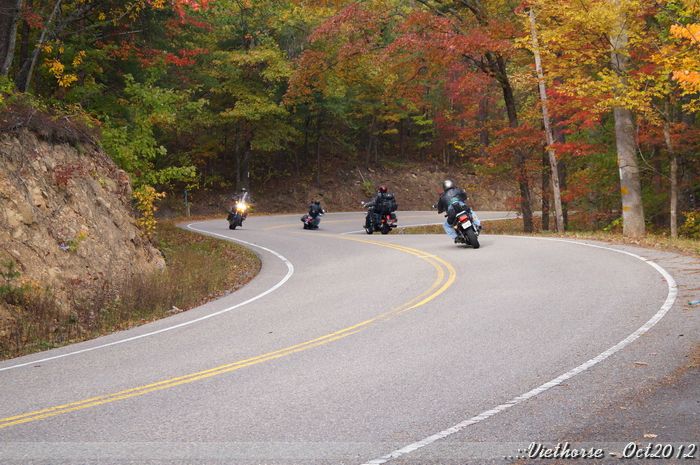 Very few motorcycles at Deals gap: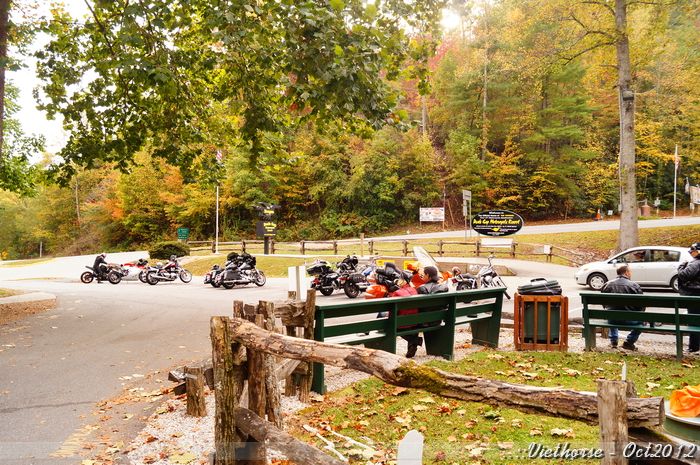 This bike is really sweet, he passed me sometimes on the Dragon: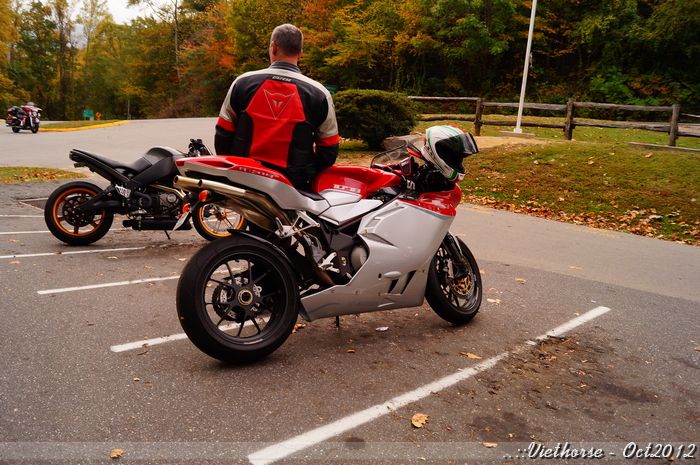 Back to the Cabin after two rounds of Dragon, I stopped at the bridge which lead to the Deals Gap resort: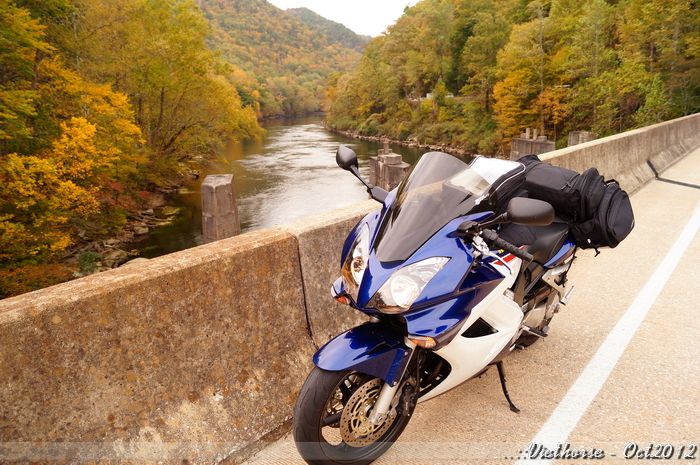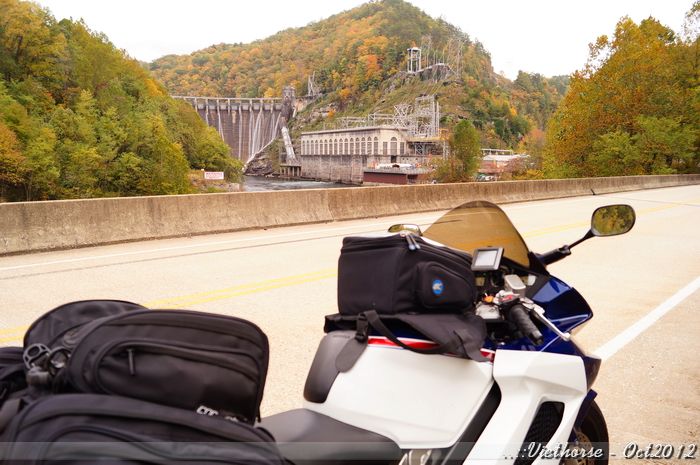 Well, that's it for the Day 3 at the Smoky mountain:

Most of the friends have left the Cabin that evening for their work on the next day (Monday).
It was two of us, Ed and me in the cabin that night. We did not cook, we went to Robbinsville to have dinner.
Chit chat entire evening while we all packing up for the day after.
SOUTHEAST RIDE – DAY 4 (DRAGON – TENNESSEE – SMOKEY MOUNTAIN – NORTH CAROLINA)
Monday morning, after saying good bye, Ed headed back to Atlanta.
I had my plan for the Monday, 4th day with the VFR.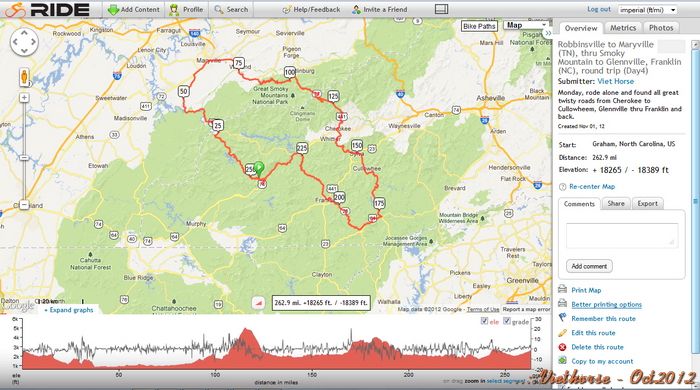 I would do a round loop, from Robbinsville thru the Dragon to Maryville (Tennessee), Townsend, then follow the Hwy71 crossing the Smoky Mountain down back to Cherokee, Glenville, Cashiers, Highlands, Franklin and back to the Cabin in Robbinsville.
Amazing fall color that morning: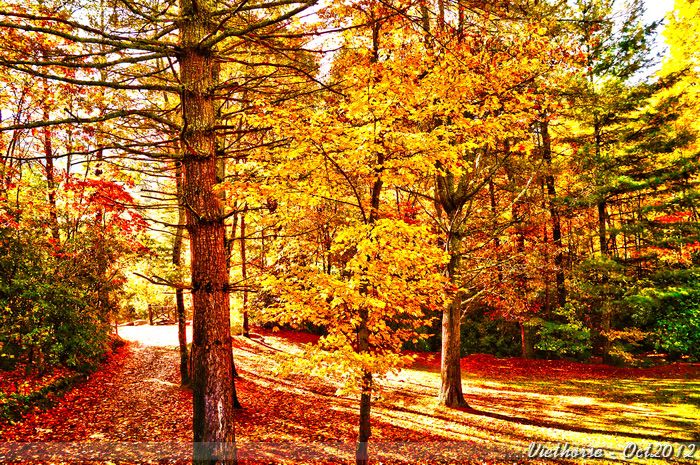 VRF always amazing, too: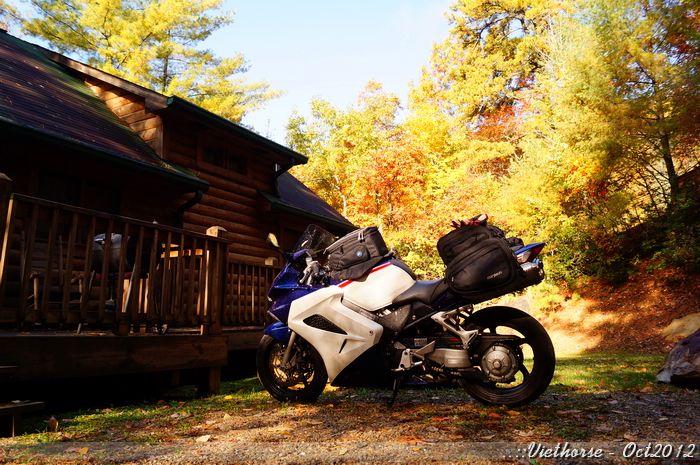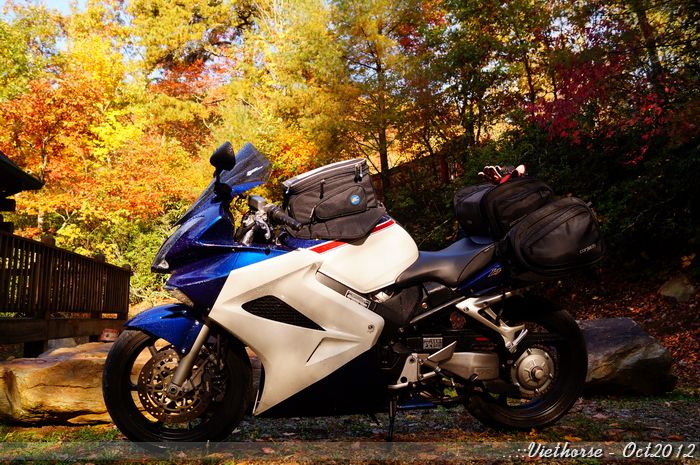 First riding day alone, I can stop anywhere to feel the air, see the things and take photos: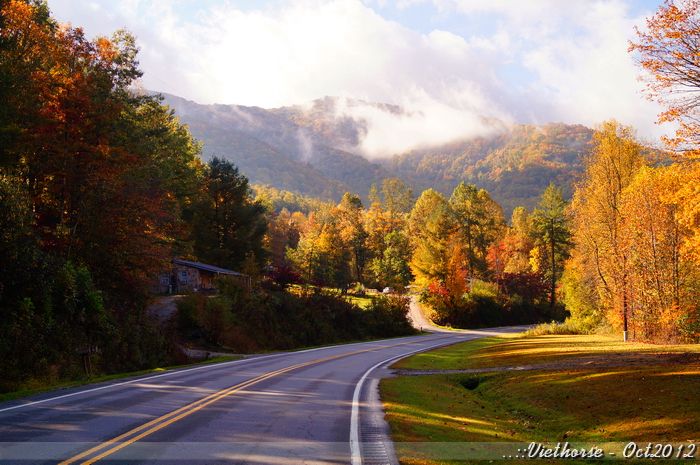 What could be more beautiful? I would never mind keep posting such kind of awesome look: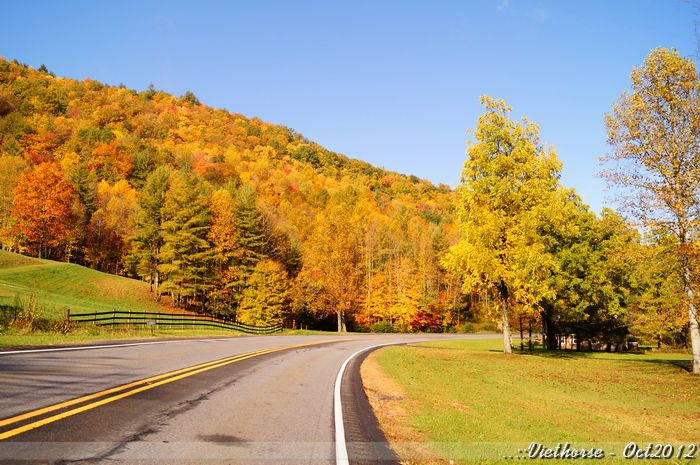 This hill is on the way to Dragon: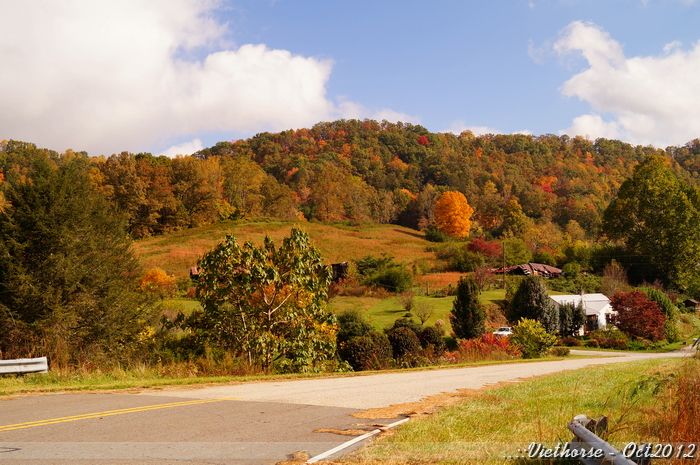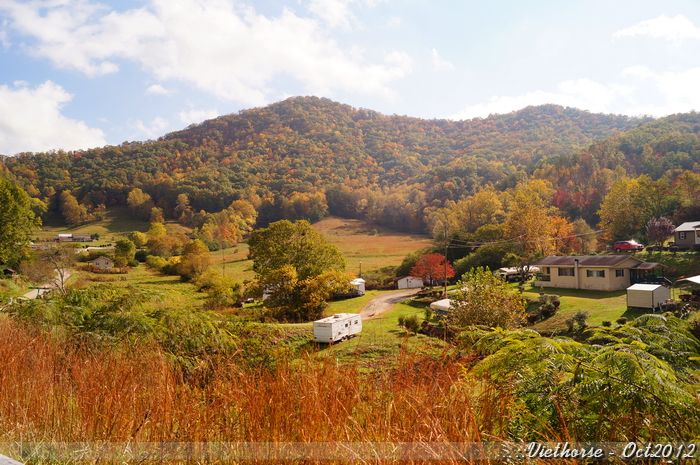 I don't know what kind of the houses, it looks more like a store: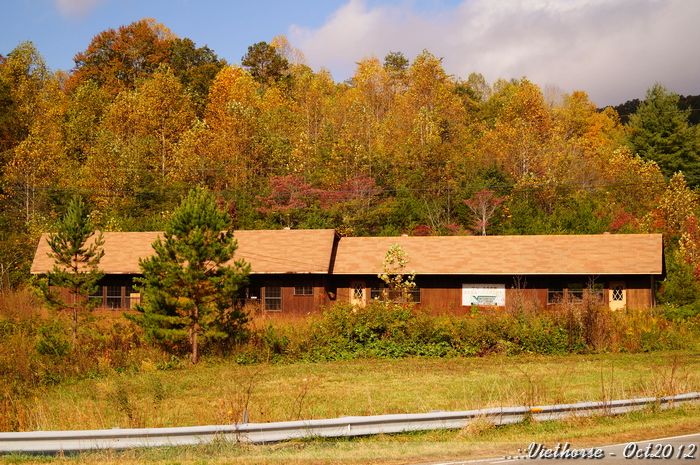 A nice and clear lake: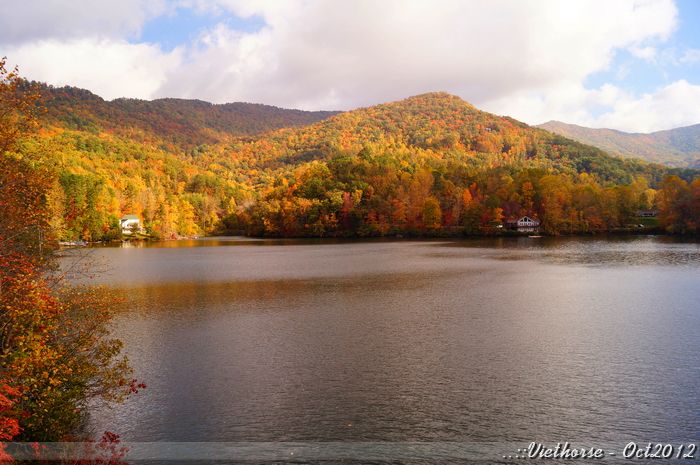 What the color: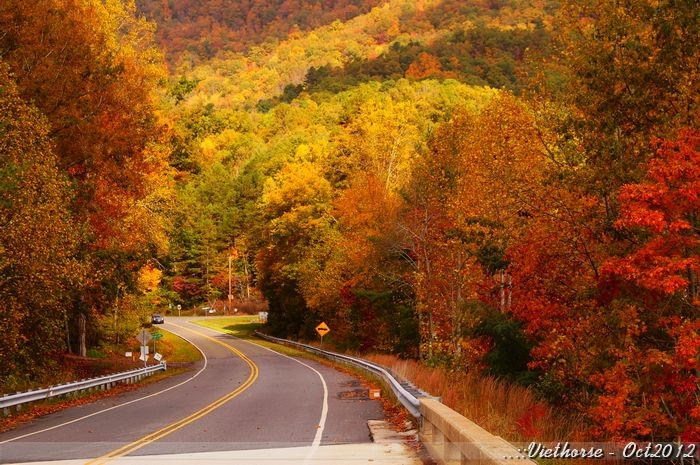 There were almost no traffic on the Dragon on Monday morning. I really enjoy slaying the Dragon for two times.
First time passed the Tabcat bridge, heading to Tennessee. I saw this dam pretty close:

The cliff beside the dam was nice too: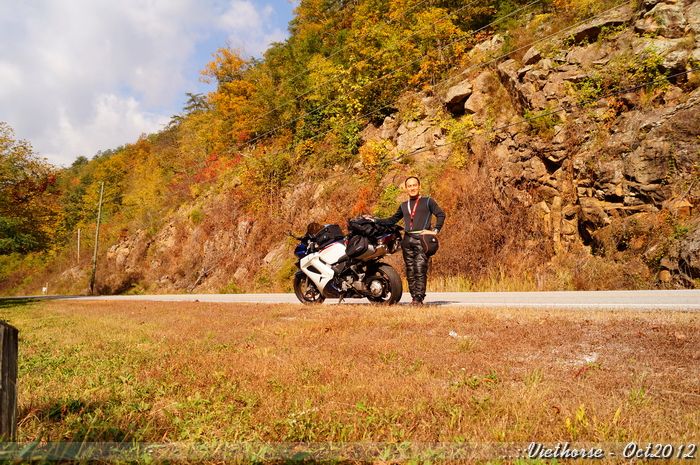 Lonely road: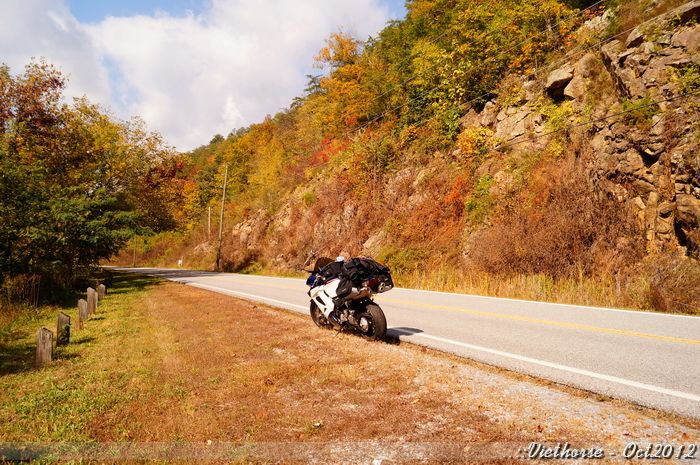 The roads from Dragon to Maryville was narrow, but clear, not so many twisties. I had to ride on the freeway for about 15 mins to reach Maryville: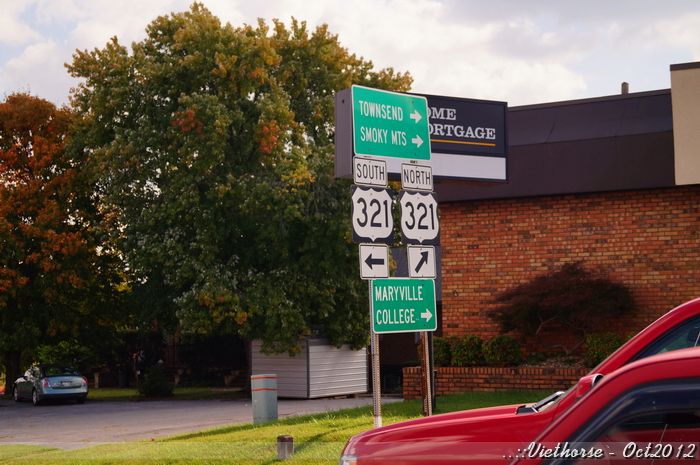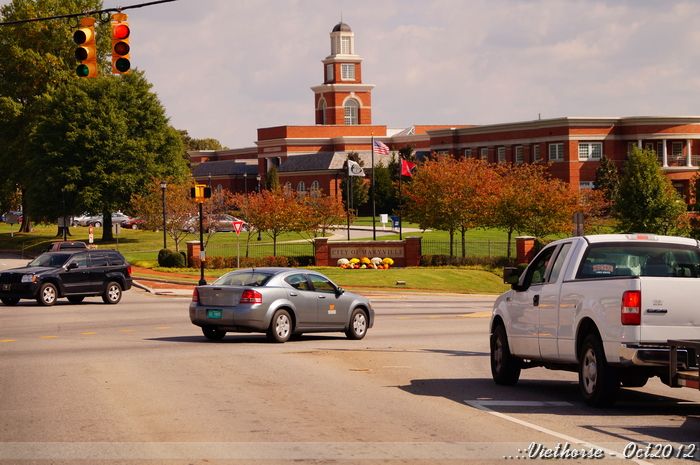 I think I did quite zig-zag route within the Maryville as I wanted to see things around. However, that was not so easy for me to take fotos as there were lots of traffics on the roads.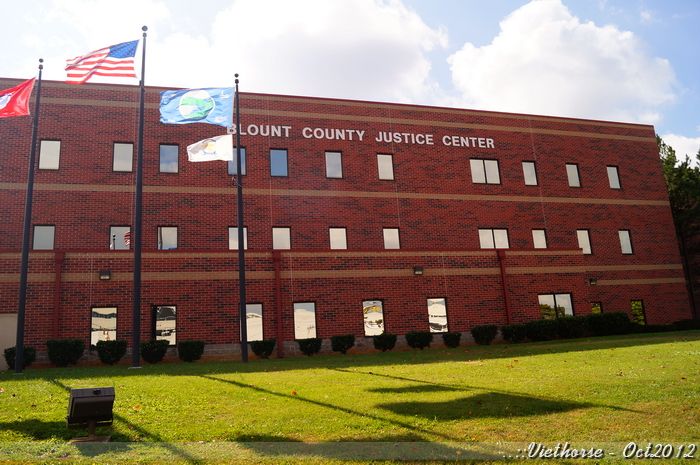 Left Maryville, I rode on the 73 for around 10miles before getting into the Smoky Mountain area: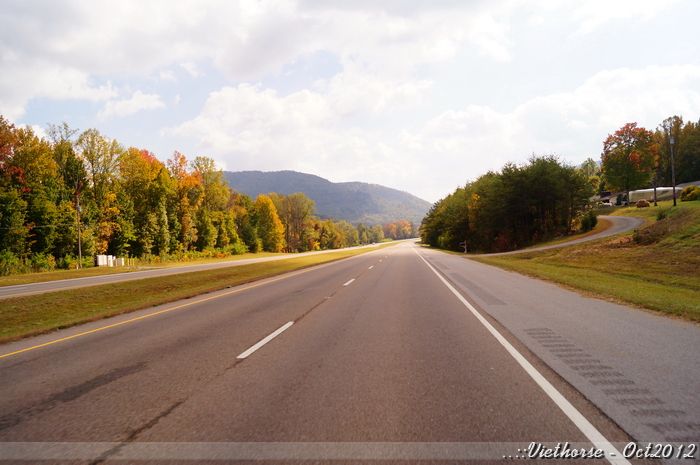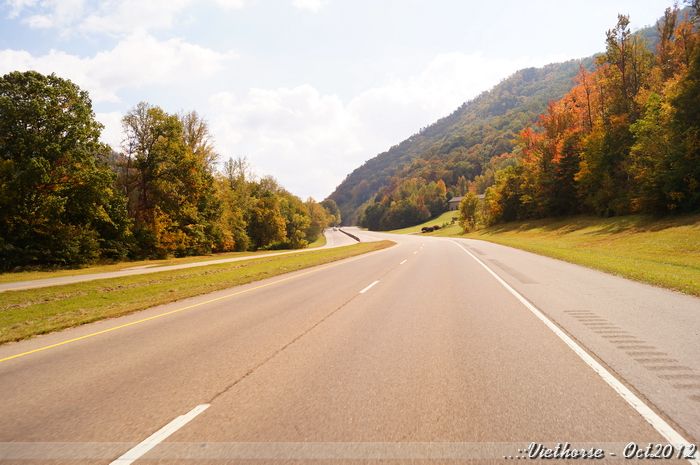 Yes, it seemed to be the starting point: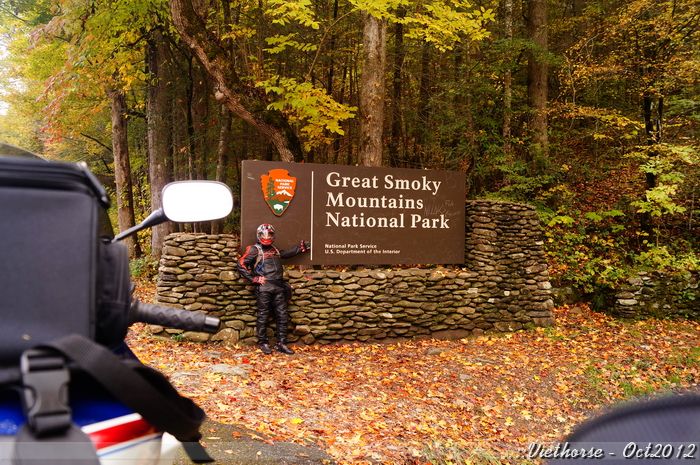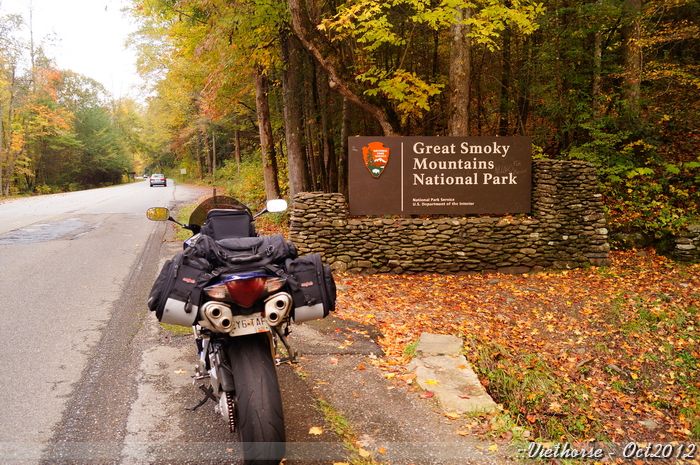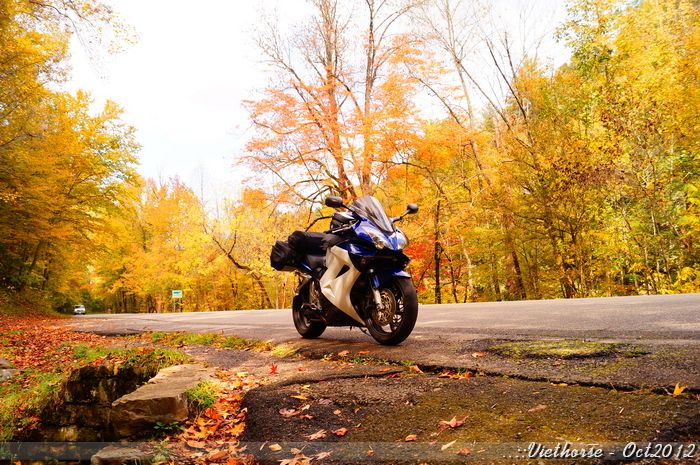 The traffic started to be crowded. There were a lot of cars who go for traveling toward the Smoky Mountain. Easily see the cars stopped at a large pull-off area or overlook area.
However, I did not bother much, as I planned to spend my day easily and I can head back to cabin anytime I wanted.
A nice stream along the road: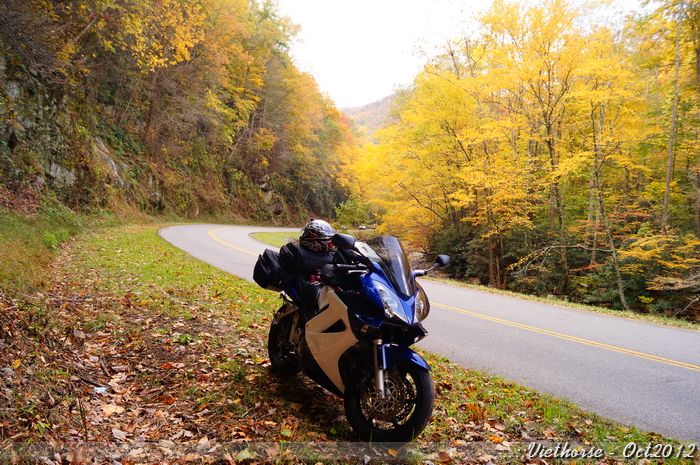 It was not easy to park the bike on the soft shoulder, but the place was so nice, so I have tried to find the stone to aid the side stand: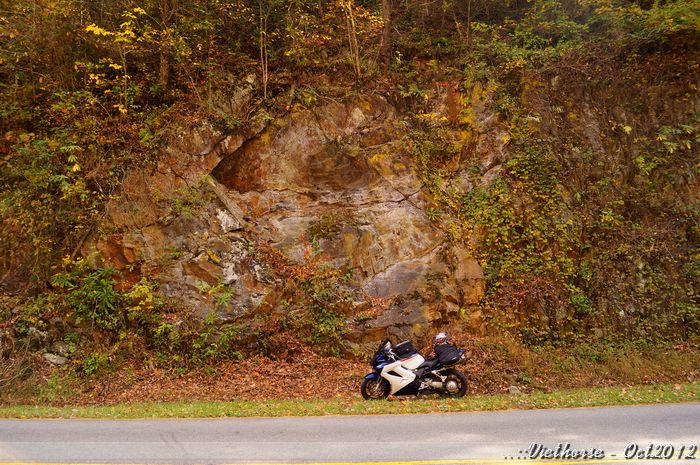 A calm upstream: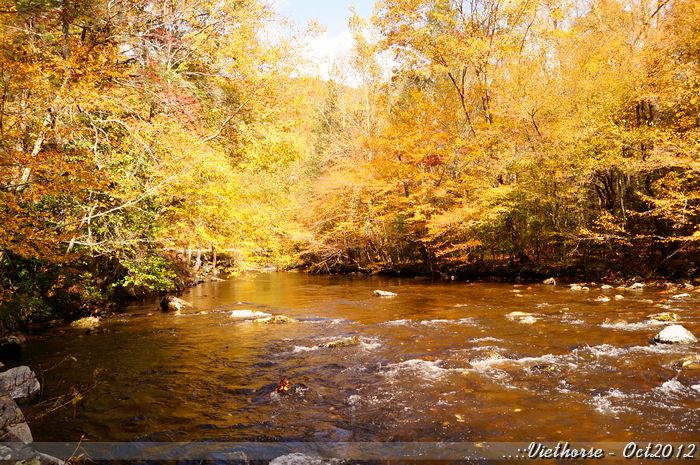 But a different look of downstream: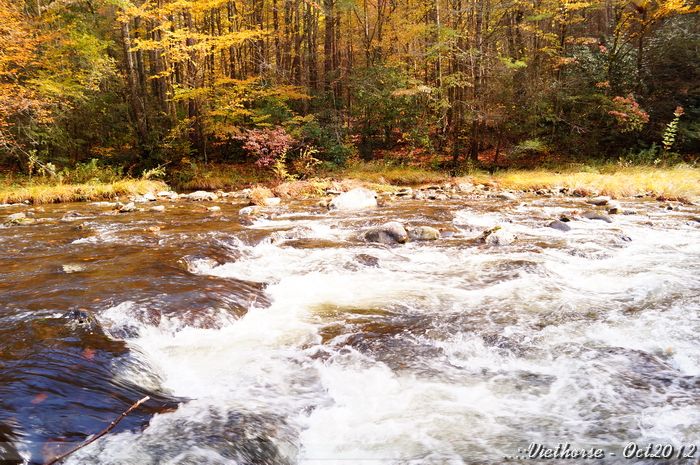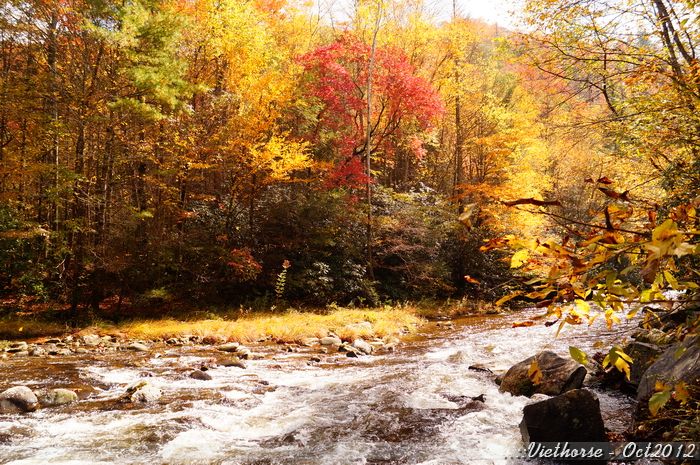 Just took a silent moment, at the middle of the forest, beside the stream and the VFR. I was wishing my family being there with me….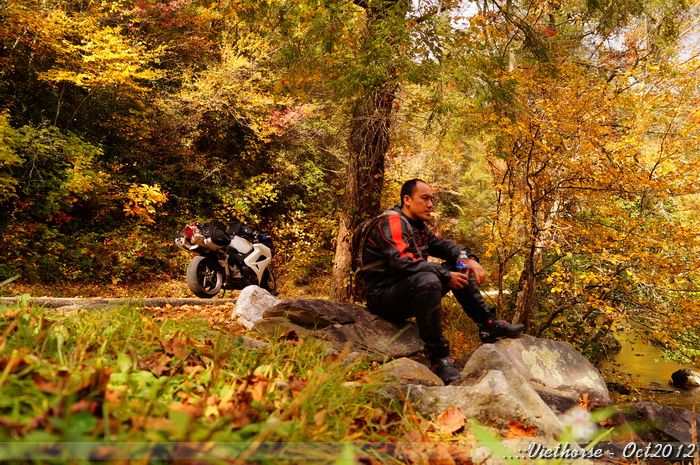 Well, sun was shining, and my family was asleep at home…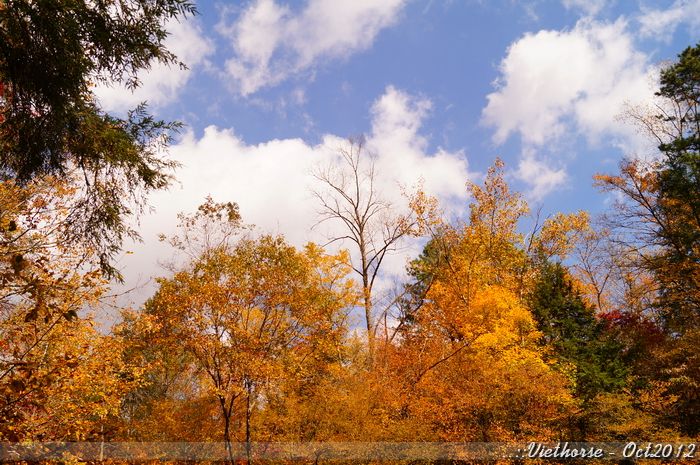 Back to the road again: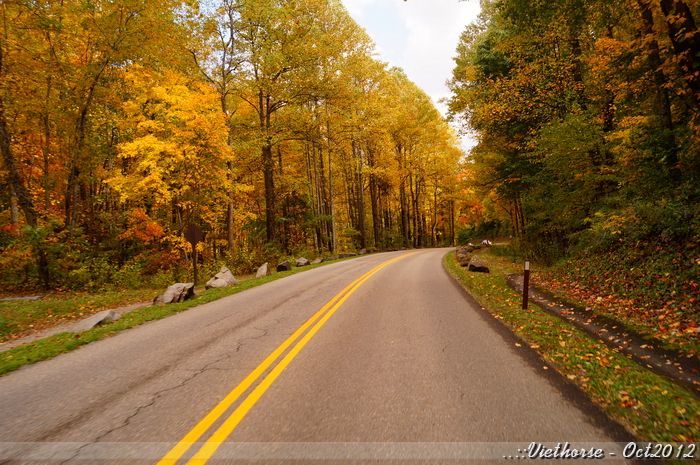 Fall was all around…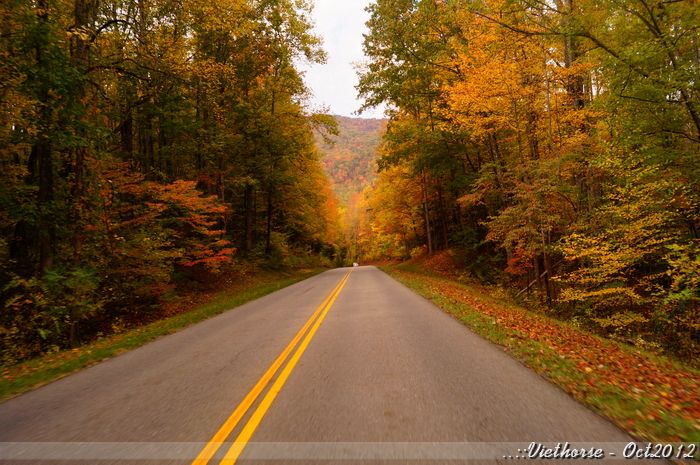 Some milestone: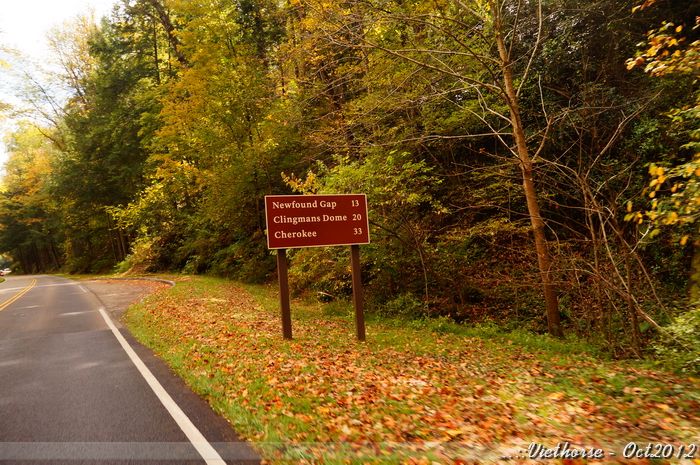 Nice view from an overlook: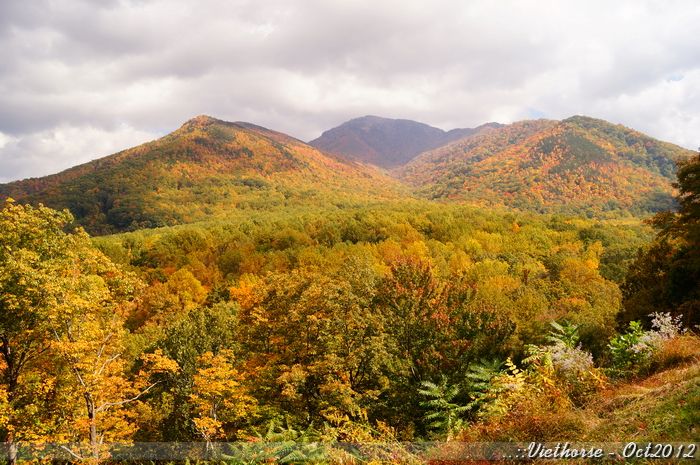 A bit different type of trees: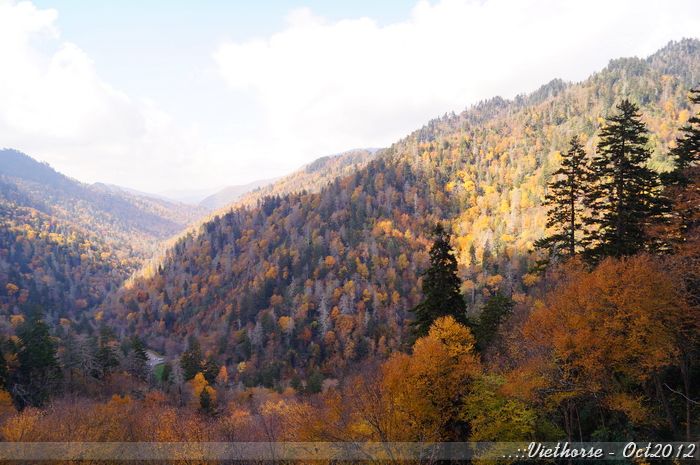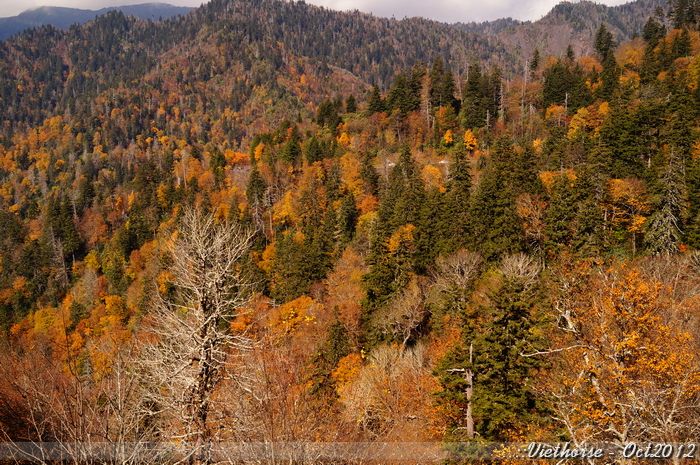 A bit different look with a crowded tourist campsite: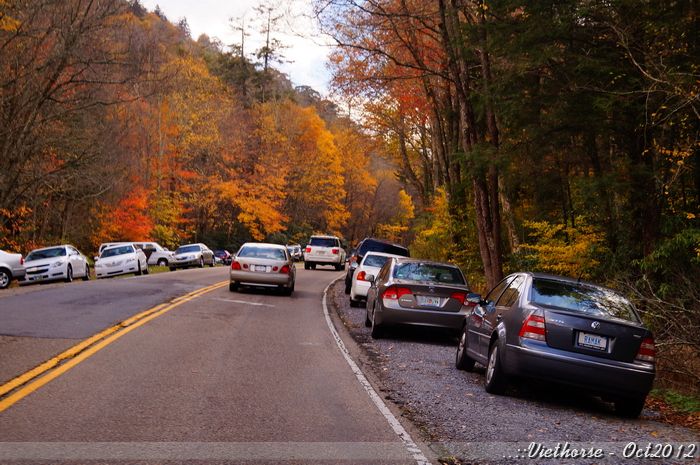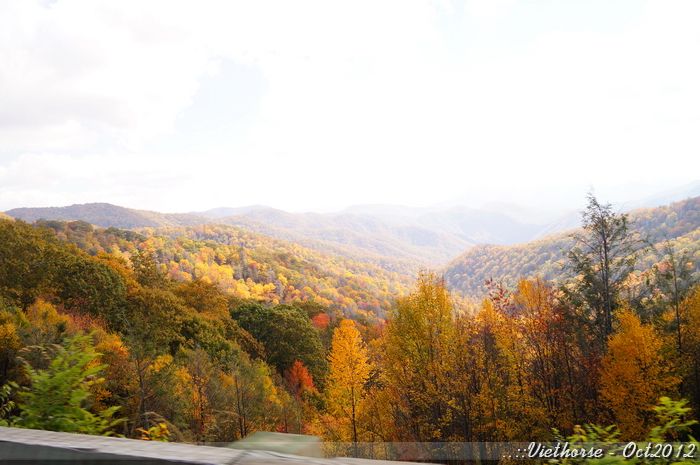 Yeah, you can stop anytime when riding alone. I have another stop at another overlook: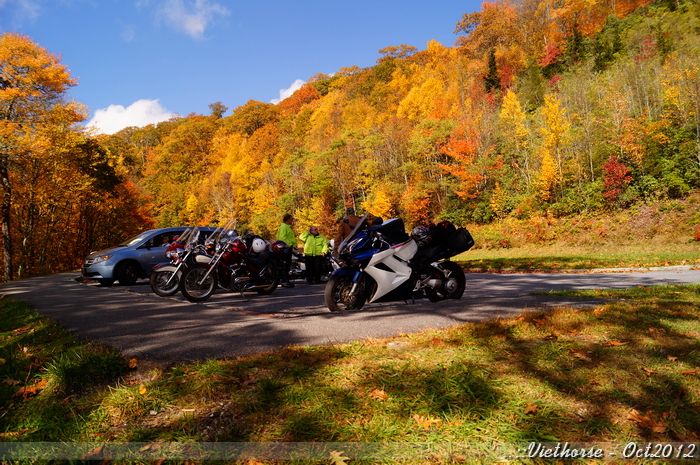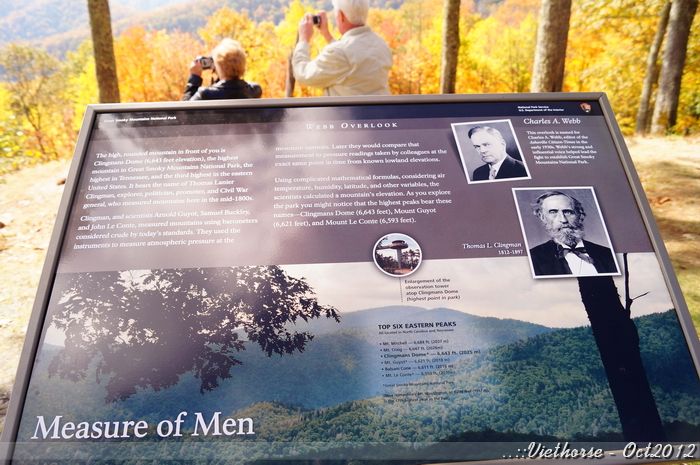 RWB VFR between the golden fall: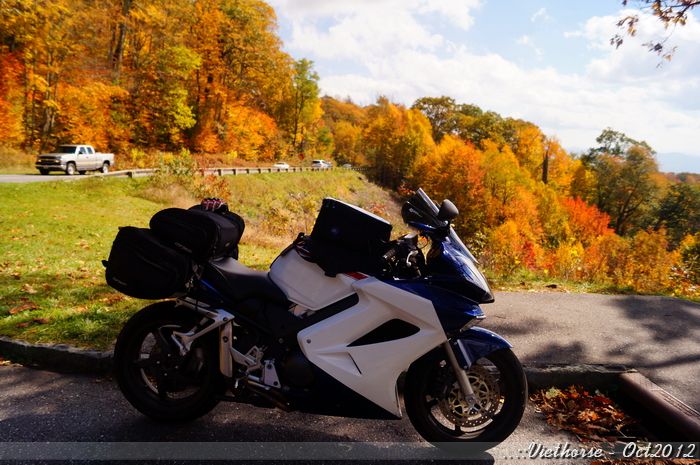 Awesome day for ride: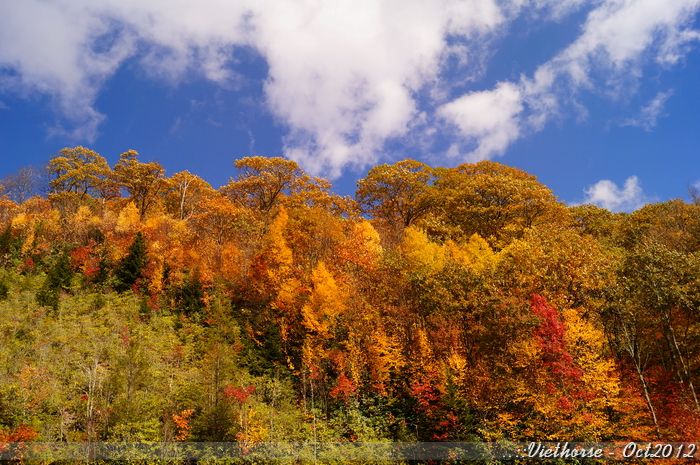 Continue with the trip. I think I was coming down South on 441: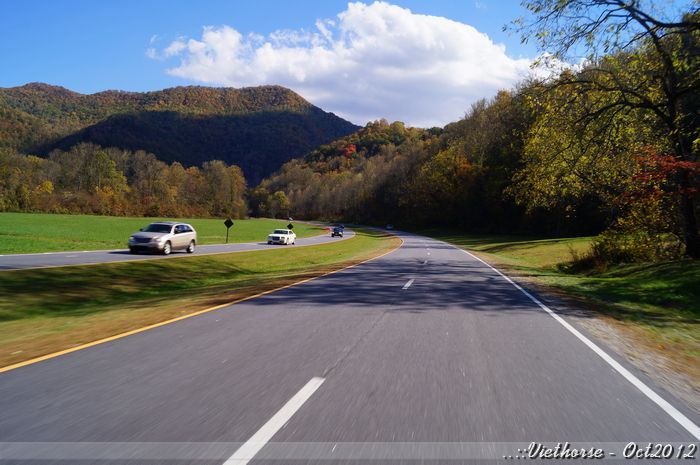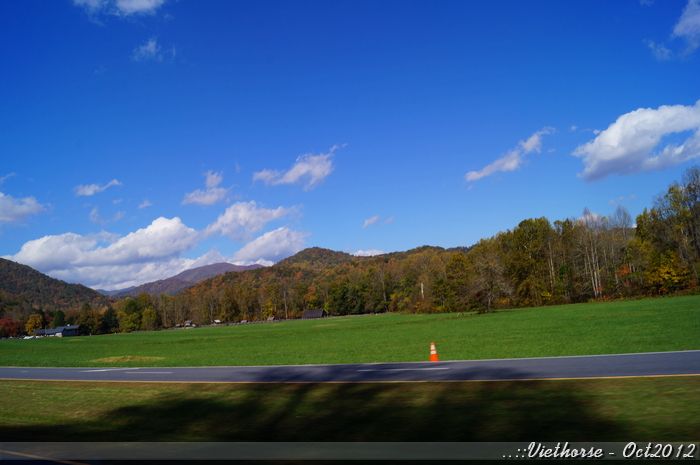 Then saw this: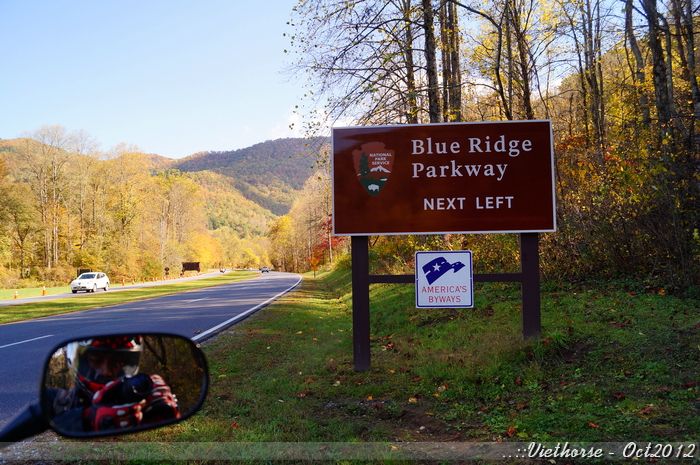 Well, save that BRP for the next day.: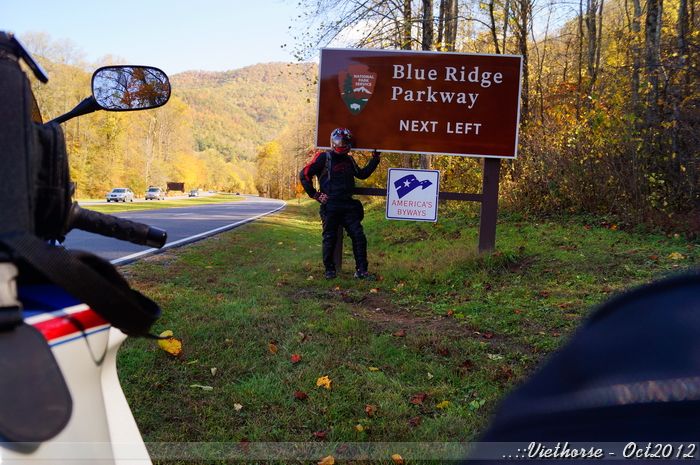 Reach Cherokee: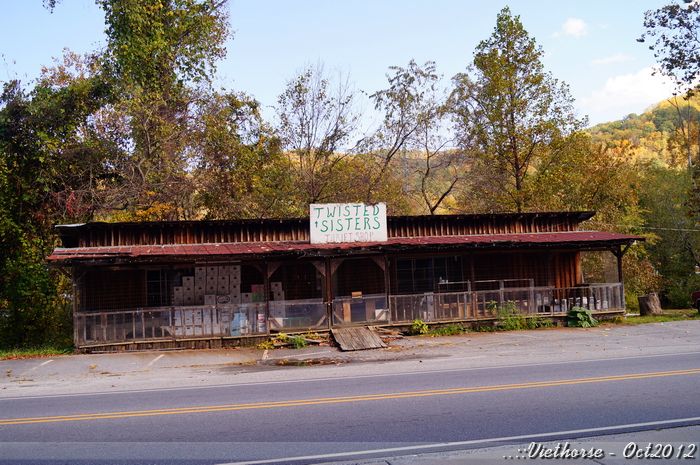 I still feel regret that I did not take time to visit the Indian museum there.
And did not buy any shirt, even with good price: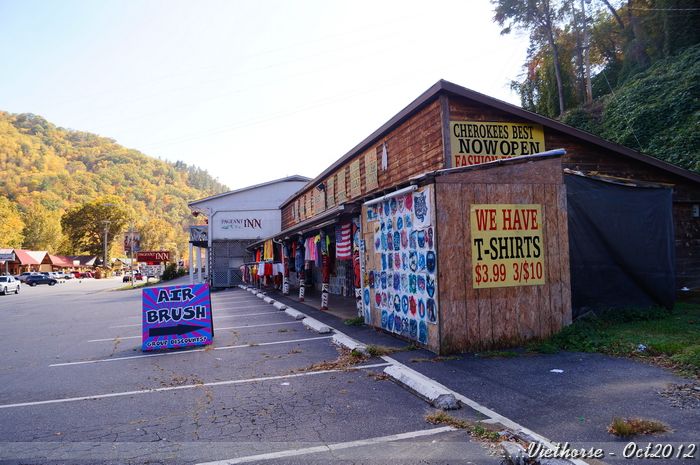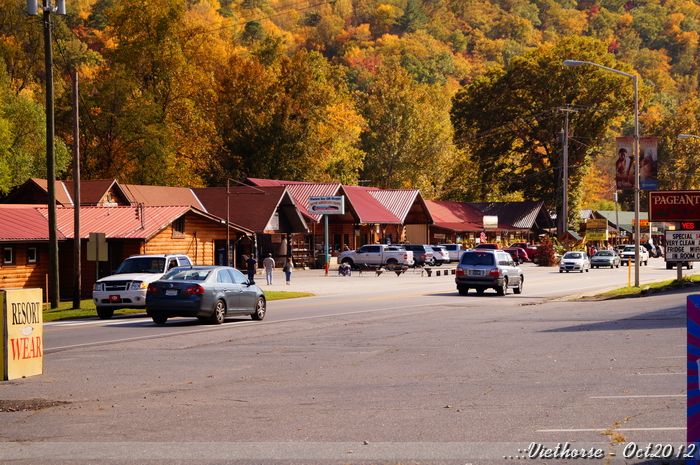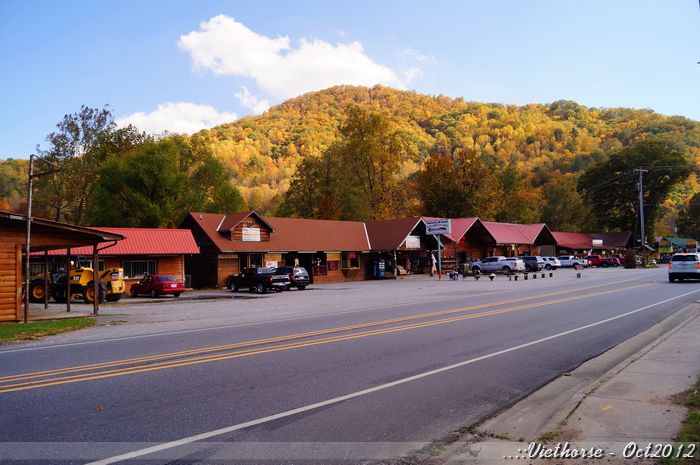 A busy little town:

We don't have this in Vietnam: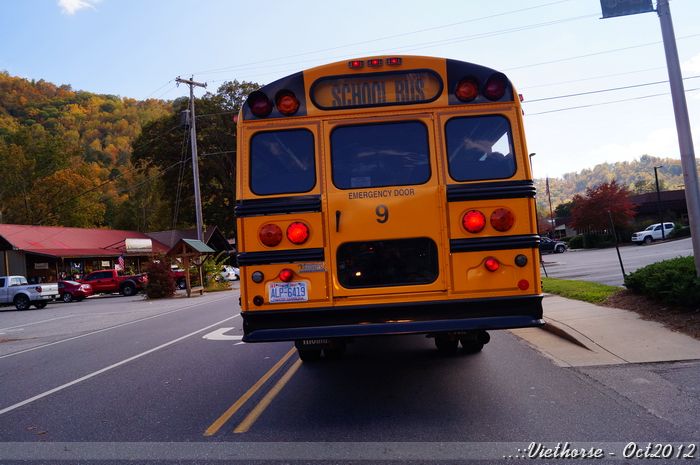 But we have such kind of power lines: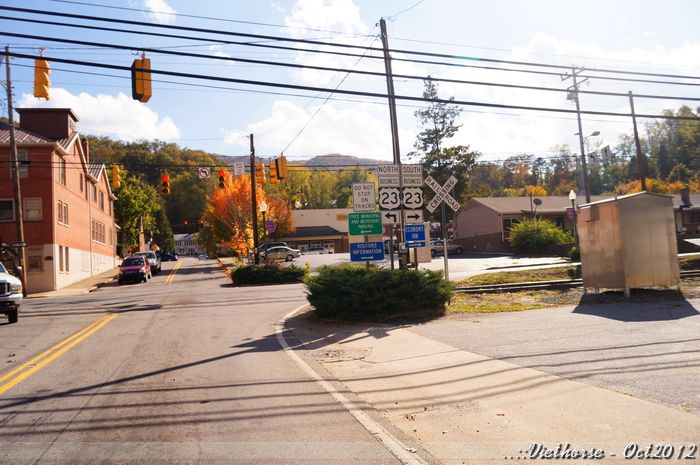 Passed Cherokee, I keep continuing on 107 down to Glenville and Cashiers.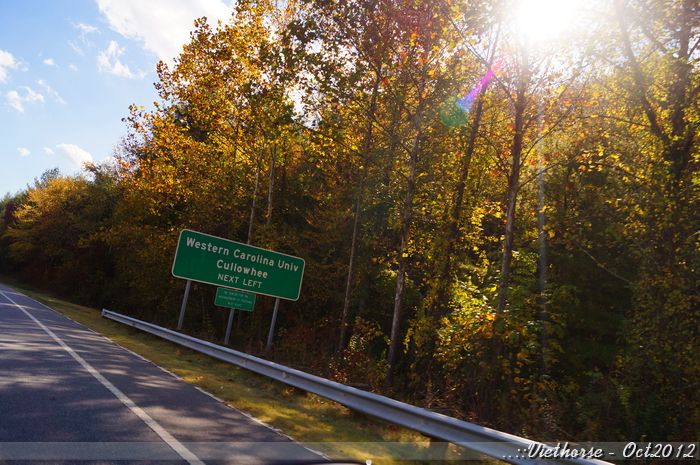 The roads to Glenville was awesome, a bit small but very few traffic, and lots of twisty: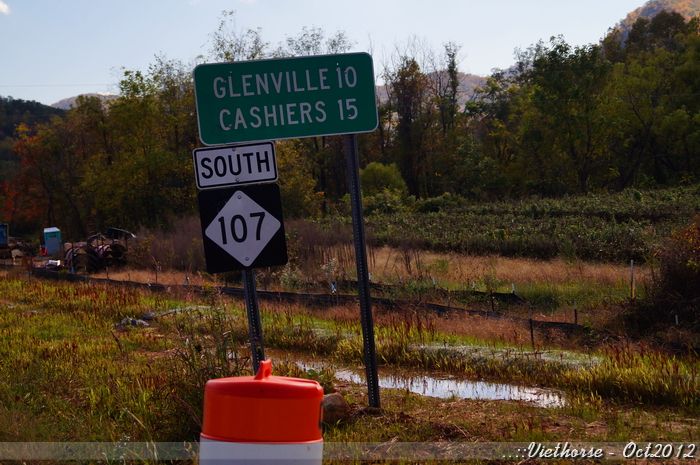 Arrived Glenville around 3:30PM. I was quite worried because there was still quite long way back to Robbinsville, and I did not know how the road would be: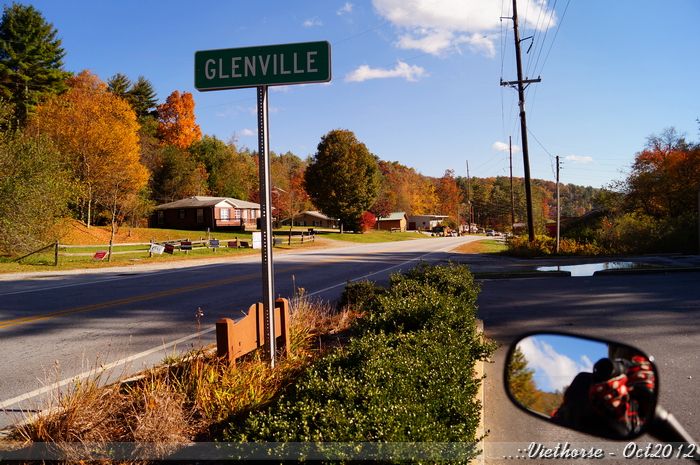 Glenville Post office: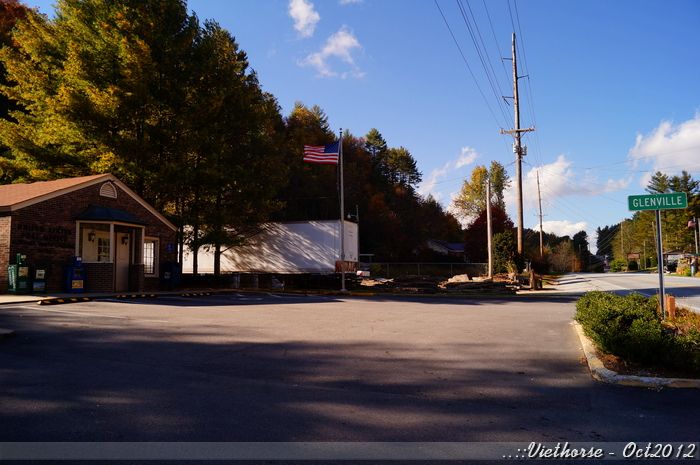 I stopped for a while. Look at the map, try to figure out the location and the route back to Robinsville from Glenville. I was thinking of riding in the dark on 129 when getting back the cabin. Then I decided to continue with the planned route.
Kept going for a little while, I saw a very nice lake on the right: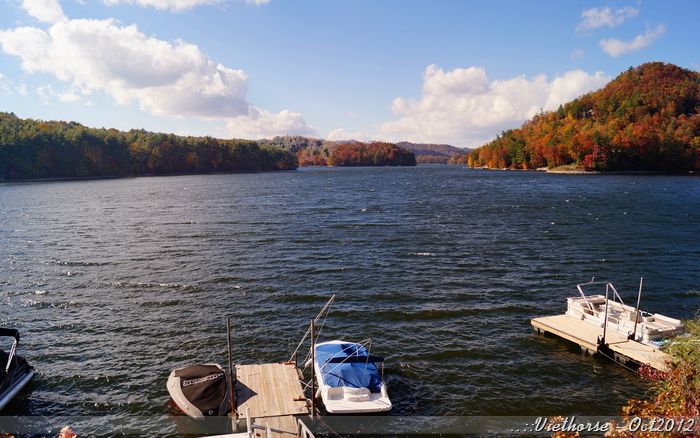 That's the boat rental station:

The bike in the sun: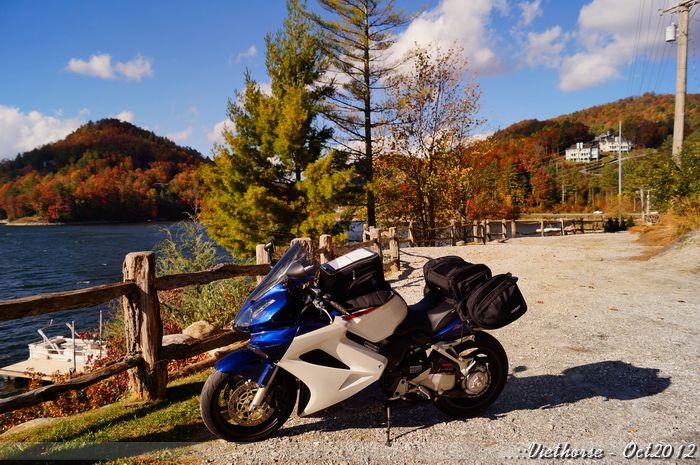 Quickly got on the bike, to Cashiers in about some miles, then I turn right at Cashiers to 64.
The 64 to Highlands and the 28 to Franklin were really great as well. However I was feeling not really comfortable as the sunlight hit directly to my eyes. It was quite difficult for me at many corners.
It was quite late, darker and darker so I did not take anymore photo, except this: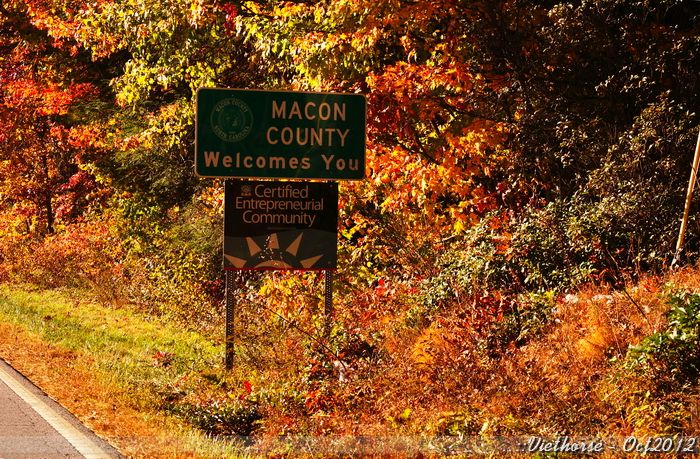 In Vietnamese, Macon, actually "Ma con" means a "little ghost". I was reading that in Vietnamese all the way back to Robbinsville. Damn, that night was the first night I stayed alone in the Robbinsville cabin!!
Hit back to the town, had dinner and end the riding day.
I turned all the light inside and outside the cabin that night. Made some plans for the cases of someone knock at the door at the midnight… ect… Damn, that was a long night!
SOUTHEAST RIDE – DAY 5 (BLUE RIDGE PARKWAY)
It was the day I plan to move away from the Cabin in Robbinsville. I was hopping I can head North to reach Virginia, just pass the state line couple of miles then I can claim that I 've been to one more State. 

Well, If having a local with me, for sure I can make it. However, I chose the safer option which could let me take an easy day and really enjoy the ride.
Here is my tracklog of the day 5: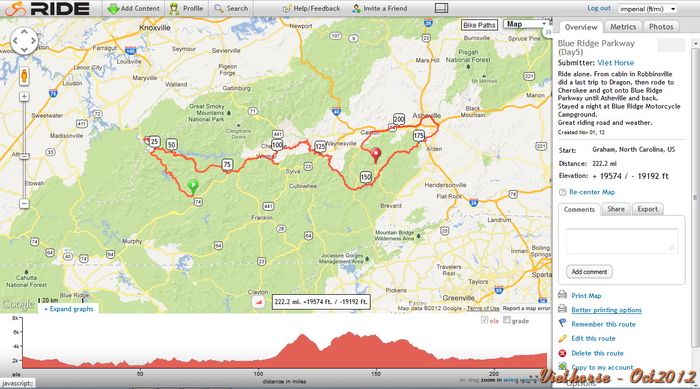 Last time see this:

Got off the cabin, started the bike, it was quite chilly: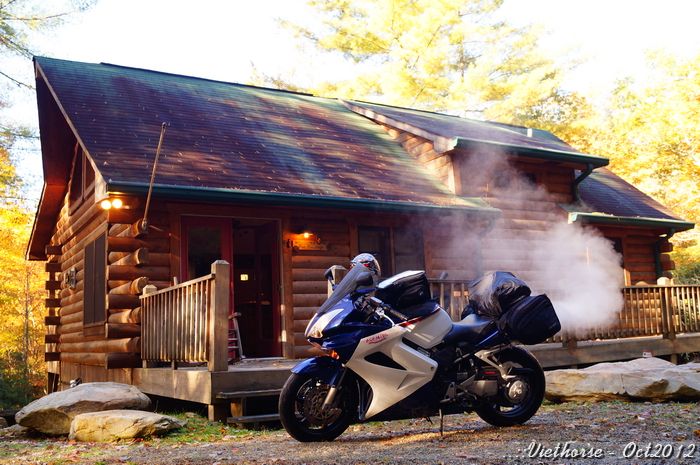 I headed to Dragon from theere. Done the last round of the Dragon.
Nothing else to see and taking photos others than these – RWB VFR at the state line btw NC and TN: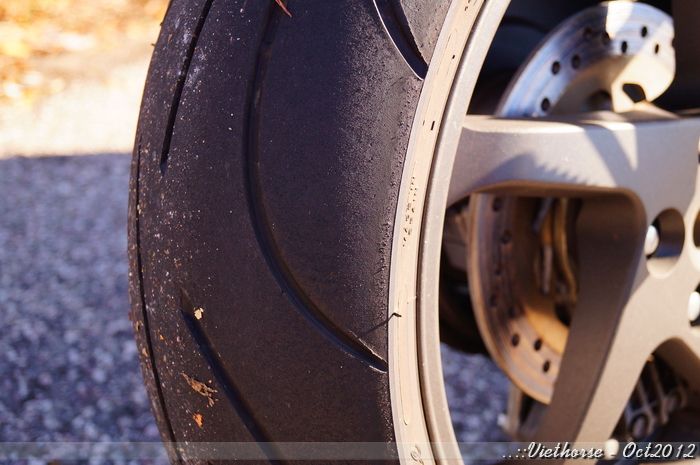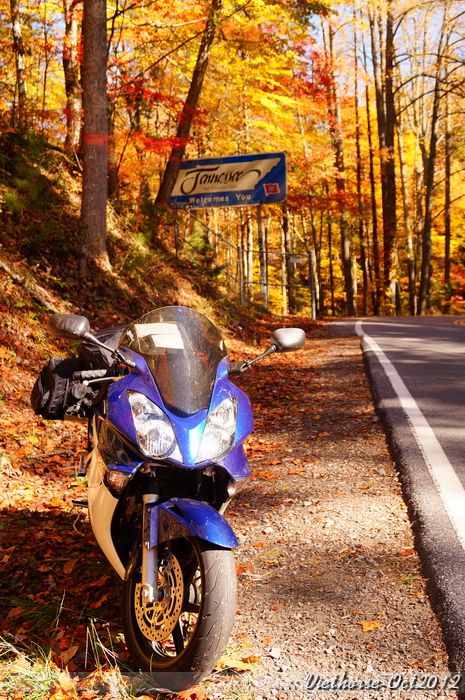 I left the Dragon with the same route #28. But this time, I have chance to take photos with the very beautiful lake, I think it may just around within 10miles from the Dragon: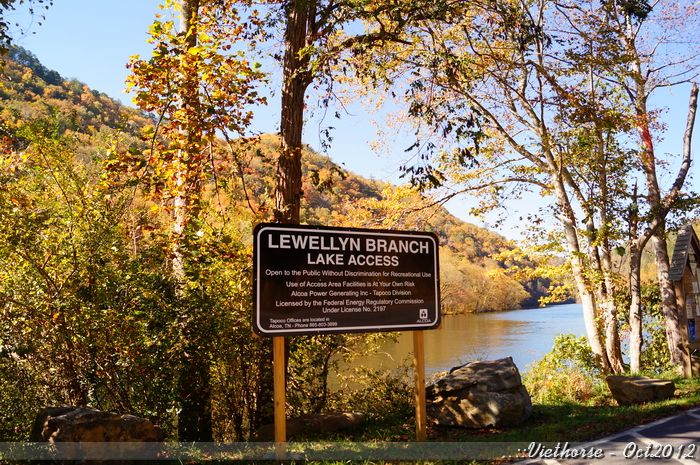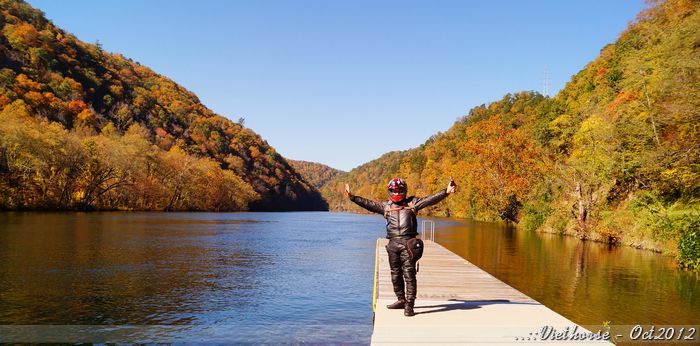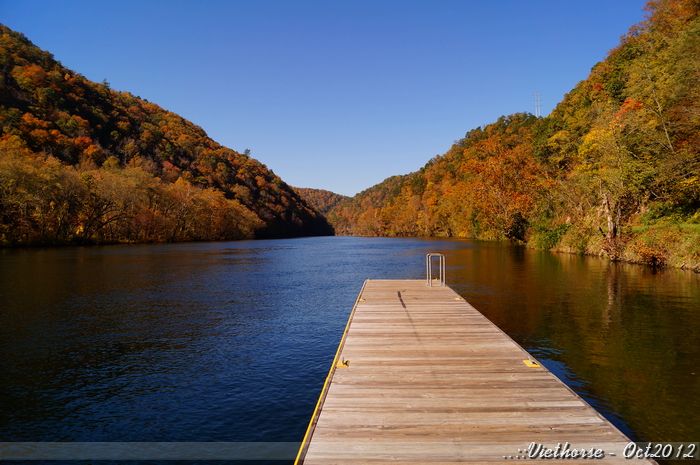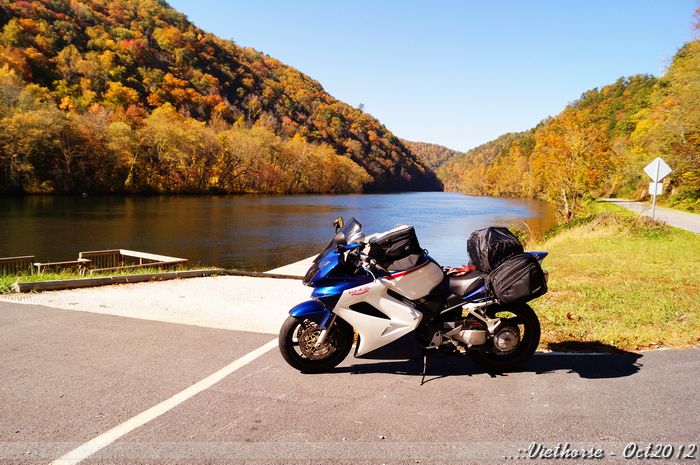 I headed to Blue Ridge Parkway. Passed Bryson City, I think I went for the wrong way for a while. Then came back to get thru Cherokee one more time. That was the last time I passed those two places.
And after that I again missed the turn from the Hwy 19 to Blue Ridge Parkway. I gotta make another U-turn.
Finally, I got this: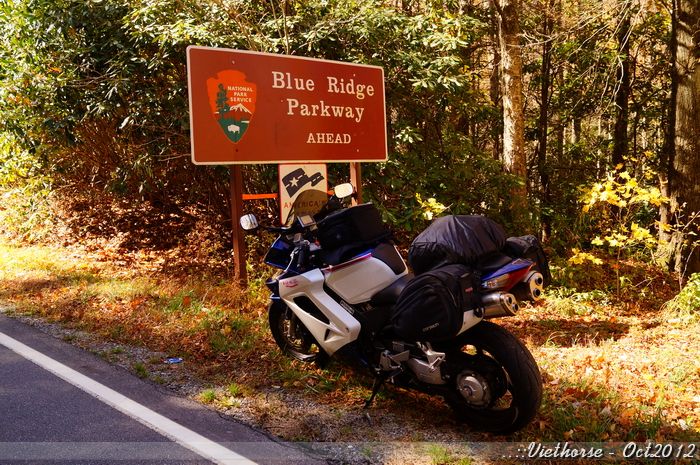 I was so happy when reaching that area. Further more, that day was really beautiful weather.
I don't know it 's allowed or not. But who cares!?

Wow… many and many wow… I was really ecstatic with the beauty of the scenes on Blue Ridge Parkway: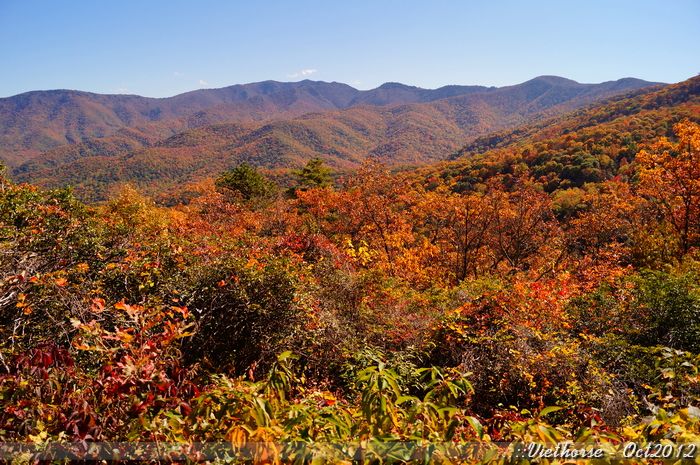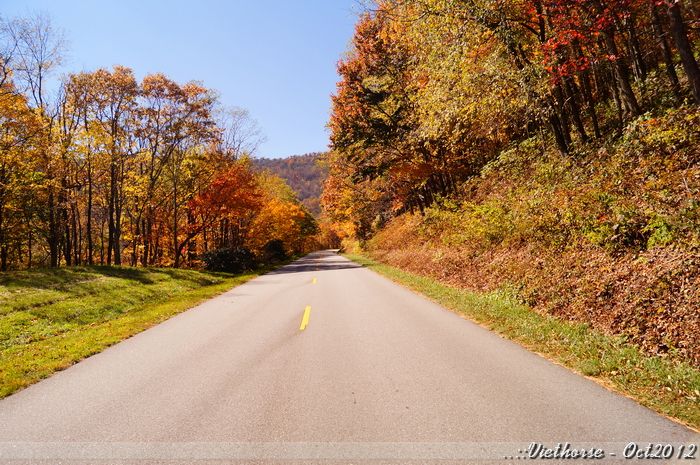 The Blue Ridge Parkway may be familiar with lots of you guys, but for me, it was really awesome. I would never forget my excitement when seeing all those wonderful color.
Words may not be able to express all the beauty of the trees, roads, and mountains there.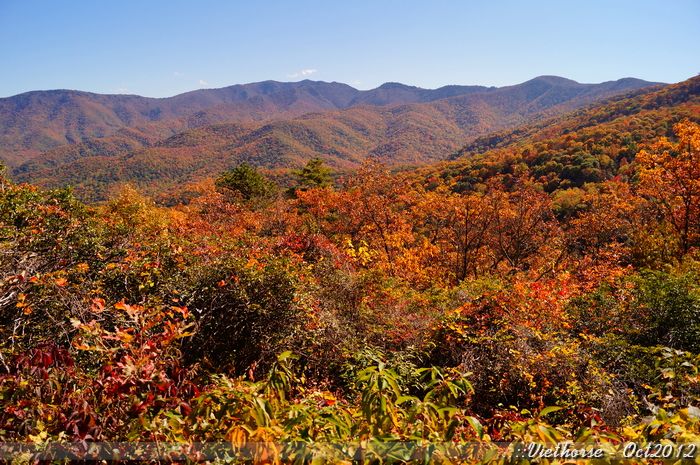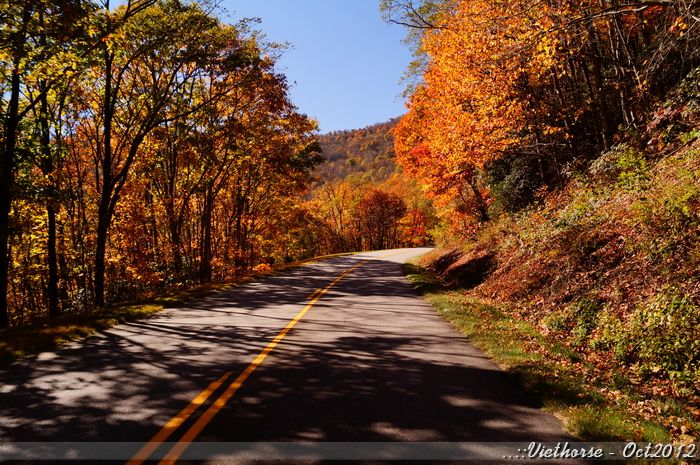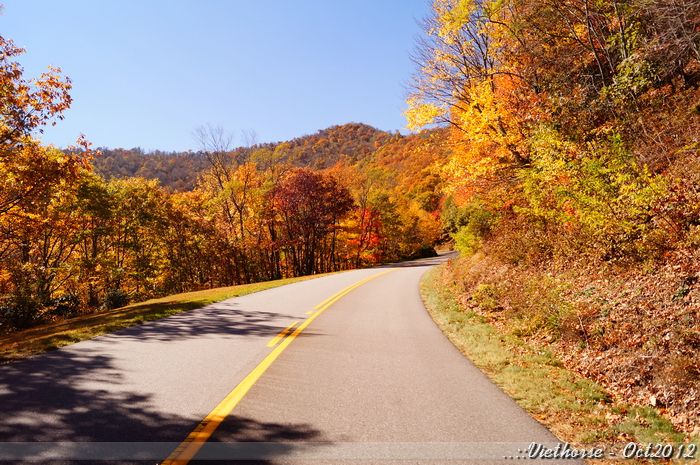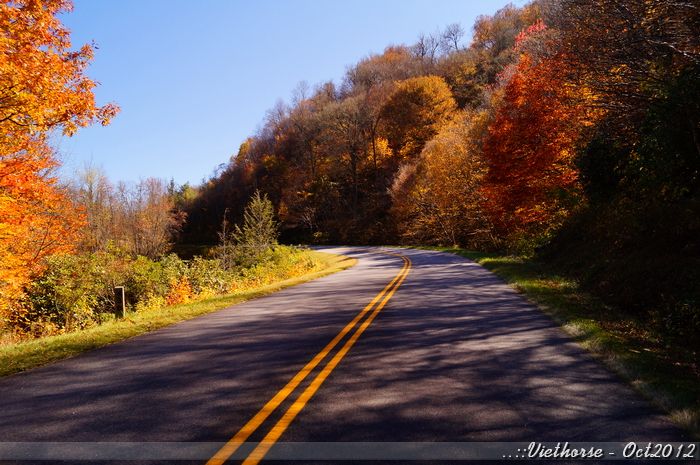 I stopped at quite numbers of overlook area. Some places I just pulled off, still sitting on the bike, enjoy the view for some seconds, then kept riding. Some others made me to off the bike, pulled my camera up and shot: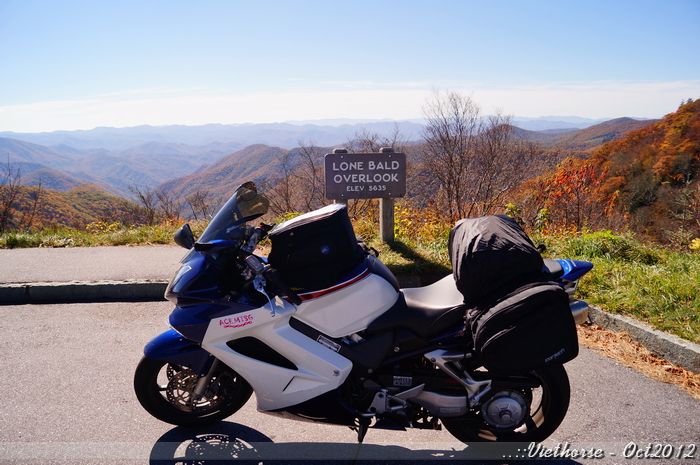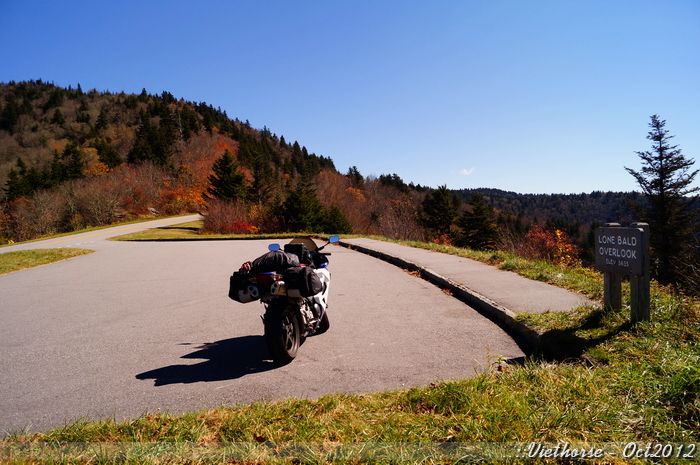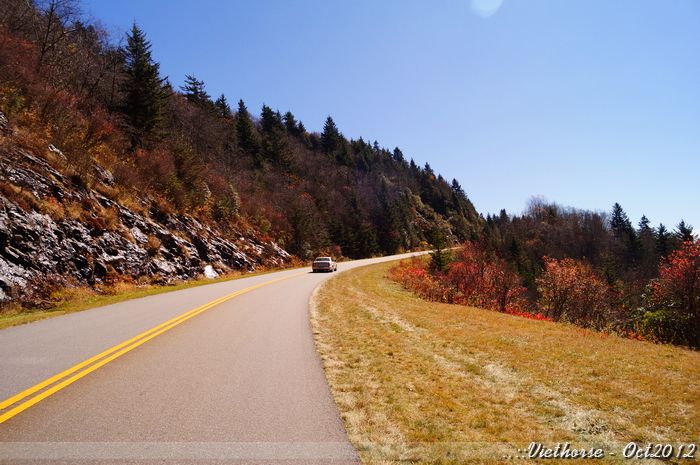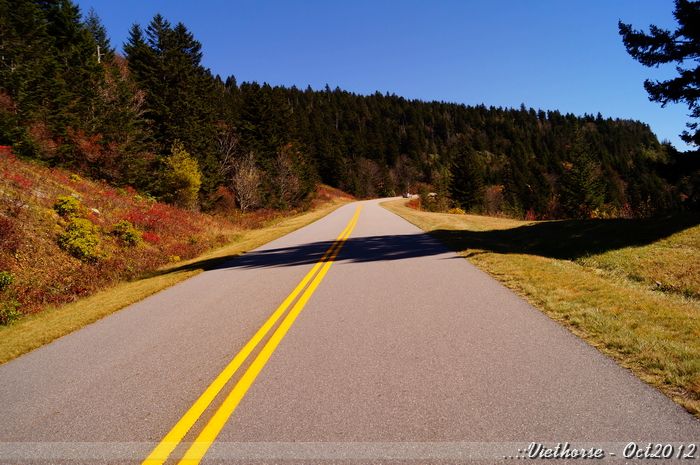 I reached the highest point of the Blue Ridge Parkway: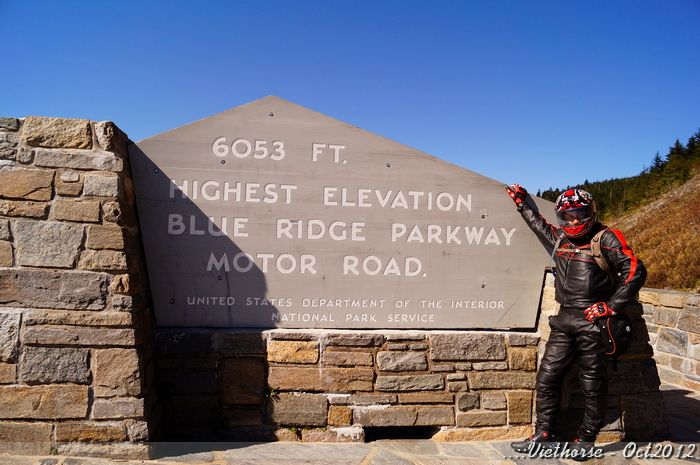 I was wishing of Wrestler and RollingAgain being there with me: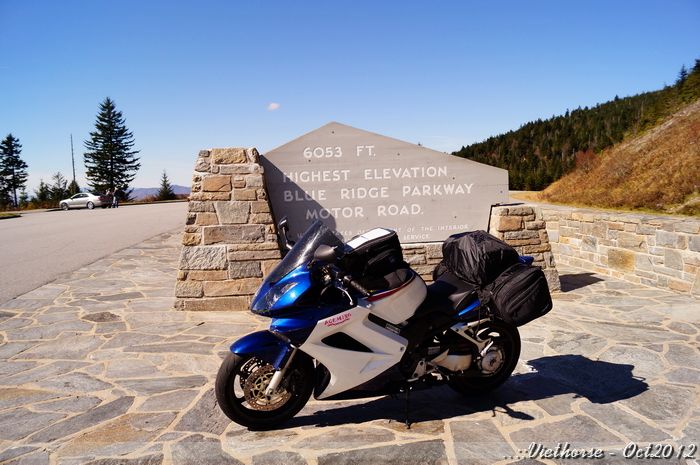 Left the highest point of the Blue Rigde Parkway, I kept riding toward the Ashville area.
The parkway offered lots of amazing sceneries, all the beautiful looks which I had seen only on screen: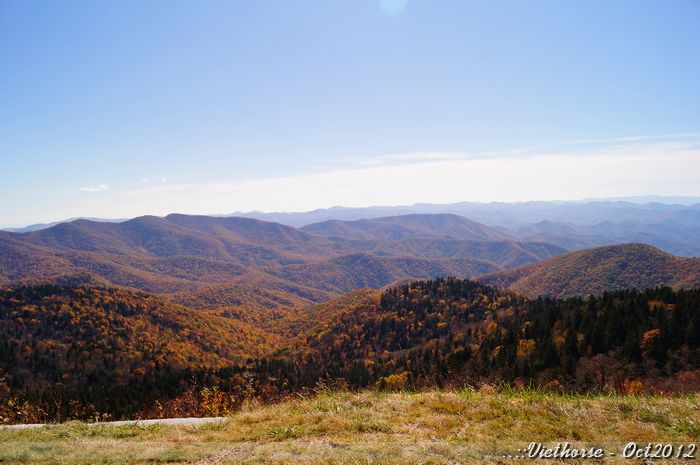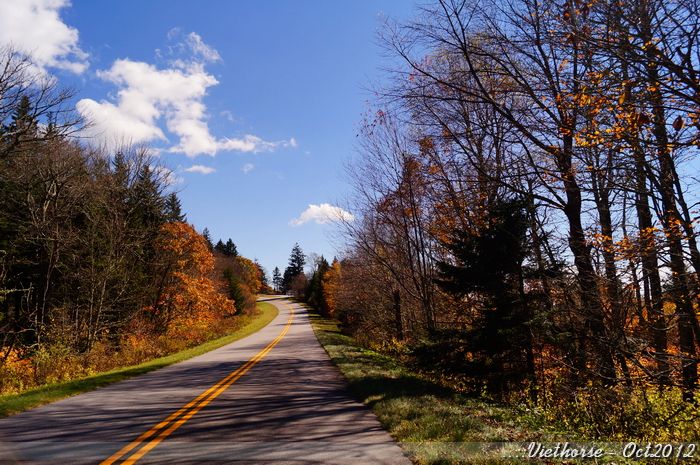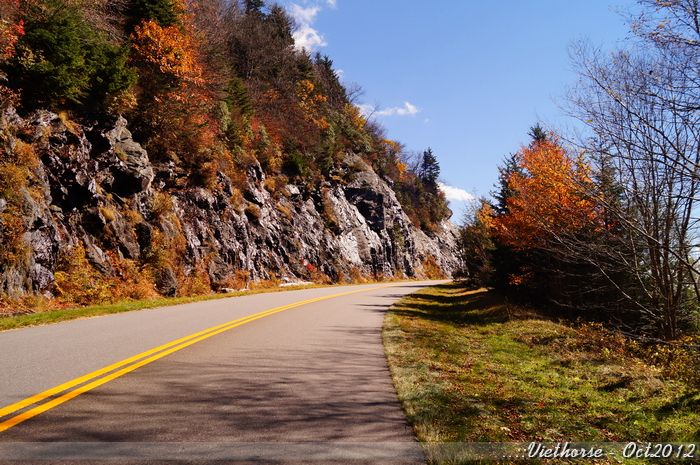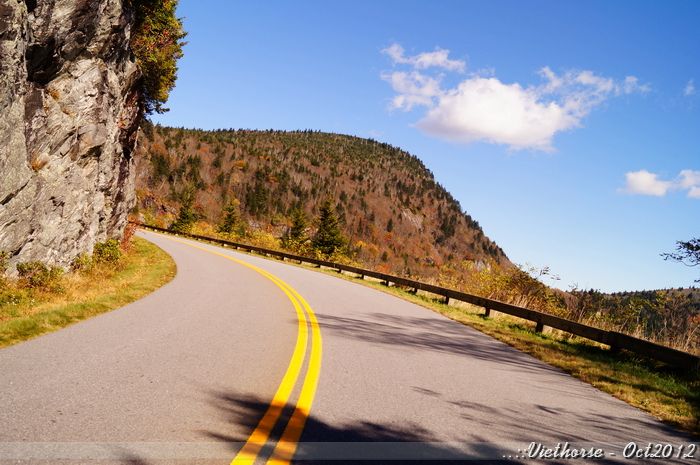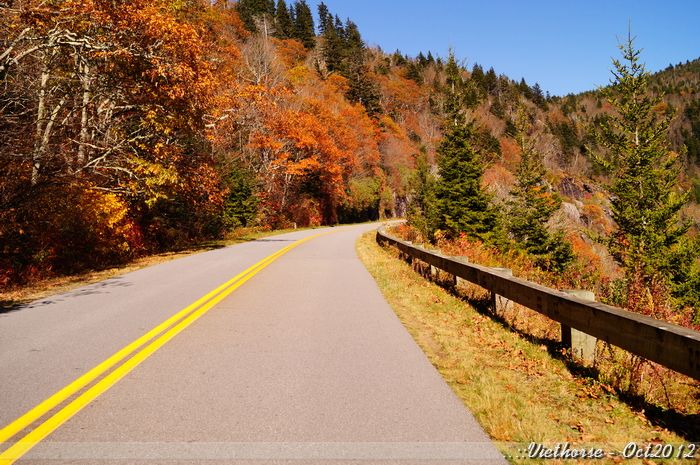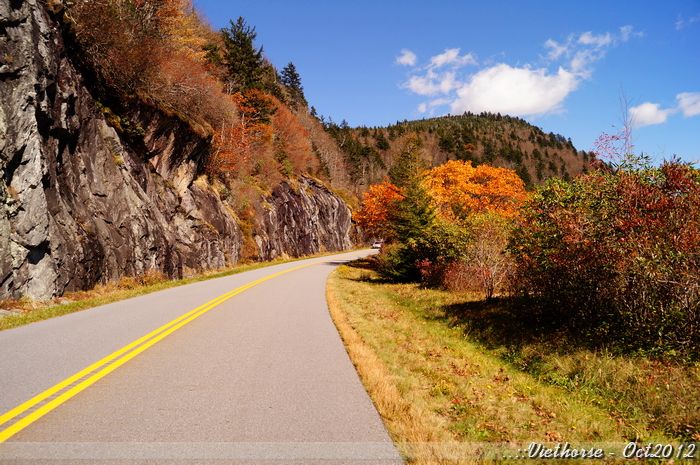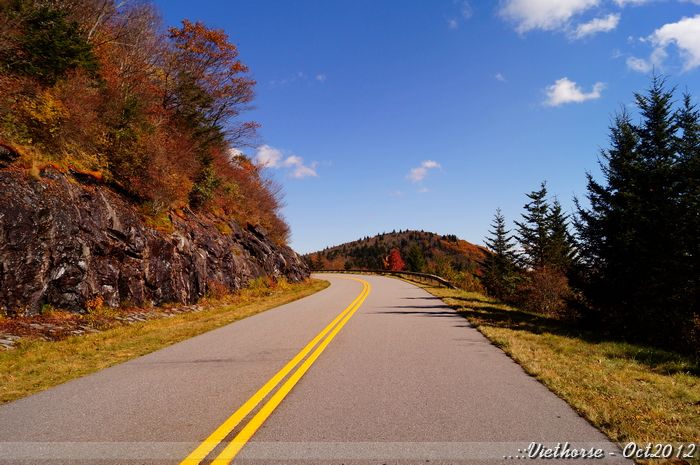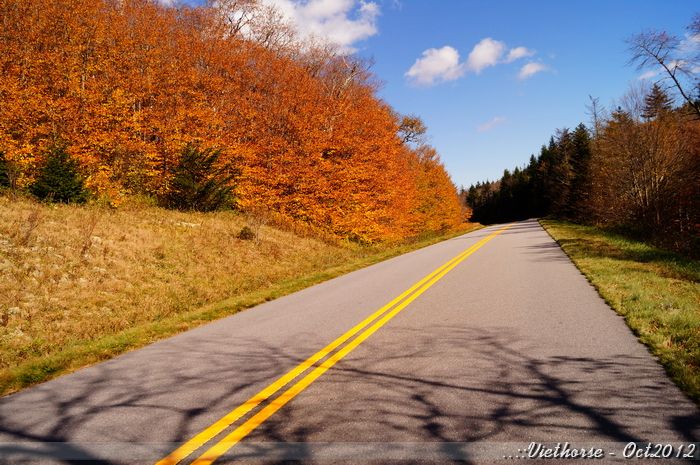 One of the most beautiful look to me: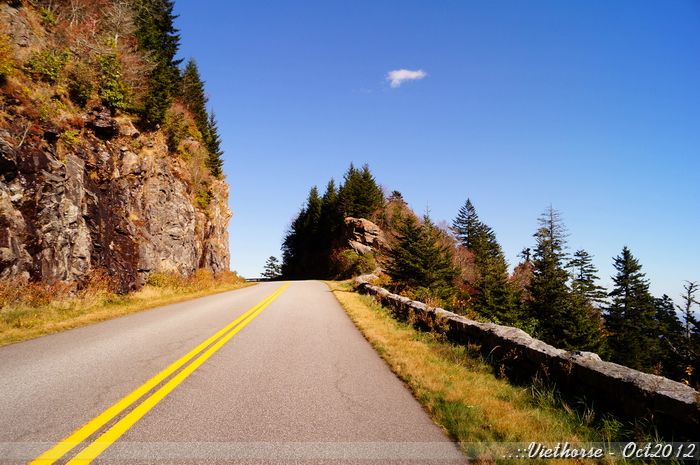 and this: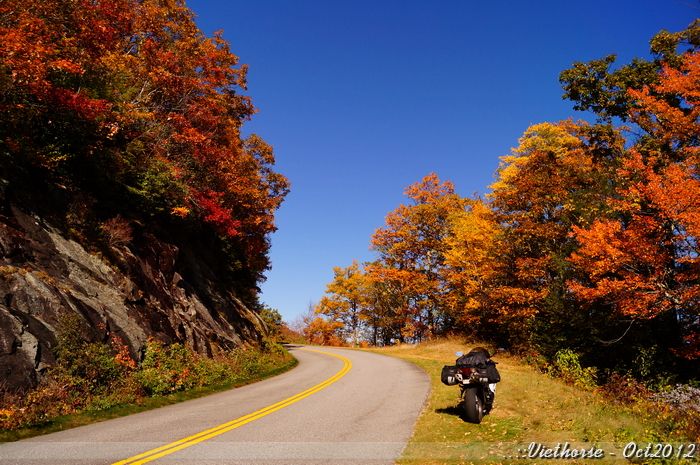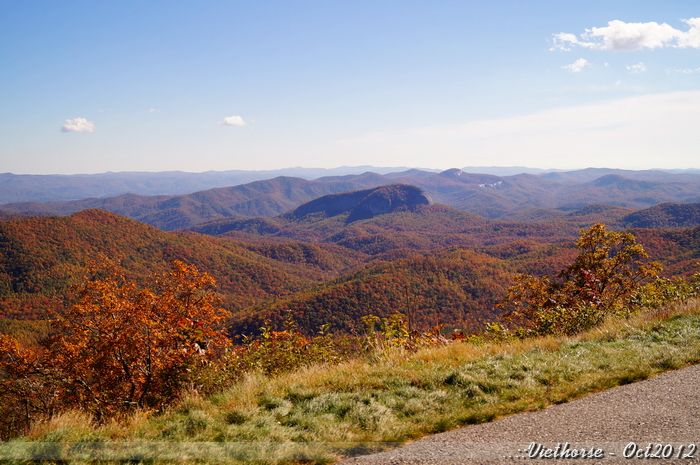 There was a tunnel: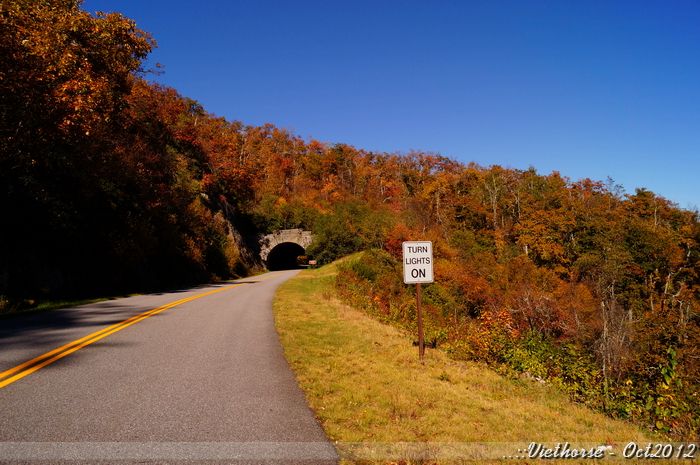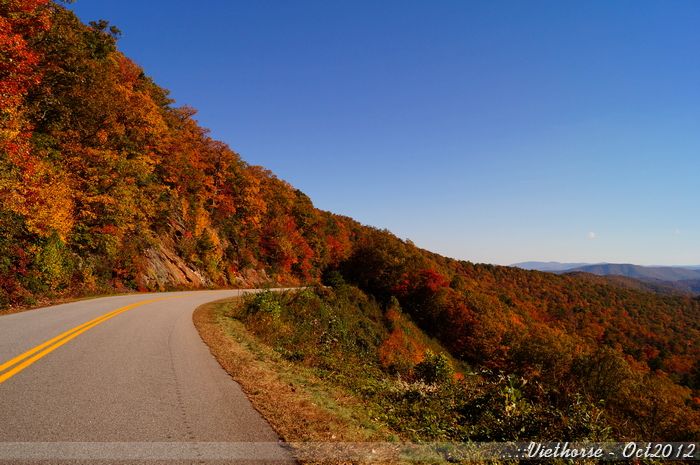 I was riding near to Ashville. I sent messages to Wrestler and Earthshake to ask for some places to stay that night.
Besides, I also looked into my Garmin GPS to find the place. Lucky me, I found the Blue Ridge Motorcycle Campground. I calle the number on the GPS and the owner answered. Room was available, wifi free, price was ok to me.
Headed to Ashville for some more gas and turned back a bit to the Campground. It was somewhere at the middle of the Blue Rige Parkway.
With my GPS, I can find the place without any difficulties. I saw some bikers just heading out of the campground, some were setting up their tents.
Met the owner, he showed me the cabins: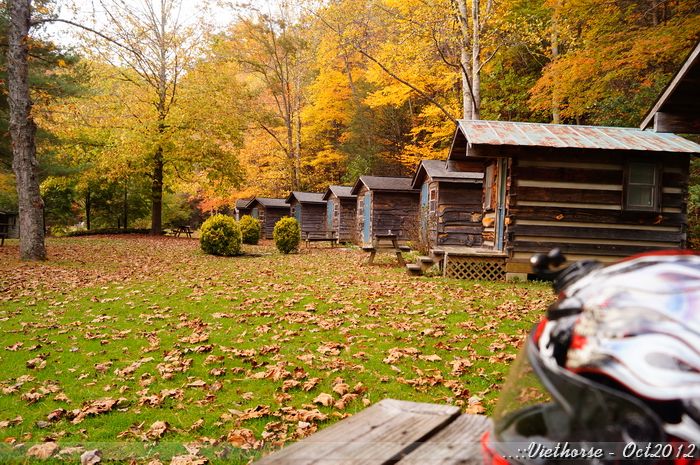 They looked nice and okay to me.
This was my cabin for that night: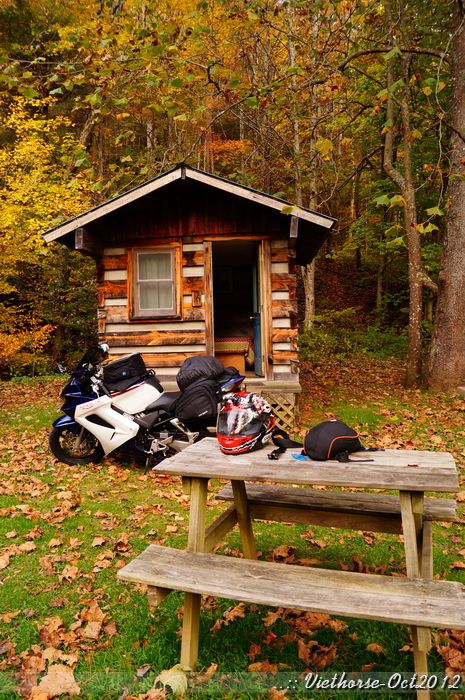 There was nothing inside the cabin except a bed, a small heater and some clothes hangers on the walls.
The area has the free public bathroom and toilet. Had the washing machine, but they need coins to work. 
With my gears still on, I headed out about 5-7 miles for dinner. I had dinner in a Mexican restaurant that night. Food was really great.
Come back and had bath.
After that I brought my laptop to the recreation room (a common room of the campground) to connect to stronger wifi and chit chat with the bikers in there.
Other riders were so supprise that I am all over from Vietnam to there and ride.
Slept not so well that night because the small heater and thin blanket did not help.
Tracklog for the Day 5: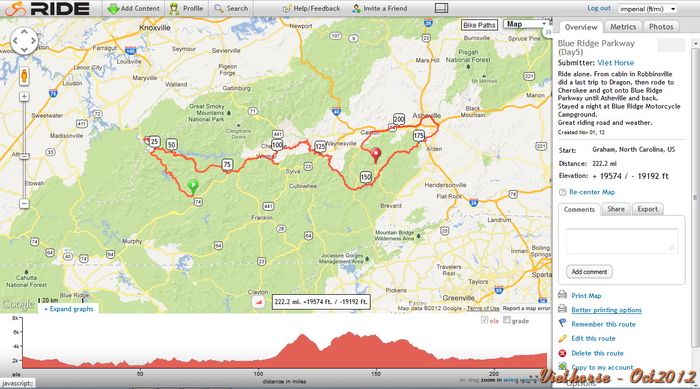 SOUTHEAST RIDE – DAY 6 (BLUE RIDGE PARKWAY – CHATTAHOOCHEE – CLAYTON/GA)
After a cold night in the cabin of Blue Ridge Campground, wake up with sleepy eyes…
This side of the Campground is cabin area: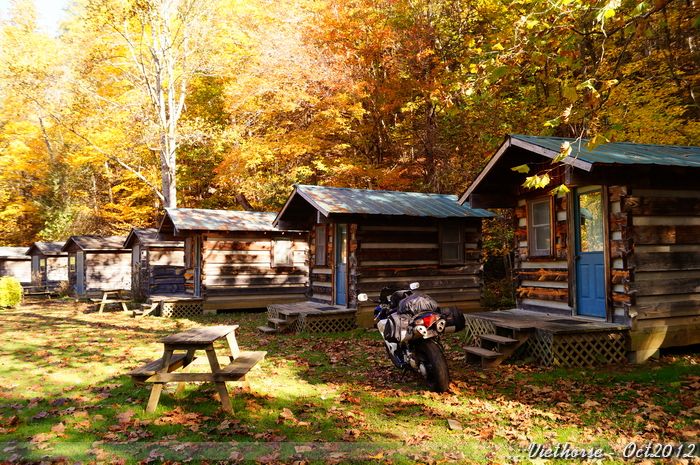 This is the office and recreation room: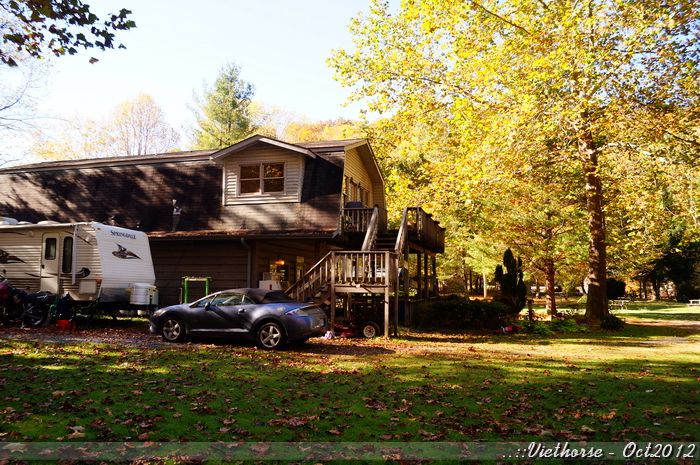 And here is place for those who have their own tents – the house in the middle of the photo is bathrooms and laundry rooms: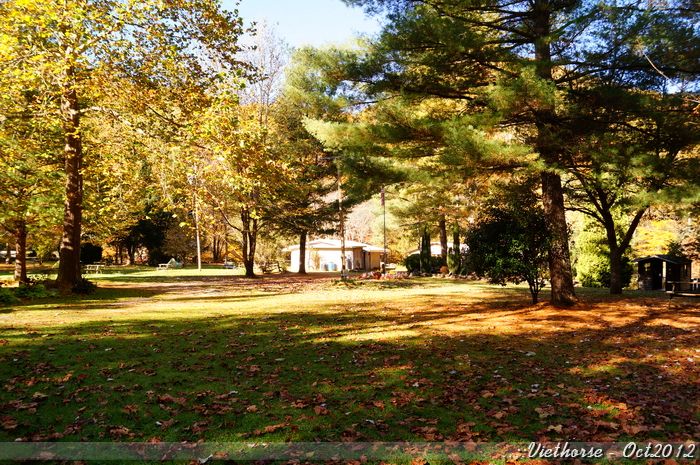 Morning smile for a good day, why not?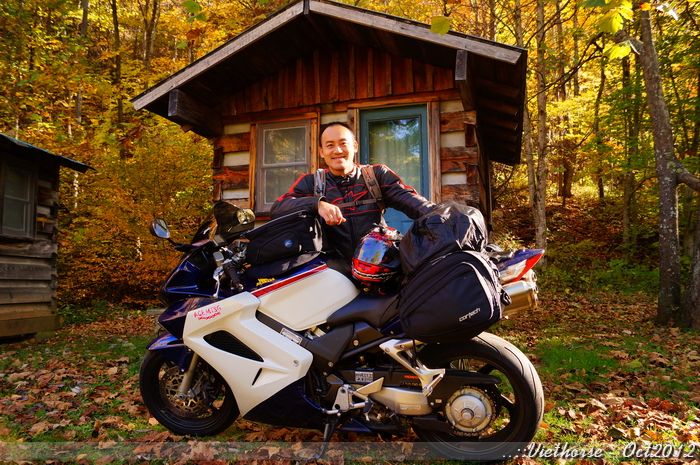 I will leave the campground, cross the Blue Ridge Parkway, thru Highlands and toward the South. Destination of the day would be Clayton (GA)

It was wonderful day for ride: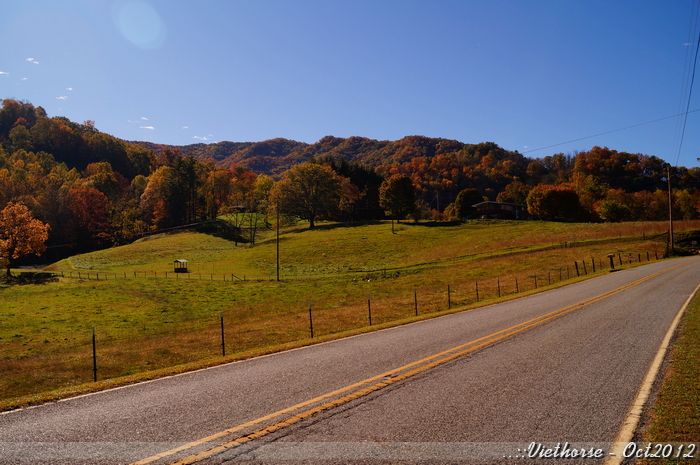 All the road from the beginning of the day are all good.
Stopped beside this lake: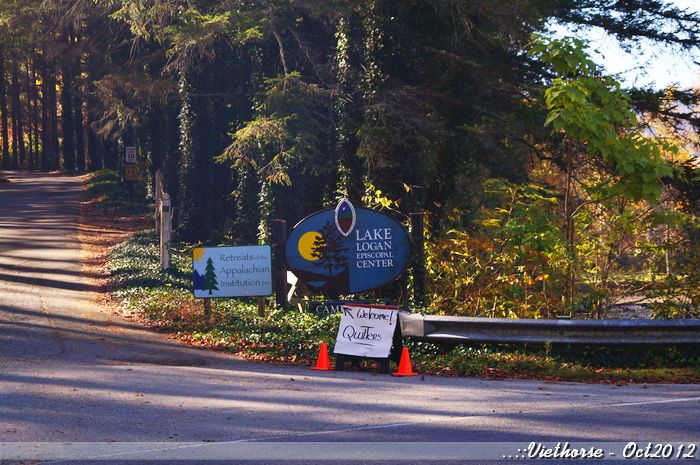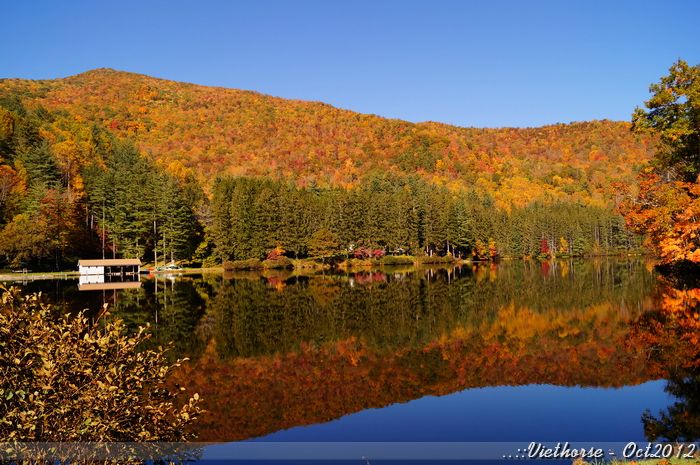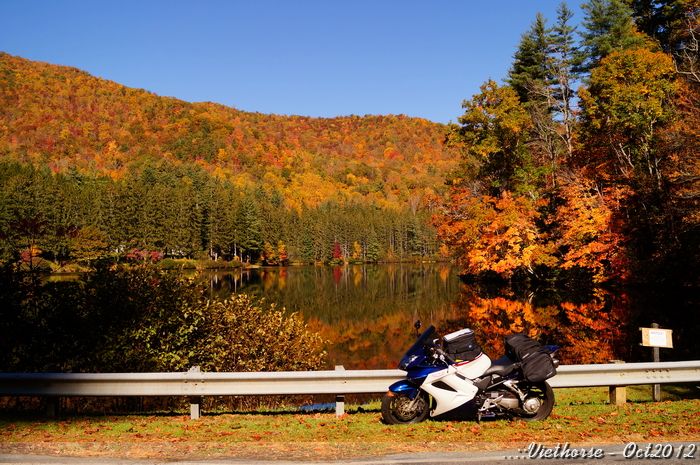 Really calm water, like a mirror: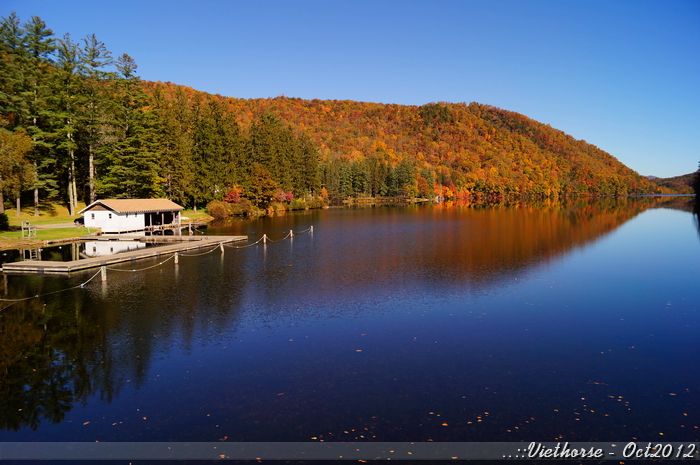 After that, I had to ride on a very dangerous road, the pavement was not good. The loose little sands on the road surface made me really scare. And the road was almost empty, I could not see any one, bike or car, on the road.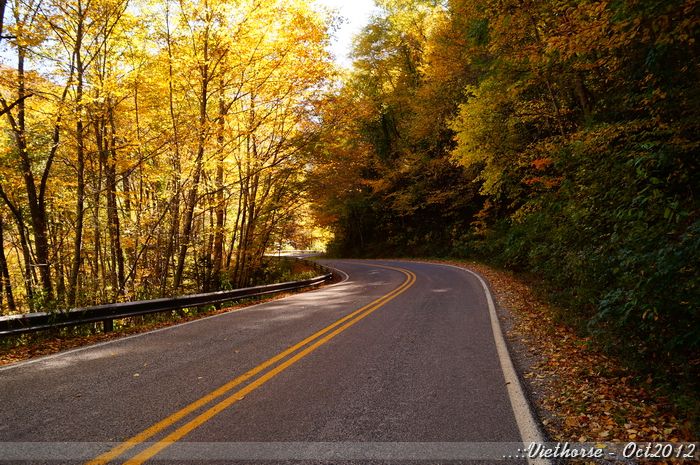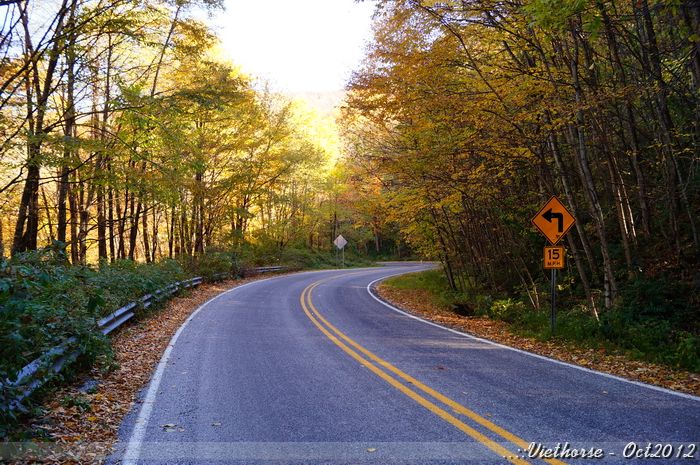 Then I got to the better road: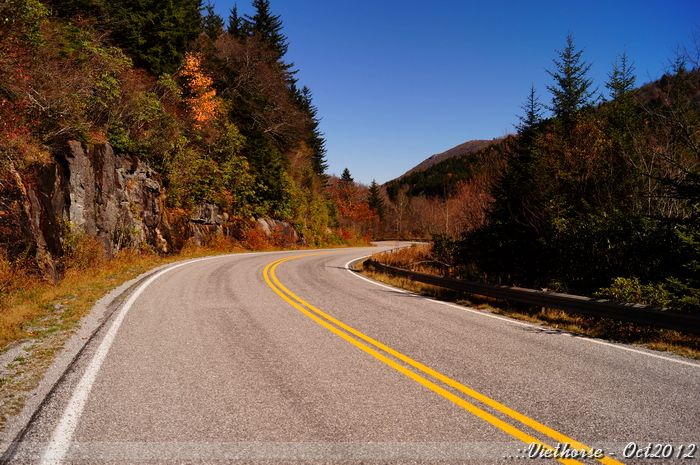 Looks like the road on Blue Ridge Parkway: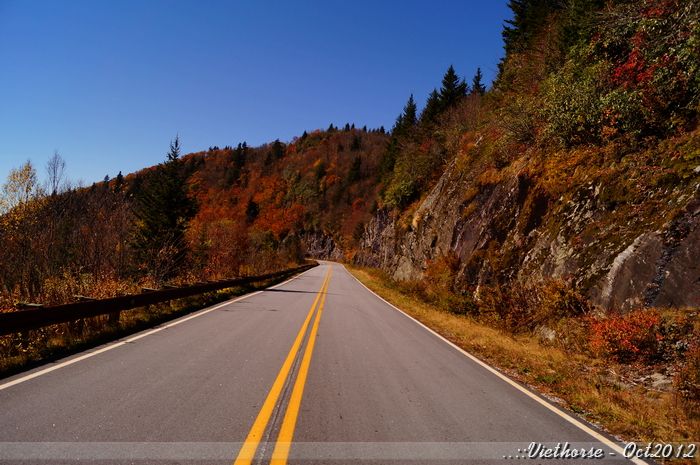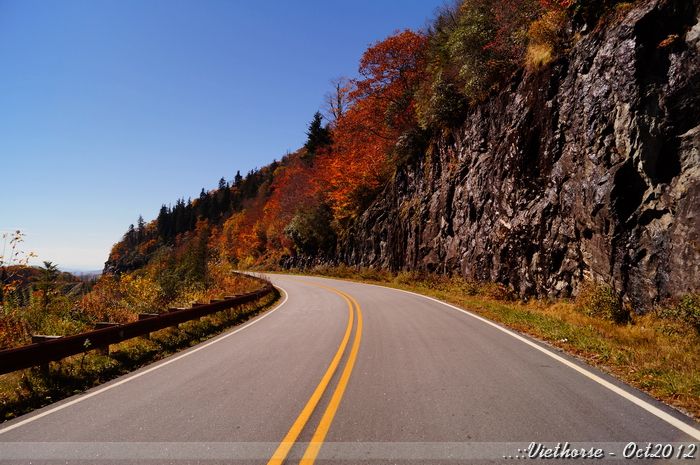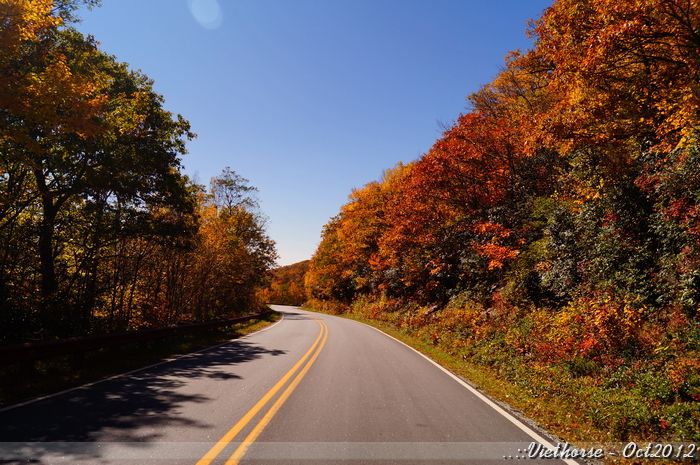 Don't know the place, but I took the right turn at this cross, well toward the Lake Toxaway: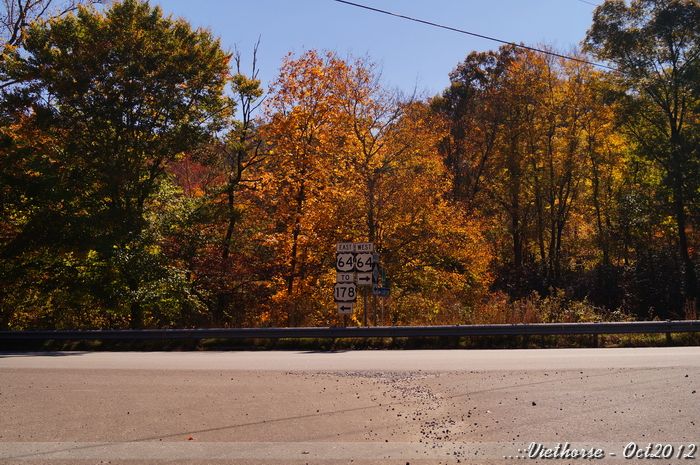 That's where I turned into: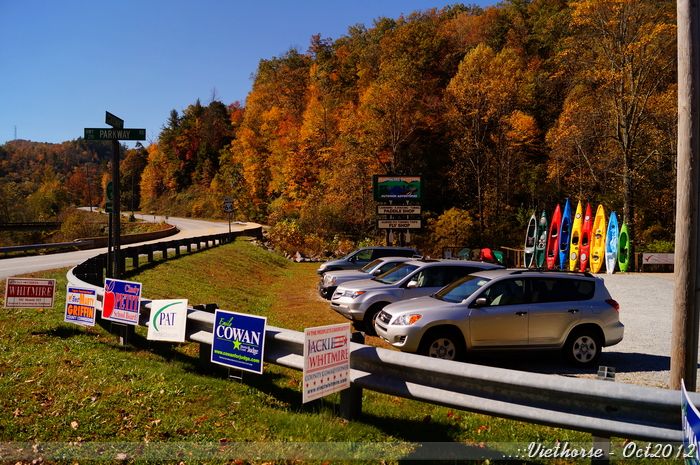 That was almost noon time. Arrived Cashiers and had lunch there. There was nice talk with an old man in the Subway. He saw me wearing the Texas T-shirt and was thinking that I rode all the way from Texas. He seemed know very clearly about the Blue Ridge Parkway. He said that there were lots of trees has been killed, by some sorts of insect.
Left Cashiers, heading to the Lake Glenville. I saw on the Google Earth and realized that the road around the lake is very twisty, so I decided to make a circle around the lake.
Really nice lake, which I took some photos the other day: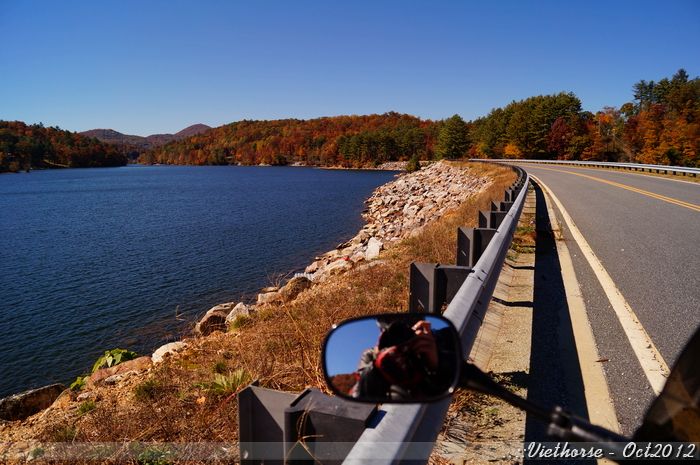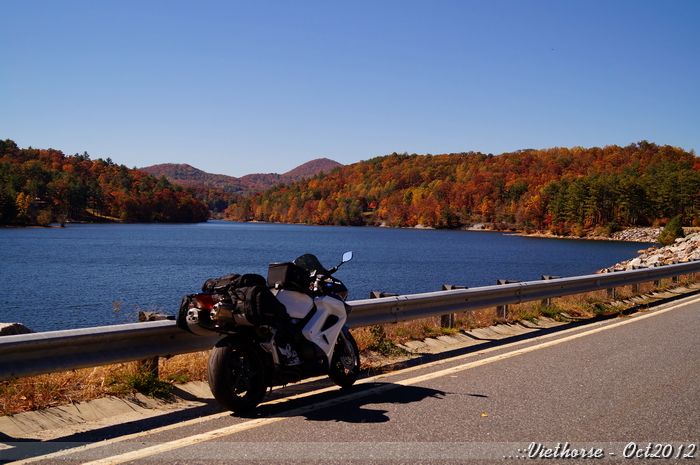 And of course, the road surrounding the lake also very amazing!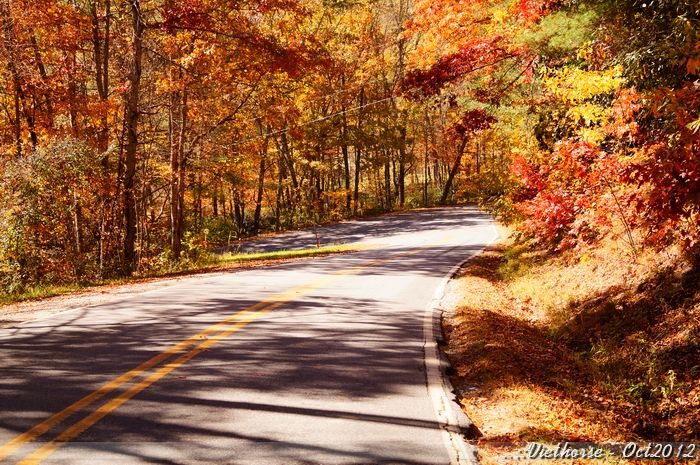 Let's see this – how to compare with the Dragon?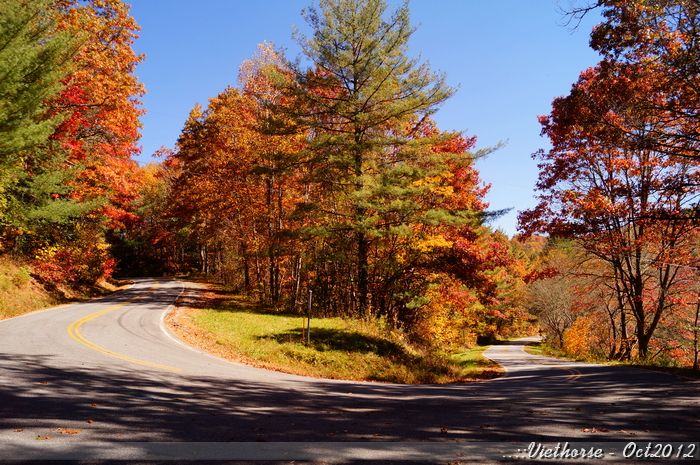 And this: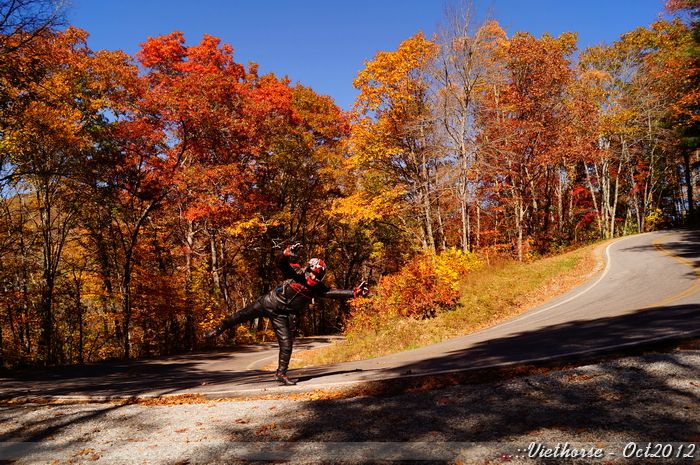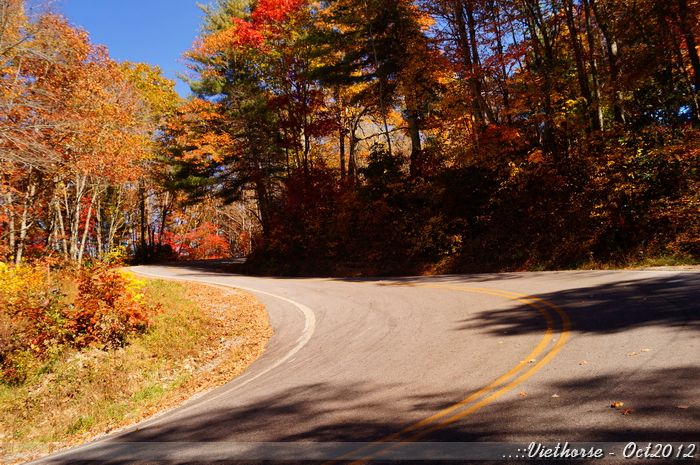 For you if you like to check the road out – it's Norton Road – a very motorcyclish name LOL: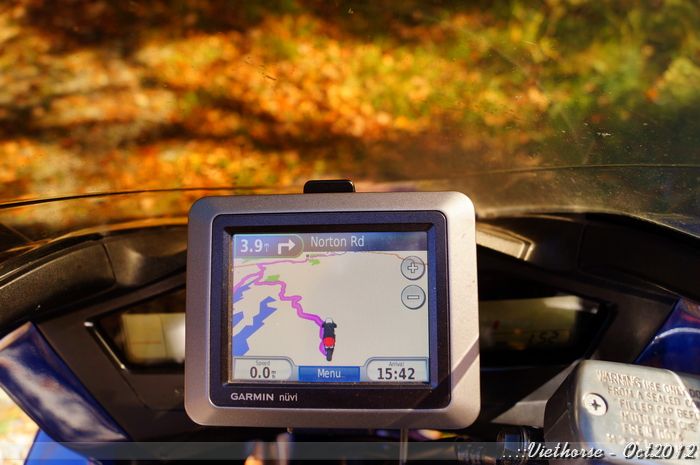 Left the Norton road, saw the Macon County signboard again: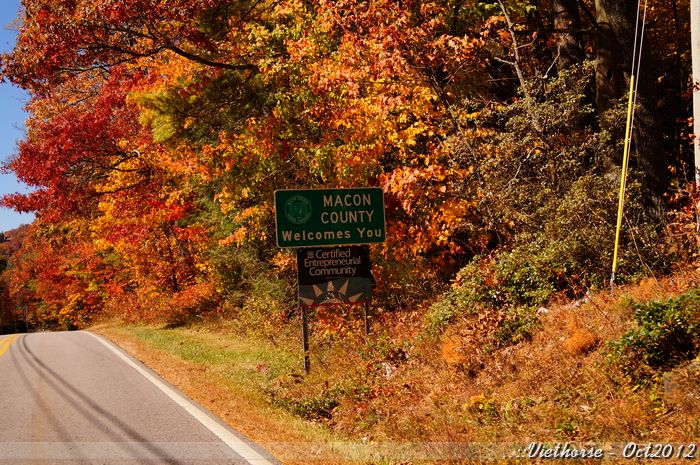 Then I passed the Highlands. It is very nice town. I rode around Highlands and saw quite a lot bikers there: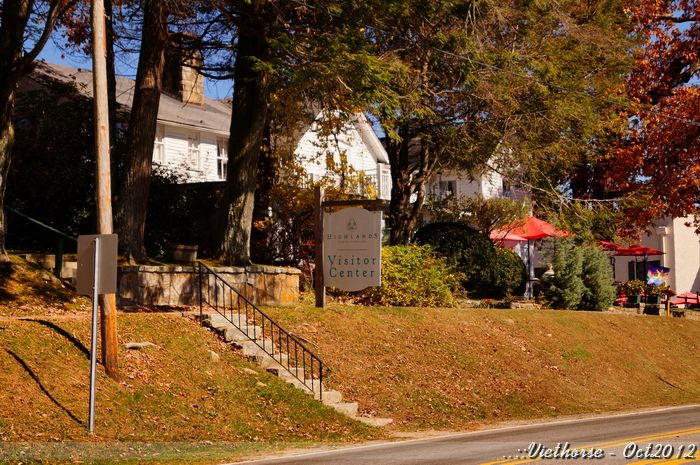 Dont remember why I did not many photos there. Just remember that I lost my way for a while coz confusing of the roads due to their elevation (from GPS looks different from actual). I passed the Highlands Plaza at least twice LOL…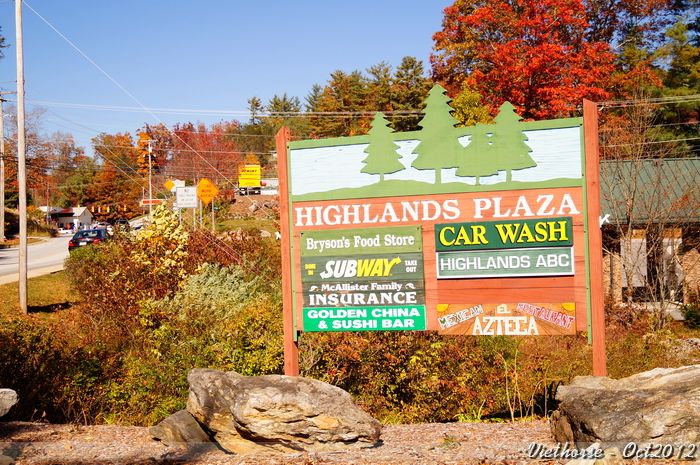 Toward Franklin: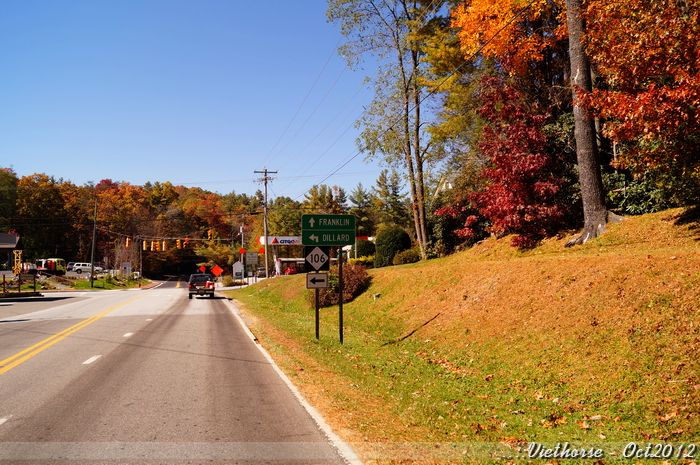 This was on the way leaving Highlands: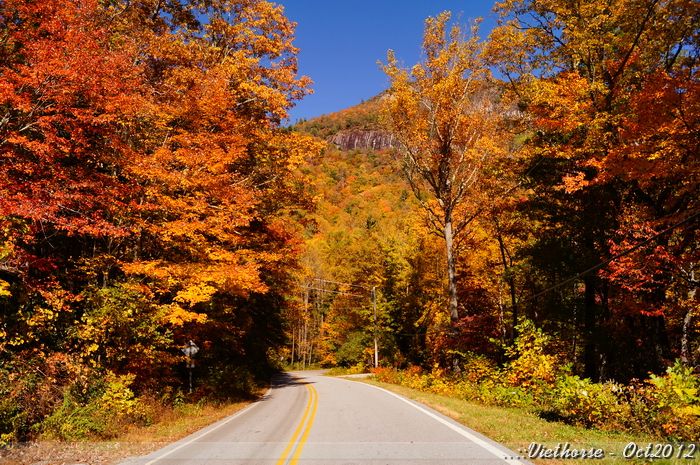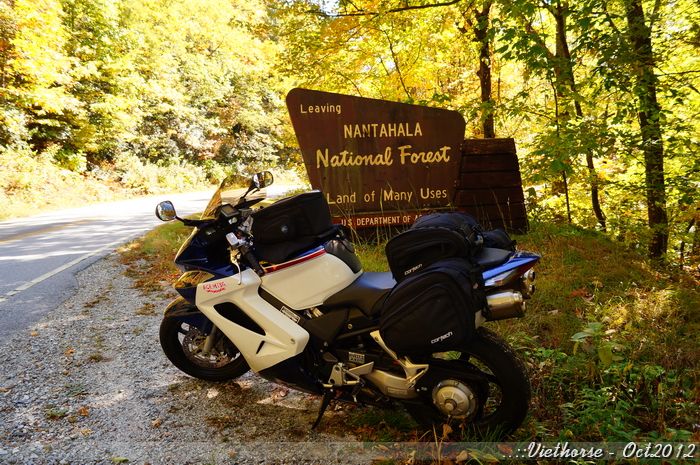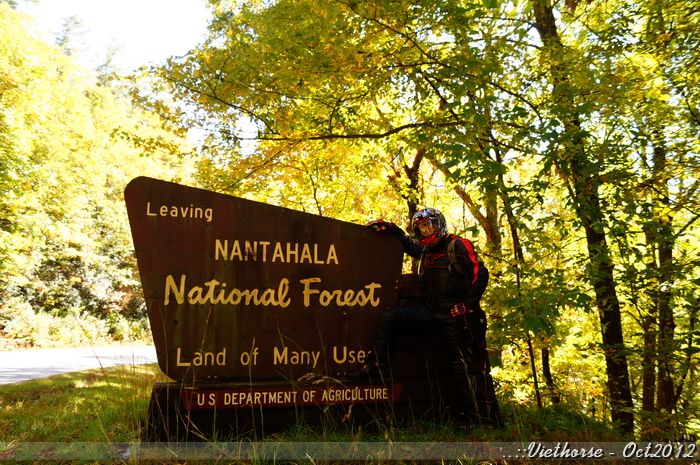 Oh, it's already Georgia: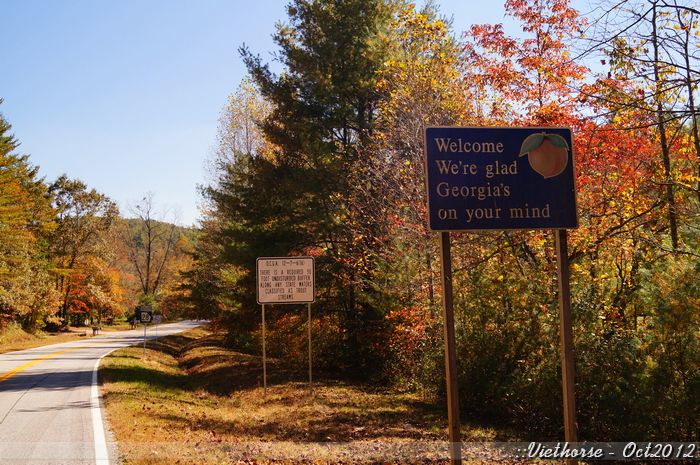 And North Carolina was at the back: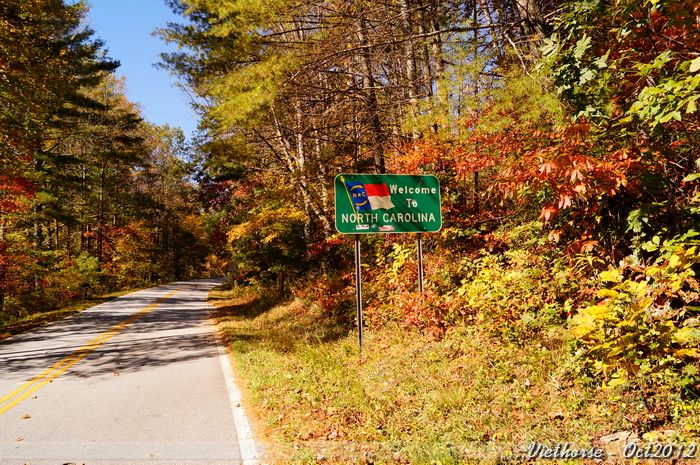 I reached to this point: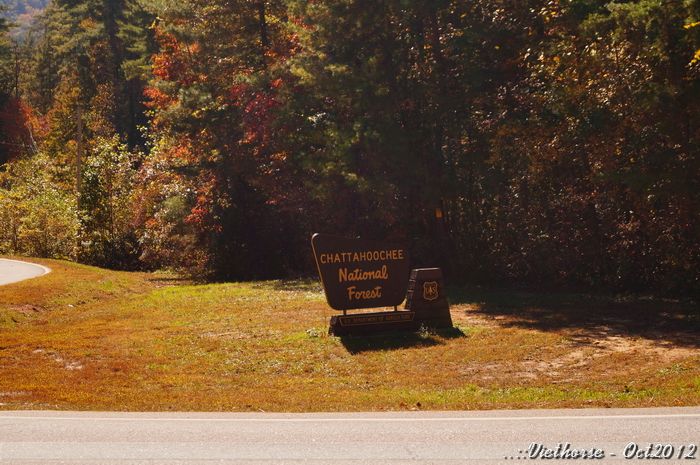 There was a very nice curve, and I tried to put the bike on the road shoulder for photograph. More than a group of Harley passed by that time. They all slowed down and asked me if I need help. They may think of I was dropping my bike there.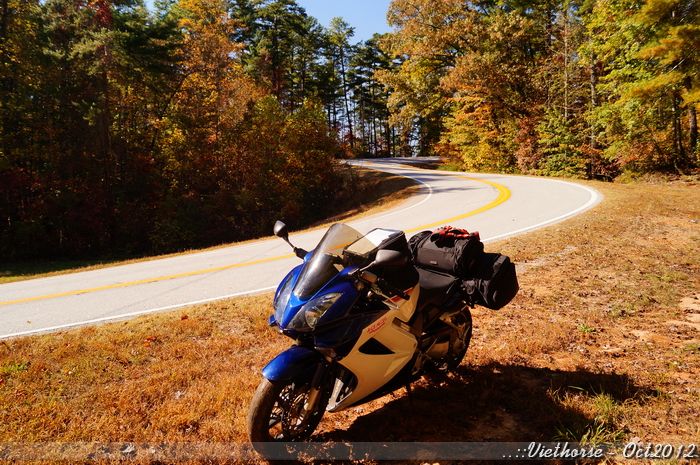 It's really nice corner: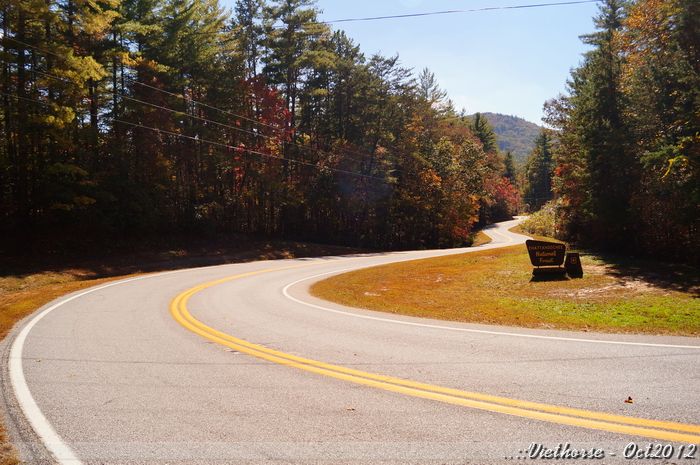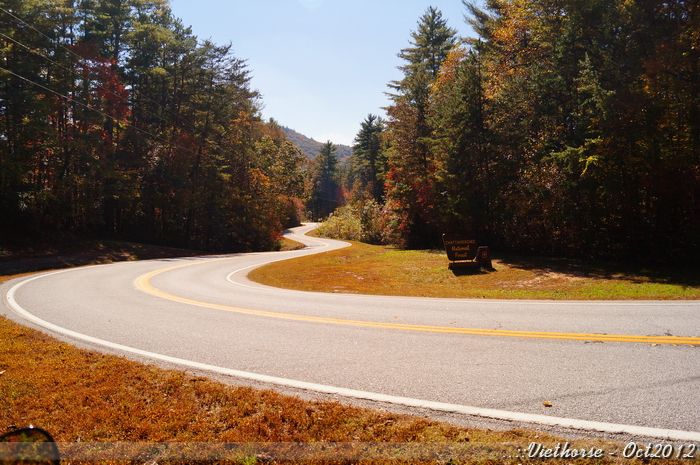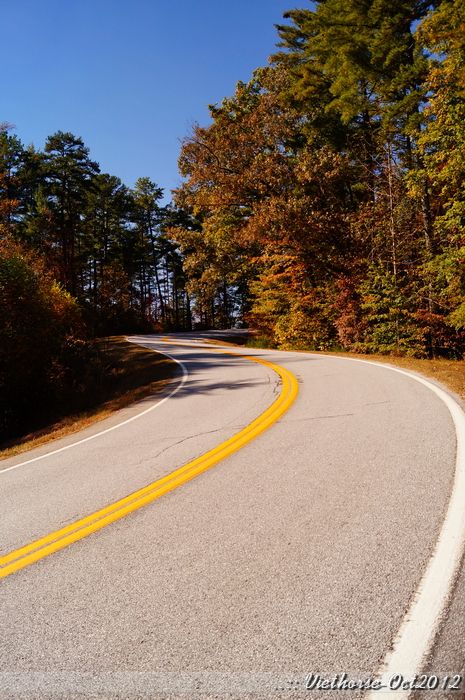 Doh, just found a little sign of South Carolina where I "physically" passed thru: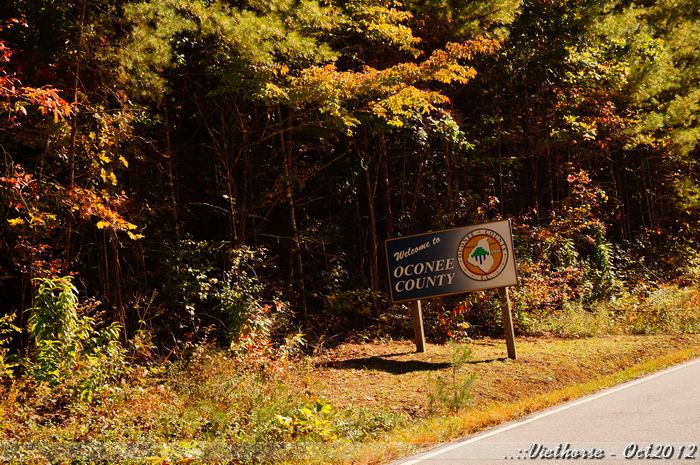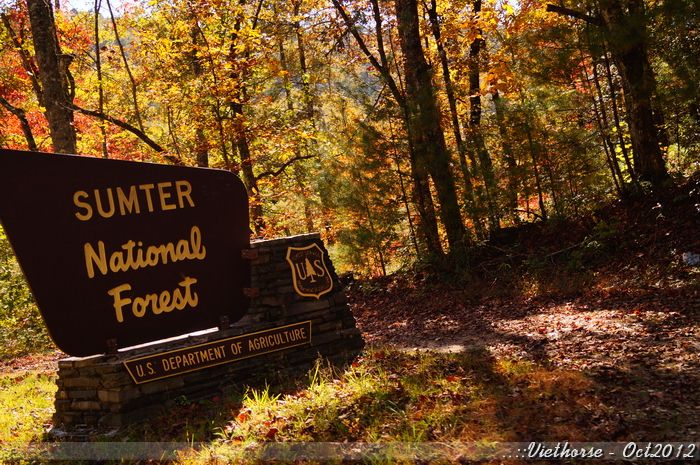 The new tire really helps: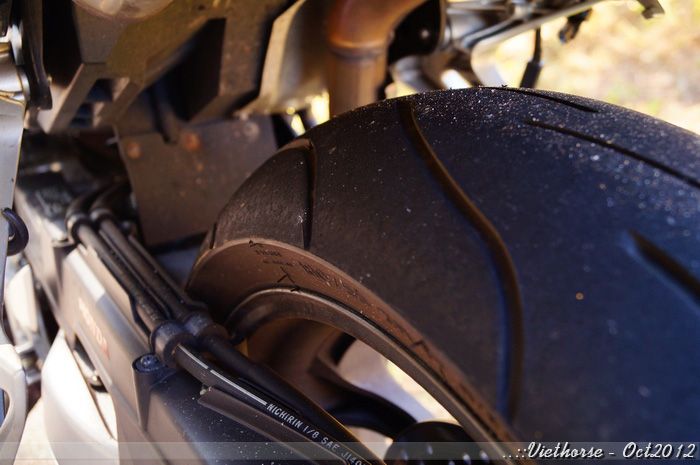 Came down for a while after crossing the South Carolina state border, then I pulled back for a rest before heading to Georgia.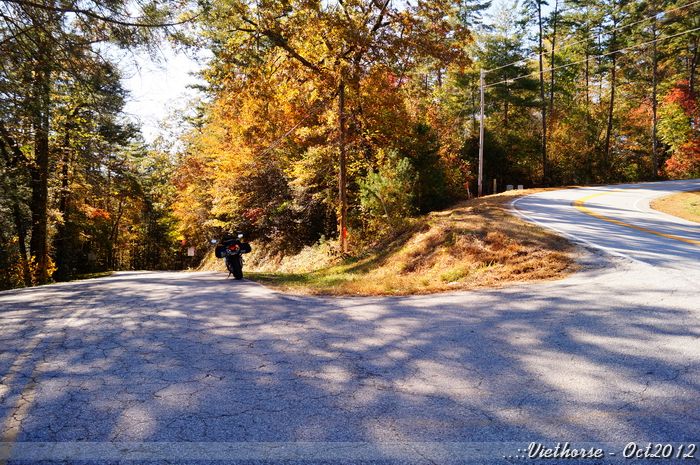 Well, here is where I took a rest:
I would take the Warwoman road to Clayton. It's nice motorcycle road, not so wide, but just nice and a lot of twisties: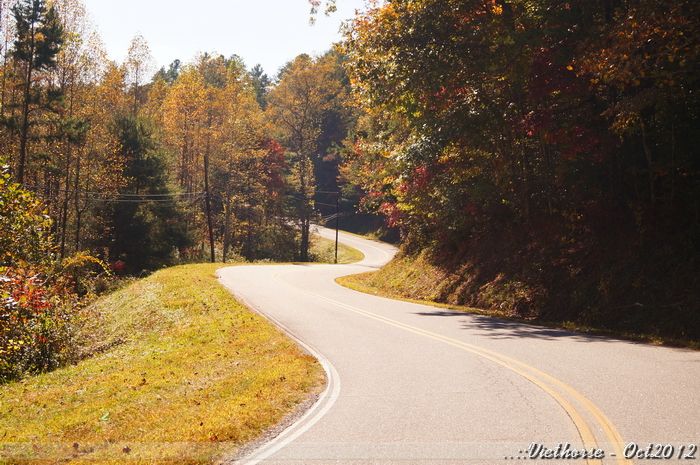 I took the Warwoman road from Pine Mountain to Clayton: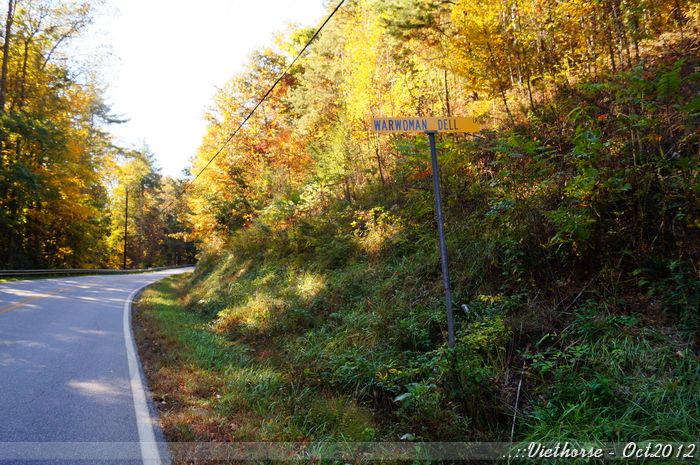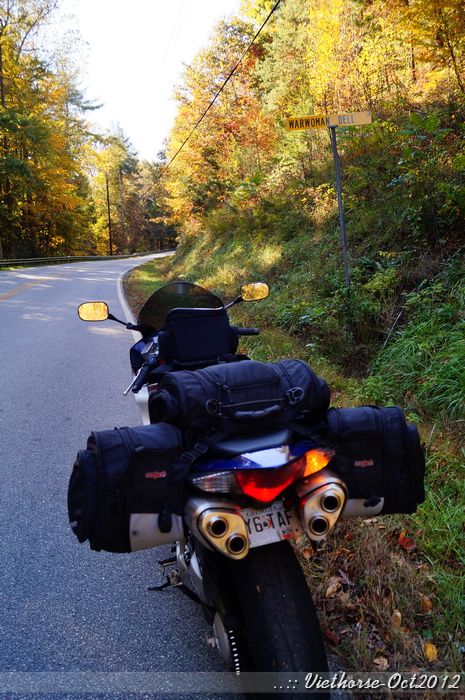 Checked in a hotel which I have booked in Clayton. The lady at the front desk was really nice and helpful, but her accent seemed strange to me. Faster, stronger voice than what I heard in Texas. She let me parked the bike under the shade, and give me a room which windowing the bike. Nice and big Hotel room with heater and nice bath tub.
Don't remember exactly price, but I think it was $50 or less. Breakfast included.
Took the bike going around Clayton, it's too small place, and have nothing to see… Had a dinner at a restaurant nearby Hotel.
Well, that's it for the day 6:
I have one more day left for traveling back to Atlanta.
SOUTHEAST RIDE – DAY 7 (CLAYTON – ATLANTA)
Woke up after a very good night at Clayton. Thanks to the hot water bath tub and the very good heater in the room. The hotel breakfast was ok as well.
It was raining since midnight: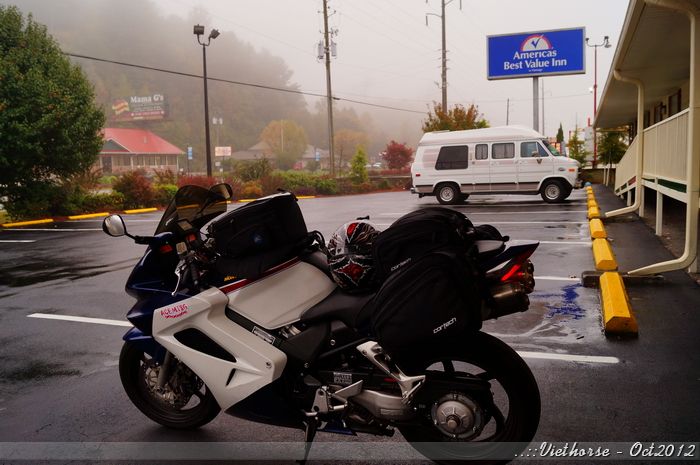 And the morning was so chilly, ~53deg – Note that it's almost 10AM. It was much colder when in early morning: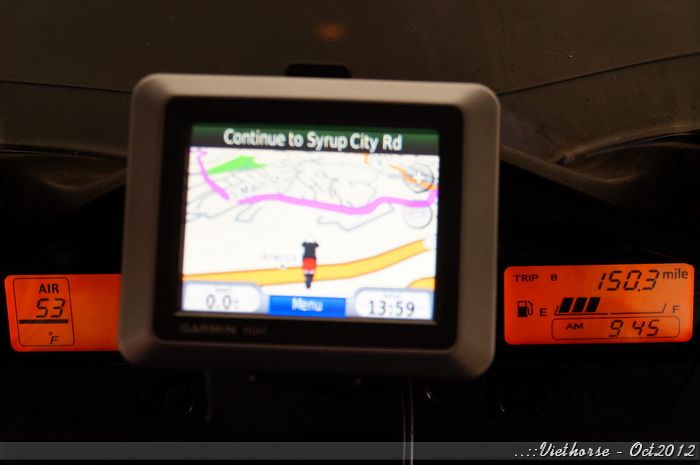 It was a bit raining when I prepared for departure. The rain suit and the place for camera were ready to go.
Here is the tracklog for the day 7:
It kept changing from rain to heavy foggy and so all the way from the hotel up to some next hours…. The speed was so low. I was also very concentrate to the road as I know it was my last riding day, and I did not want to make a single mistake, even a very small one.
This 's where I stopped to take out the rain suit and stored my camera.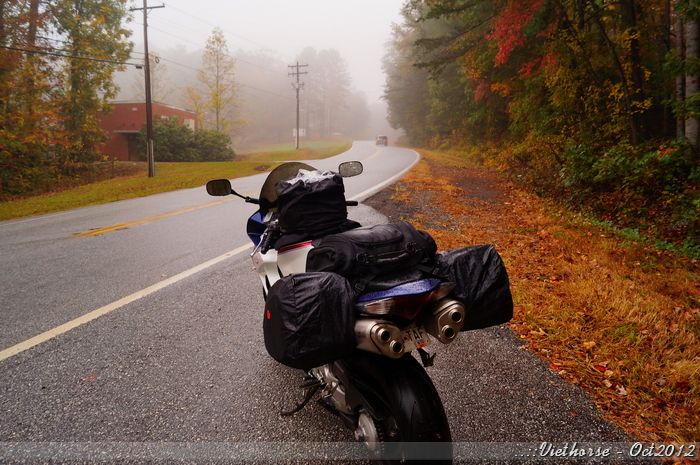 Kept riding for a while, then stopped for fuel, the sky looked brighter: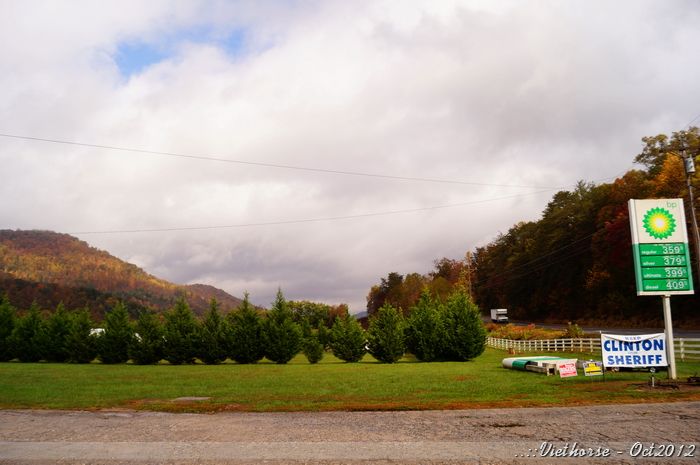 And it soon became like this:

It was the same as the day I was going to Blue Ridge Parkway with my buddies, but this seemed heavier foggy: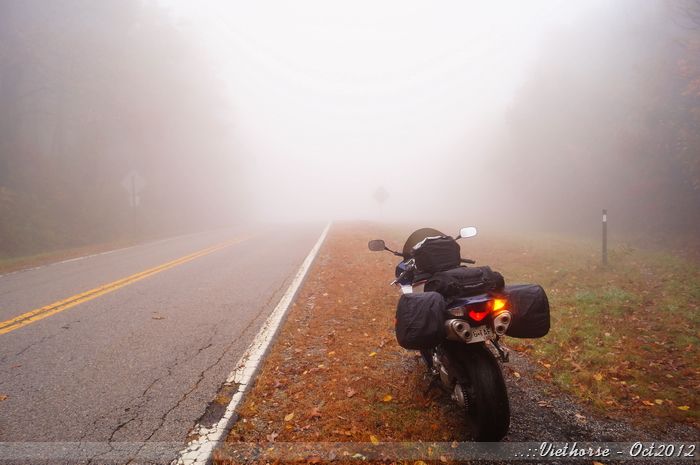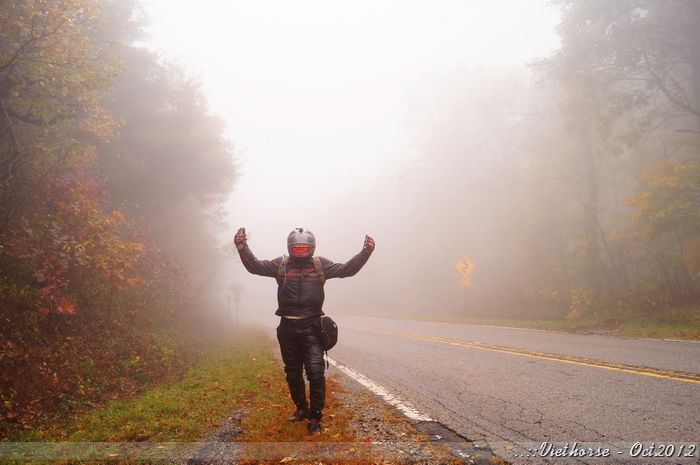 Weather was not so good for riding, but I did not want to cut short my route. I still stick to the plan that hanging around with the road 60 and US76.
I made another stop on the way, at a very nice corner: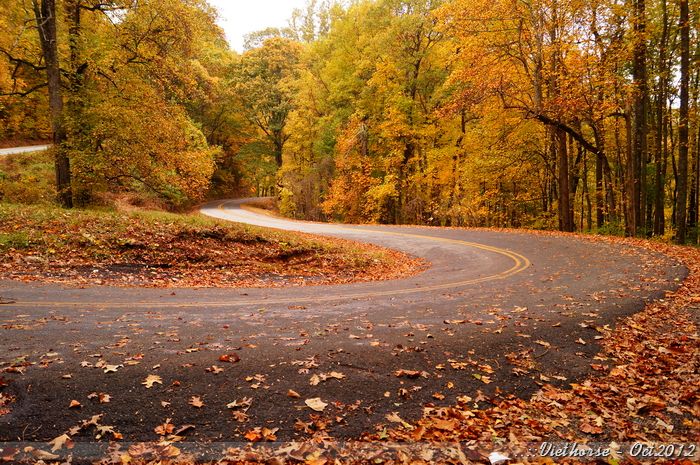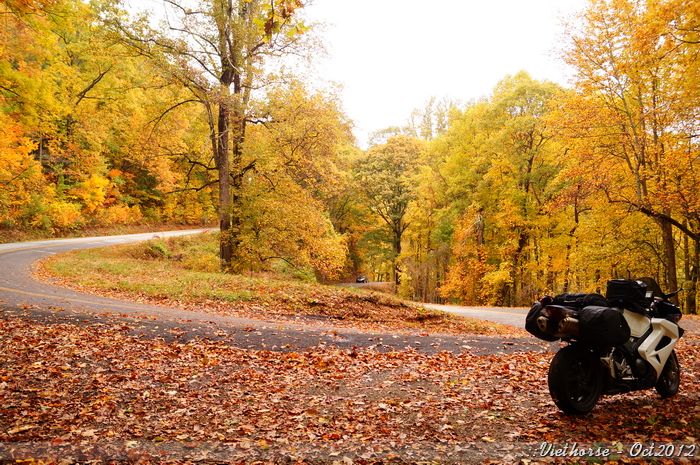 I passed the corner and come back to take photos. A very impressive turn (you can use the inserted coordinate to see the corner on map).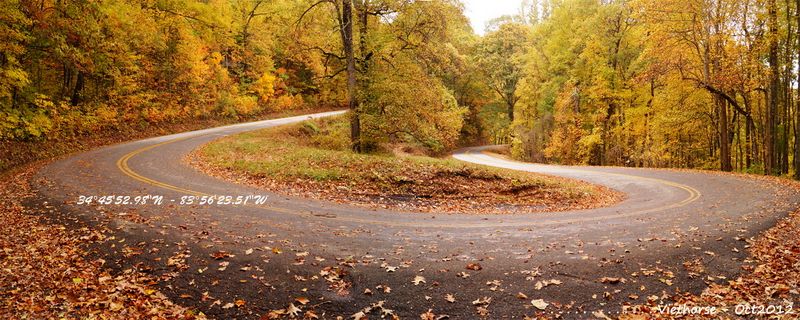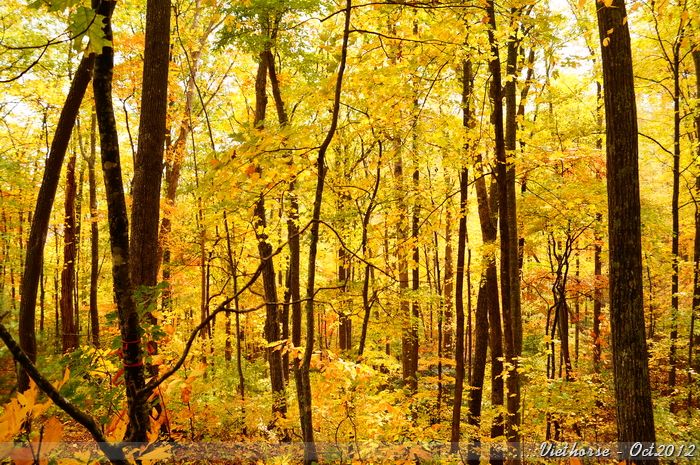 Leaves almost gone: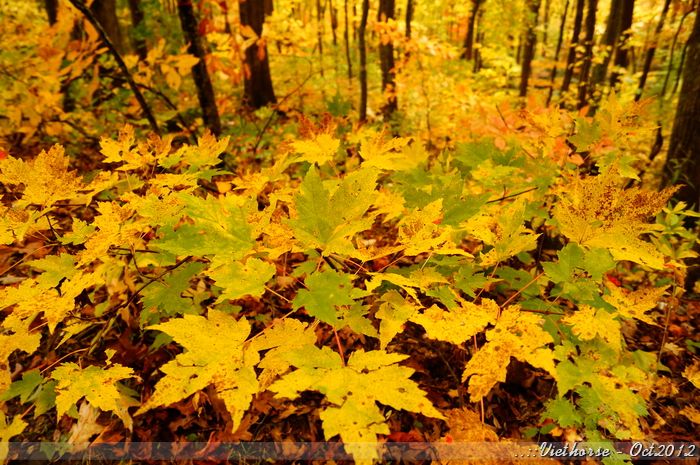 I forgot why I came down here…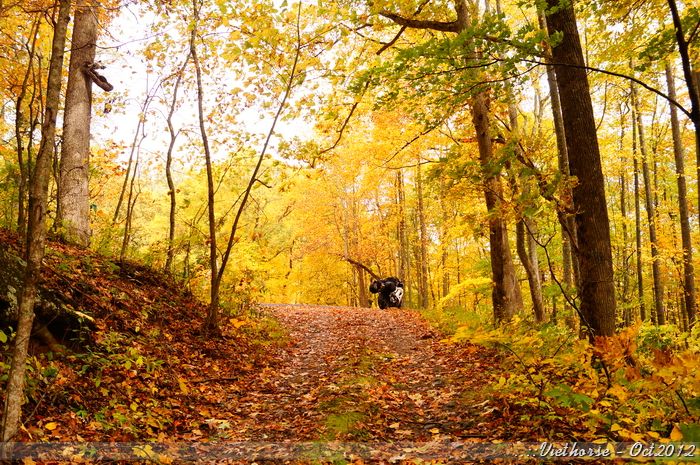 I passed Blood Mountain again, alone. Rain kept dropping, the road was very wet. It was not fun at all on Blood Mountain that day.
It's better and better when coming nearer to Sy's place.
Arrived Sy's work place around noon time and it was hot there: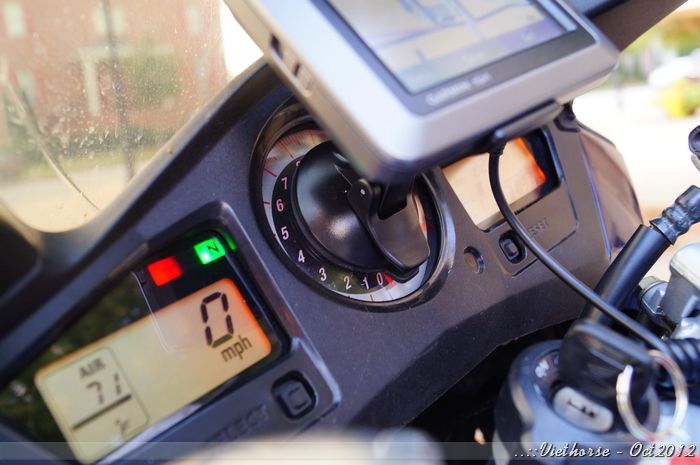 Here's how the VFR come back to its owner: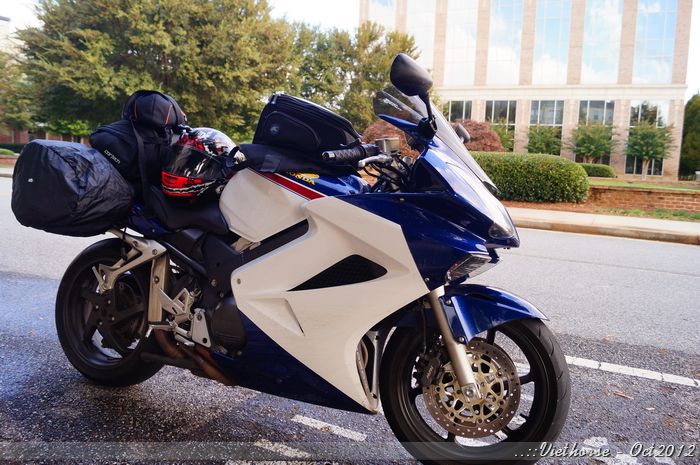 Sy took his car and come back with me to his house. Ed was already there to wait for me. A happy reunion: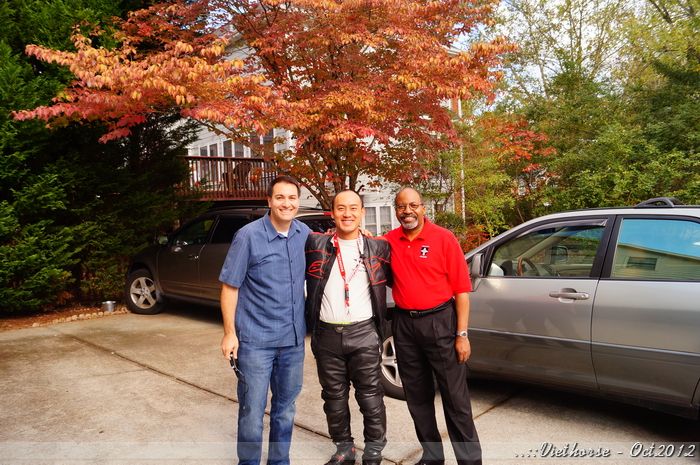 Met Ed and Sy, I have nothing much to say more than my thankful to them. It was amazing time in my life, and it was really created by them.
Riding tracklog of my 7th day with VFR:

And here is the summary of my riding trip to Great Smoky Mountain:
 GOING HOME
Ed and I back to Atlanta. Sy back to his work.
We met a gain in a farewell dinner, and Mike came to join us again – It's really great to see him so happy :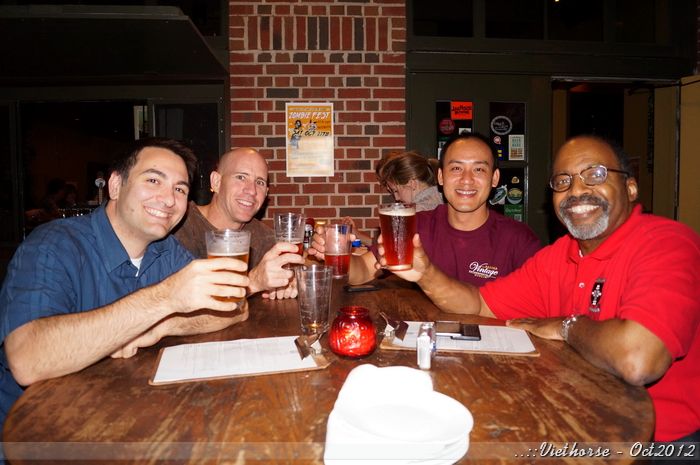 Someone got drunk so getting this photo out of focus 
 :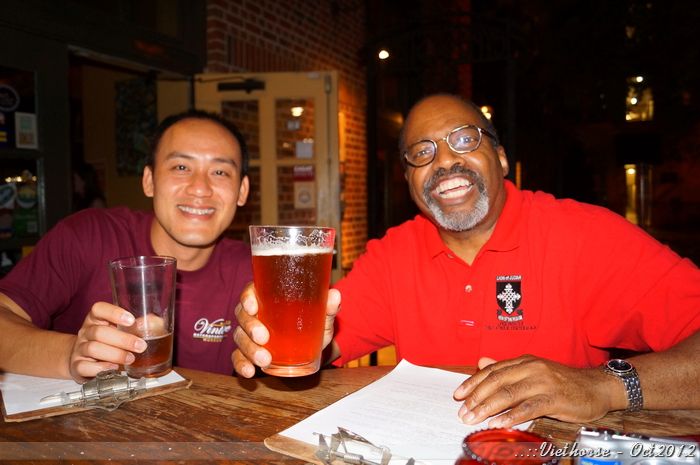 Slept very well for the last night in Georgia. Woke up very early and bother Uncle Ed again to drive me to the airport.
We was talking about coming back for another ride… and many others…
He took a photo of me before heading back to his house.
On the plane, I was recalling all of my memory about the trip. It looked like a movie, with lots of beautiful scenes, moments and all the awesome friends.
Talked to myself that I have to come back again.
Arrived Houston when the sun was raising: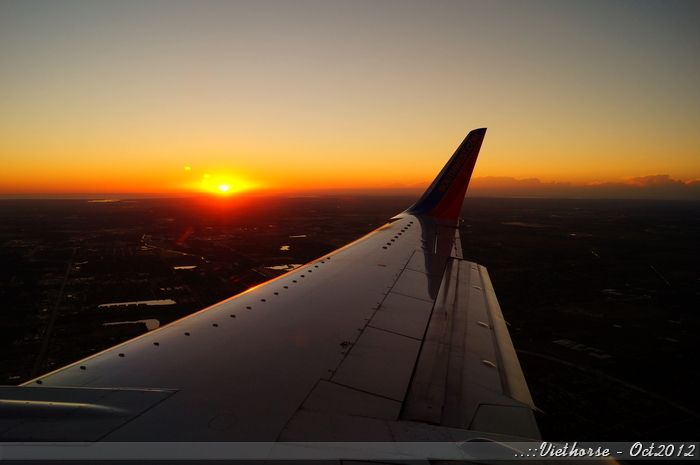 I got another rental car for another day, drove to my friend's house: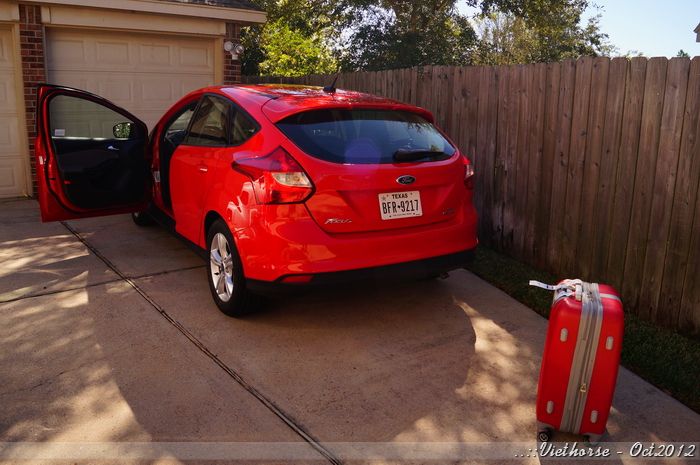 Took a photo with him before we all going for another farewell dinner in a Mongolian restaurant: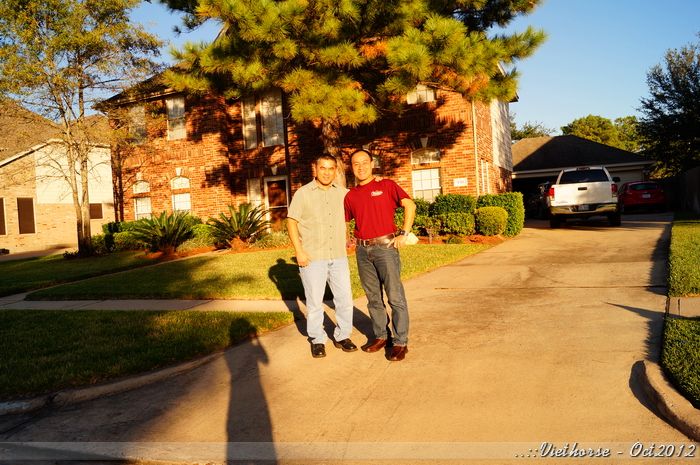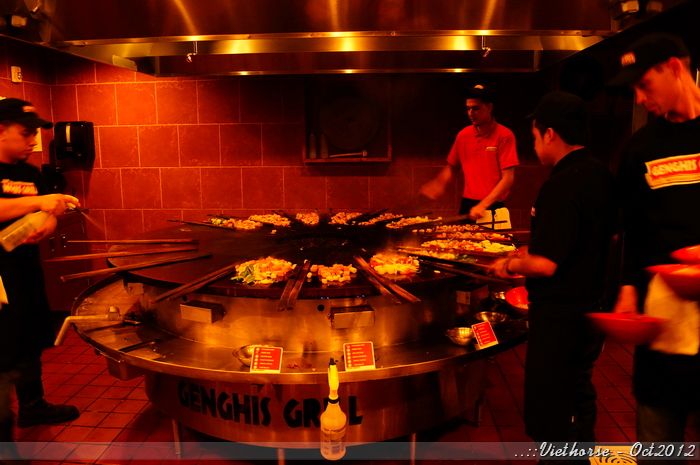 Drove to the Airport in the next morning, transited in Chicago and then Narita (Tokyo) again.

I arrived my home sweet home with lots of great memories about all of my riding buddies; all the great and awesome guys who really make my trip.
I don't really know how to say, just thank you All, my Friends. Wish you All happy and ride safe, always!