Miền Tây cuối tuần
Can't wait any longer to be riding my VFR again, so that why I made this trip last weekend.
Departed from HCM City early morning.
Unlike the other trips, I rode further south, to the area called Vietnam western.
See the trip tracklog here if you like: http://ridewithgps.com/trips/1173002
Don't know why but all four riders that day were born in the years of horse!! What a funny thing. Three horses in the same year, and one is 12years older.
Here we are:

A quick rest after the breakfast:

This bad horse was rude to my saddle bag:

Sign of country side, flat and green:

This is my first trip after replacing my rear tire. Now I am using Avon sport tire. Couldn't say much as it's new, and I haven't got a single chance for cornering.

A light lunch – fish noodle – a kind of special of the place: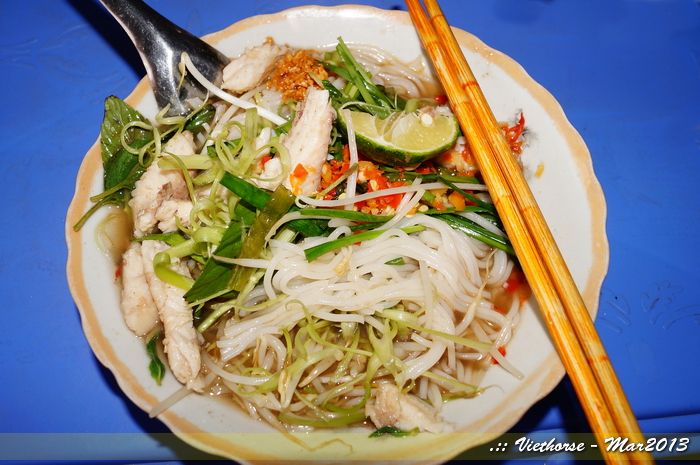 We reached the most south point of the trip:

The signboard teachs people that there are two kinds of seafood, one could be eaten and the other is very dangerous. You can eat, but the toxic inside that thing will kill you right away (tetrotodocine is the name of the toxic, as said by the board – I have no idea about it).

Look at the signboard, I bet you guys can NOT say what are the differences between the one eatable and the poisonous one!!!
One more funny thing of the trip was the name of that seafood. Doh, it's horse-shoe-crab. Bloody hell… so many crazy horses… LOL…
Further left from that signboard, we went to an estuary.
The river is in front of us. The Vietnam East Sea is on out left.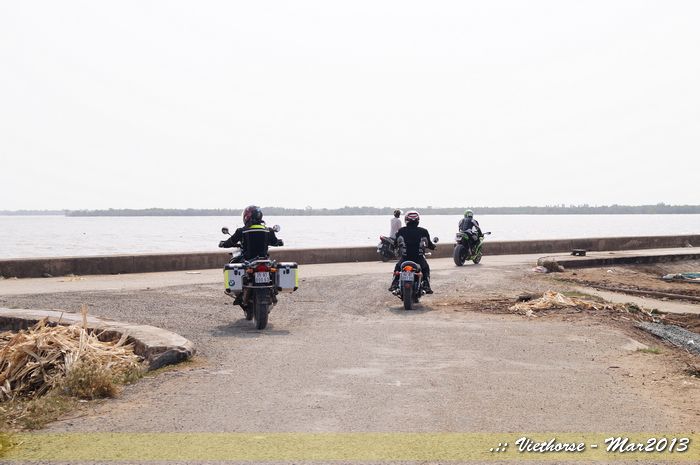 Can you imagine that there was land until about 200m further on that water?! Yeah, it was land, was fishing village with people living there.
But due to the waves from sea, the land keep to be collapsed. Then the village soon disappeared. People lost the houses. They have to move further inland to live.
Stopped here for some drinks:

Oldest horse – was coming back from CA. Yeah, he 's living there.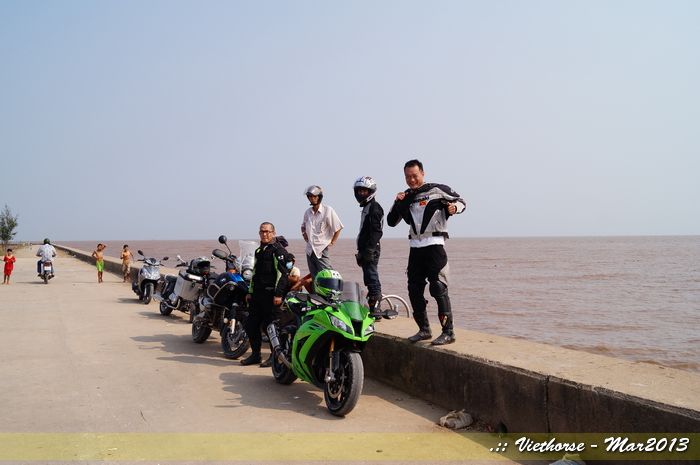 We were super surprised that came so many kids around the bikes just some minutes after we stopped: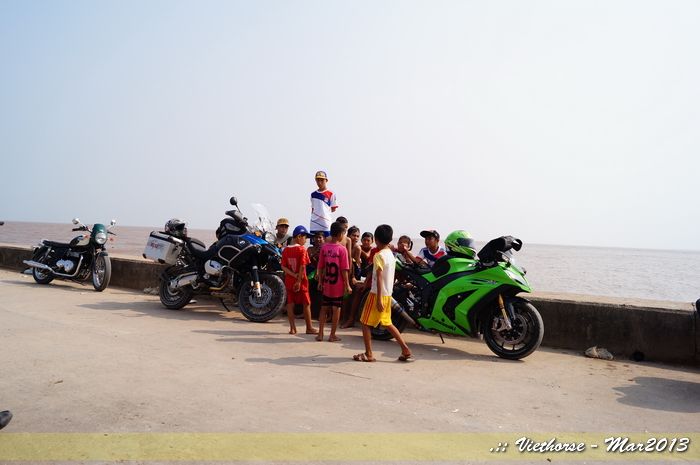 Well, this may be their first time seeing such big bikes. At their age, I never had a single chance.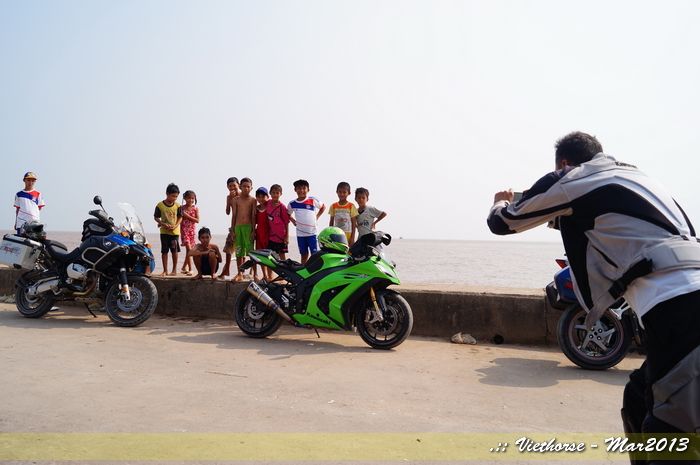 See how the boys excited and curious:

This big boy was excited with his sugar cane juice. I don't think he can have this in the US:

We then went to visit a nearby fish port, where is the work-base of all the local fishers.
Here is a typical bridge of this area, small, but high.

There are lots of small small rivers around this area. So they have to build small bridge like that to fit with their budget and also daily needs. They also use small boats for their daily traveling and living, so that why the bridge need to be raised quite high to let the boats can go underneath.
The fish port entrance:

Inside the small local port: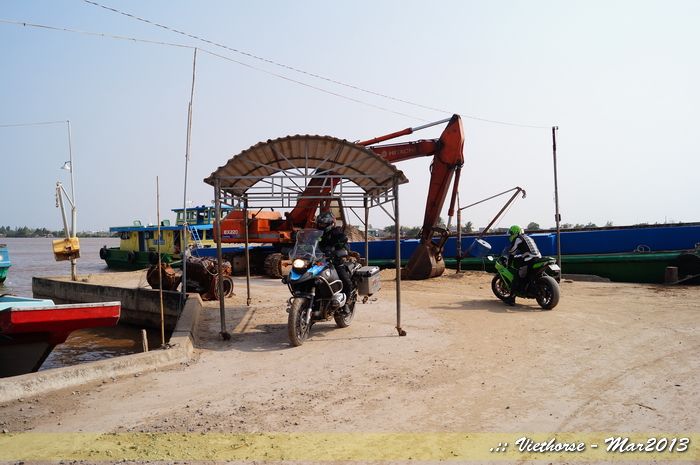 Most of the boats are still out at sea:

That small boat is used for fishing around 150Nm away from land.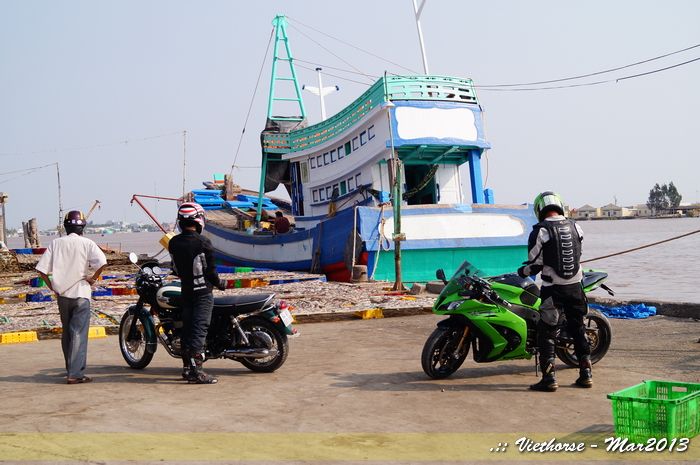 They are drying Squid: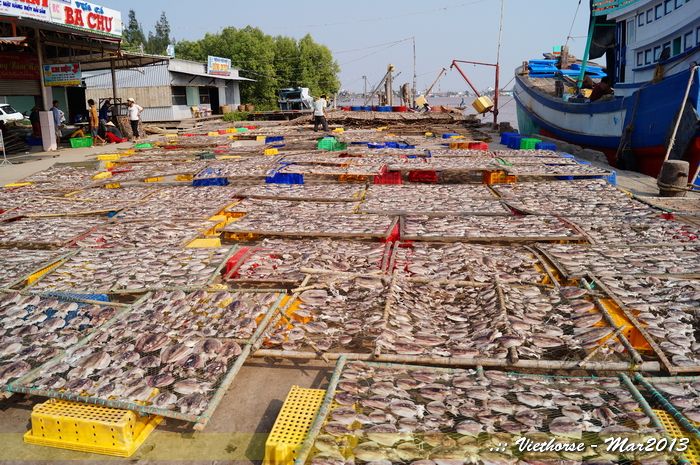 Smell here is awesome.. LOL…
Close up:

Which is more Hp??

Now, not only kids: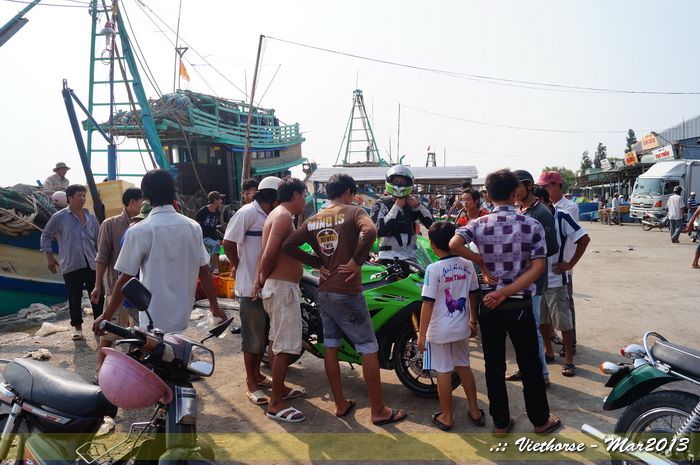 Then we were invited to have lunch with buddy's relative there.
Kidding me!? Gotta cross this frecking bridge!??

Nah… that's not a good idea:

But the dishes were tempting…

Done the dinner, we head backward for around 30km to the town.
Dark came very fast as there is no lights on the road, no vehicle on the road as well.
There came to the local ferry lucky us – it was still working whilst we came – it's smallest ferry I've ever seen. Look like it's family owned ferry.
We all got on the ferry deck and made so much surprise to the ferry owner. They asked us lots of question and make the ferry went really slow.
Finally, we got to the other side of the river. Here you can see the ferry:
The GS was too big so take a little more time to make a return:

It was really nice experience.

Reached Bac Lieu town by around 19hrs. Just nice. Checked in the hotel then we went for some more beers, and chit chat until mid-night.
Sunday morning, after a morning coffee session, we wrapped up and headed home.
We soon got to visit the castle of one of the most famous rich young man during 19th century.
A bit brief about those people, they were the richest people of the area that time, extravagant, generous… Lots of anecdotal about them which being kept telling until now.
For example, they bought the most expensive cars, buy jetplane to go gambling, paying money to become the King for a week, burnt money (cash) to cook meals, rented several cars just to carry his bag, his glasses, his hat, his pet, etc… for his trip to visit the City…. etc…
Well, and how his castle looks like now:

This was built in 1919. Designed by a French architect and constructed with many imported materials: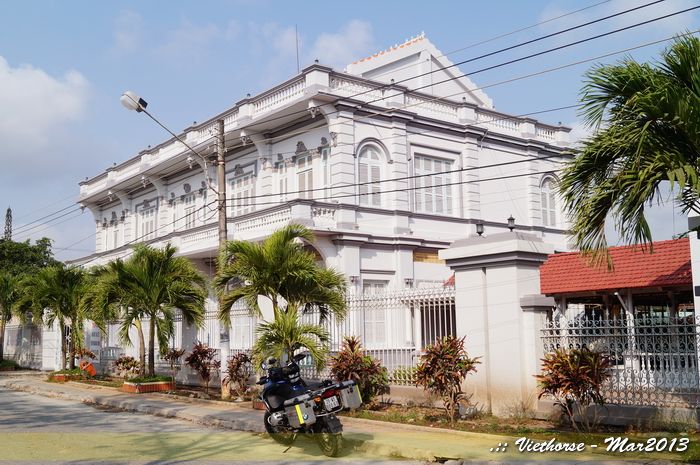 Now the castle has been restored to be come a 10 room hotel, however, people say that it still as the original construction.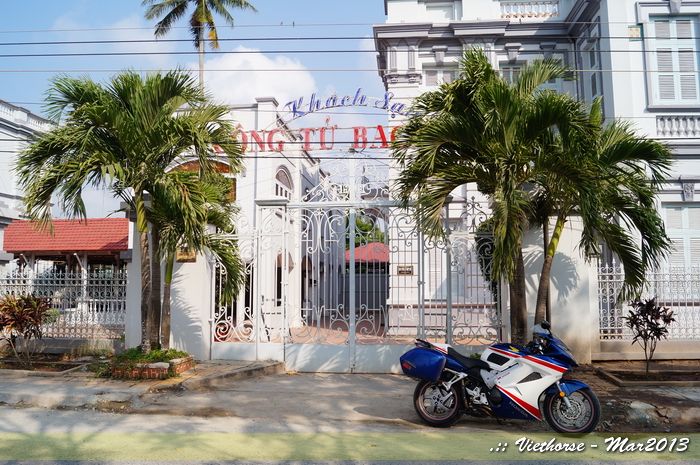 It's built in 1919 and still much bigger than what I dream of my house now!!

On the way back, we did a quick stop on Can Tho Bridge: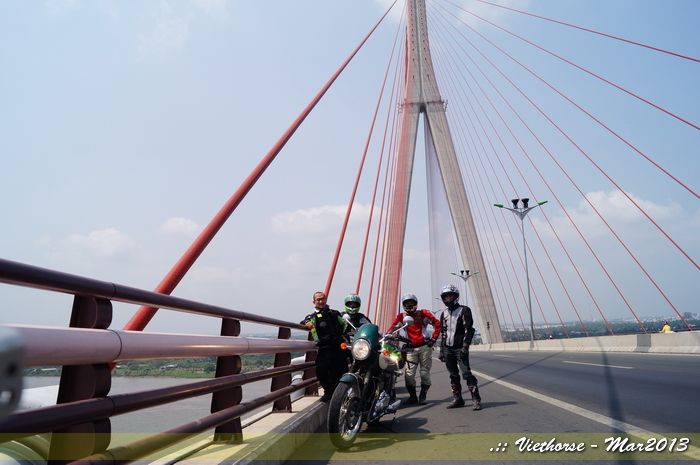 Another stop for drink:

I then bought these bringing home as gift of this beautiful western.

It's short trip, but fun and really meaningful.