Day 1- Hochiminh City to Stung Treng (Cambodia)
You may know that Hochiminh city traffic is not so friendly with big motorcycle, especially to the heavy GS like mine, so that to get out of the City without any delay, we started rolling in the dark: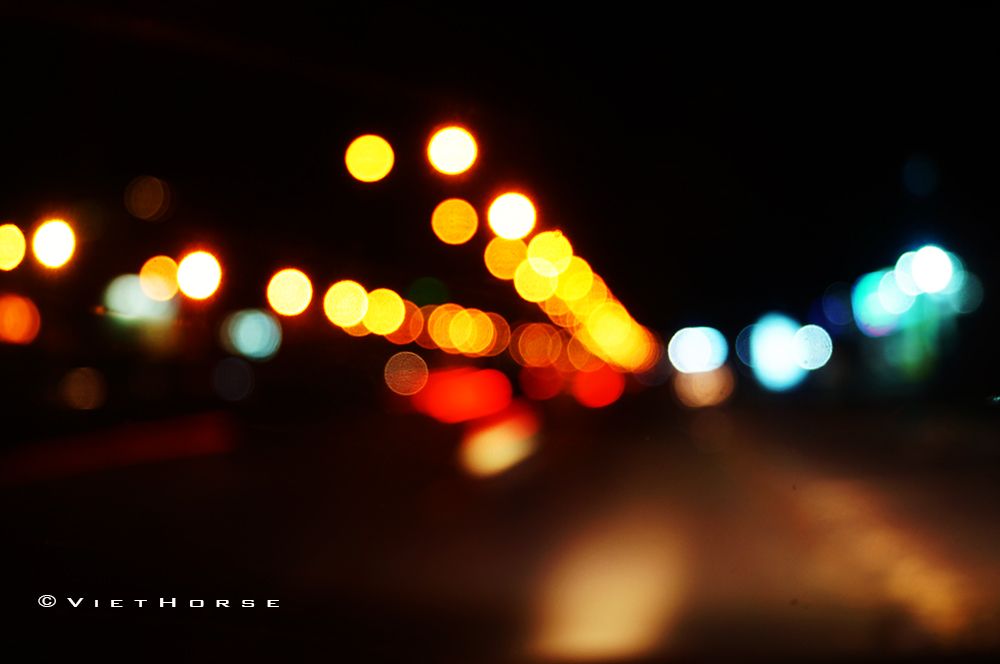 Actually my original trip is me with my own doing this trip. With that plan, I can have lots of more things to do, i.e. visiting some good places, doing some swimming on river, sleeping in my tent, etc…
At the end of the day, two of my friends asked to join me, so I have something changed from what I planned.
At the meeting place: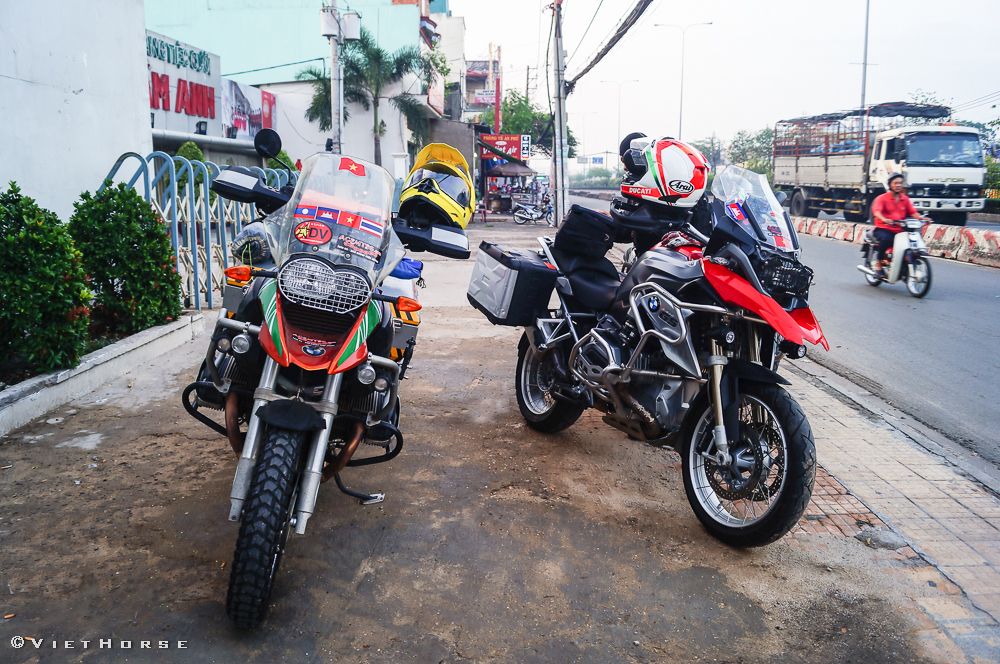 There were myself, a GS WC and a KLR. Both of them are pretty young, but prefer adventure riding after experienced sport bikes for a while.
Border. Ok, border crossing in Vietnam never been easy. Especially for the Vietnamese and for more than ONE bike.
No exception to us this time. We reached Moc Bai checkpoint after having breakfast. Sorry for not having pix of the breakfast. It is Bánh Canh – a special stuff sort of noodle, with pork and some special vegetables.
We spent quite a lot of time working with the border guys.
Funny we met two big names of Vietnam tourist, two GMs of two well-known adventure tourist companies: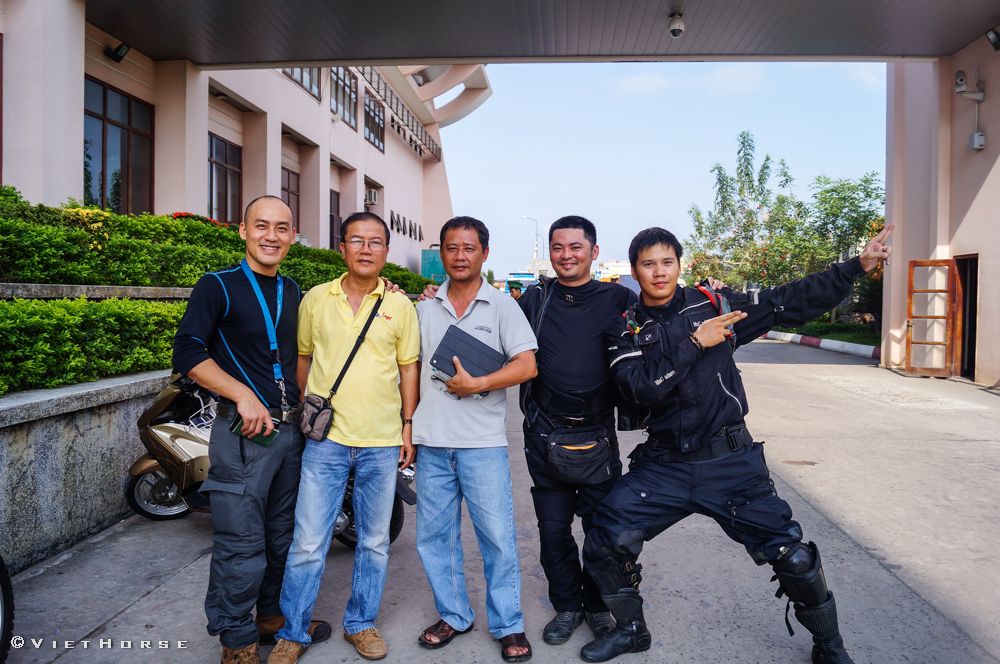 Long waiting time at Bavet checkpoint – Cambodia side: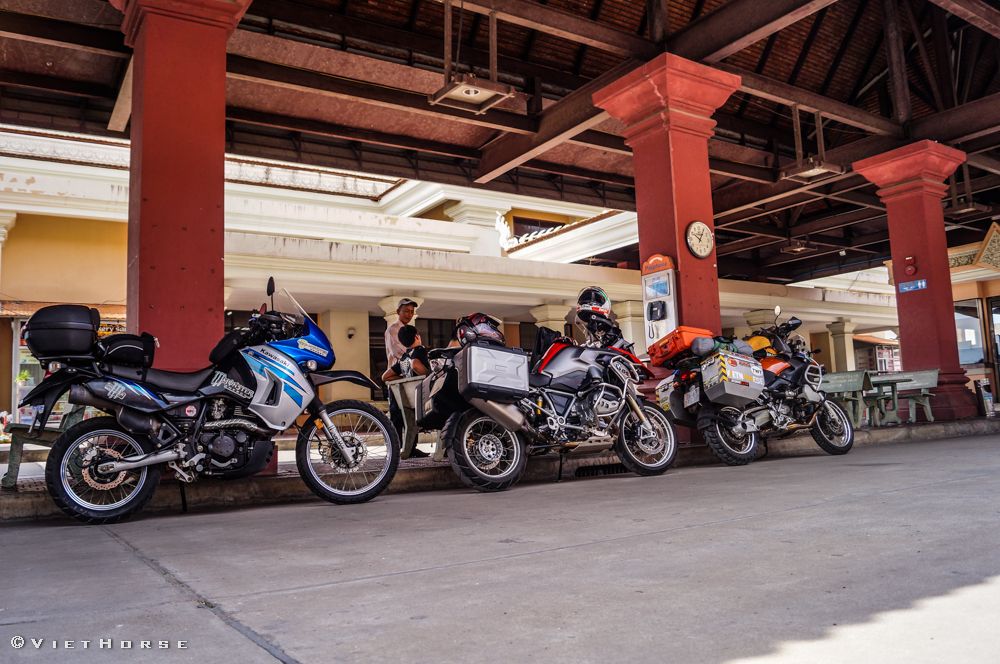 Hell, when my GS would be rolling??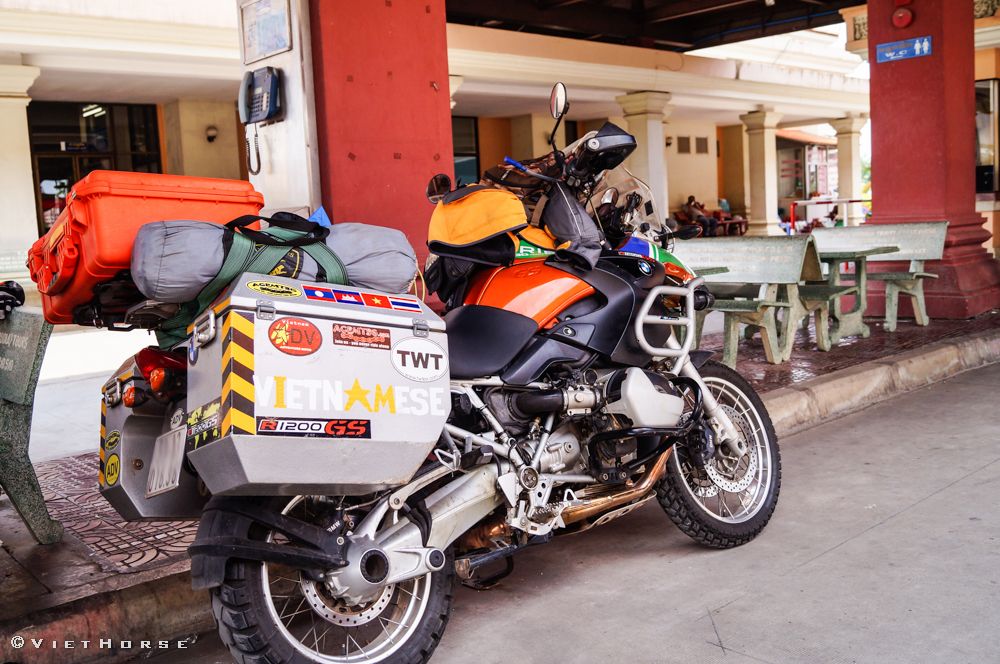 ​We passed checkpoints at both sides around 11AM. It's too bad for a beginning.
It's really annoying if you don't have a proper procedure to follow. And even more, people want to make the unclear procedure more blur. Well, I am talking about the border crossing procedure.
Passed the border, we have not much time left in the day to reach the first destination.
I also planed to stay at Stung Treng province as what we did in the last year trip (LINK)
I don't have the Cambodia Garmin map (or the map for Cambodia is not existing, I don't knnow) so I had to use the Indochina map. That's not really good for detail searching or routing. Followed the GPS, we turned right to the north before reaching Svay Rieng province. Later I found it's not a correct one.
Cambodia is a country which have not so complicated road system as they have not much population. However, we jumped in that road and just expecting for the better stuff at the end, rather than make an u-turn.
After a while we almost head back to Vietnam as the road lead us to the Phuoc Tan checkpoint, an other border gate with Vietnam along the border.
Well, a 10km U-turn is not bad huh 
.
We stopped for lunch after found the better road toward Stung Treng. A very low quality lunch.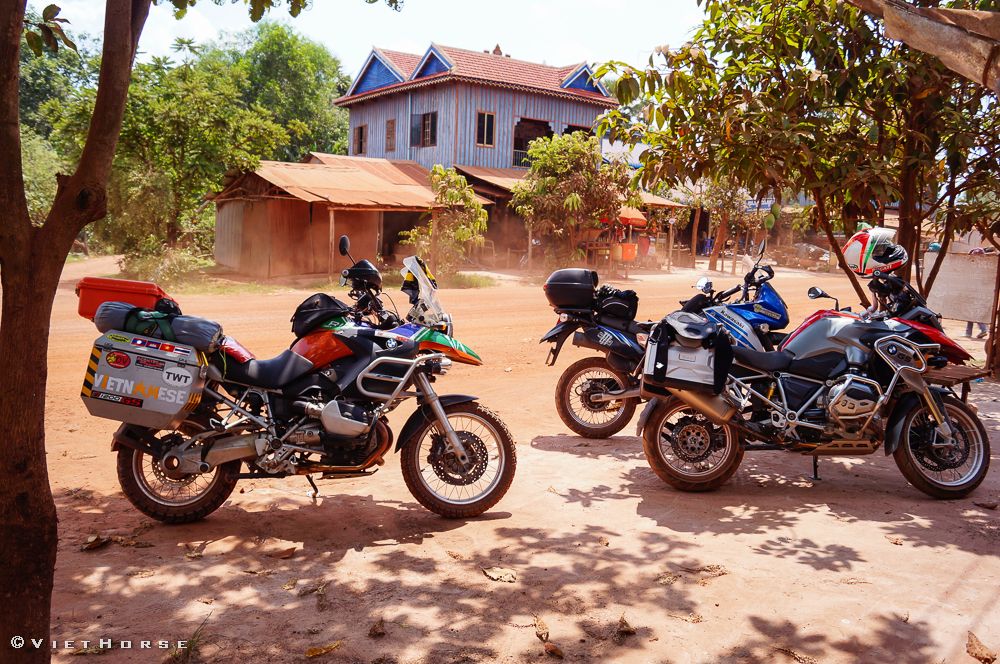 Funny the lunch place they have very big speakers arranged in their in-completed house.
We have well treated with traditional Cambodian music as well as very modern discotheque music 
.
I found the mango tree there with lots of fruit, so I asked them for some. They pulled out some of mango inside the kitchen, I think it somehow better than the provided rice.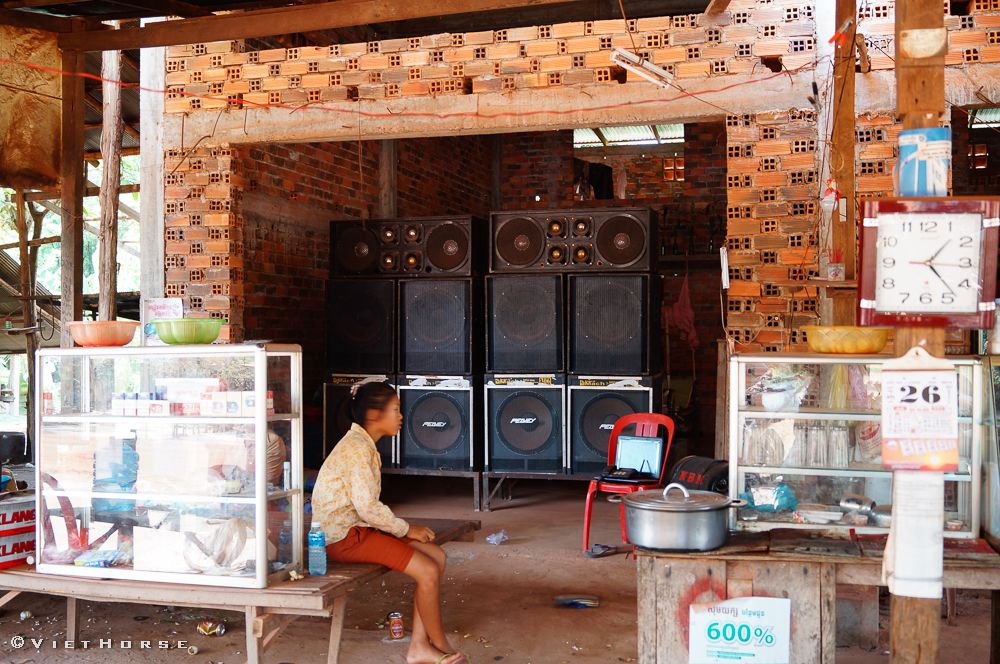 Kids are all around, as usual when you visiting SE Asia: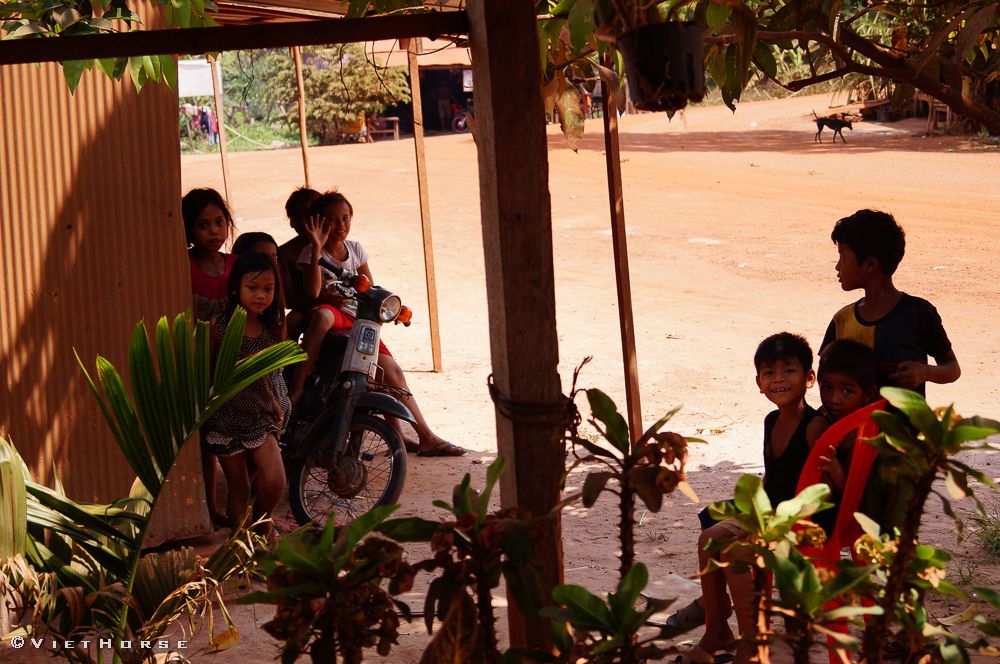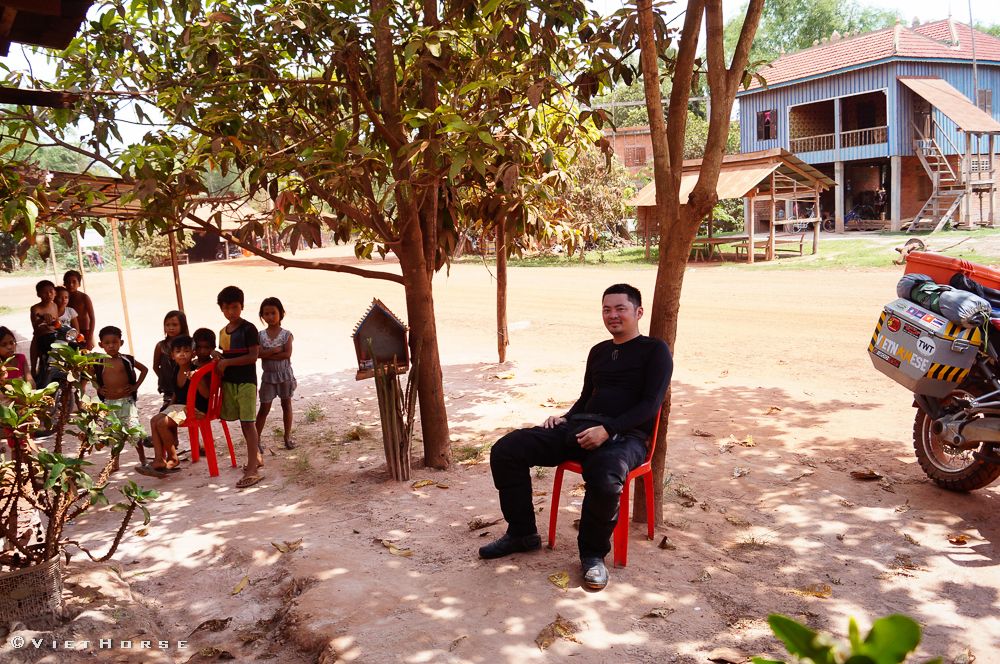 Asked for coconut water, but they did not have. Too bad that I could not catch this one: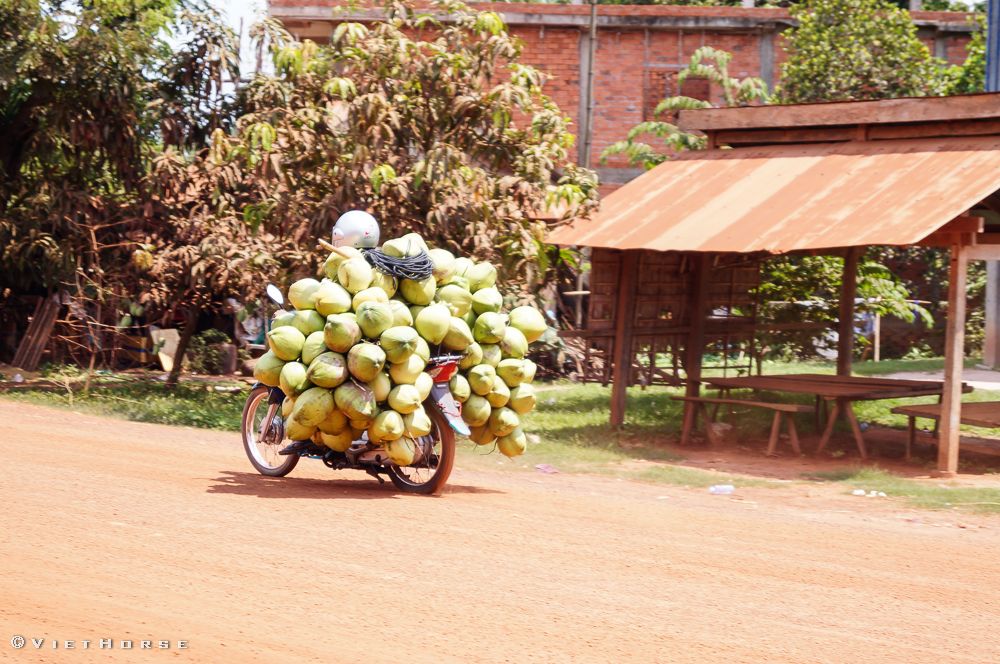 You can see the trees beside the road, watch the leaves color – that's road color. You can feel how dusty the road is.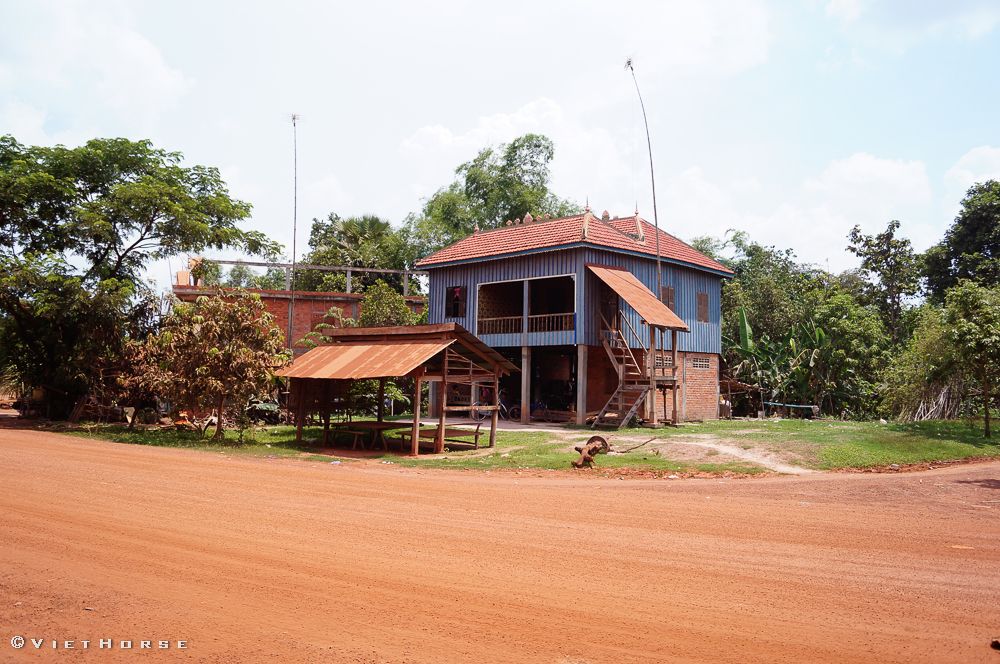 Different from Vietnam, I think it's more interesting thing than Vietnam that you can find the place they sell drinks by locating the red ice box on the road side.
Inside the red ice box, you can have multiple choice of drinks. That's pretty good. The not as good thing is that they sell many high-content of sugar drinks.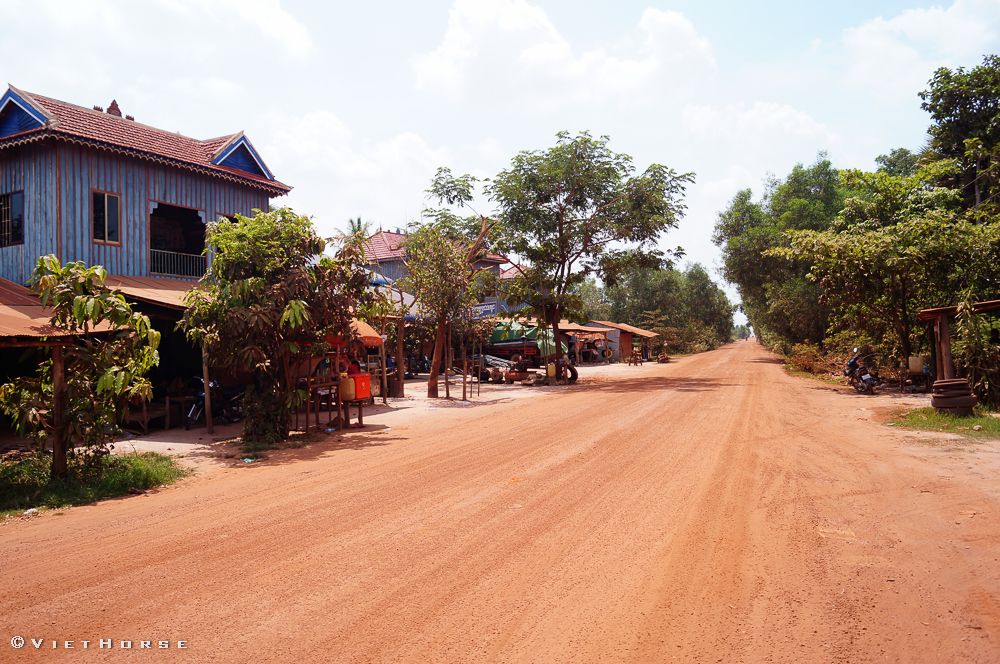 Done the lunch, we back to saddle again. We kept following this road toward Stung Treng.
It was not easy to find somewhere with trees around like this: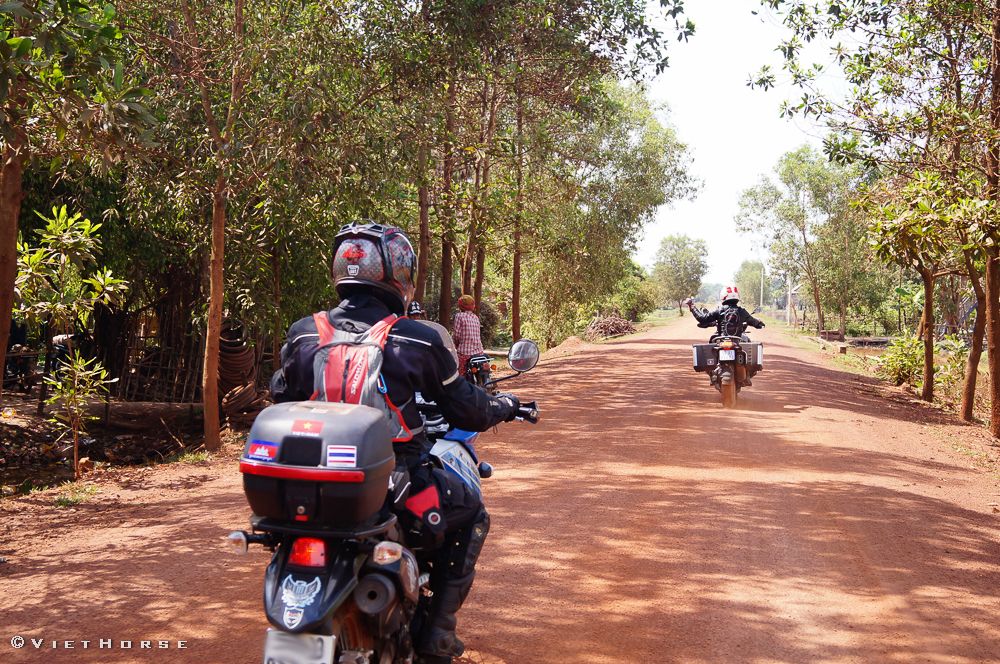 Lucky us, it had just stopped raining before we came, so the road not so dusty.
See the Cambodian houses – they made from wood, with two stories like that.
The ground floor is used as the store, sometimes used as animal cage (for cow, pigs, ducks, chicken, etc…). People live on the first floor.
One of the modern house, with concrete column: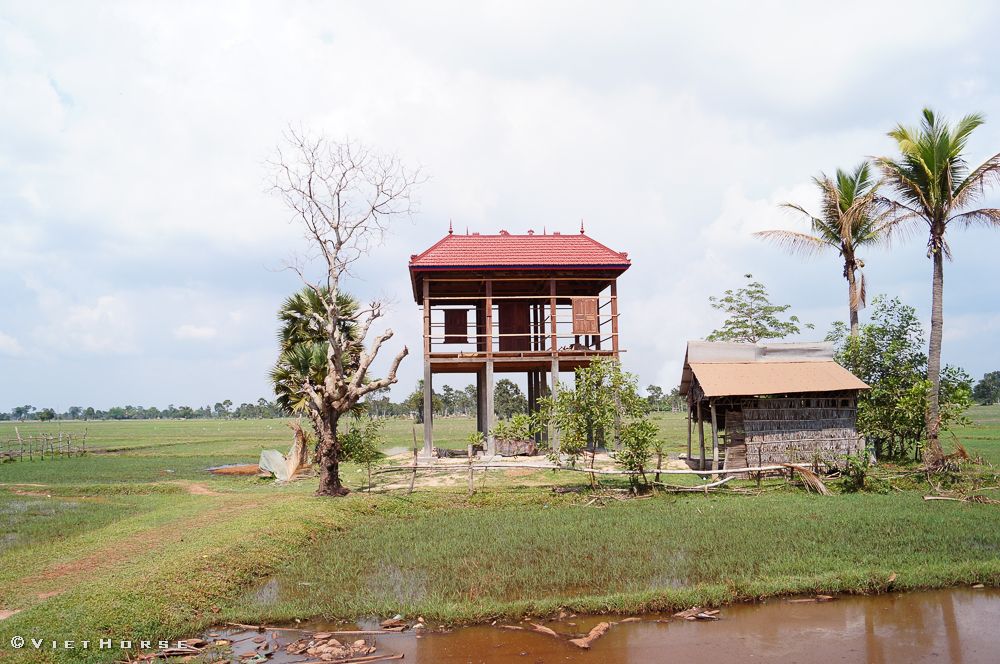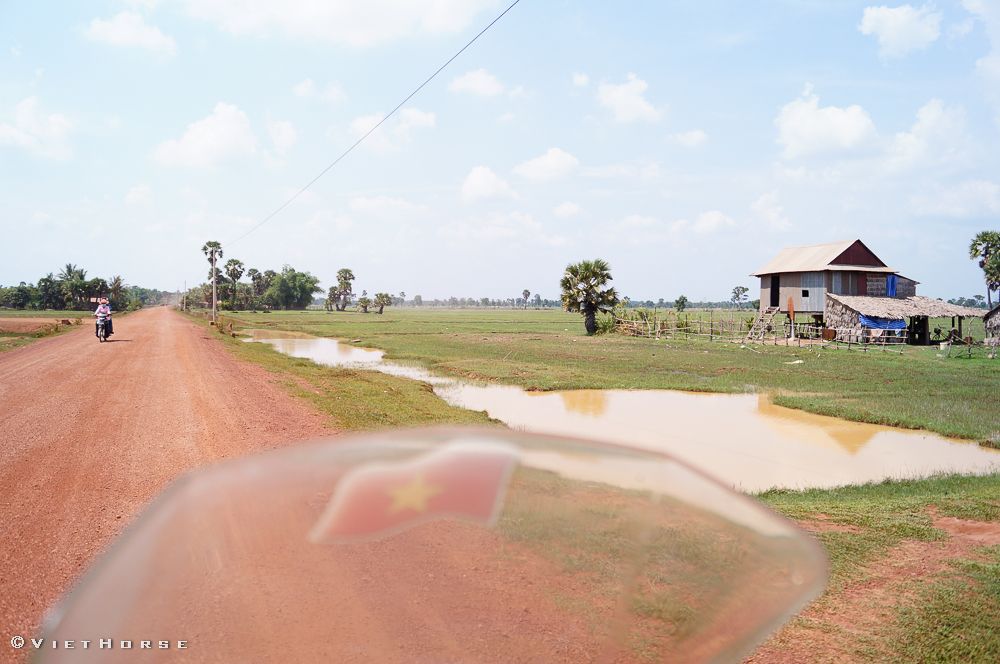 Around mid afternoon, we reached the well paved road. It's Cambodia national road #8.
Too bad that this kind of road made me sleepy: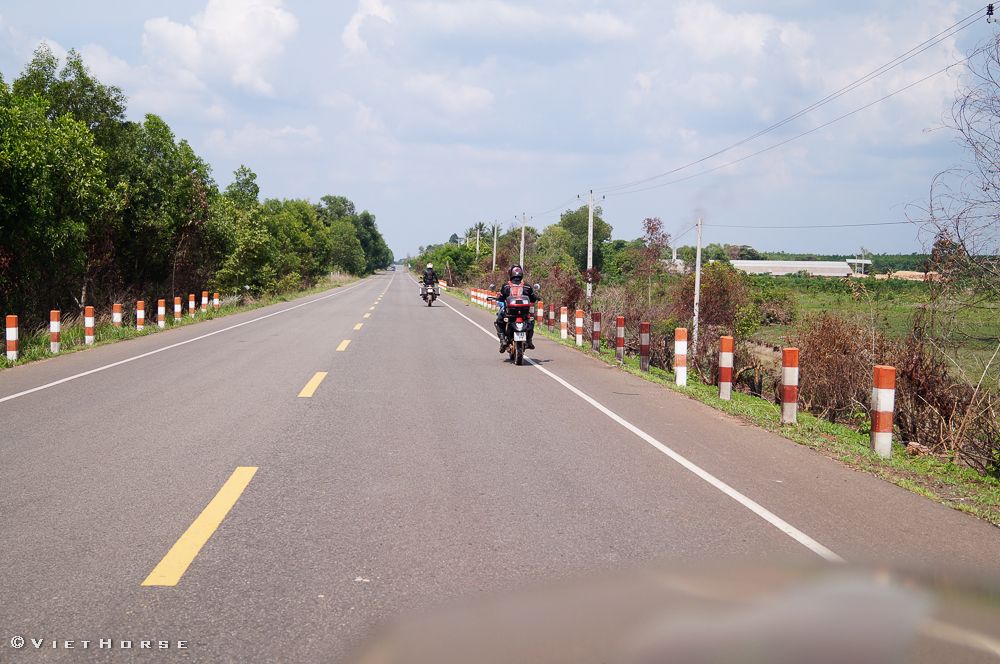 Turned left to the National road #7 – it's the road in the system of Asian Highway – called AH11: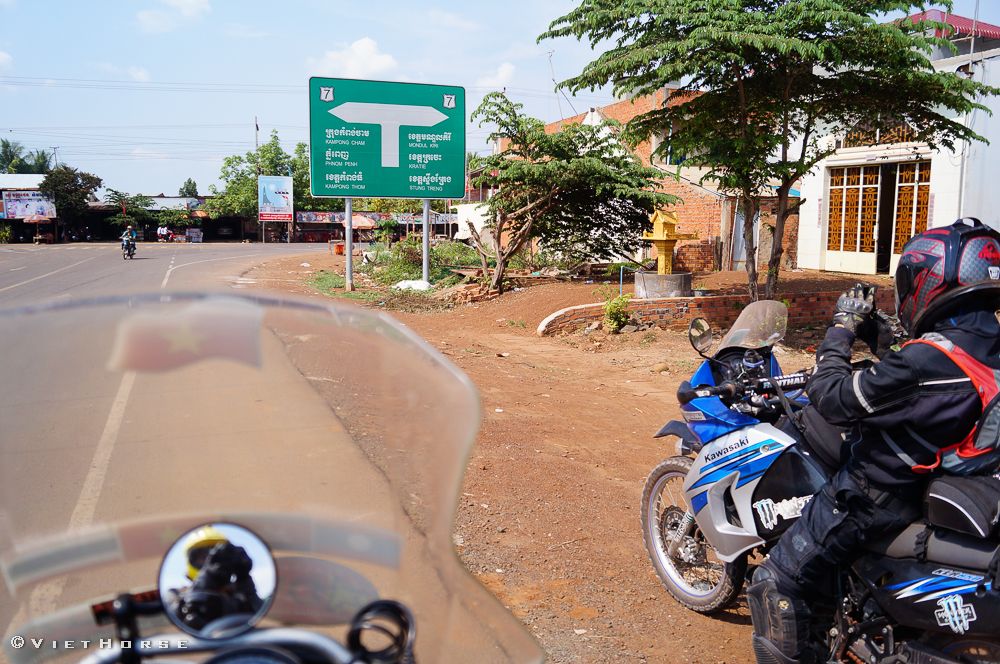 We stopped for taking the signboard pix – very soon the boys approached: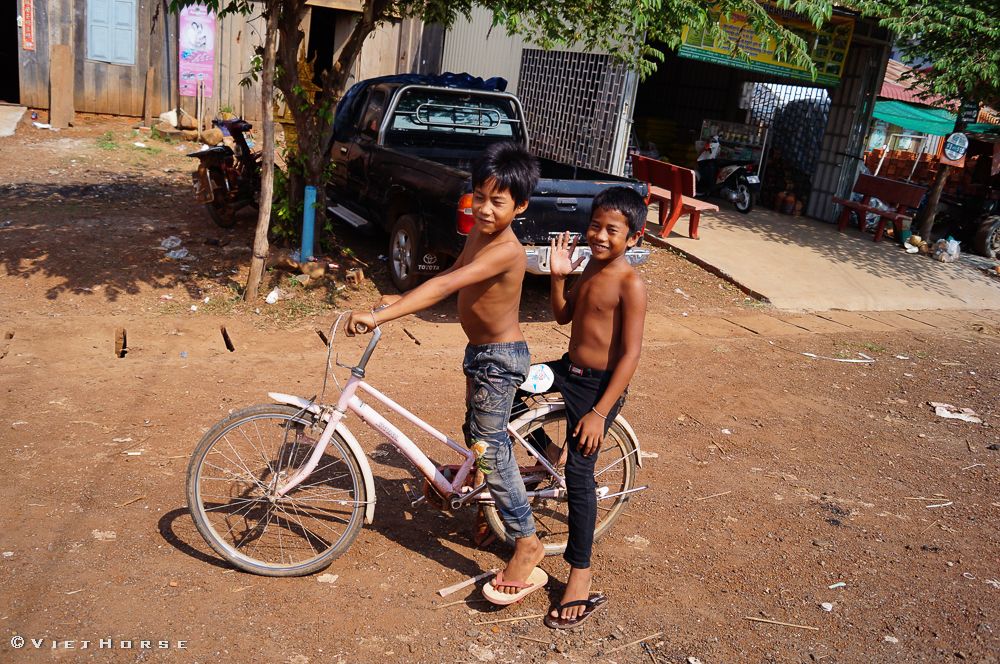 Rode for a while, stopped for fuel – my GS spent 14 "dallars" 
: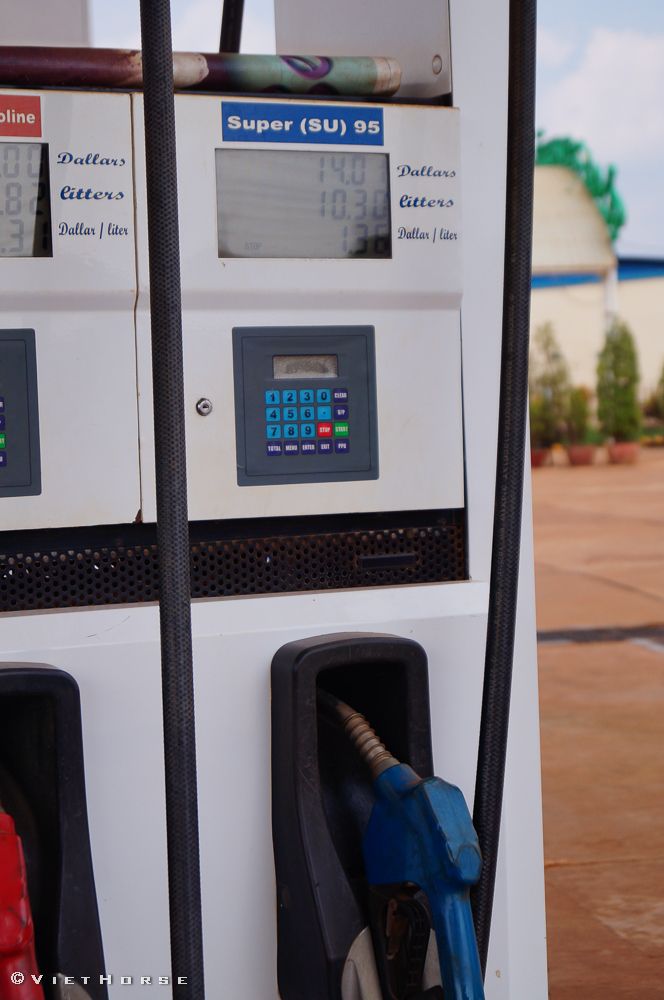 We decided to get into the cafe for a while. It's Memot comune, just around 10km to another border gate with Vietnam.
That's why the shop owner here speak Vietnamese very well.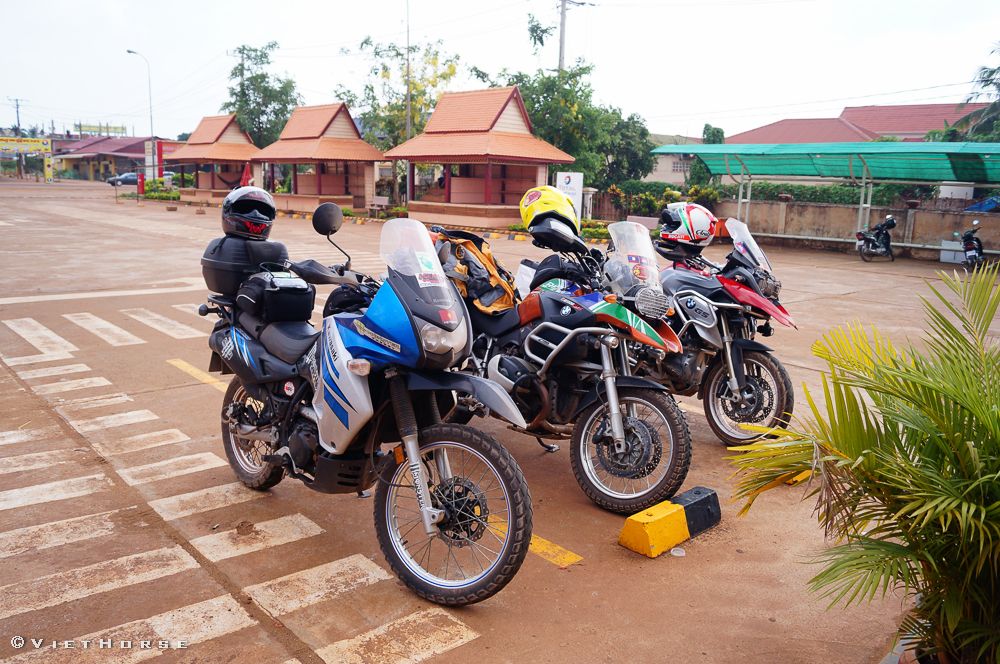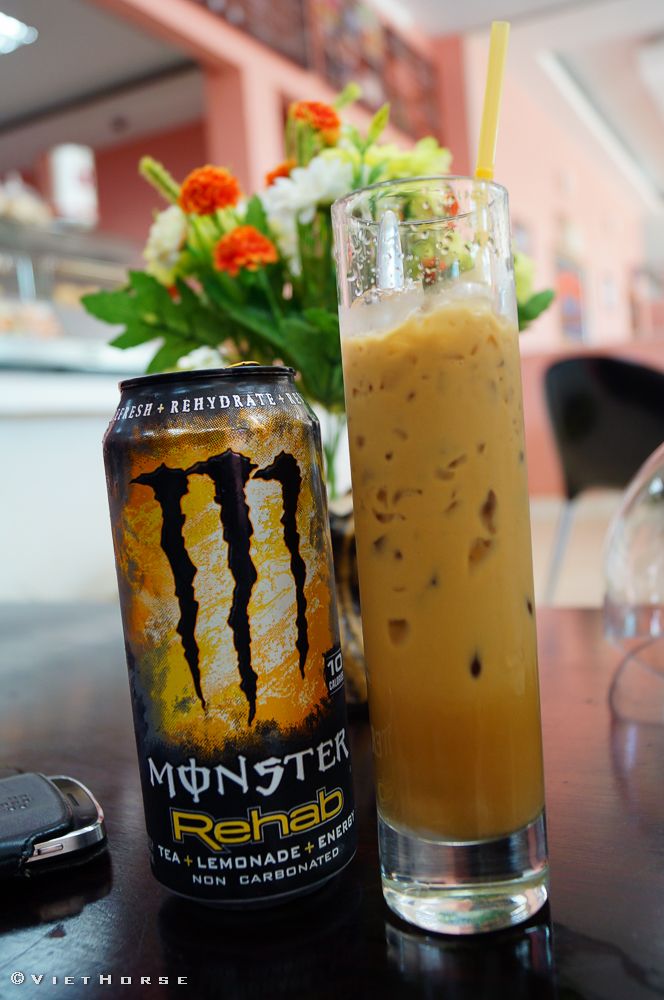 We spent a too much time there. You know why? Because the outside was way tooo hot, and inside the cafe was sooo coool, so comfortable, and we felt sleepy on well paved road.
Back to the road when it was more than 04 PM. Too bad at that time, we were just done half of the planned route.
There was 260km for the rest of the day, to reach the sleeping place.
I already rode on this route last year. It was really a nightmare as there were more than 100km all offroad.
Ok, we had no way back. Have to reached Stung Treng within that night, otherwise, we would not be able to reached Vientiane (Laos) on time.
Some more good roads: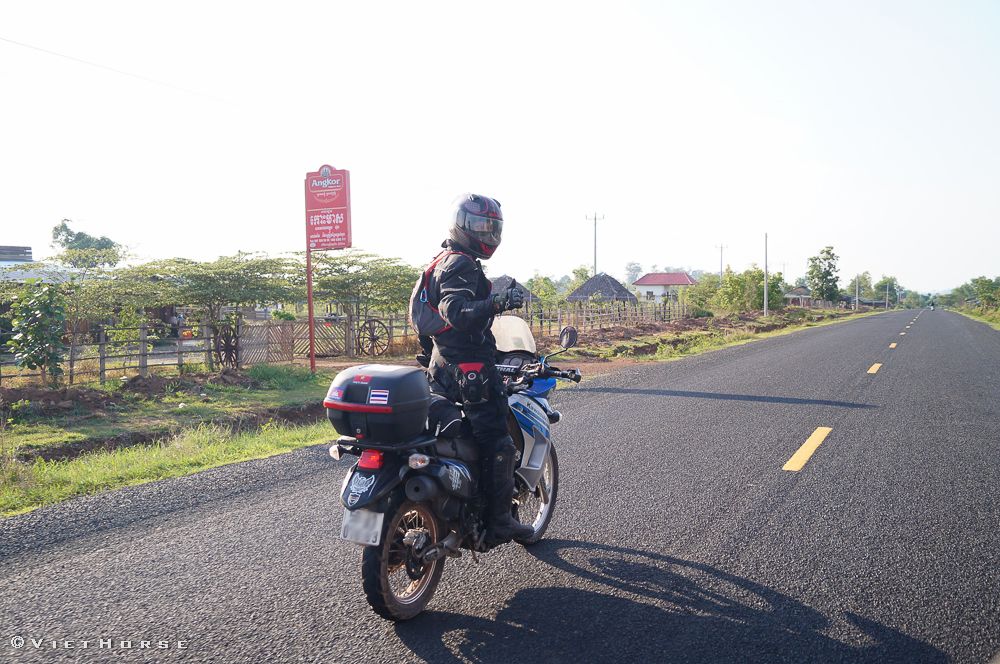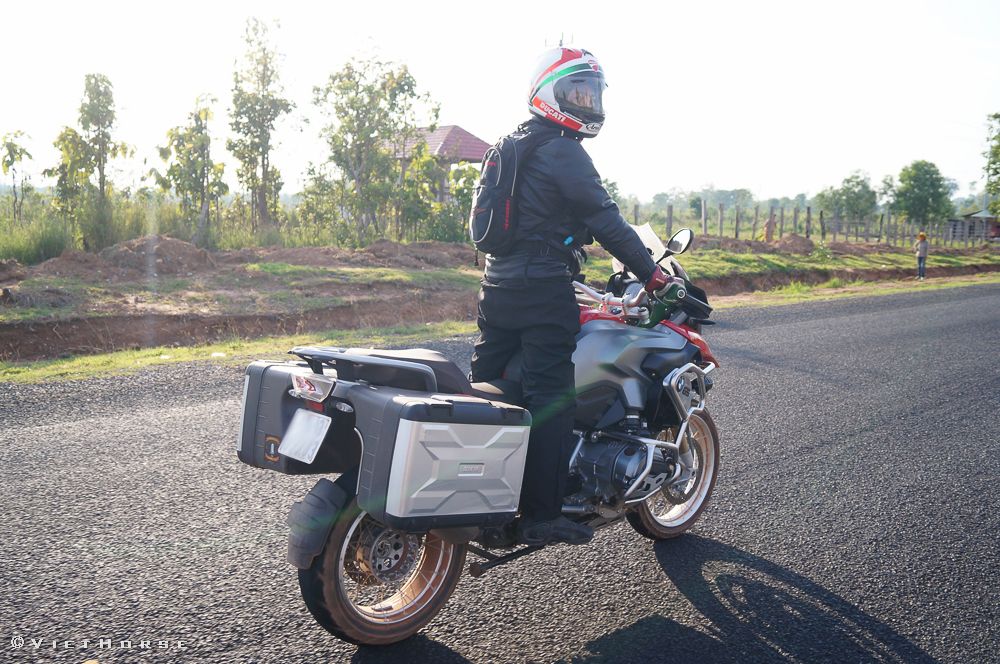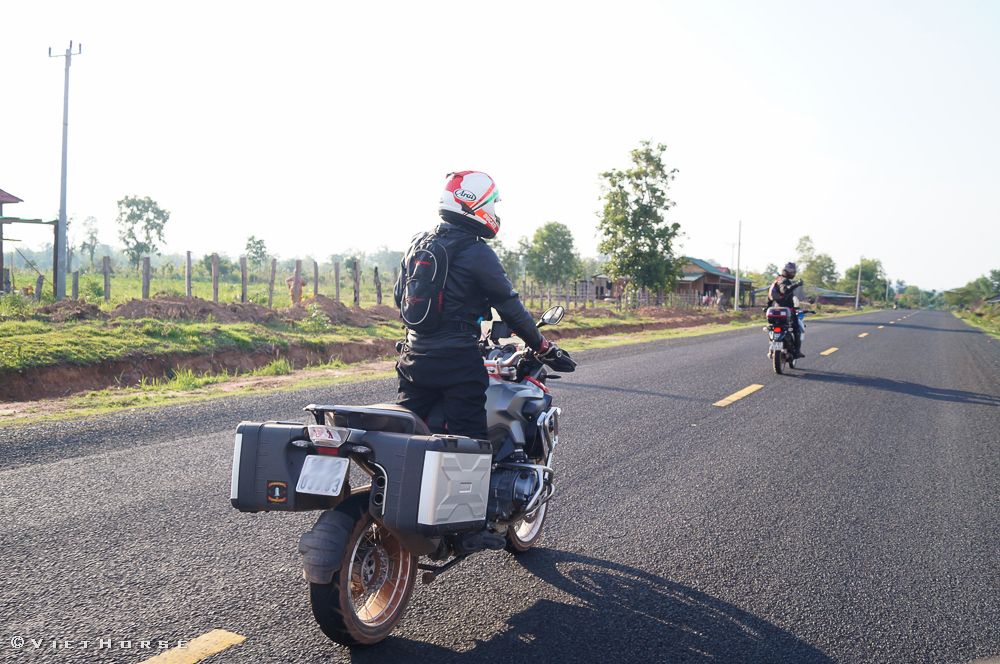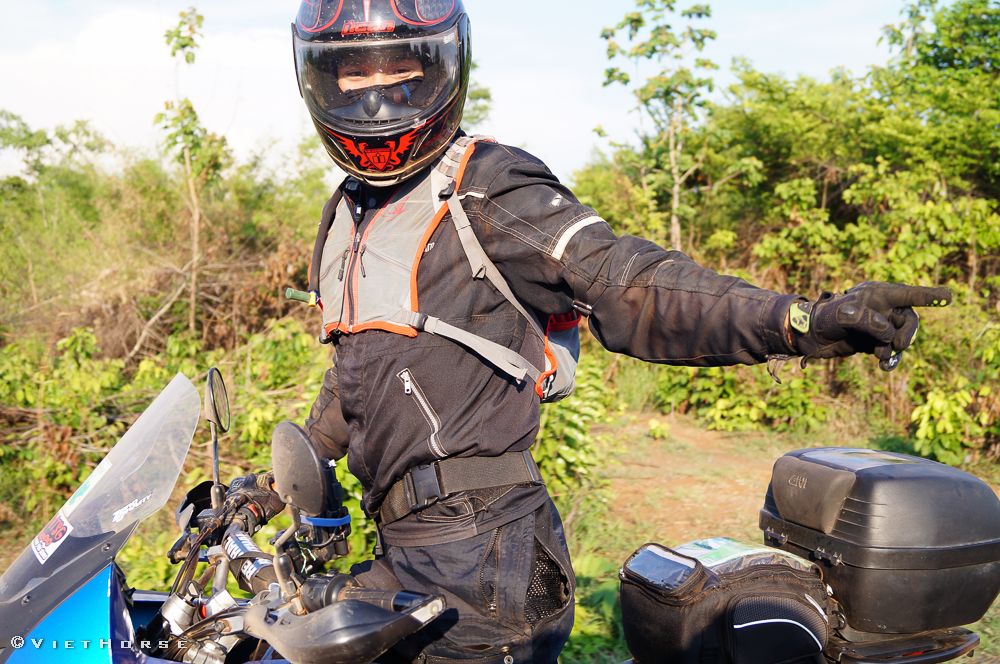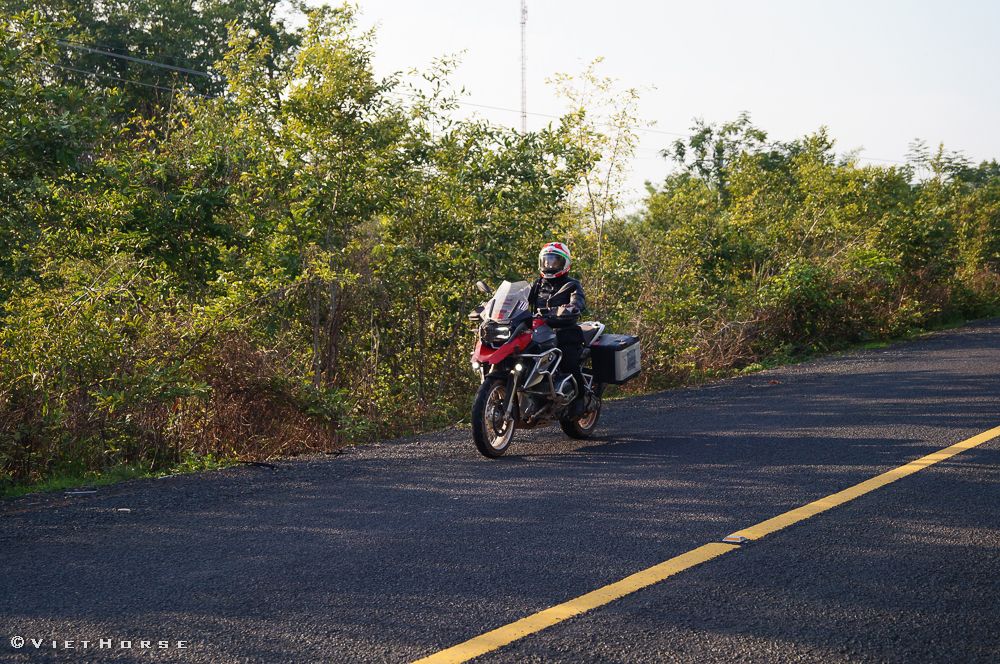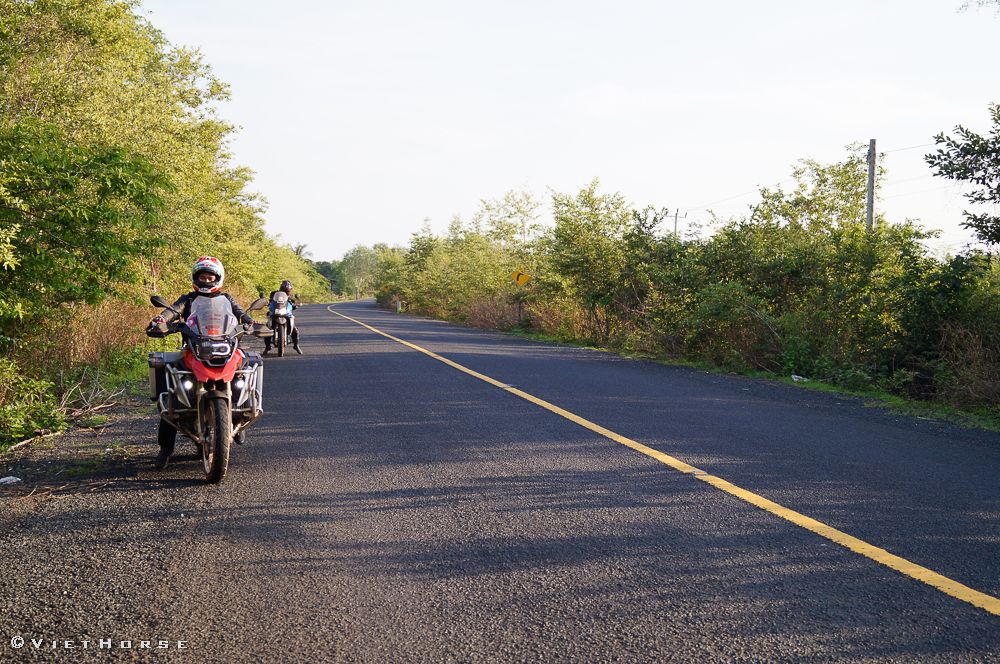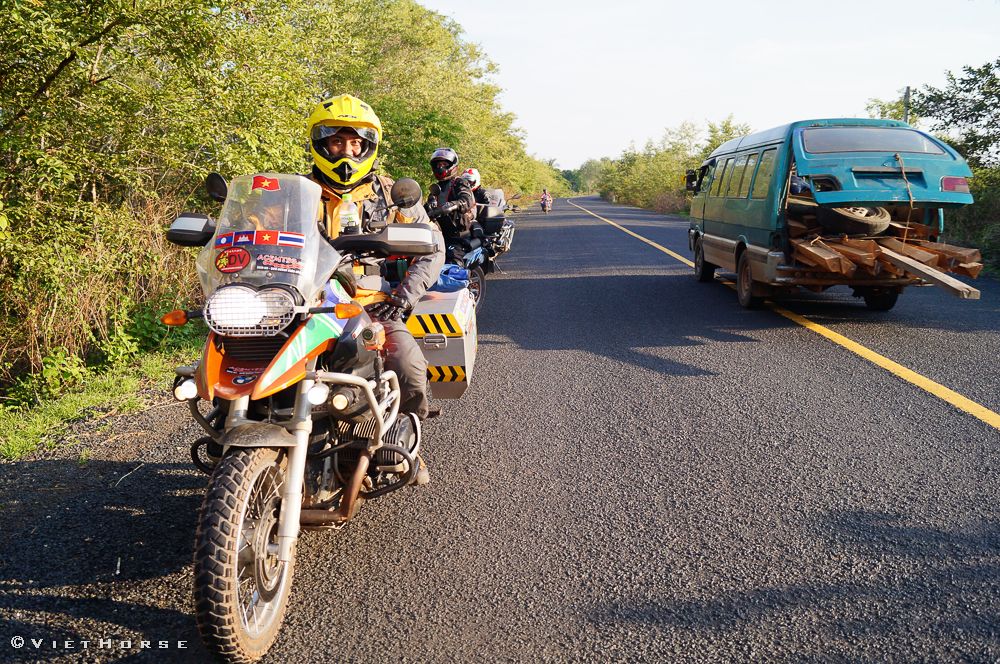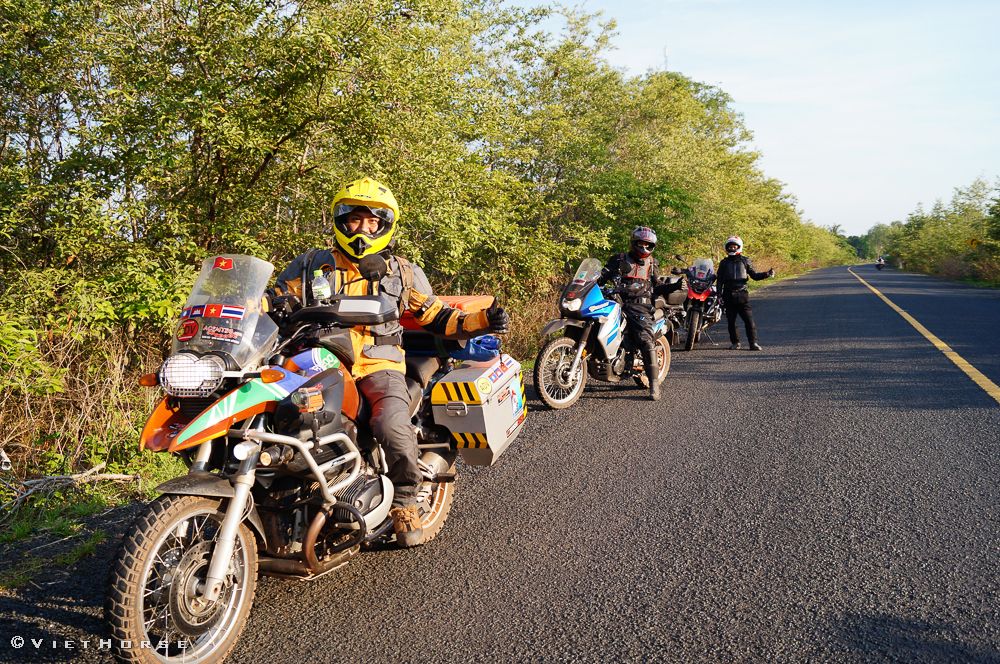 And the nightmare soon started….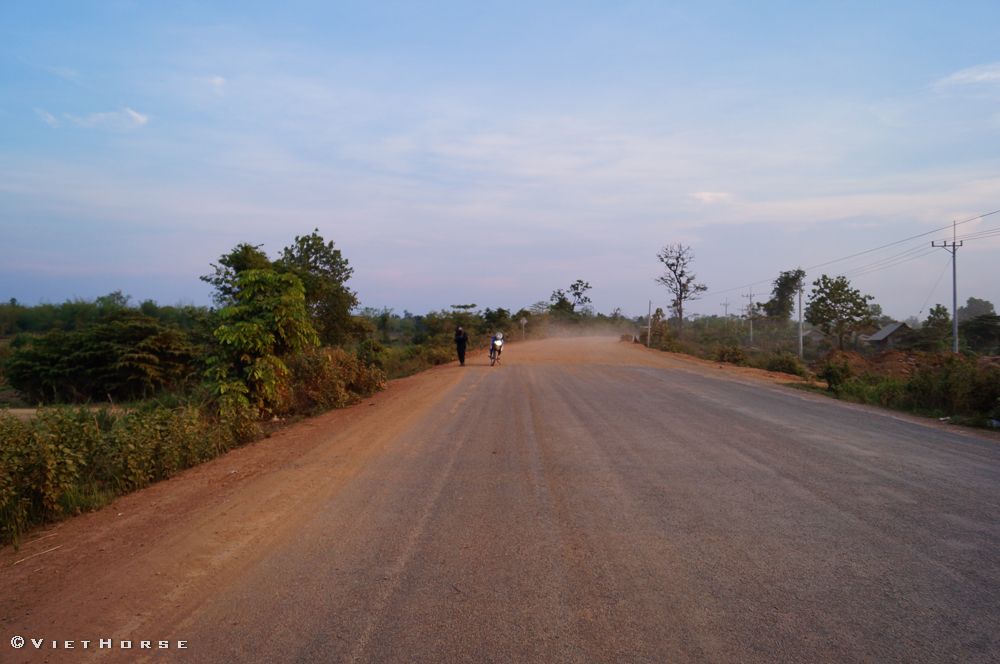 06 PM, the sun was almost gone:
Frankly to say, I had imagined what would happen behind the dust curtain: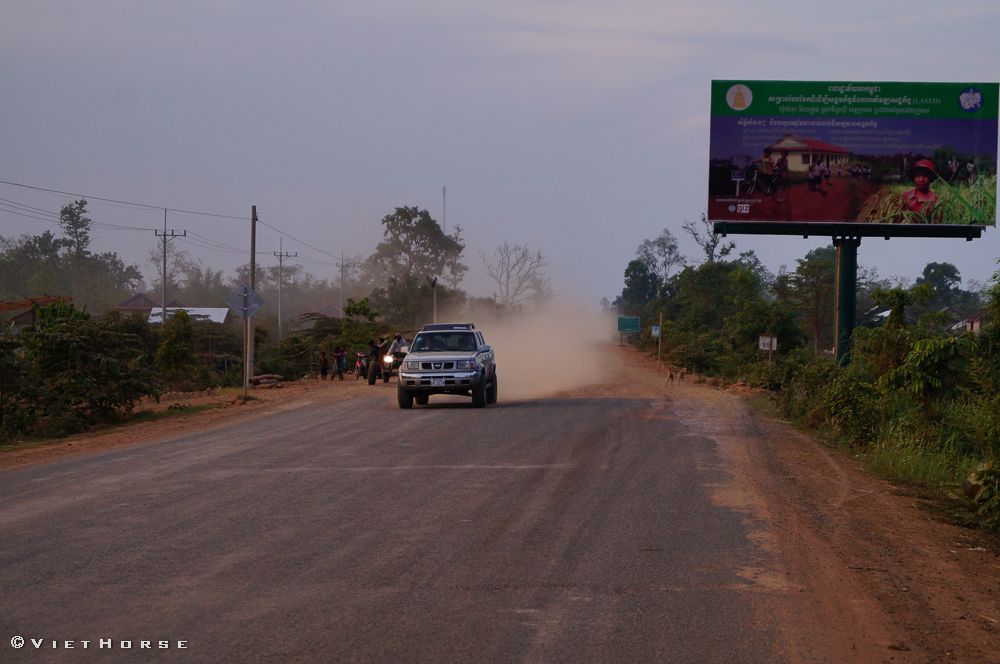 Yes, it was really really bad road.
The sun really soon came down. The dark all around us. There were very few to no houses along the road side. We just saw our own lights. The road surface worse and worse… Pot holes everywhere, loose stone everywhere, dust all around… Our speed was from zero up to 15km/h. I had sometime dropped my front wheel into the big pot hole or a canal, really scare of bending the front rim.
Sometimes we saw opposite trucks. In the dark, we could not see anything on road but the dust. We just do nothing else but hold the handle bar very tight, prepared for any bump may happen in the dust curtain.
Until we reached the quite flat road…. I was almost shouting with myself to express my happiness while seeing the flat road. Twisted the throttle… But hell, I had not enough time to be happy.
Just in an eye blinking moment, I saw a water spraying truck moving toward me.
Sh*t… holly sh*t… I saw the shiny road surface very close ahead and hold my bike pretty tight. I did not dare to pull the brake lever, just do a very quick shift down to first gear and wait for the impact!
When the bike reached the wet surface, I could feel the wheel wobbling around for some seconds. Lucky me, the bike went thru that slippery road without sliding down. I think the slippery was almost 100m long.
I had time to think of my buddies. I was thinking that they are all safe.
Damnit, the thing was not that nice. Just after I confirmed I was safe, I saw my buddies on the road side.
The Water cooled GS was down. Lucky the rider was okay. Leather suit saved his ass. GS left pannier latch was broken and it could not hold the pannier.
We took sometime to use elastic band to secure the pannier to the bike after removing all heavy stuff from inside.
Funny thing was that while we were fixing the bike, a scooter also went down at the same place, because of the same reason. And that guy was soo much lucky that his head hit the ground while wearing helmet – which you can find very seldom in this part of Cambodia.
Back to the incident of the WC GS. We had to use the elastic cord to secure the broken pannier. Well, it is really good stuff to bring along your adventure trip – as well as duck tape.
We back on road again. The road still bad, from bad to very terribly bad…!!
It was darker and darker. We still rode on the bumpy road with all the dust around. Three of us, the WC GS at front, then the KLR, and the last was myself and the GS.
I had to ride on the left side of the road, to avoid dust from the bikes at front, and help myself to see the road clearer.
I was really terrible road, I have to hold the handle bar pretty tight as I may fall into a big pothole at anytime. I almost had no time to look around – anyway, no point to look around in such dark night, isn't it?
At a very dark part of the road, I noticed the KLR ran slowly and stayed just behind me for some meters. It was no pothole but loose stone on the road. And the WC GS was a bit far at front.
Suddenly, I realized there were some dogs kept howling and running toward me. Looked like they tried to stay close to me and bite me. I had to raise my legs and threaten them away from me.
Just in some second, they passed my bike and within that moment, I realized something not wright with the KLR. I turned my head back, and sh*t… I saw the KLR headlight stayed still, and on the ground.
I carefully turned my bike back to get the KLR visible.
Unwanted scenery – the KLR was on the ground, the friend still under the bike. Dog still howling around…
We came in and get the bike upright. Very soon the locals started gather around us. The KLR rider seemed hurt and bleeding on his knee (I have no idea how the knee could be hurt while he's wearing knee guards).
There was a black dog still on the ground. That guy could not move and kept howling. My KLR friend said he was startled by the dogs and in the moment he tried to avoid crashing with them, he could not handle the bike on the loose stones, still hit the dog and the bike felt off like that.
KLR fairing was damaged. Handle bar was bent. Bike still started, but my friend did not dare to ride it. He asked if we could pulled over to someone 's house and repair the handle bar. I wanted to roll immediately without any delay, as I did not want to get involve with any issue with locals as we hit their dog. I got on the KLR and did a trial ride. It is really weird to ride with a bent handle bar – one hand need to put closer than the other. However, it did not take too long time to get used to it. Told to the friend and got him back on saddle.
Finally we got out of the mess without any issue. I said sorry to the locals in both Vietnamese and English, as well as body language, and I think they showed their understanding… "ok, ok, ok…" like that.
We leave that place around 09 PM.
The road still bad like that for another one hour… :eek1
We reached the town (Stung Treng) around 10PM. We was thinking that there will be good hotel room and good dinner so we can relax after the long and hard day.
But….
We rode directly to the hotel where we had stayed during the trip last year. The hotel was full.
We went to other hotel near the market. Full.
Asked some more hotels nearby. All full.
…
Damn… wtf with this town. We asked and were told that it was sort of wedding anniversary day of the town, so many couples, families gathered at the town to celebrate, so all the hotel there was full.
We could not do anything than pulled over for a dinner then plan for the next: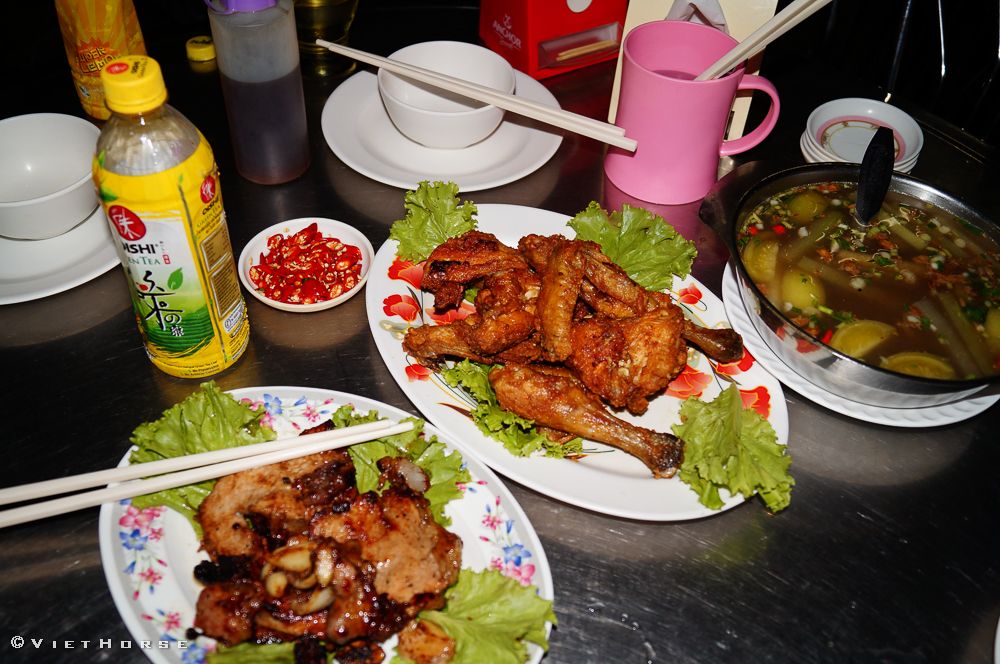 So tired of the road, fed up with the hotels, but still smile when seeing the flash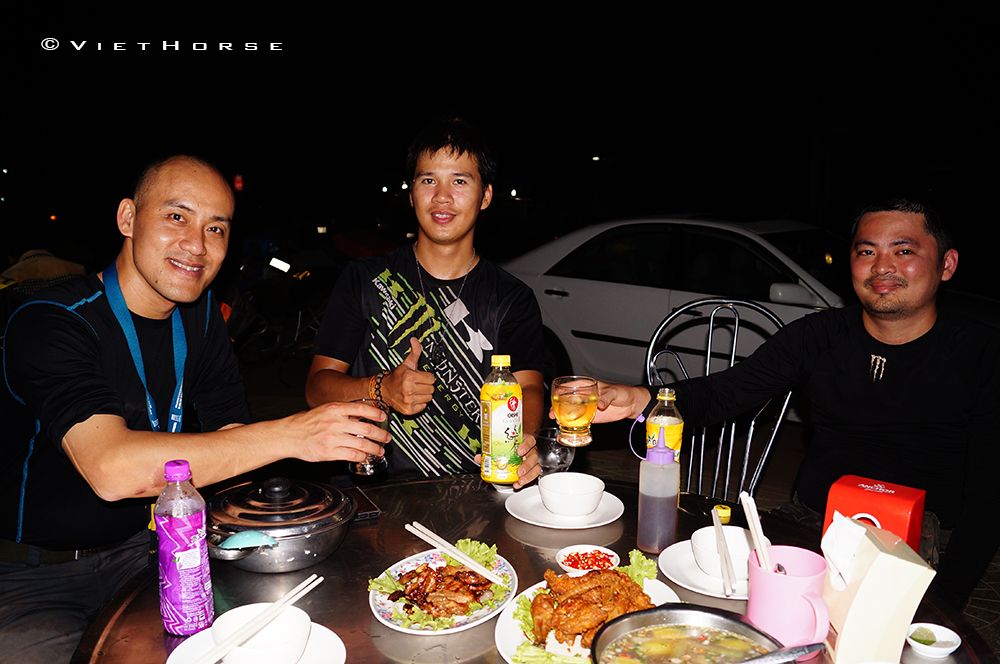 We asked the locals for helps. A moto-taxi driver he rode around to find a place for us.
Finally, after more than one hour, we got a news that there was a place where we can sleep.
We hurry to go to that place, dealt the price, thru all the stuff in the room, then having bath: