Day 8: Quảng Ngãi – Buôn Ma Thuột.
An unforgettable day – with lots of interesting stuff.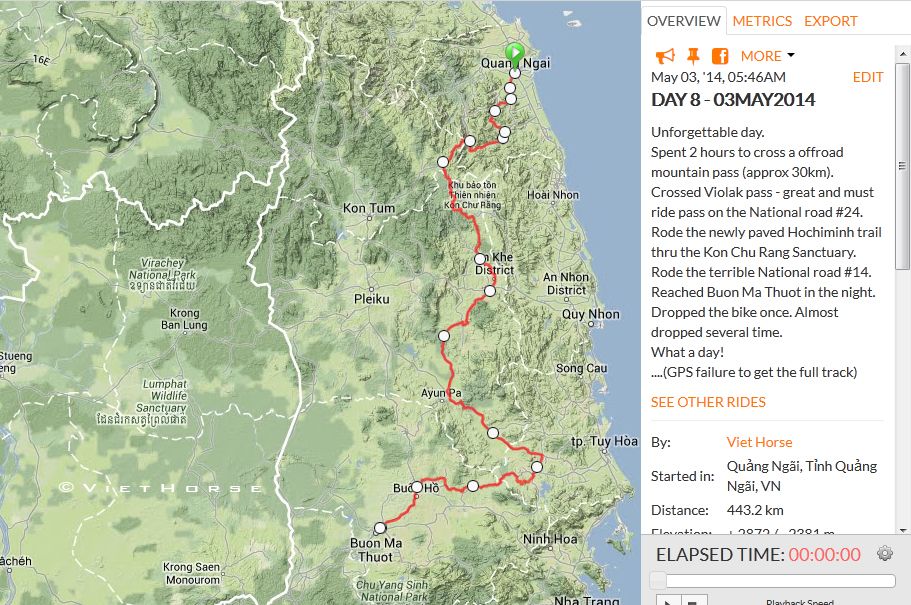 Earliest departure day.
Left my father in law with two Vietnamese breads, I really had no idea what are the challenges I would face within that day.
Country side in the morning: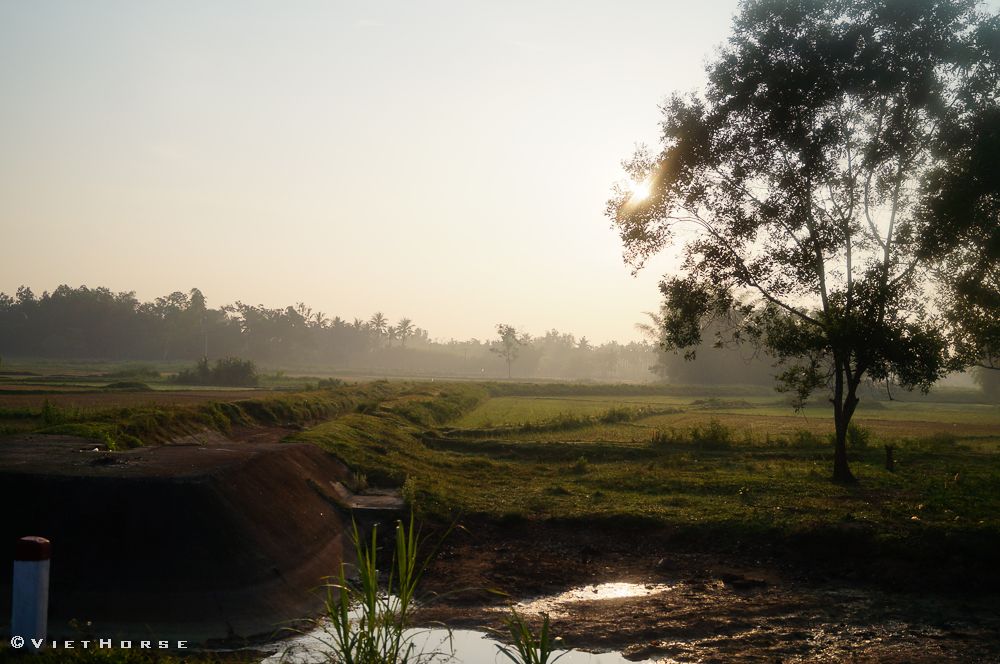 A familiar local road sign: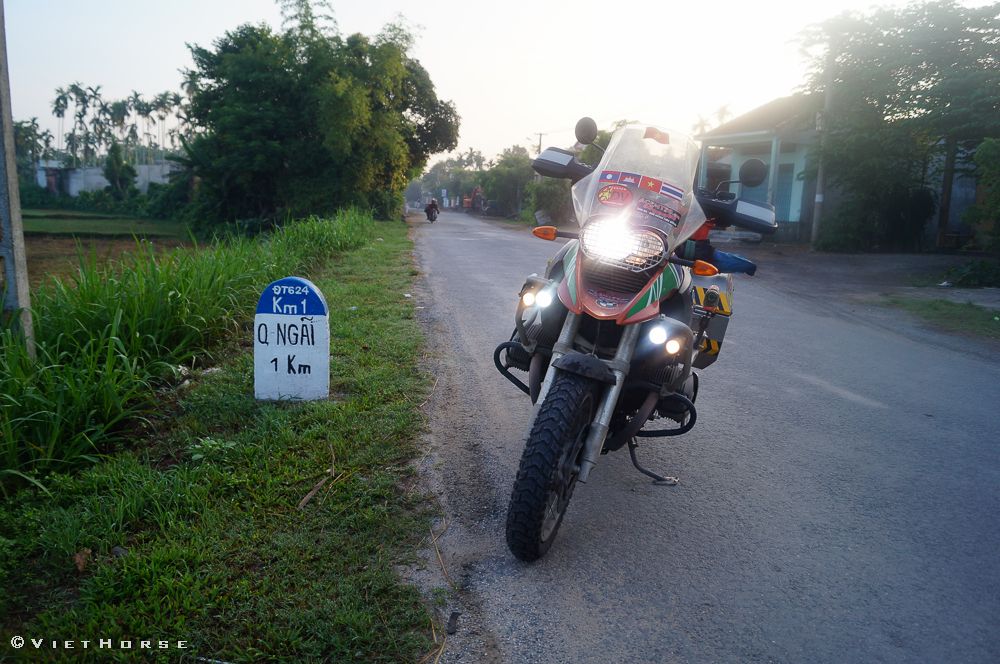 Đèo Eo Gió (Eo Gio Pass) – The beginning of a big day, started in the next 17km: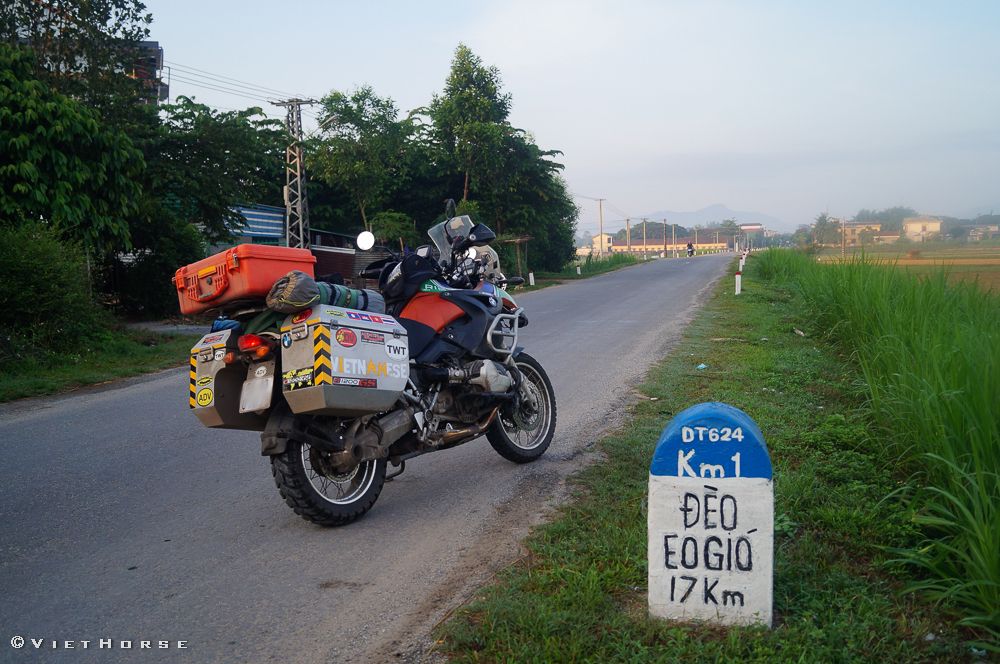 The name of the pass in Vietnamese meaning "Wind curve", well, or something similar to that.
It's not a long one. But the fun thing is the wind blows between two mounts, and makes some strange feeling before and after the pass.
Reaching the pass: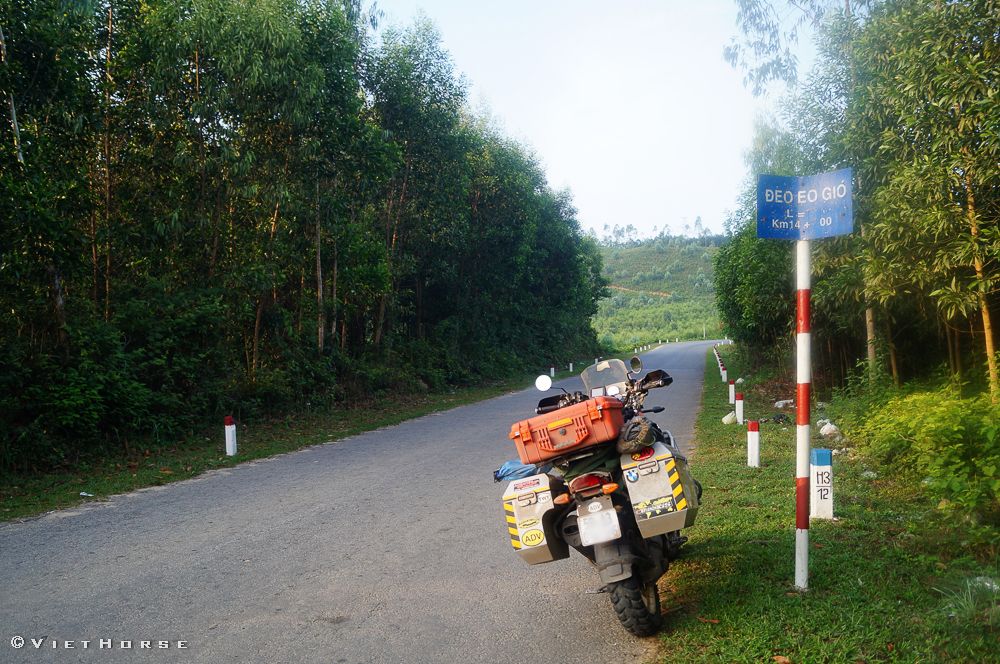 See the differences – foggy around the pass:
Gone thru the pass within some minutes.
I was riding toward a quite rural area, not many sign of people. No traffic, no house, no buffalo wandering on road… just the power lines and columns.
From GPS, I know that there would be around 30kms more to reach the main road.
Should I worry with such kind of road?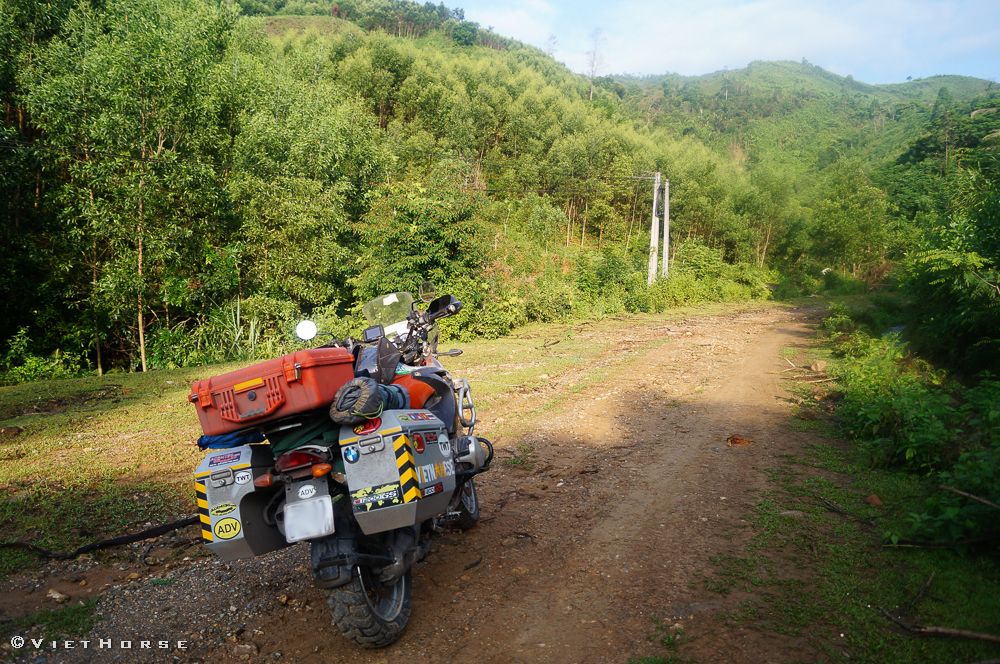 Kept riding – I found none on the road. Feeling a bit worry. I decided to turn back and find someone to ask.
Luckily, I met a guy, he told me that there was another pass (Eo Chim pass) in front of me, and the road was very bad, however still rideable. 
Okay, it was early morning, so I have a day to spend on that road. 
. I decided to go on.
Went higher, the road looked worse and worse. It was difficult to handle the bike as it is sooo heavy.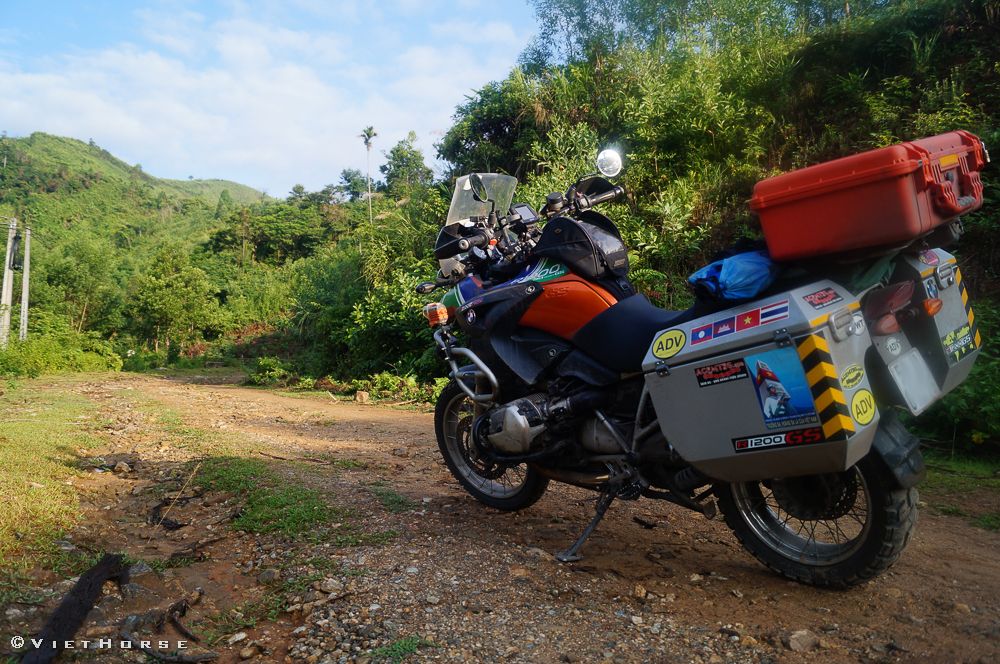 I 've just passed a very slop leg – you can see it right at the middle of the two sides of hill. I think it was around 20-30degree.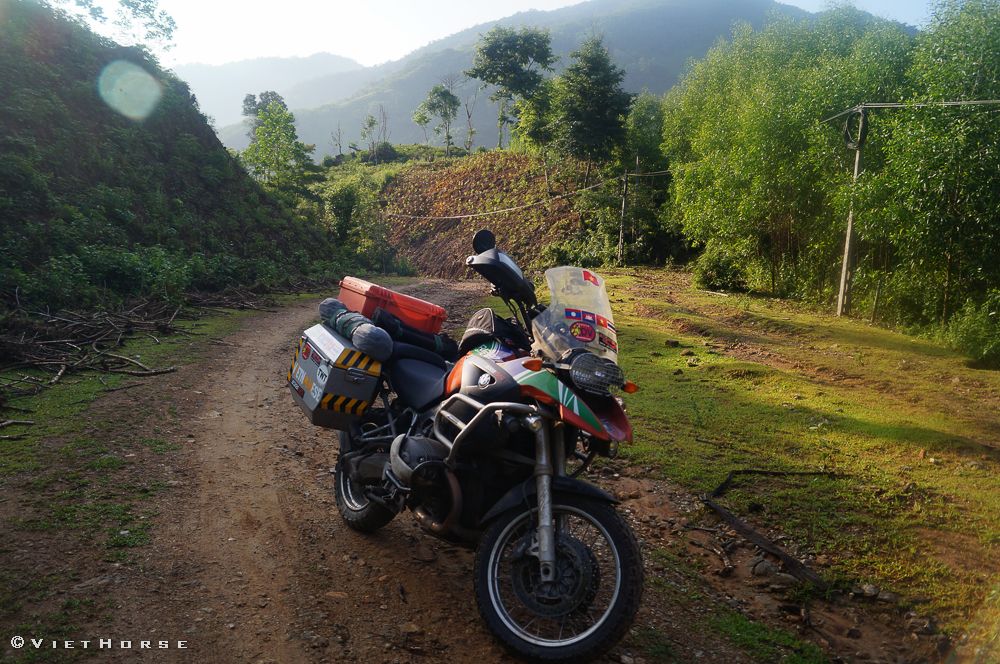 Okay, rode up for some more: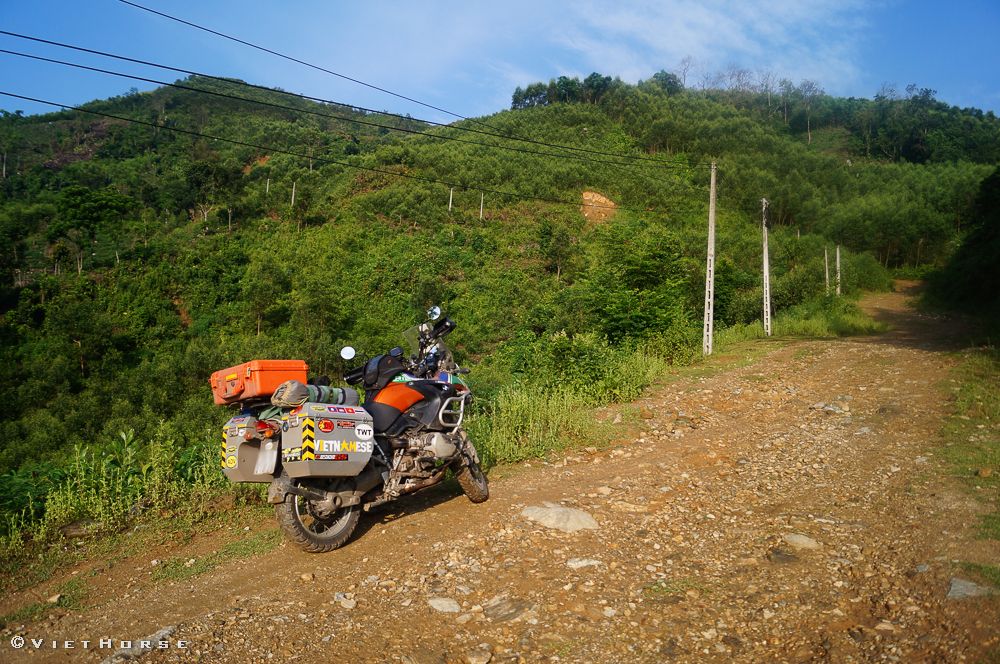 The scenery here really convinced me: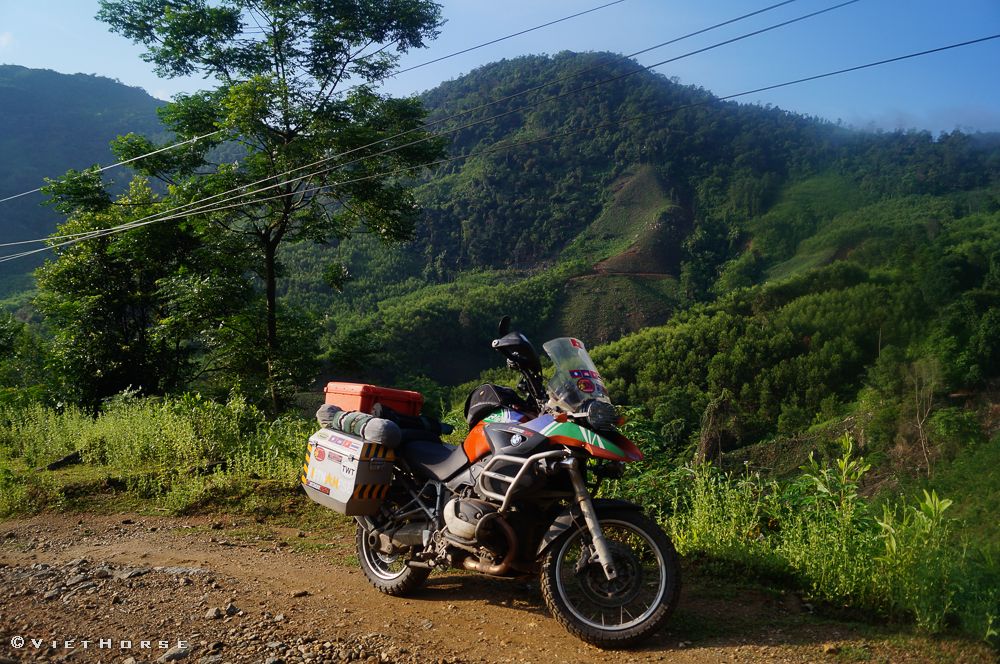 Where I just climbed: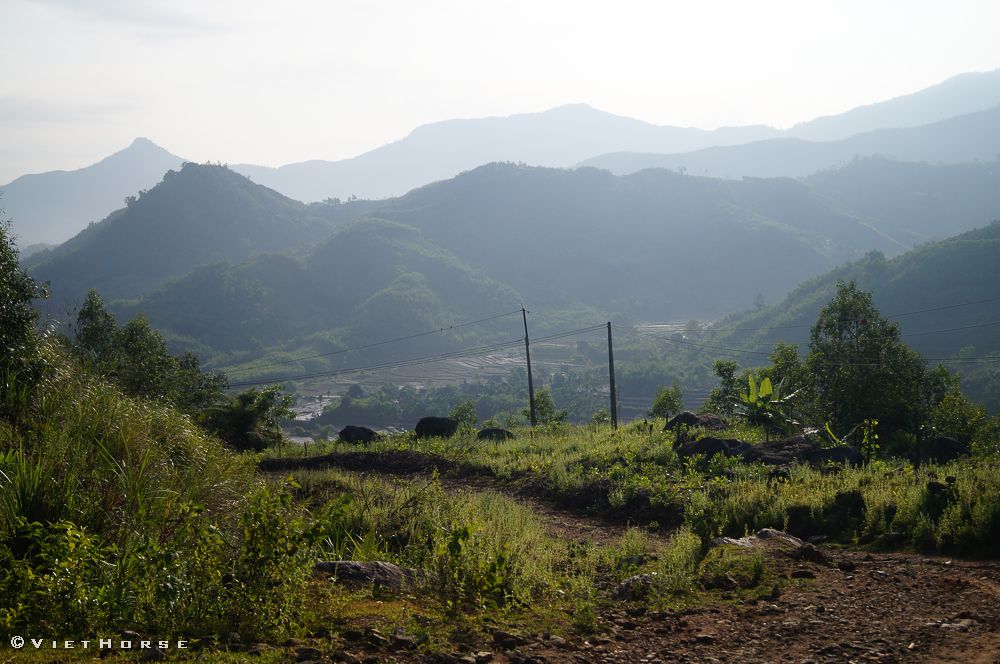 Really nice view up here. But see in front of my front wheel, I can drop my bike easily anytime: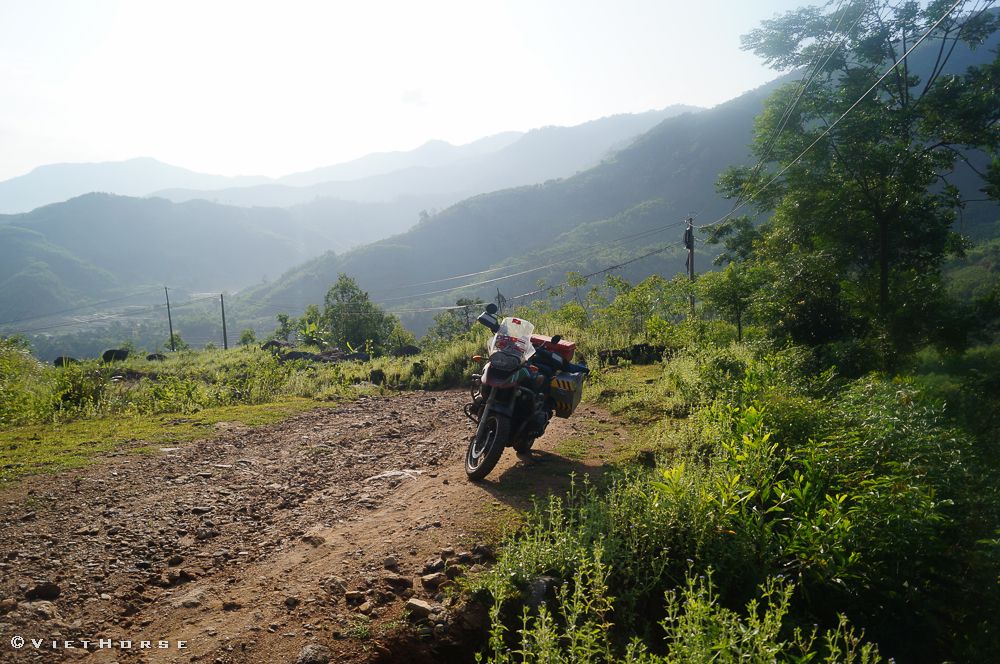 The scenery was really a good reward to what I have been thru.

Look at the road – it is not my favorite one anyway.
The left lane has less stones, but to me it looked too dangerous. I could fall down freely if the bike tip over to the left.
So I had to choose the right lane, where lots of stones.
Really worried about this as there were still around 20kms to the well paved road.
Holly sh*t…. I could not against the road condition. The bike was too heavy, thought it was more than 350kg, I could not keep it straight up while trying ride up hill. Front wheel hit a big, slop and flat stone then it slip away. And that's what I have tried my best to keep the rubber down: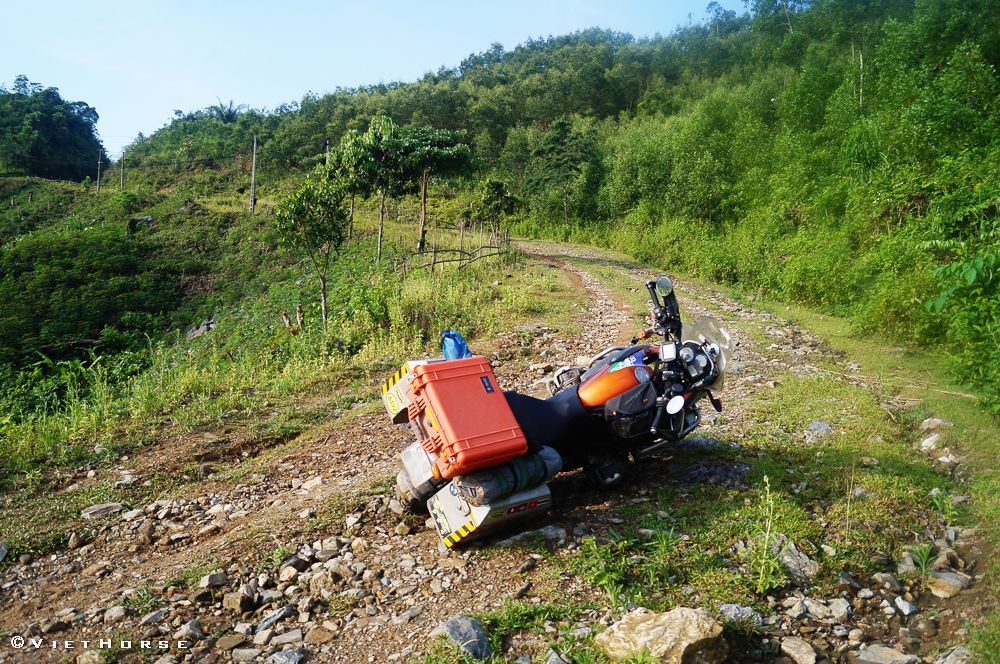 See the rear wheel, it was drifted / dropped into the small ditch during the bike falling down.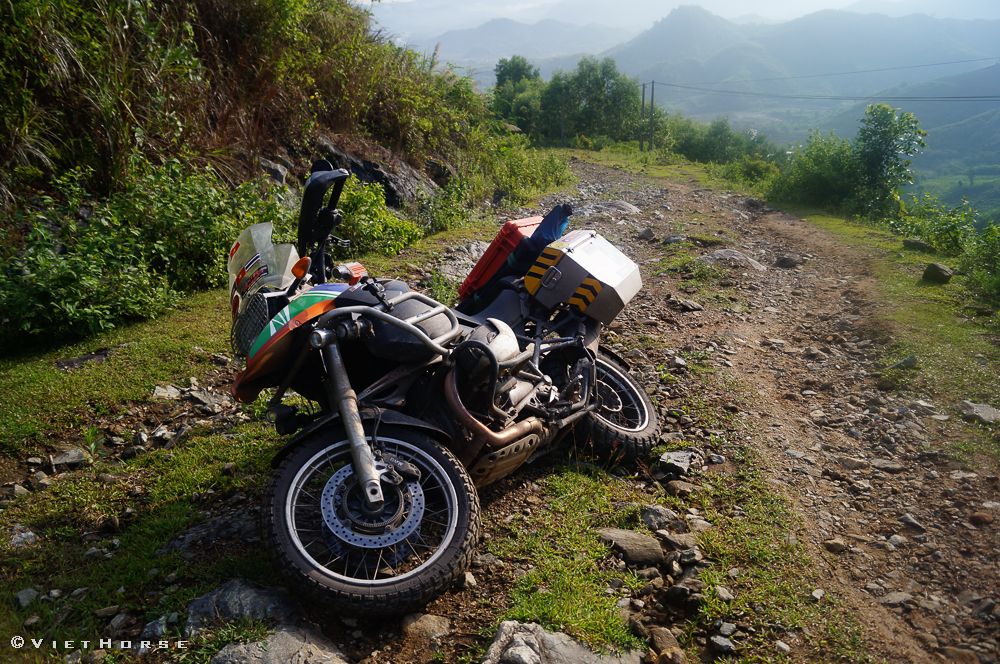 The Jesse box and the crash bar saved the bike: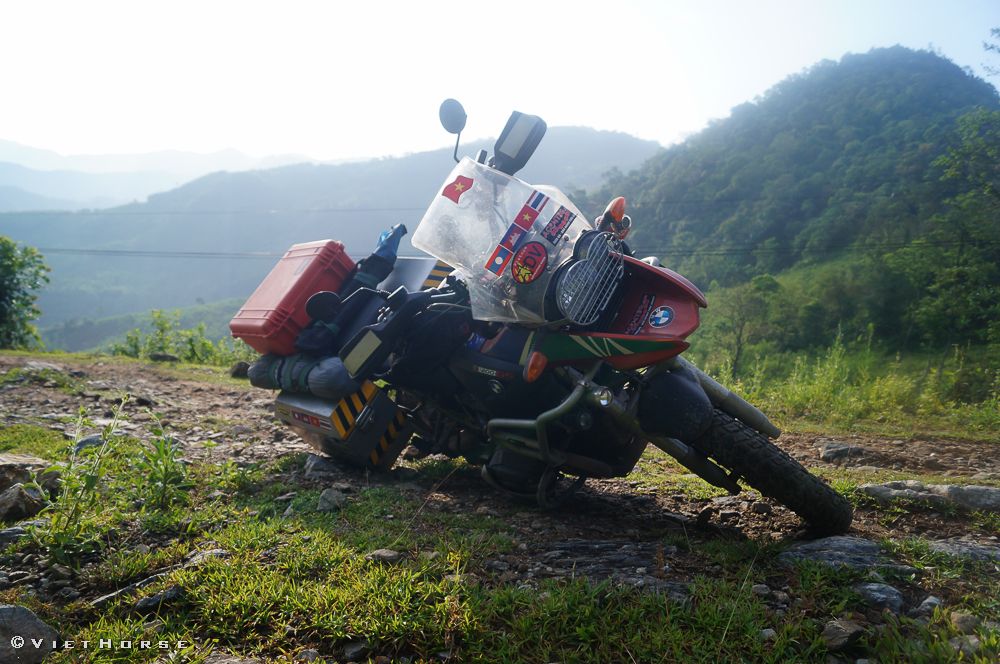 I felt love my GS more and more. Even during this time, it dropped like that but everything seemed having no problem. All still intact and as per it should be. If it was my VFR800, then I surely had a nightmare!
Any problem while posing this pix?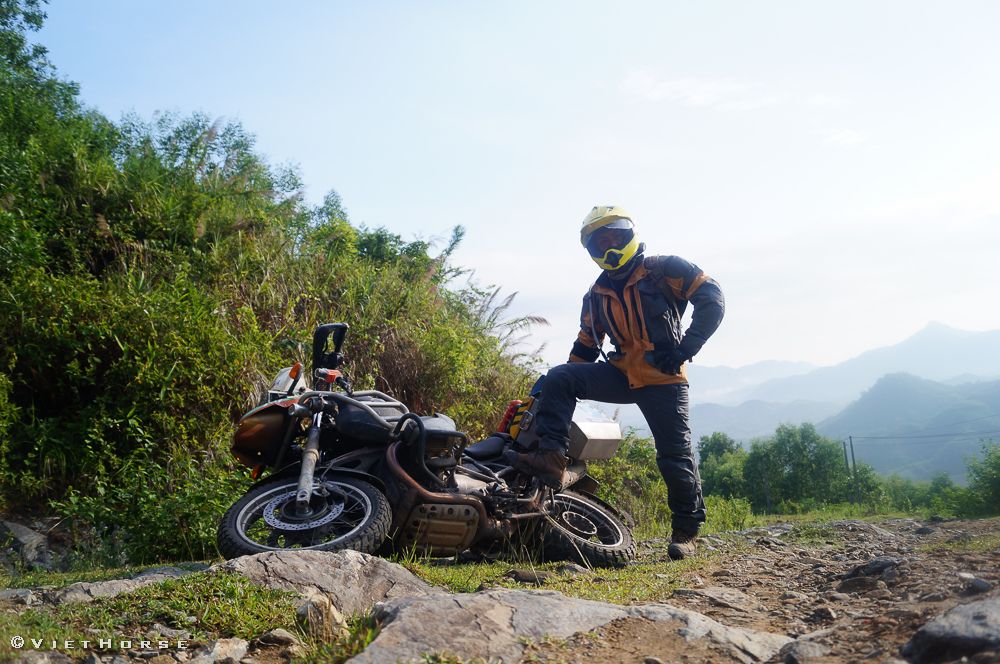 Hell, sweat running like hell under the jacket and pants.
After taking some pix to prove that "I have dropped my bike" 
, then it's the time to get it upright.
Now when thinking back about that moment, I still feel terrible… The bike was more than 300kg, and me with myself only. I recalled that my last weight lifting was around 5years or more ago, and if I am not mistaken, my max lift was 80kg 
.
Well, I knew that I could not lift the bike with all stuff on. However, I gave a little try to see how. The bike did not move even one centimeter. Hell… I had to remove some boxes and some heavy stuff on the bike, then give a second try. I was expecting that I would not need the third try.
My goodness, I was lucky – the bike felt to the right side, so I had the side stand to support on the left. 

The bike was straight up after the second try.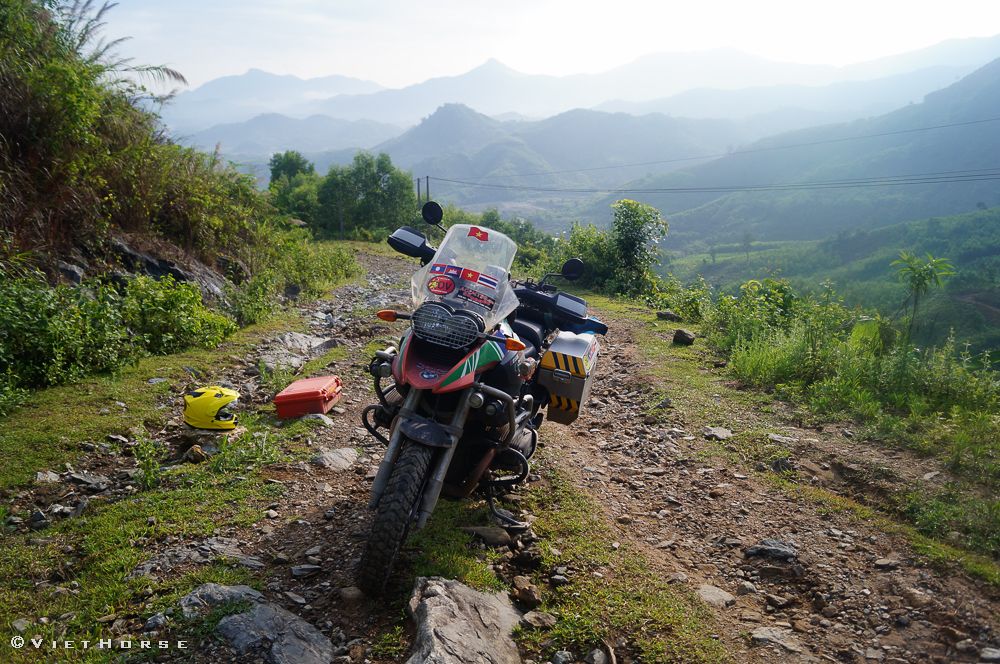 Okay, I 've done it: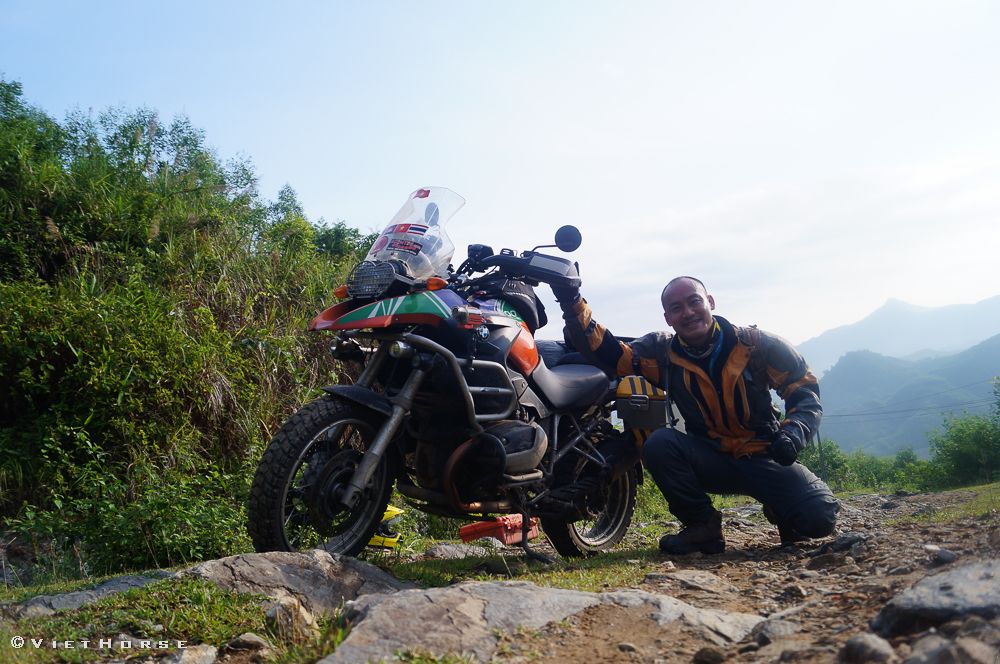 Then I kept continue to the top of the mount. It was not easy at all, however I experienced no more problem.
Reached the top – let's see my reward: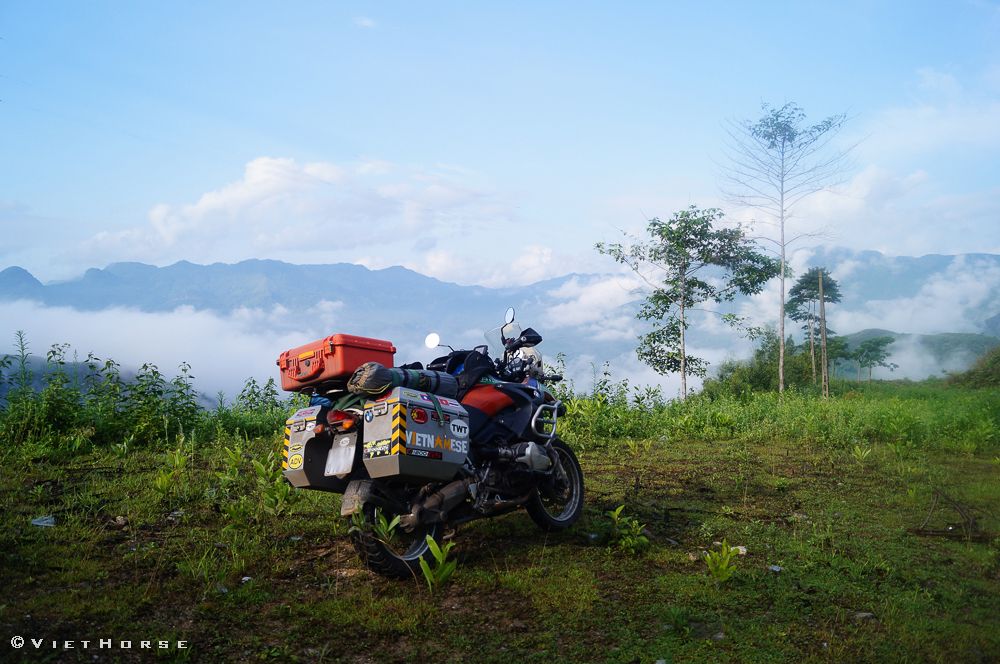 Yeah, it 's really worth it to be there.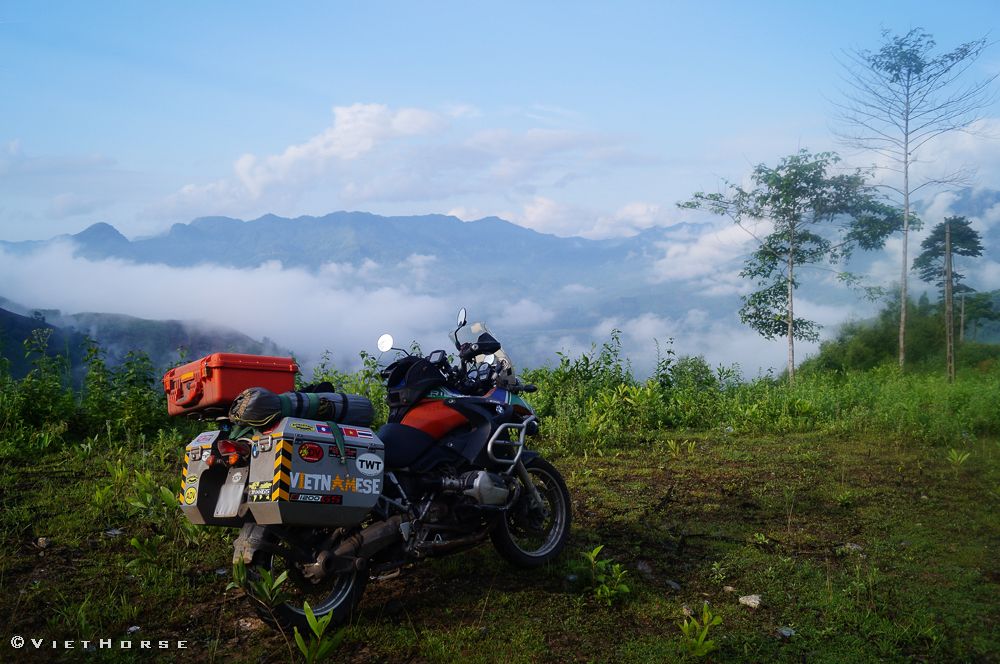 Stopped there for a while then I made descending to the other side of the mount.
Sorry for not having any pix, but the road downhill was much more dangerous than the one I have just passed. I had about five times almost drop the bike.
That's why I did not dare to stop and taking any picture.
Finally, I got to the the "ground" 
I had just crossed that foggy mount: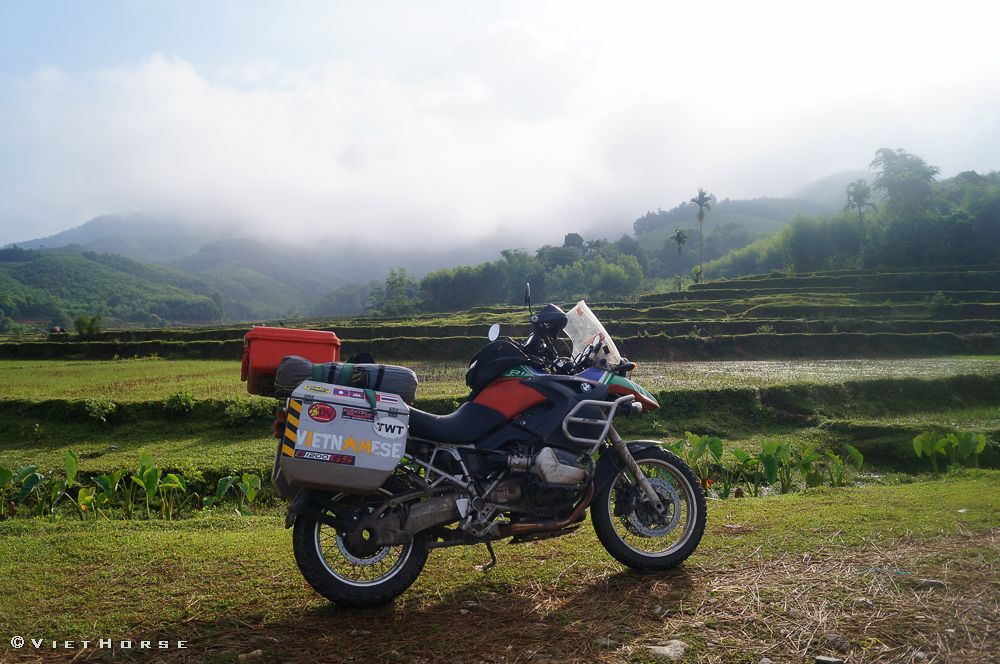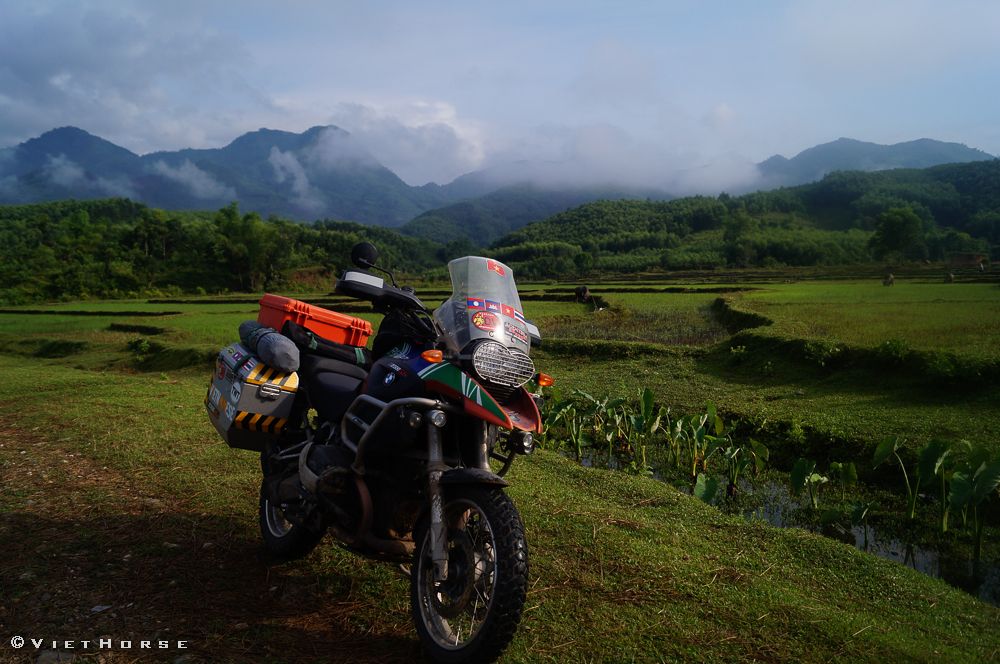 Left the Eo Chim and Doc Cop, I almost reached the main road #24.
Great spot for camping – do you think so?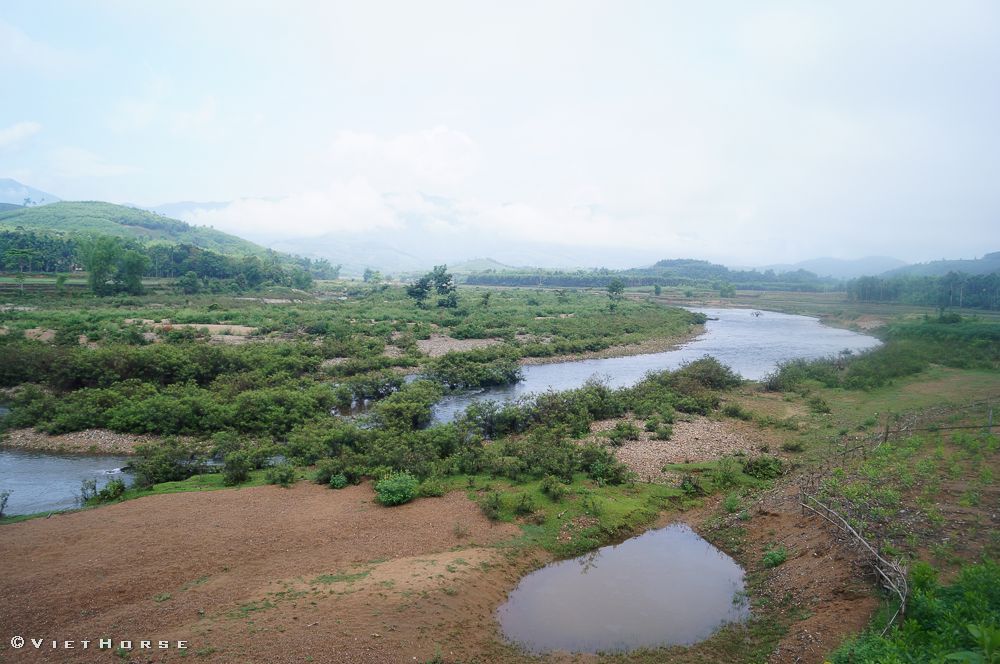 Time for fuel, I crossed a little town: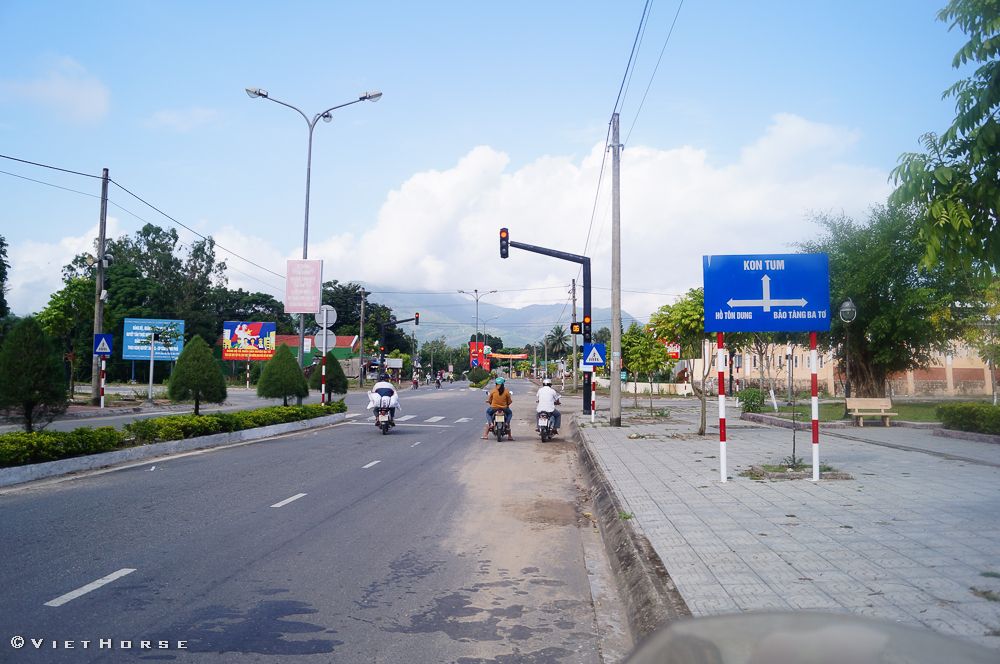 And then continued with the National road #24. This way leads to highland Kontum. There is two awesome passes on this road. However, I would ride on one pass, then make a left turn to the south: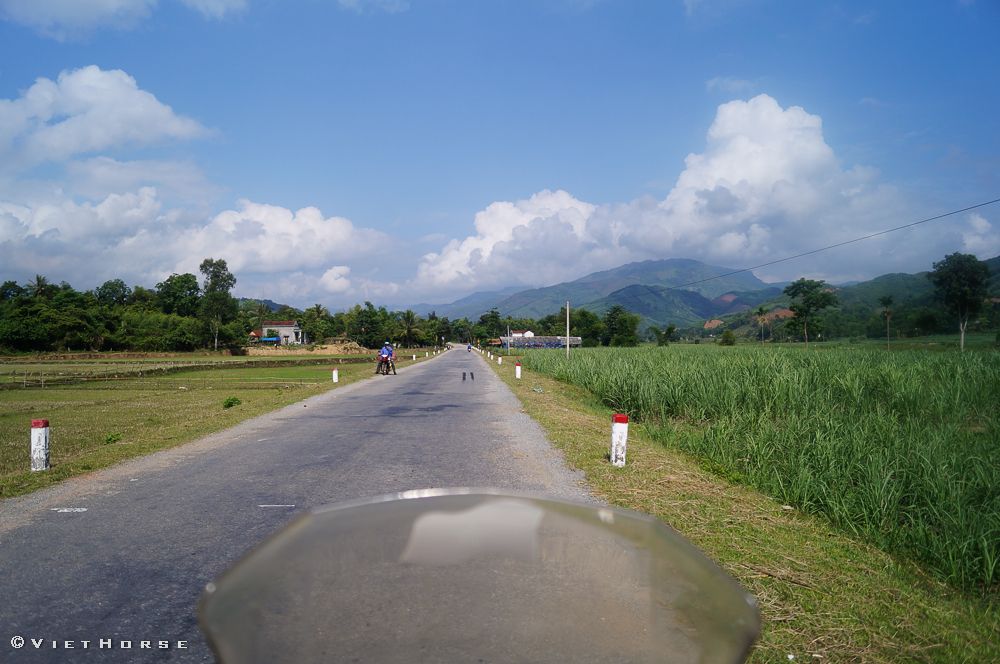 Starting point of Violac pass: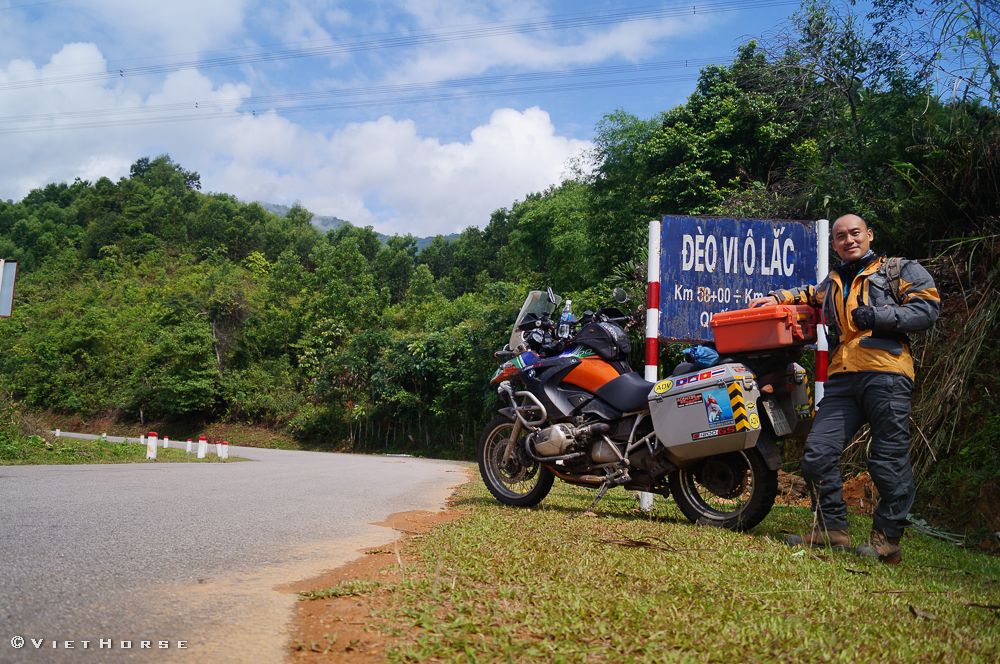 See what I got on the GPS: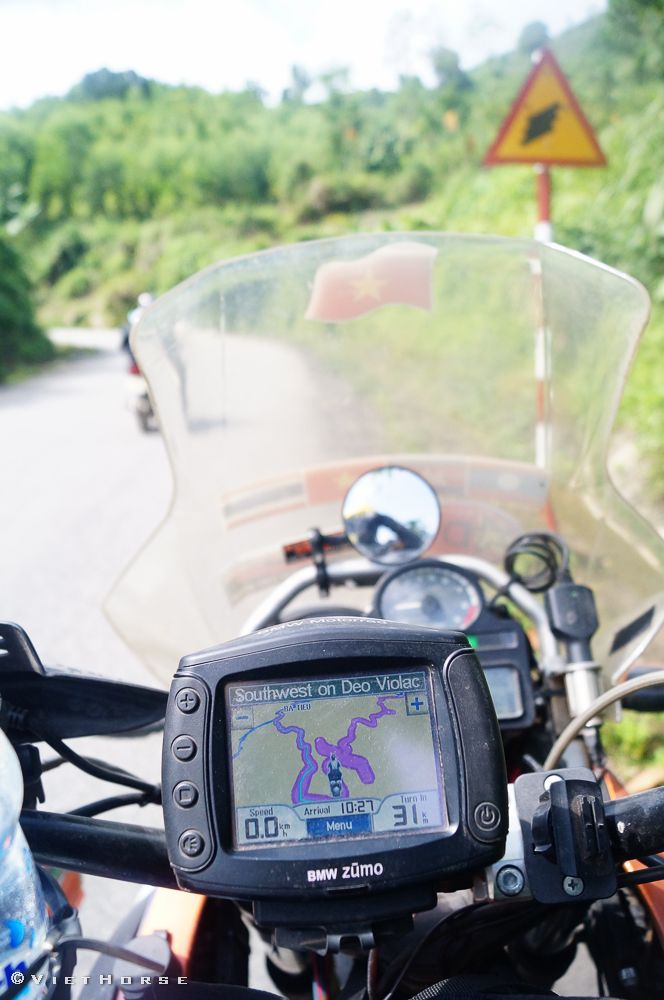 Some green pix on the Violac pass: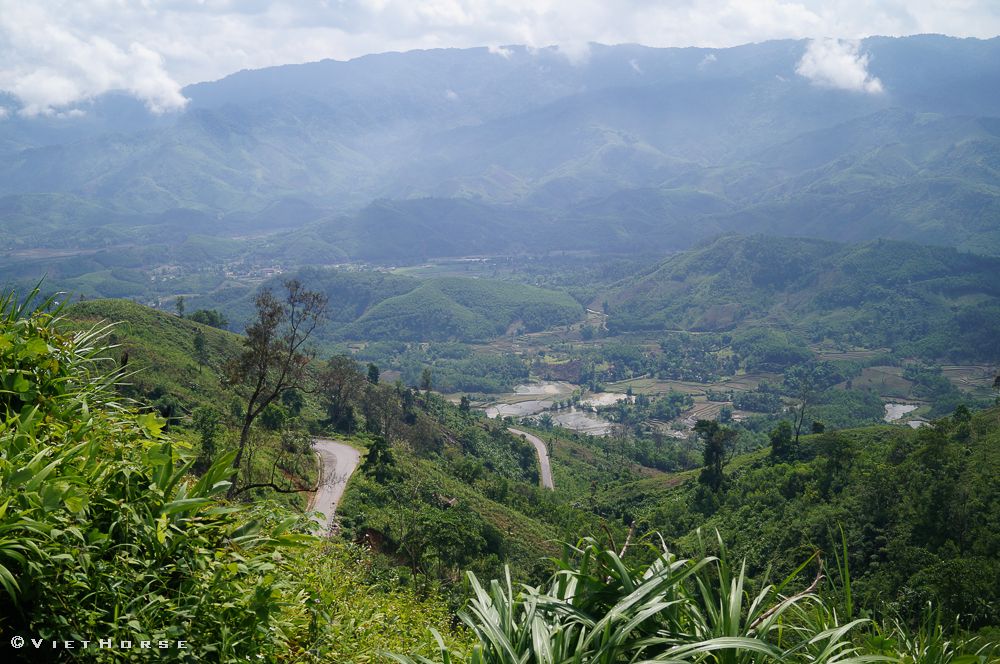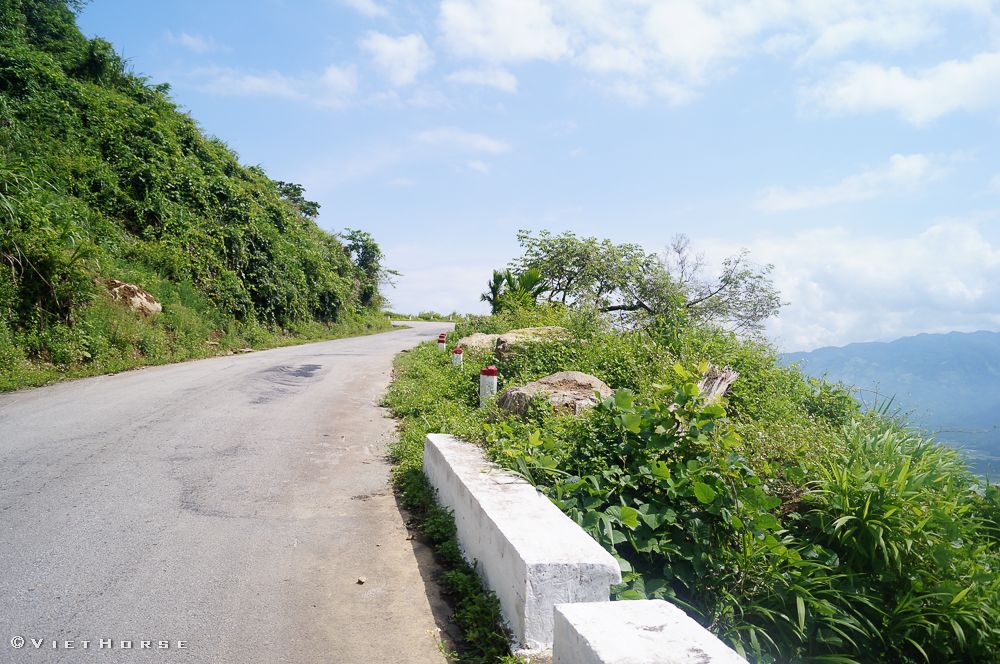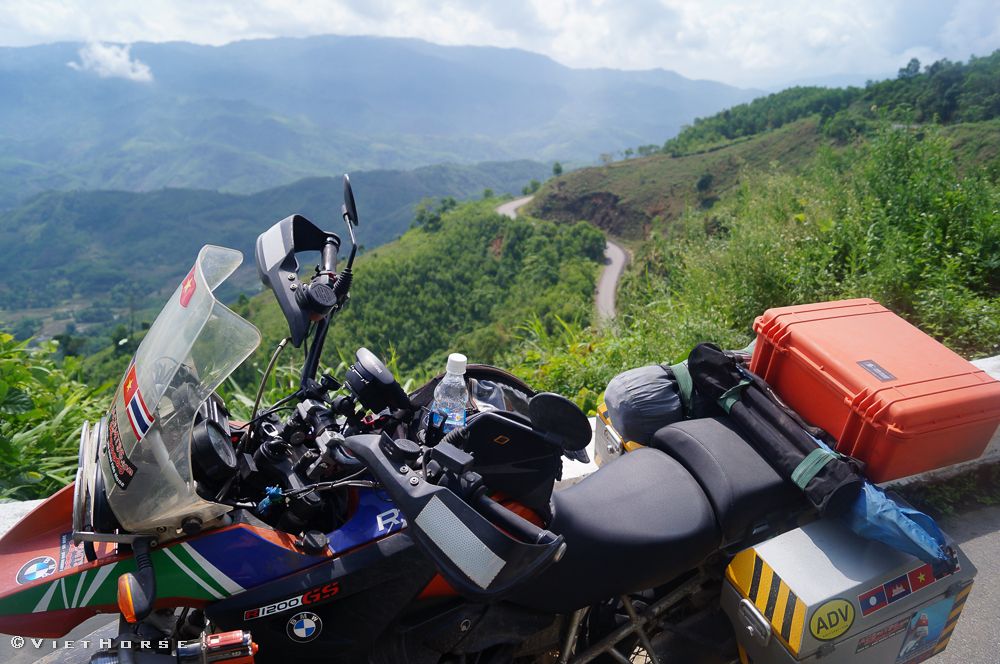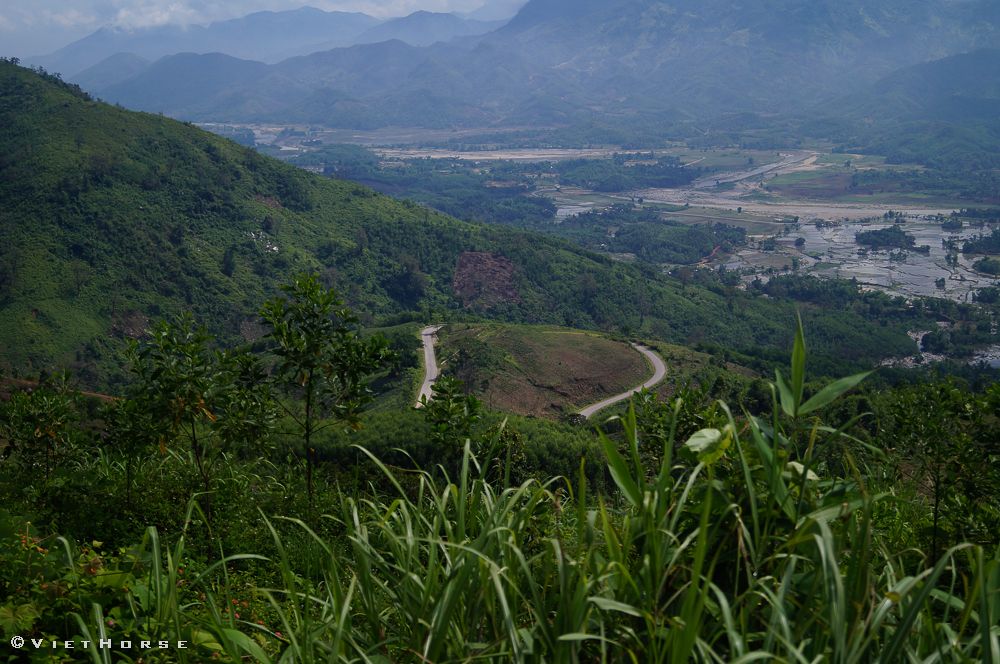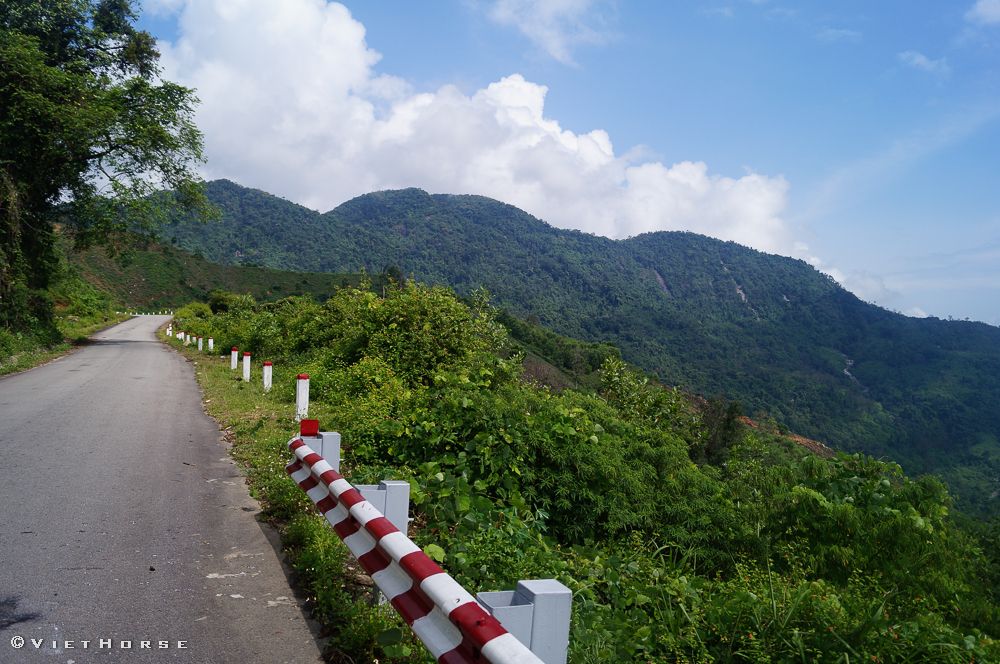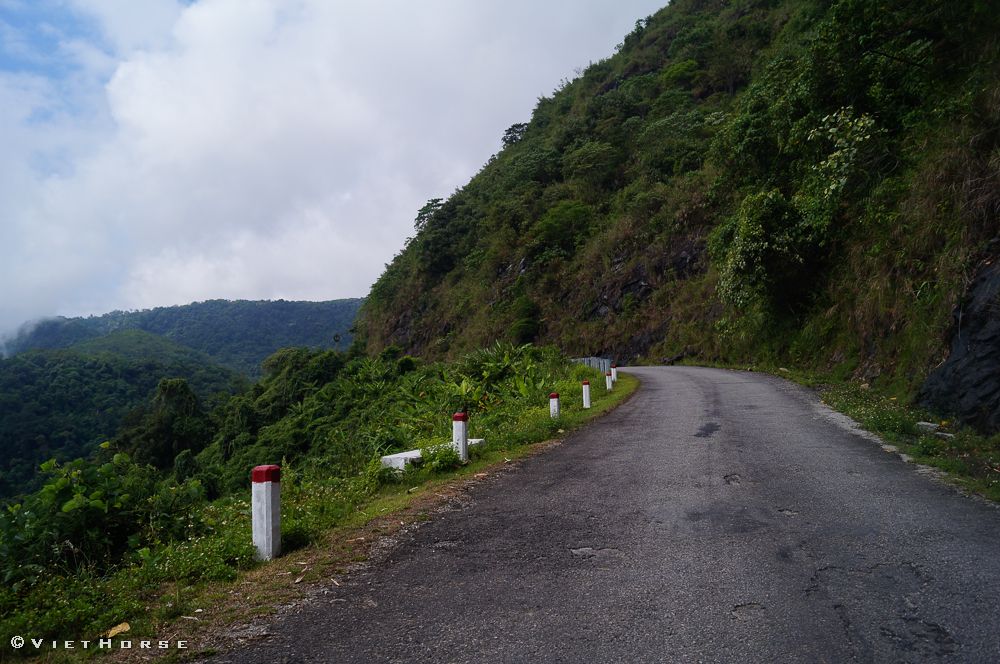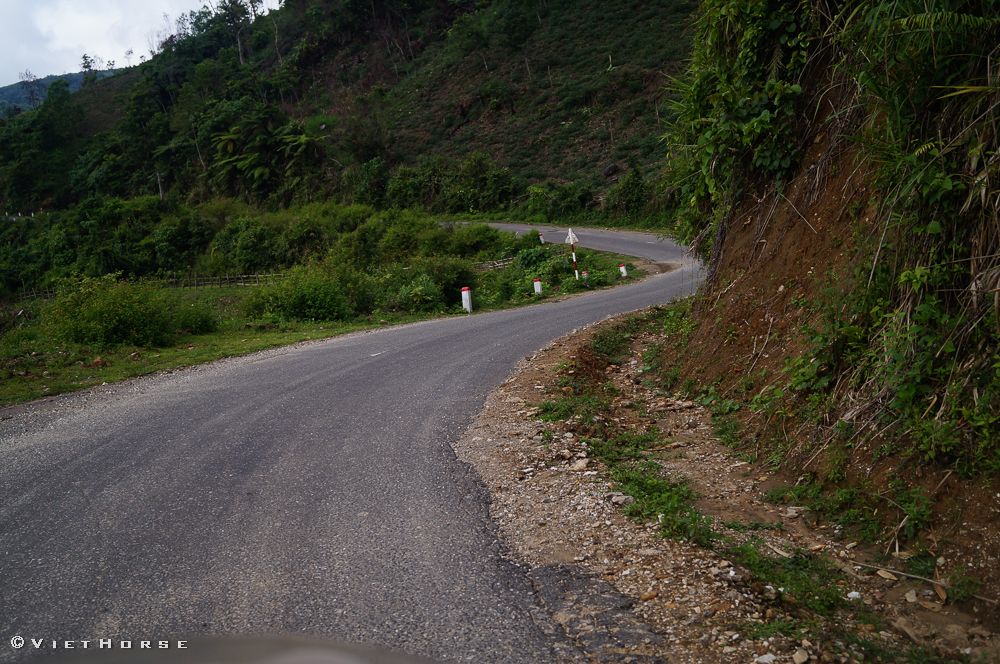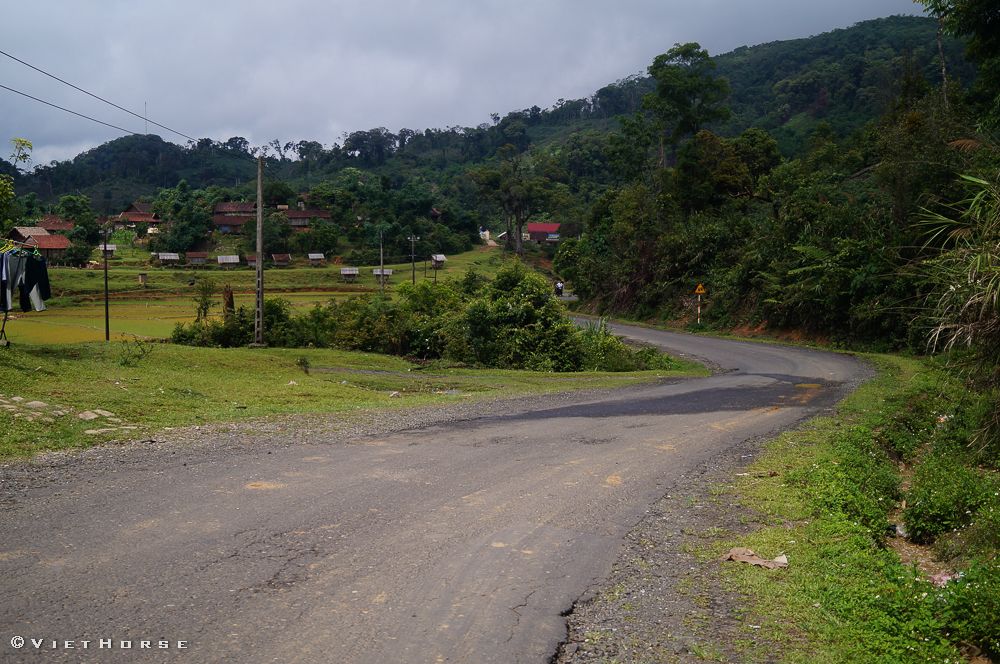 Some small houses on by the road: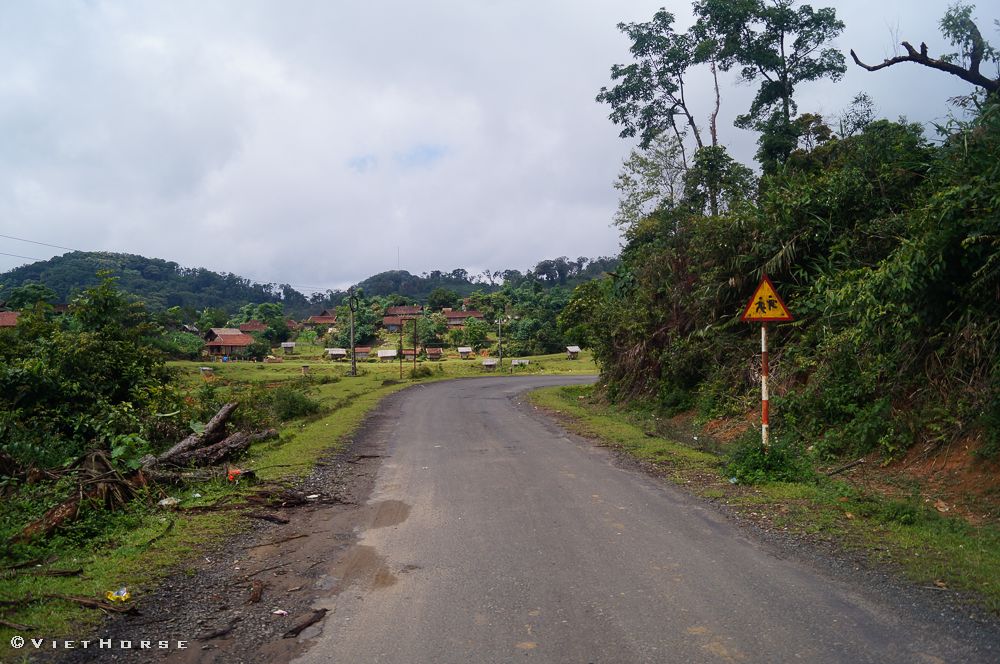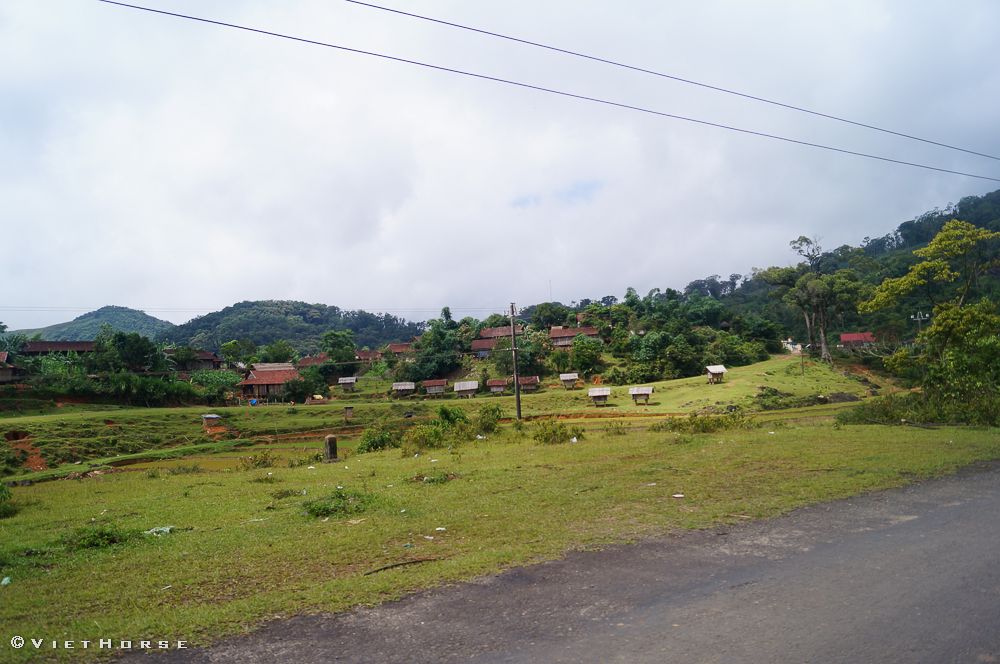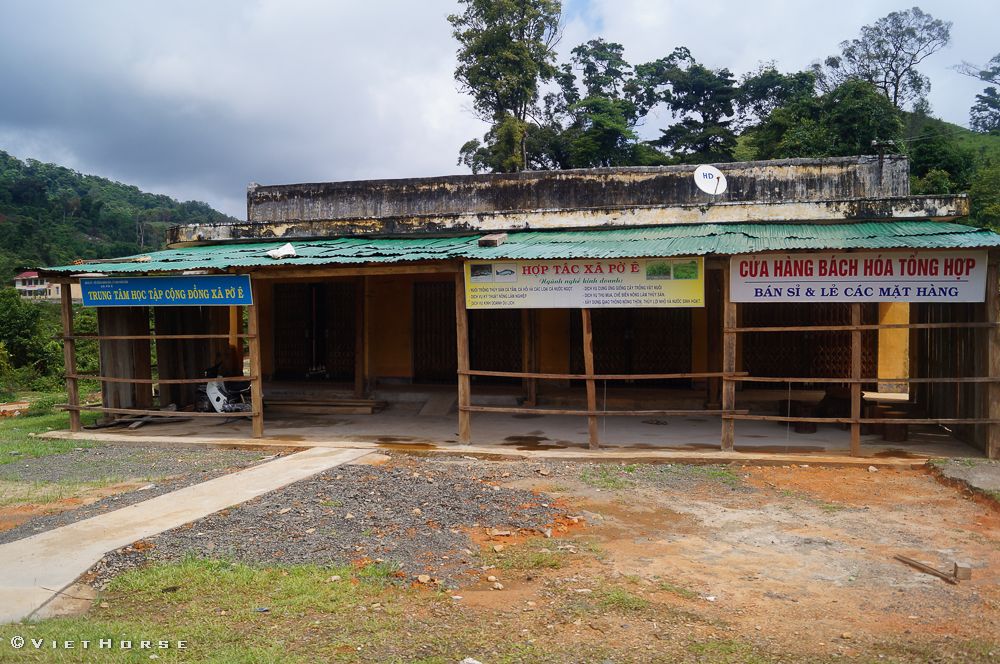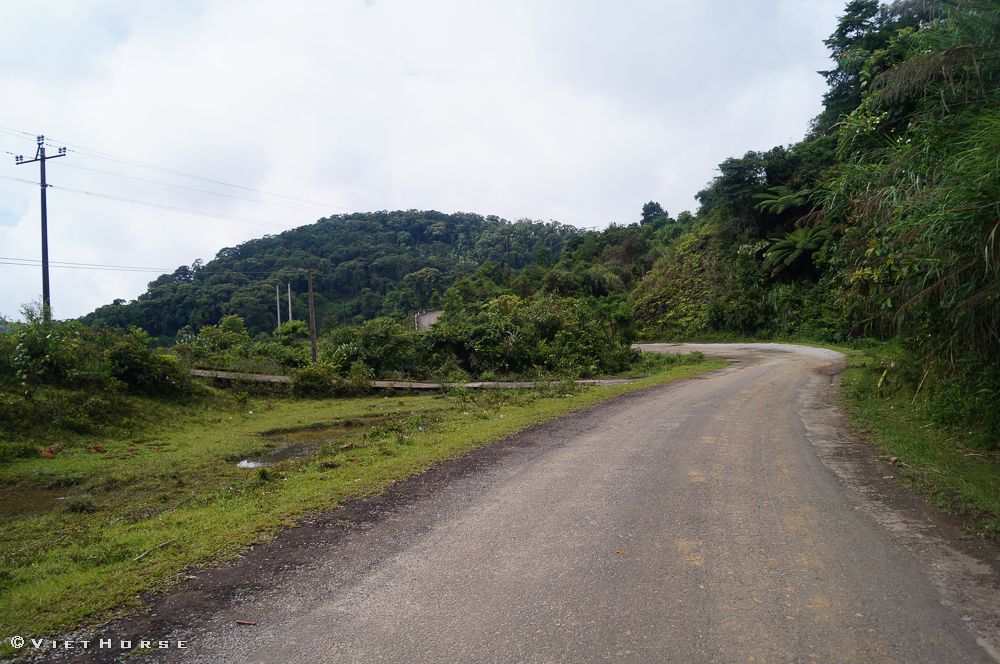 Road started worse: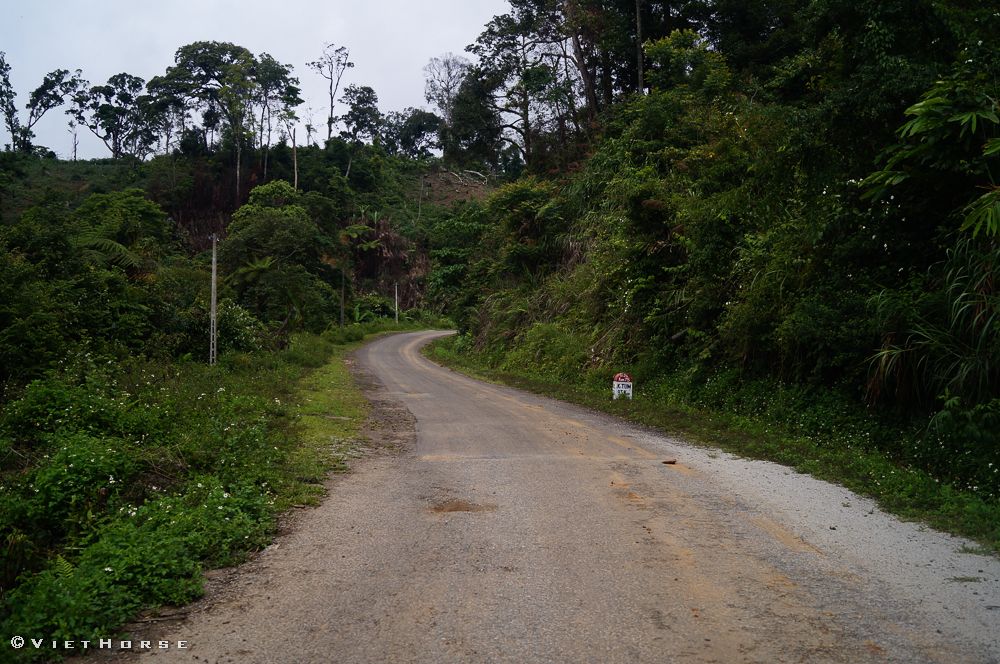 I heard that on this road there are some point with sliding land, due to the recent heavy rain.
And lucky me, not bad road until almost end of the pass.
Finally, it come to my eyes: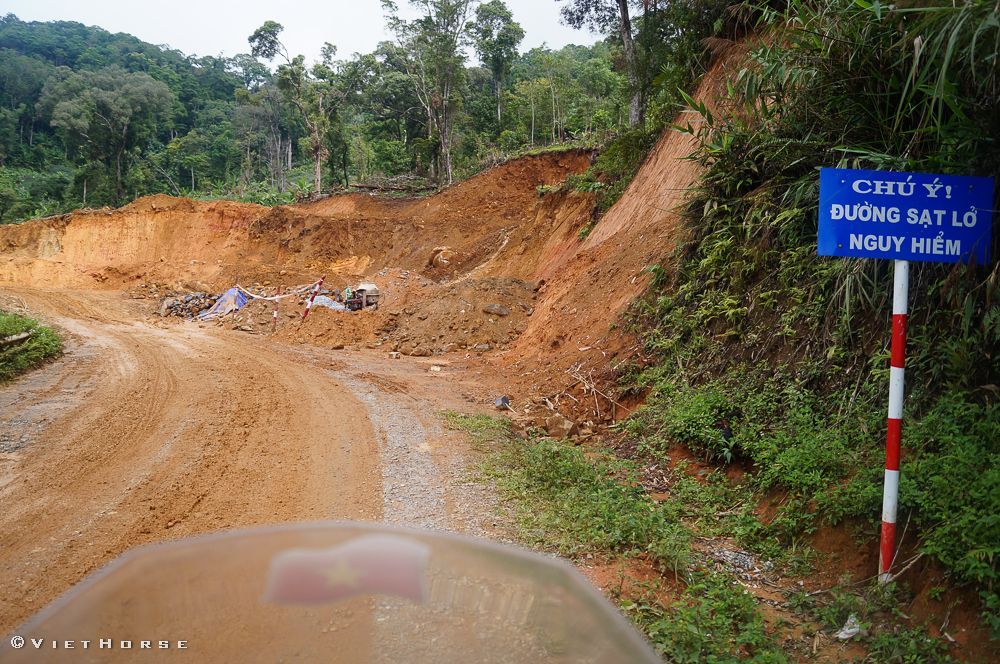 Have I told you guys that I really scare of such kind of road?!
I think my heavy GS is not designed for myself on this mud. If someone taller than me, he may feel it not so much difficult as he can put his both foot on the road. But myself. I just can put one feet at a time. 
.
Once more time, I secured all loose stuff (camera, phones,…) I even took off my gloves to put inside the tank bag. Why? I don't think I would go fast on this so if I felt off, not much impact to my hands. I just worry about my gloves, I don't want to deep my gloves into that muddy sh*t and I have to wash my gloves at the middle of the riding day 
Well, don't know how long was it: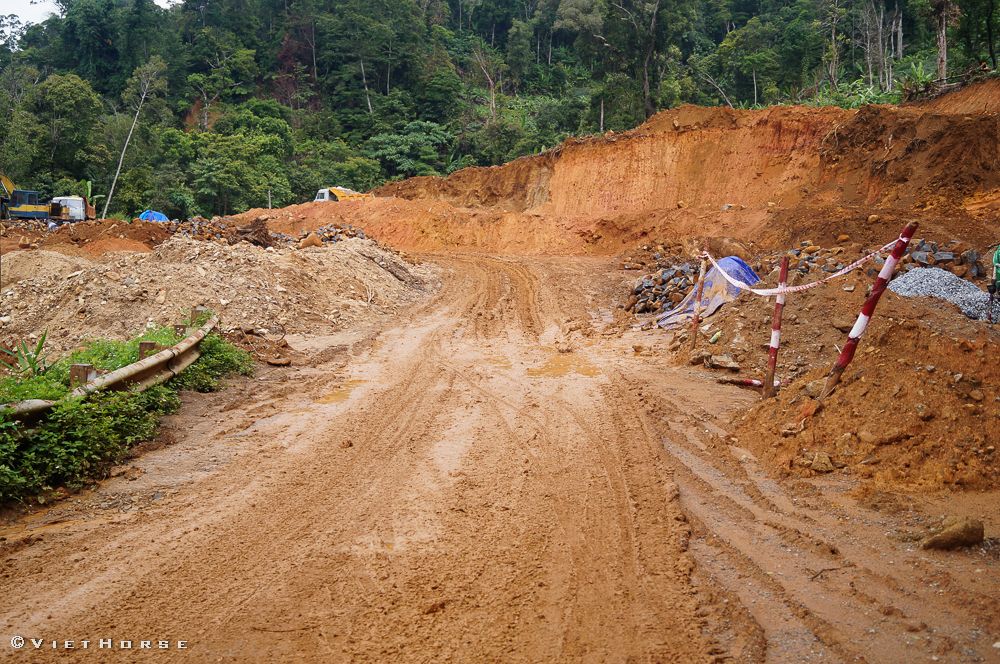 Stored the camera, then I started rolling…. slowly, slowly….
Many times I felt the rear wheel slide to the sides, really scary…
I remember when I was dropping my bike in the early morning, I can put the bike up right as it was pretty dry, no rain, no mud. If I dropped the bike here, on the 3″ thick mud could really be a nightmare.
Sometimes I put my feet down to the mud, and honestly to say, I did not feel the road under my feet. I just dump my shoes inside the soft mud, and could not feel the hard road surface.
Well, lucky me, I passed that muddy porridge with no dropping.
Looked back: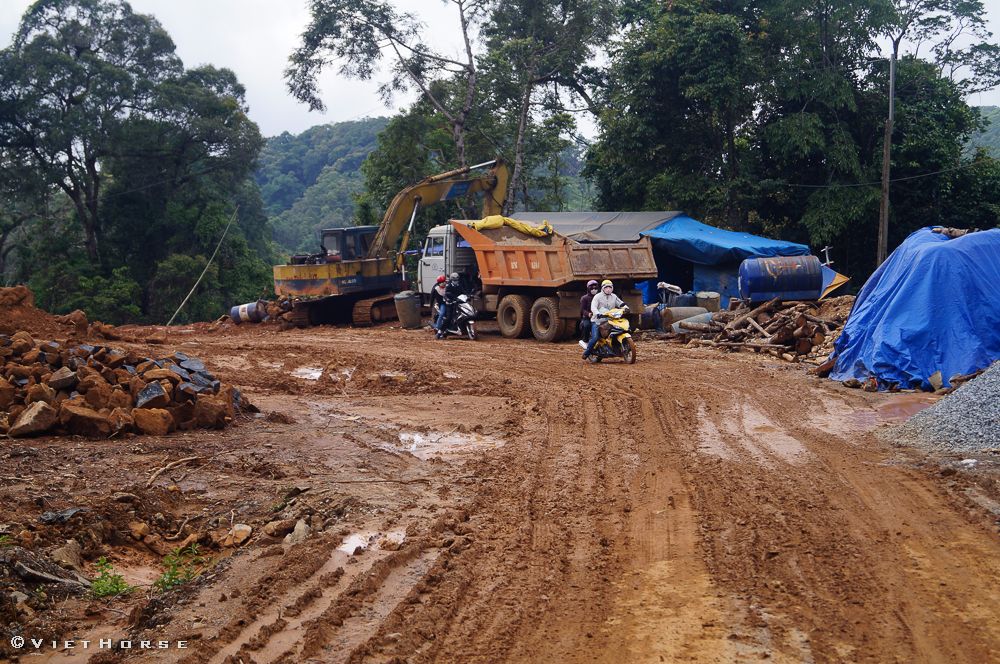 I was wishing my bike could be lowered down as those scooters: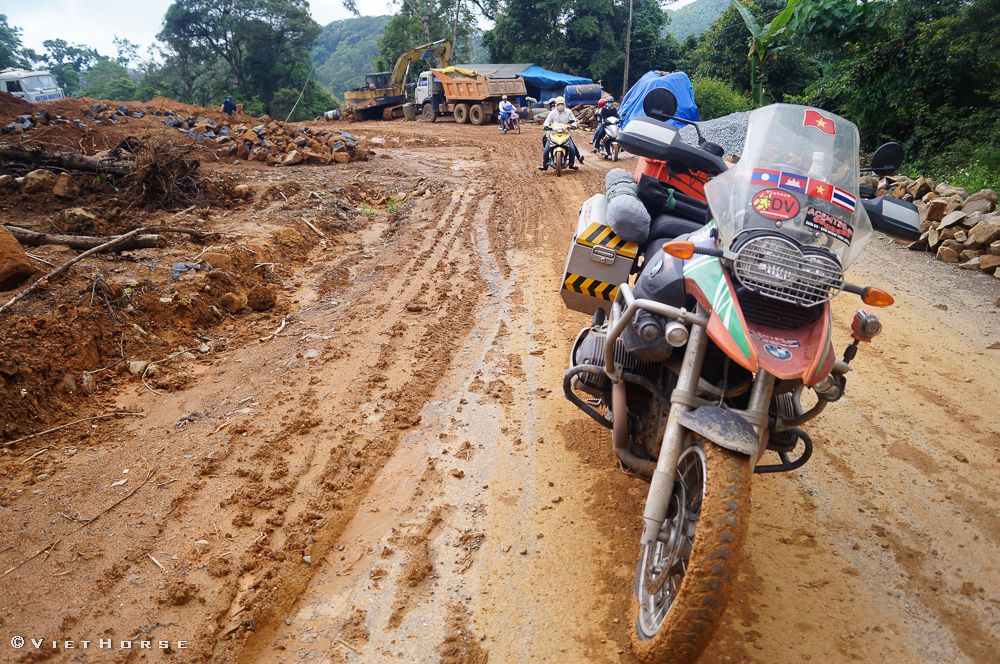 Something for me to bring with: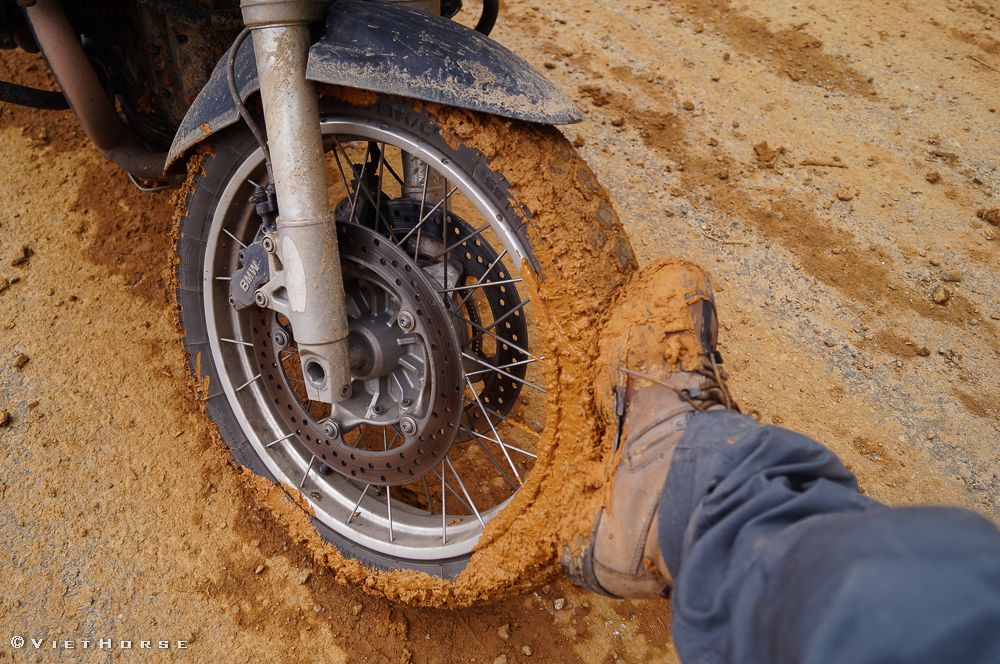 Left the slippery place, it was toward the very nice highland town. The town is called Mang Den – people called it is another Dalat. Because that area is really nice place, cool weather, with many pine trees.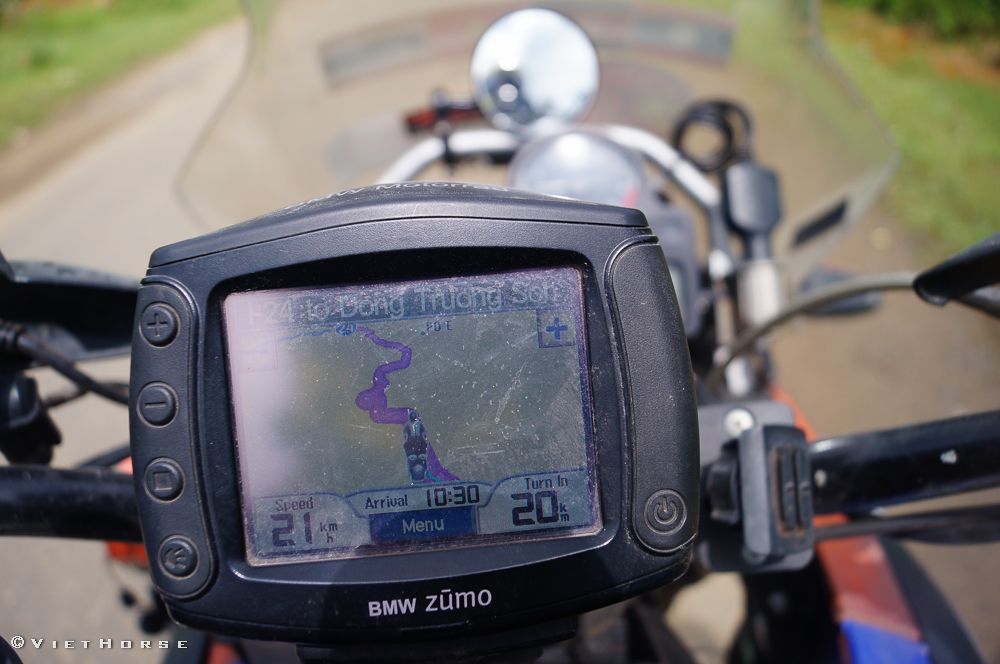 Around 10miles to Mang Den. I seemed reaching a high and flat point.
In the below pix, you can see some houses, they looked like school for kids and also the provincial office buildings.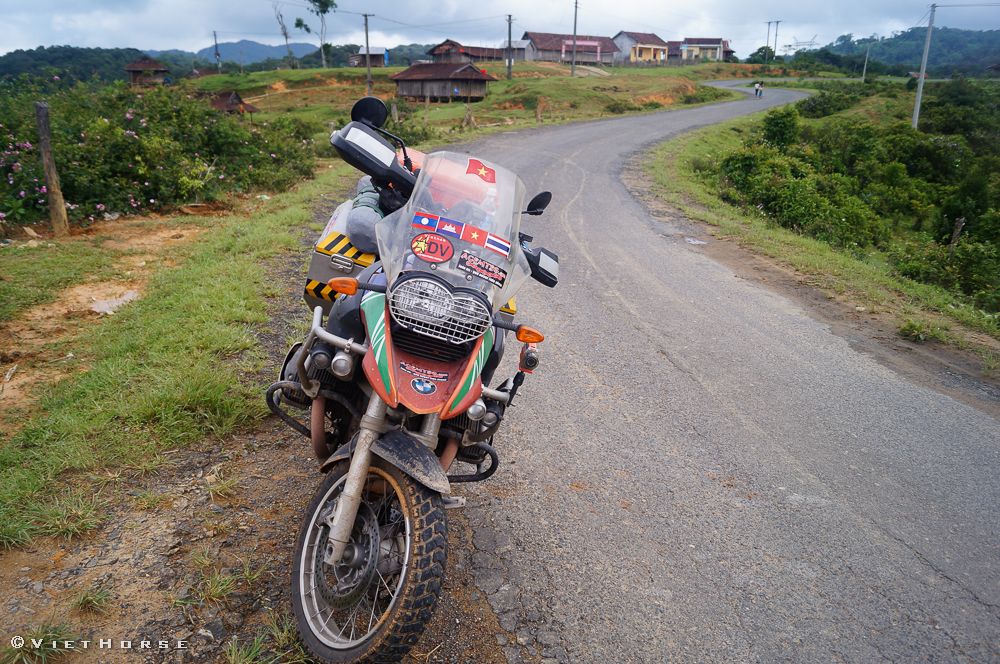 Highland people in Vietnam normally build such kind of houses, with a low store at the bottom.
Sometimes, you can find people raise pigs, ducks, chicken, dogs, or even buffalo or cow underneath their house.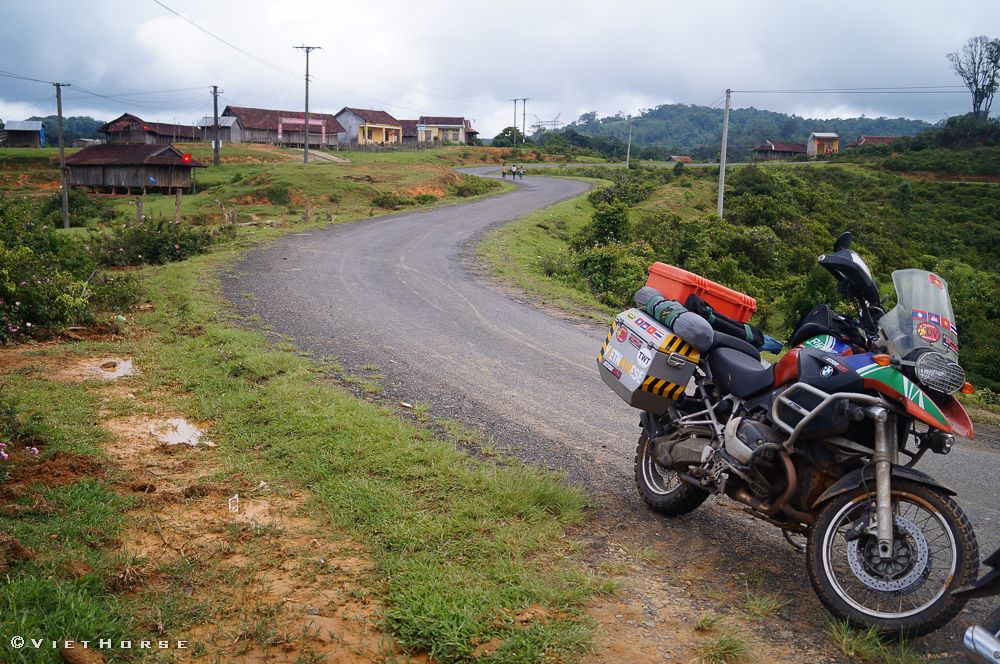 A nice and peaceful corner: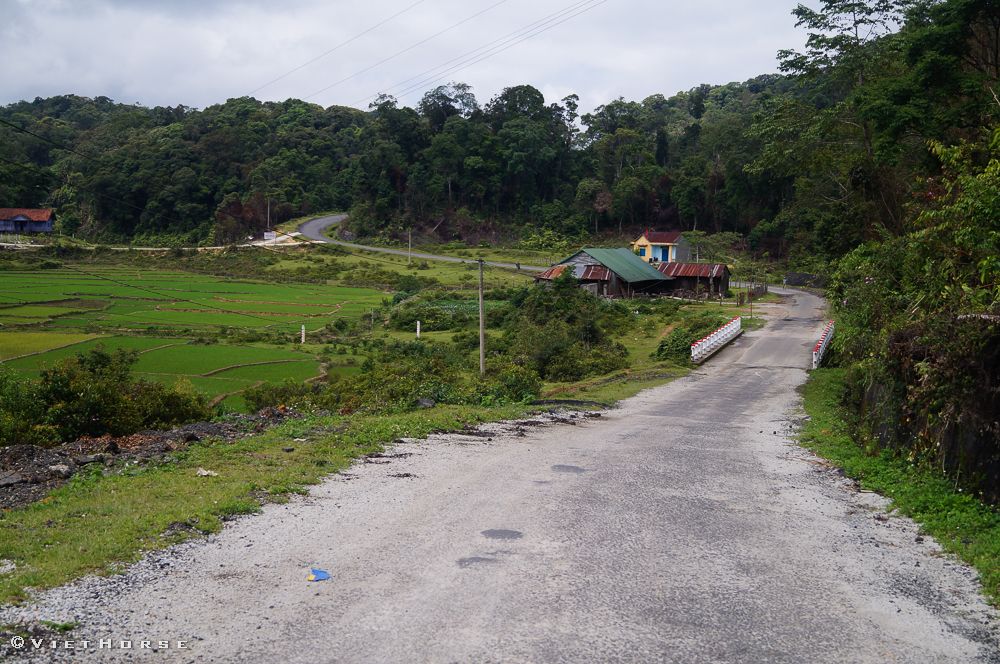 I turned left to Hochiminh trail before reaching Mang Den. The road seemed newly being renovated: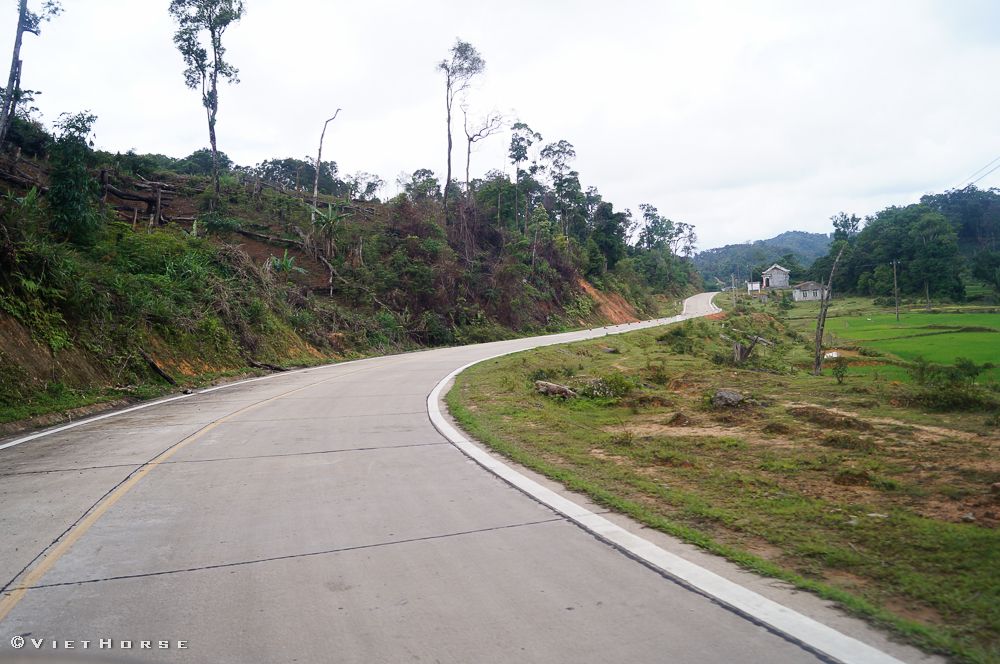 It's really new road. Looked like no traffic here since I turned in.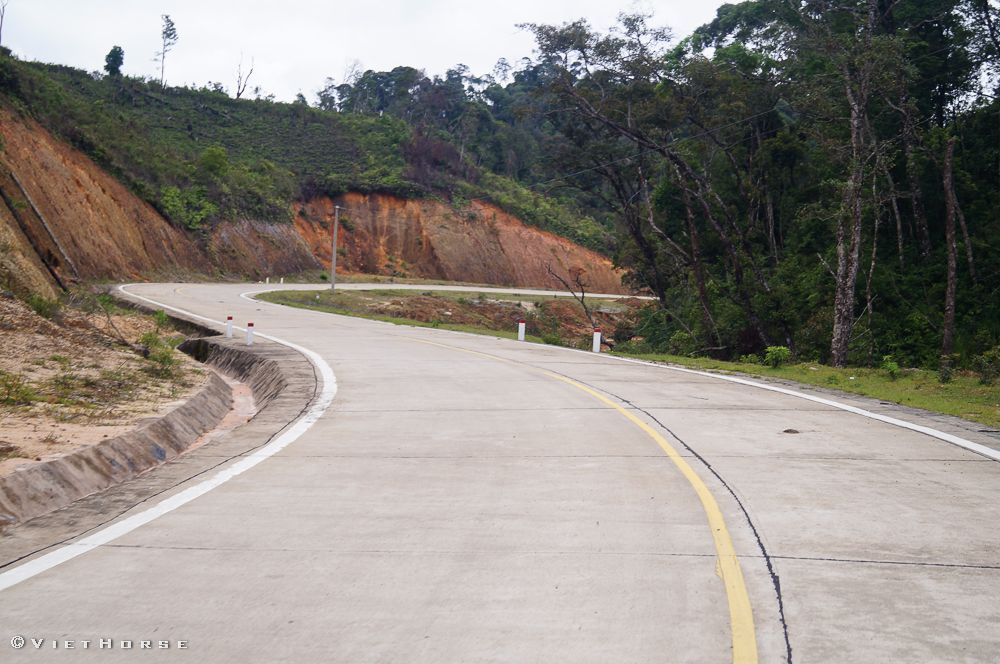 This road was actually a trail. And it was a branch of Hochiminh Trail, i think it is called East Hochiminh trail.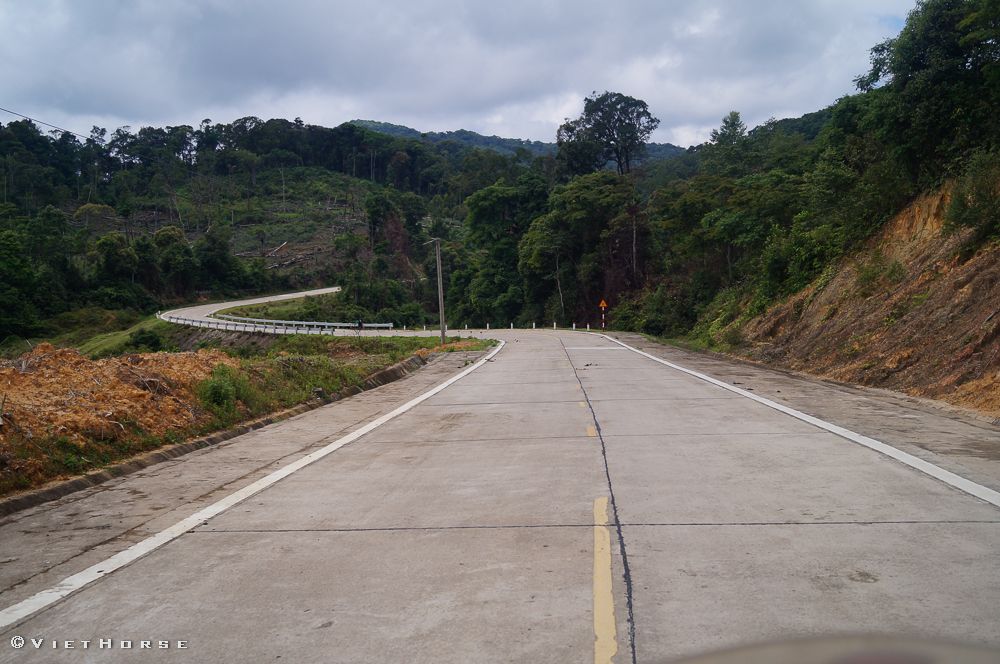 Unlike the East HCM trail from the north, made by asphalt; this one is concrete, same like the West HCM trail – which is nearby and along side with Vietnam-Laos border: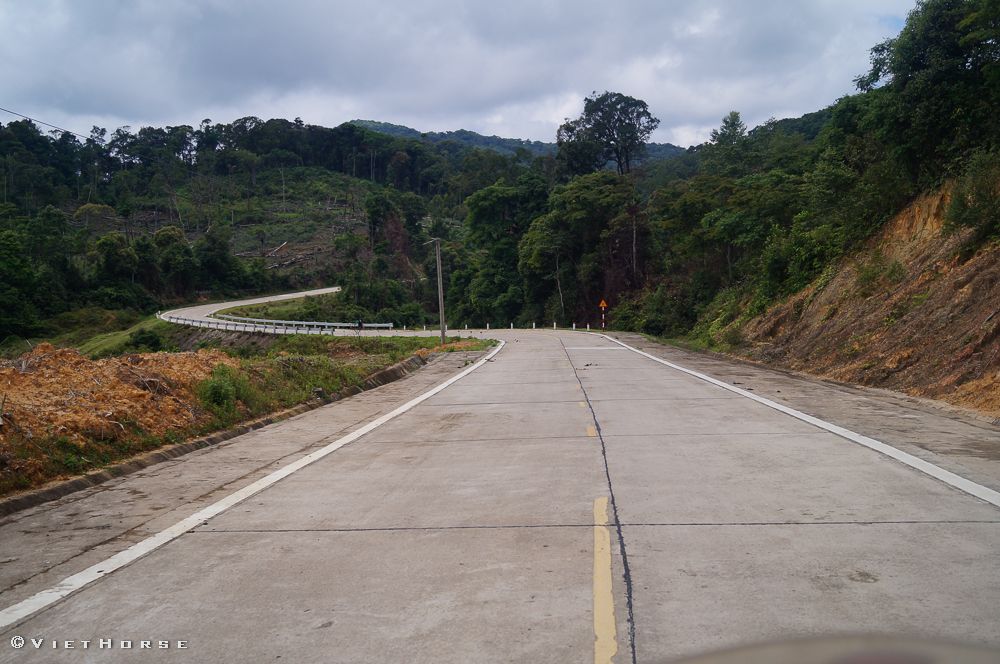 Sort of selfie:
Sometimes it 's just straight up like this for miles: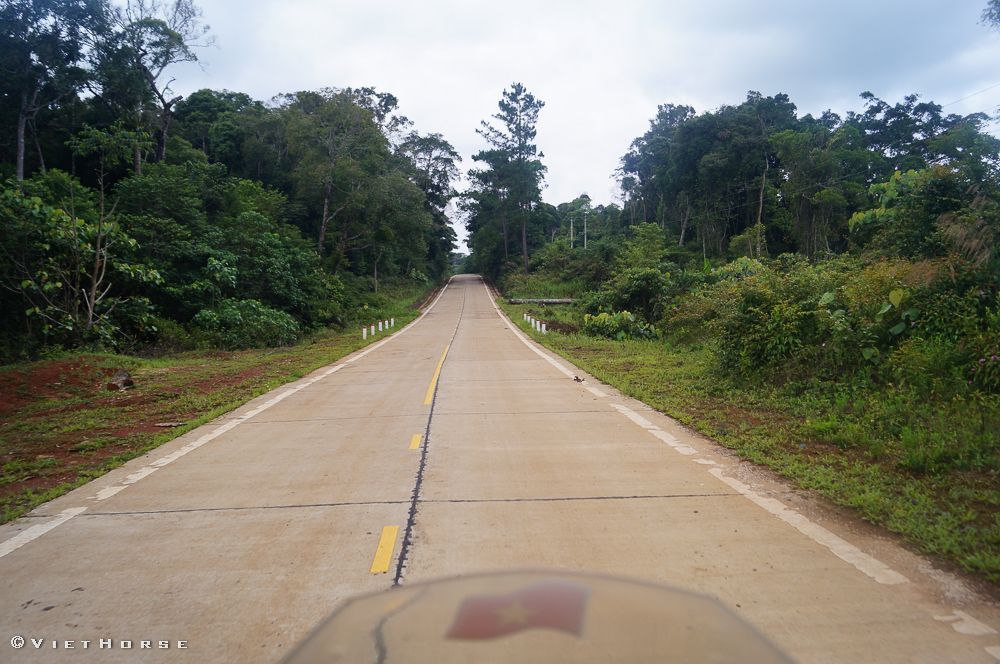 Or continuously bend….
Signboard says the Natural reserve Konchurang is 1km on the right: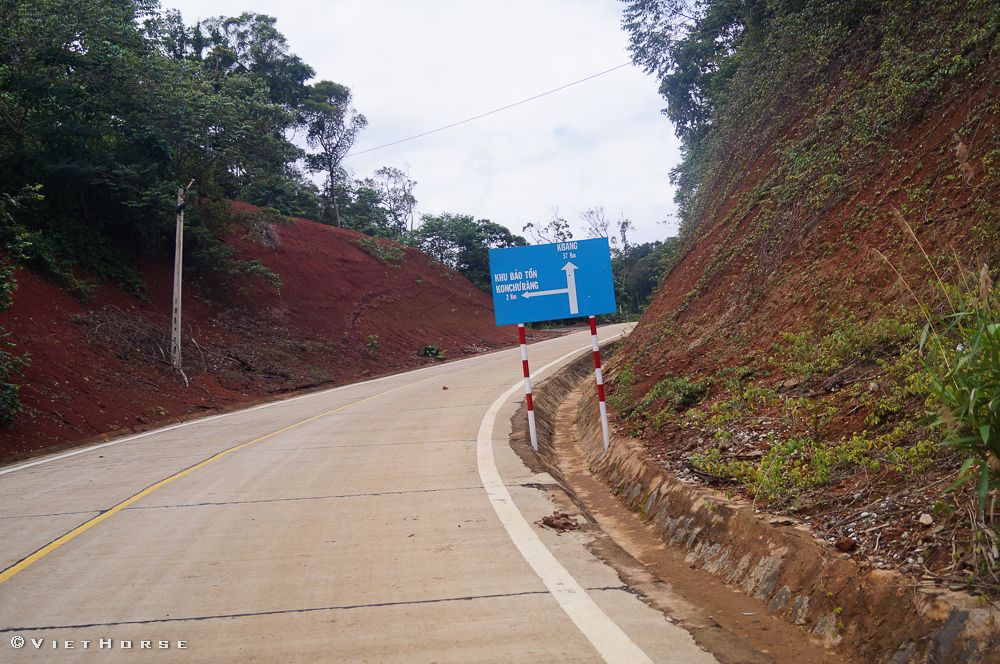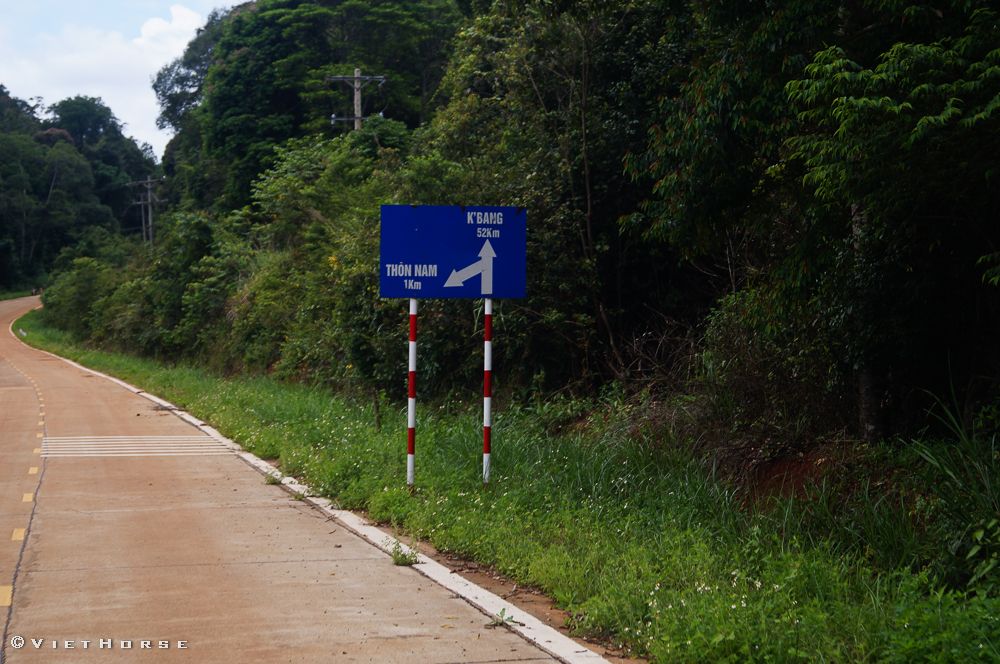 Continue with the Hochiminh trail and some signboards: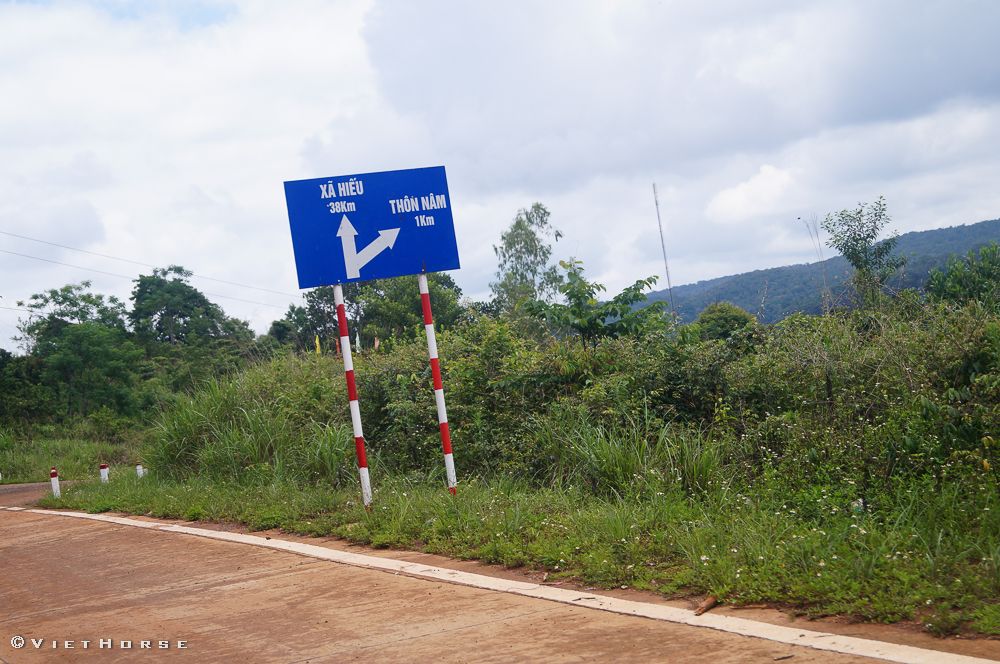 Someone doing not good thing to mother nature: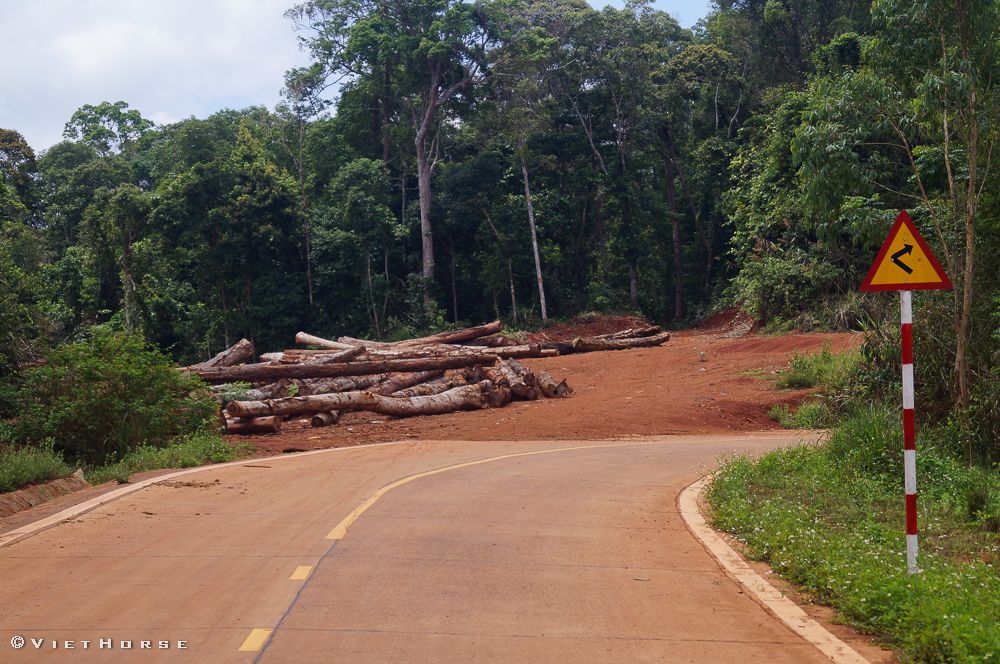 How much is your lean angle at this corner?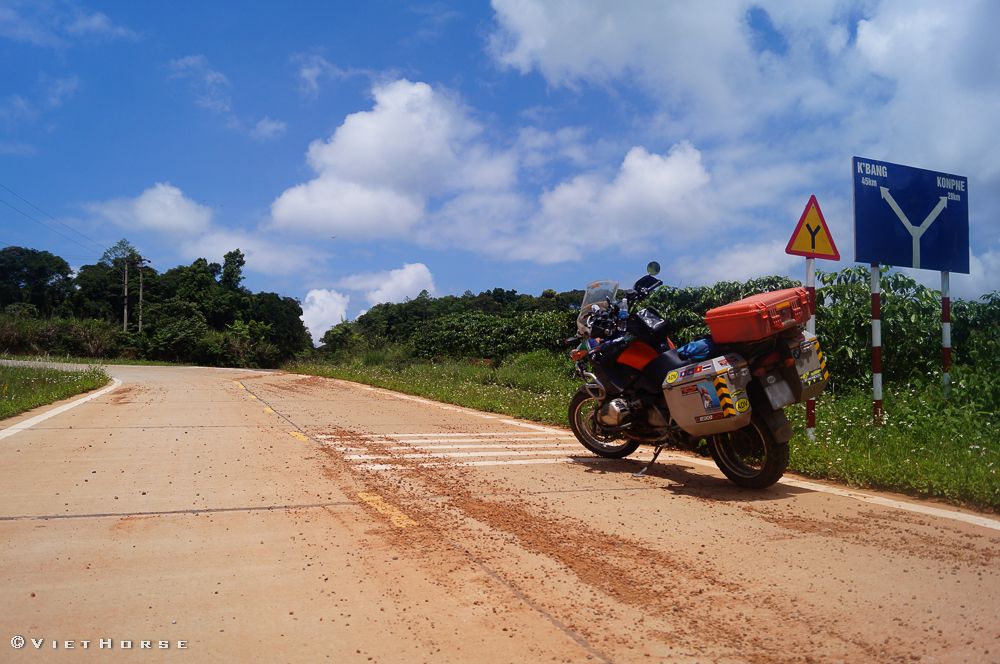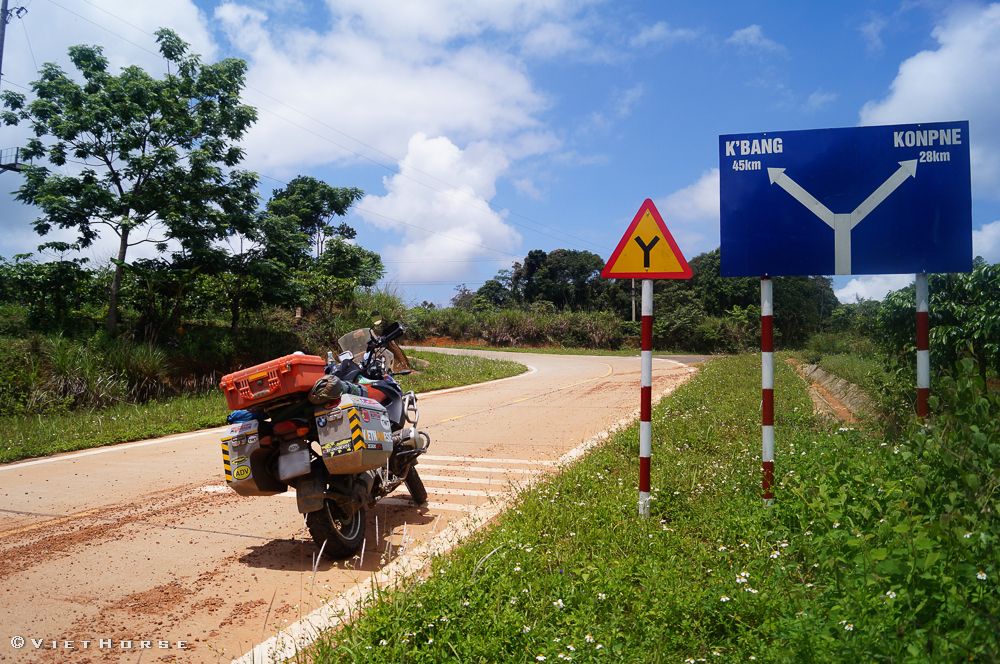 A pano talking about protecting forest.. in Vietnamese, but not the common Vietnamese which I can understand: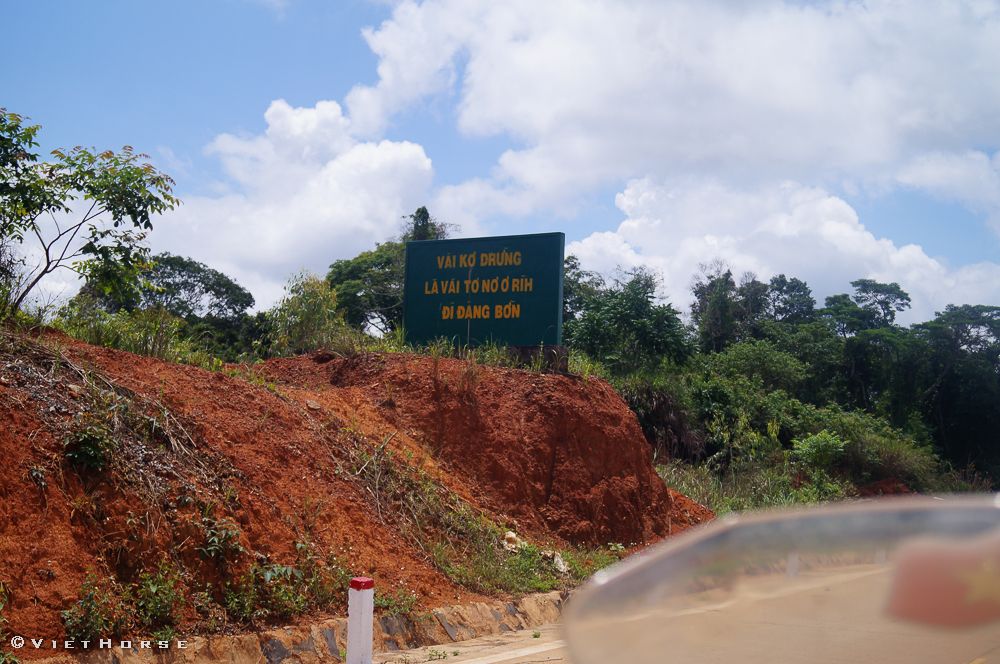 Stopped for some drinks at K'Bang: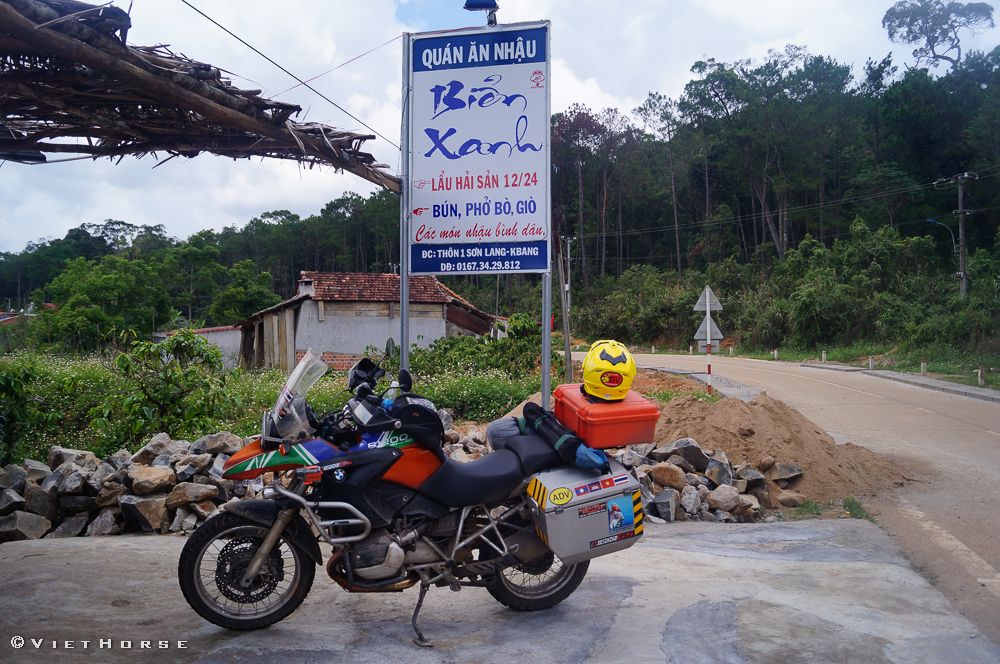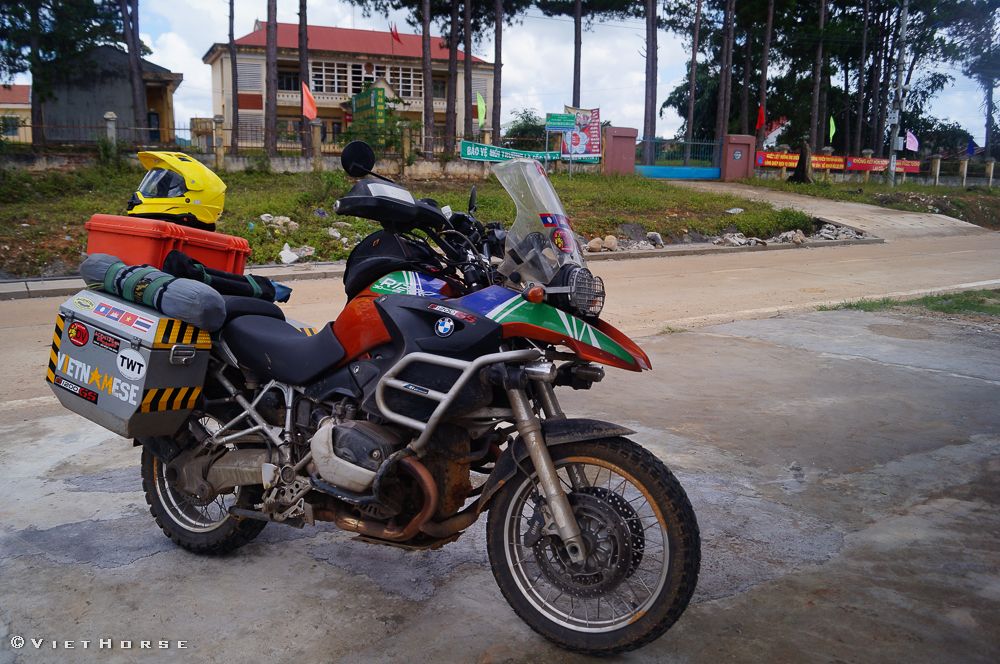 Well, my GS has dirt: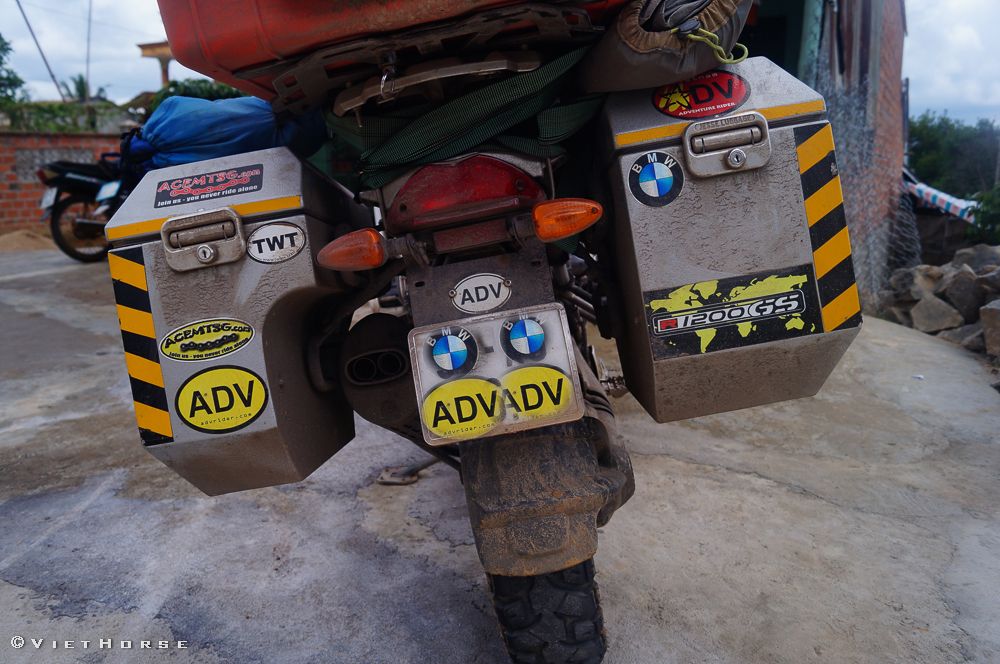 Quickly got back to the saddle.
Oops… WTF!!??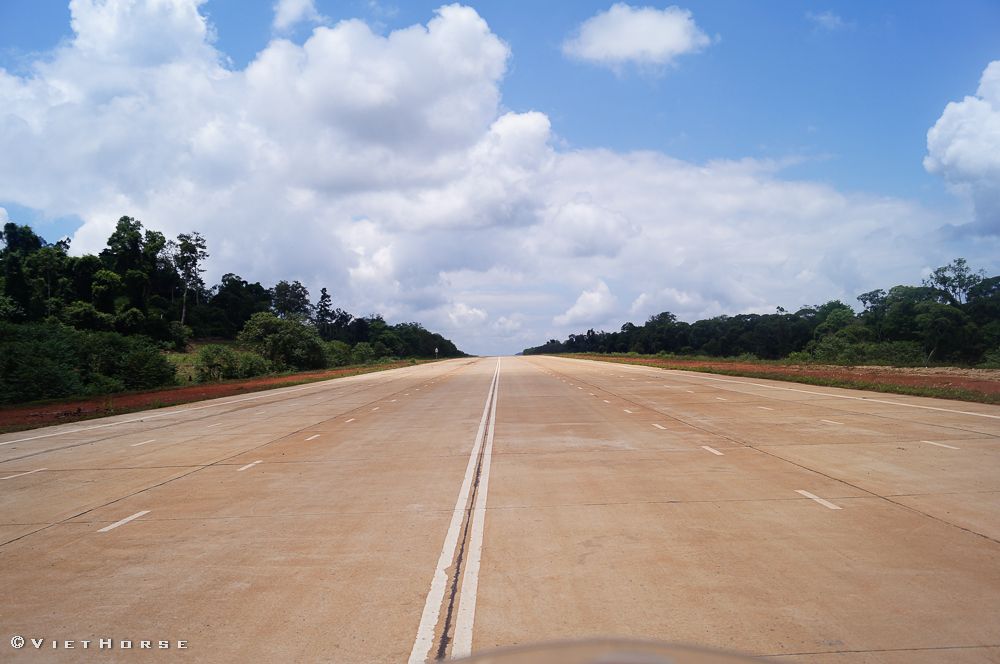 Well, it's a run way, no wonder: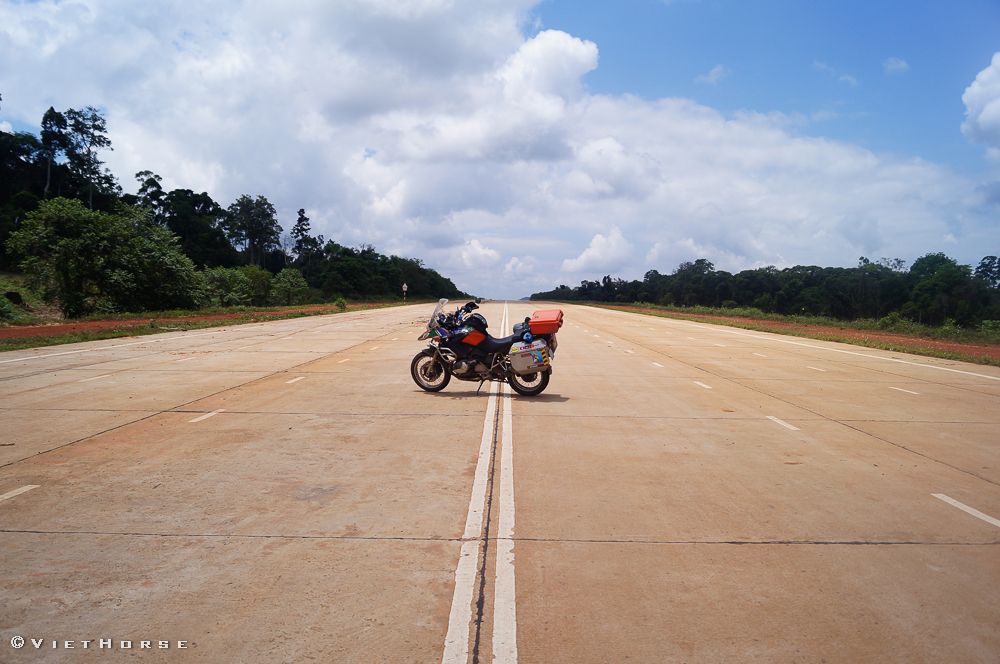 Many of these around Hochiminh trail.
Reached the area where I can find people 
: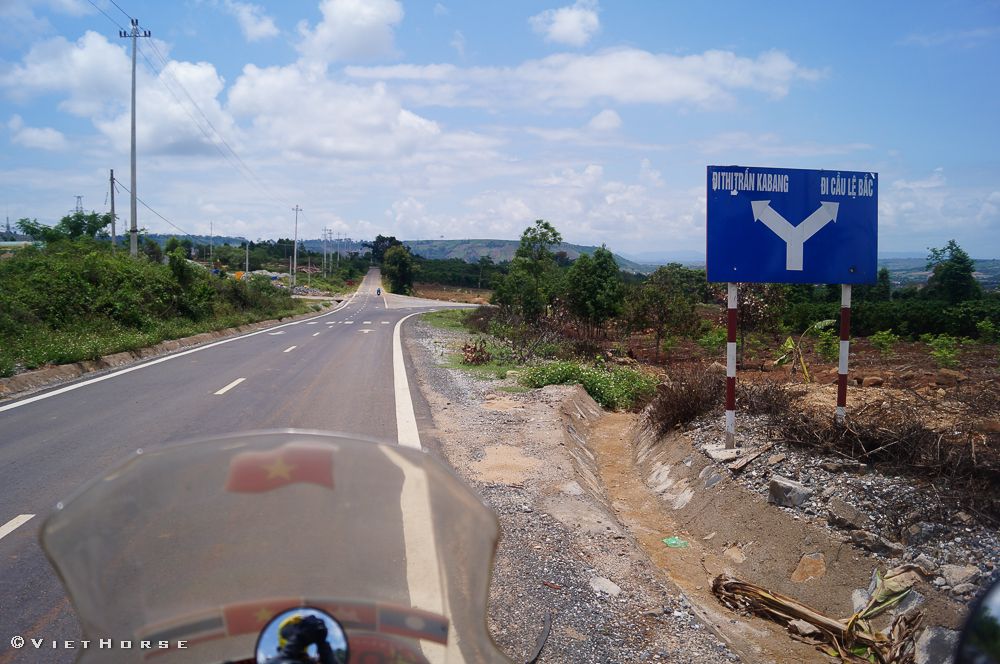 And have gas for my bike, food for me. At K'bang:
My lunch, let's say USD1.2: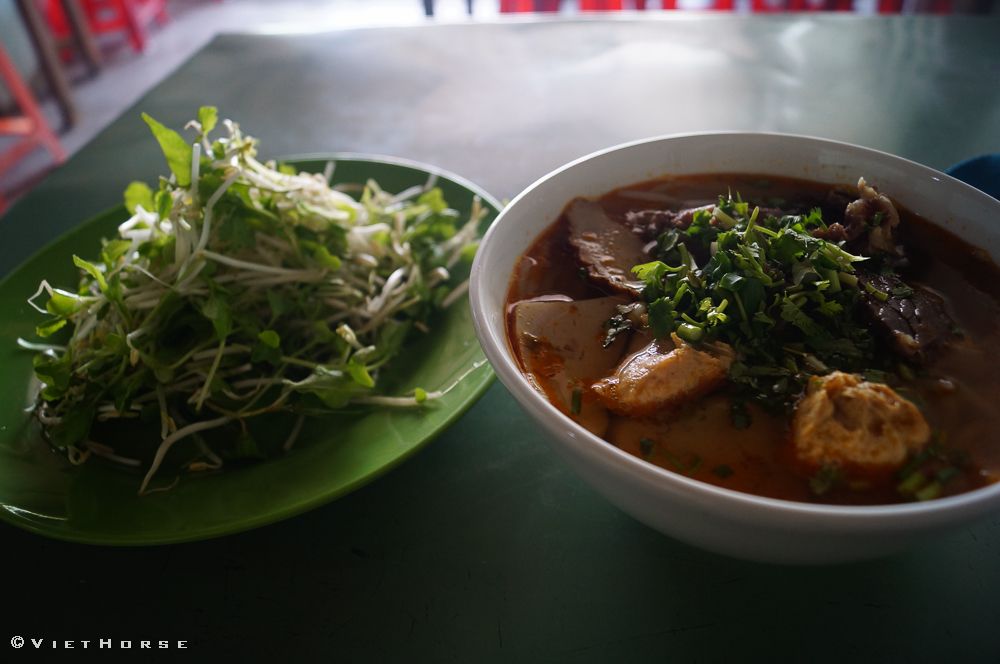 So sorry for my tires, they are not for the slab riding!!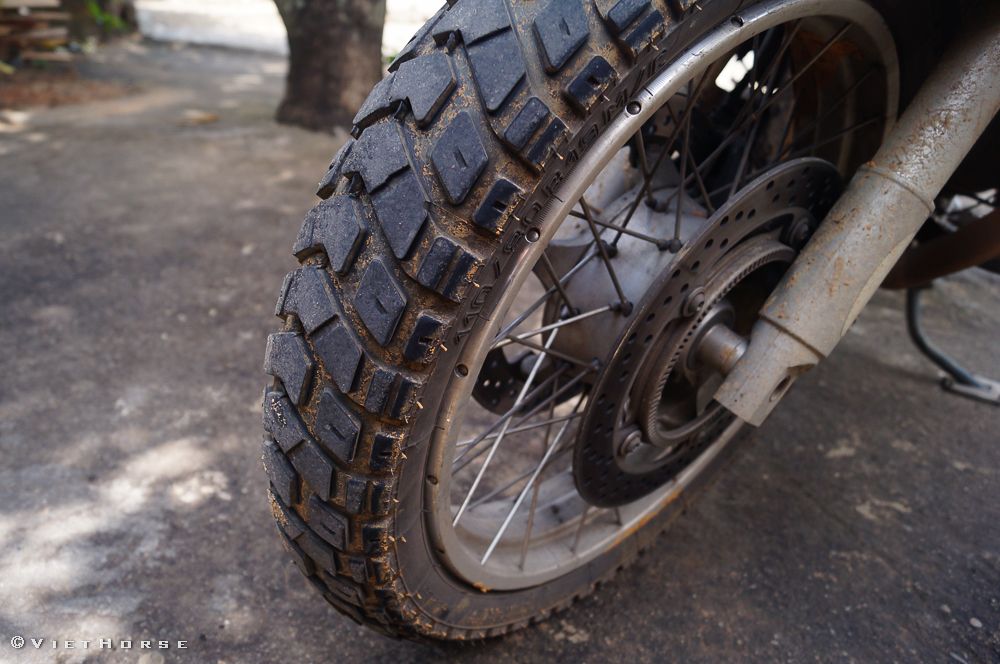 Leaving K'bang – hot and empty road at noon time: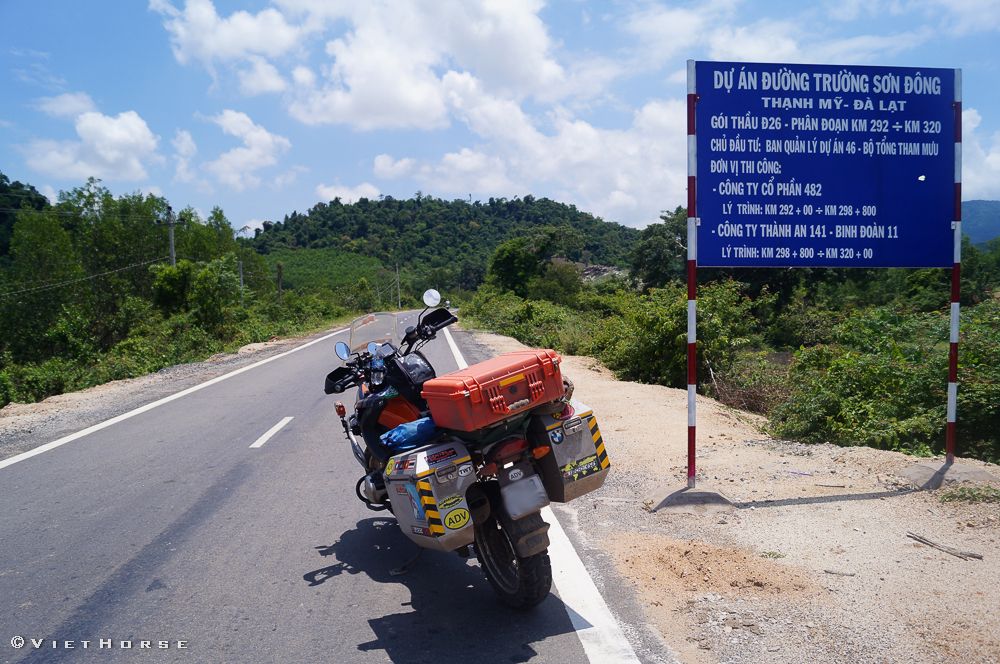 Hochiminh trail renovation project: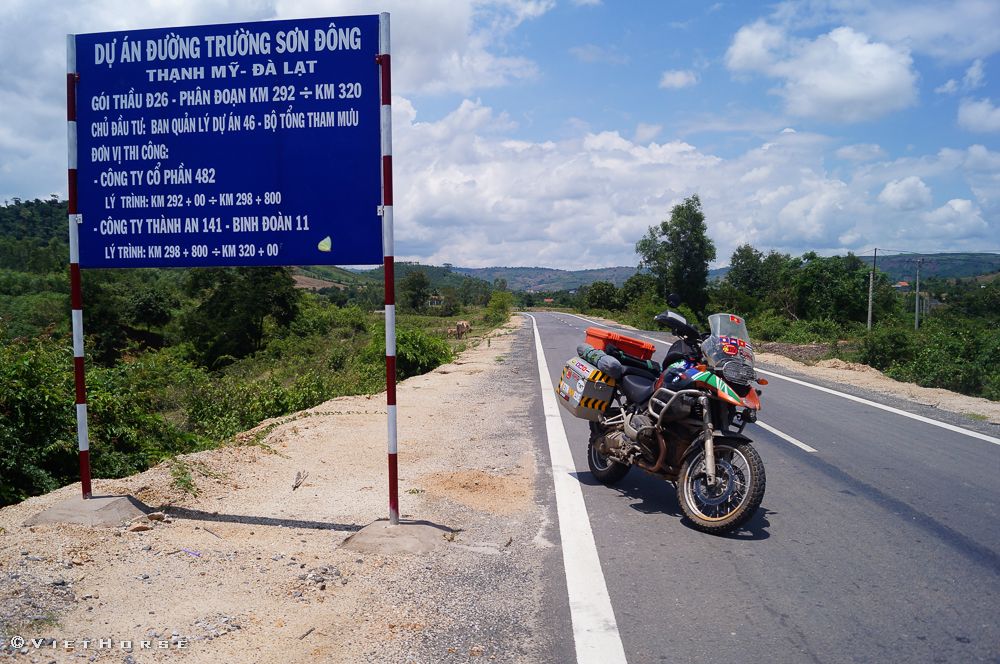 Some random pix of Vietnam scenery: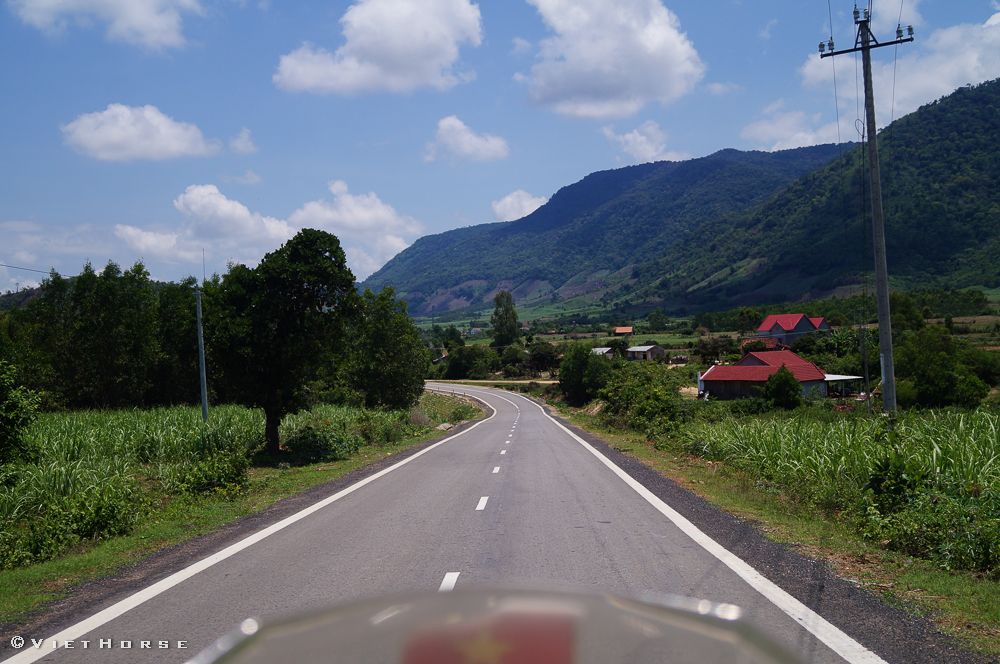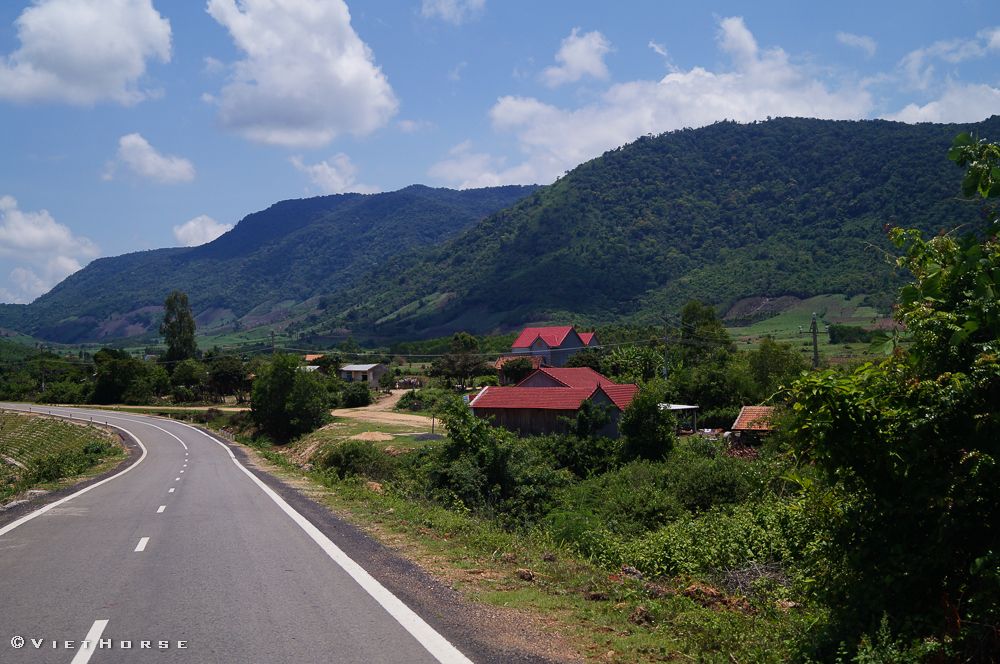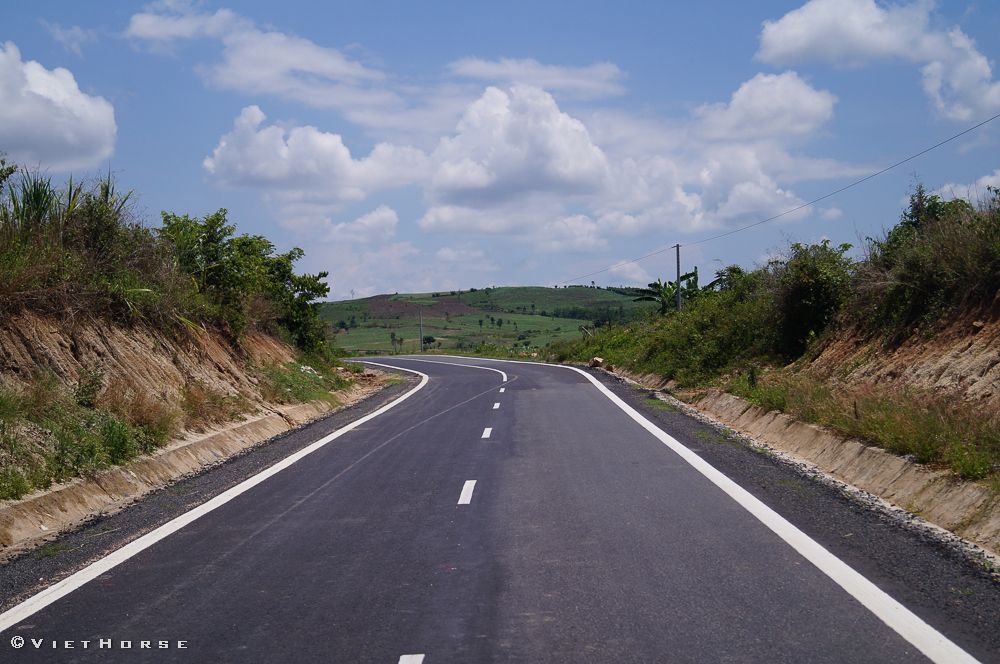 Lonely road…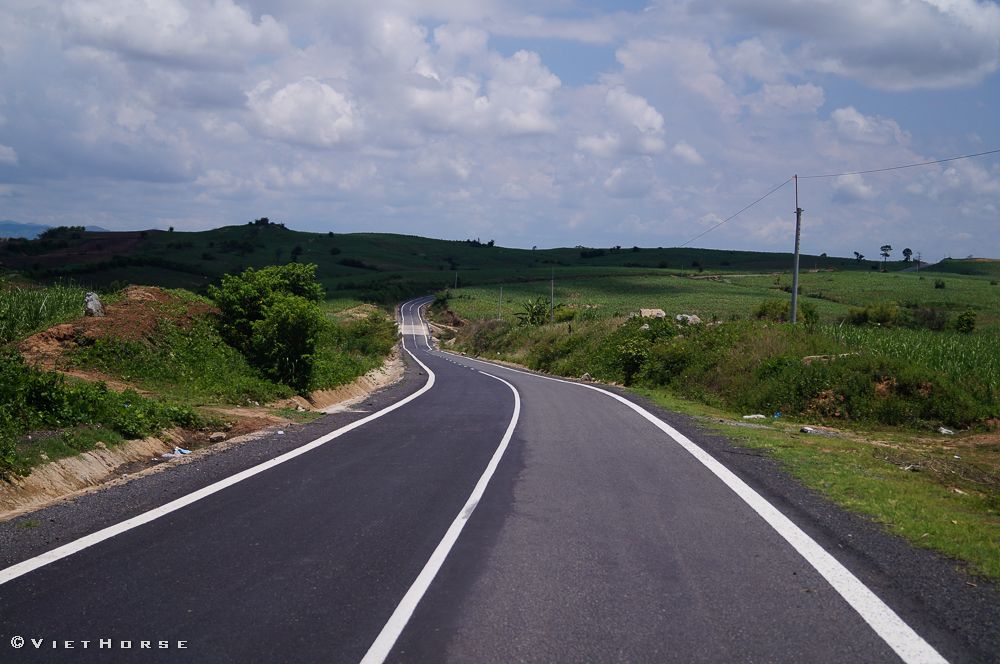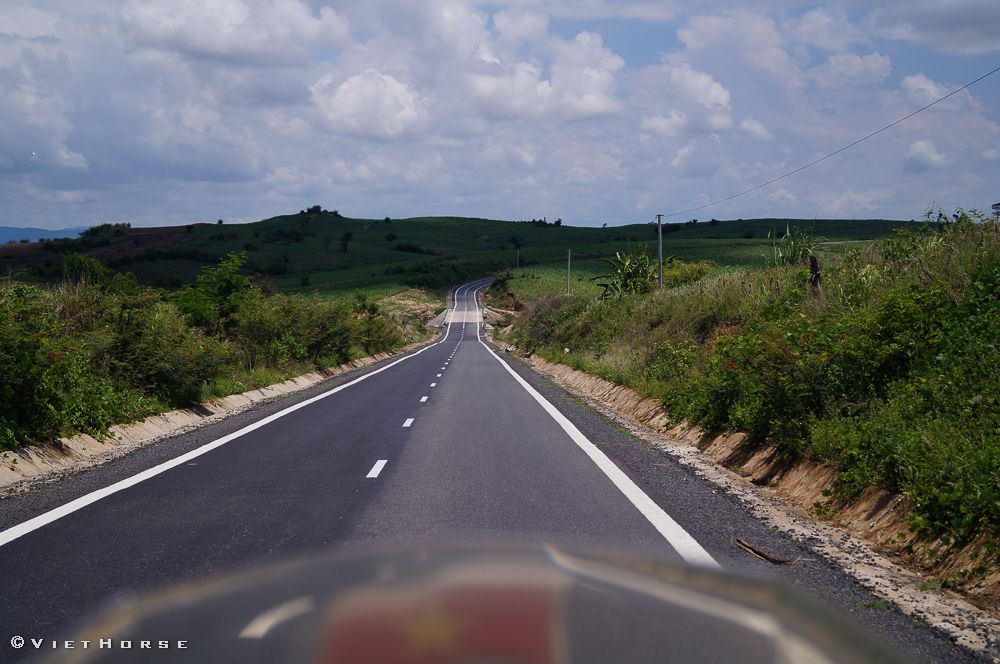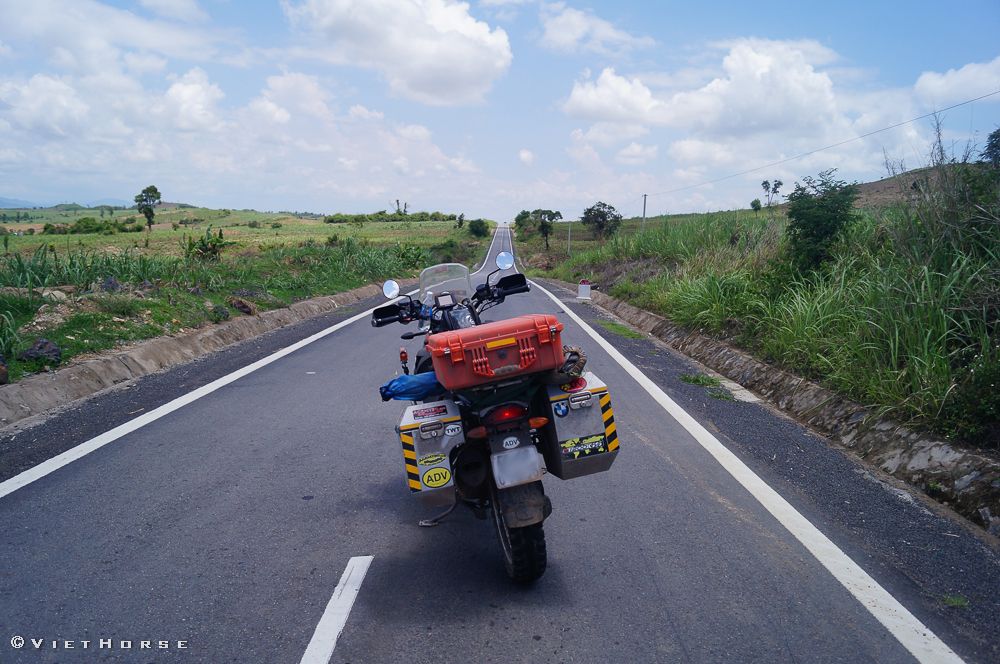 It's really a lonly road: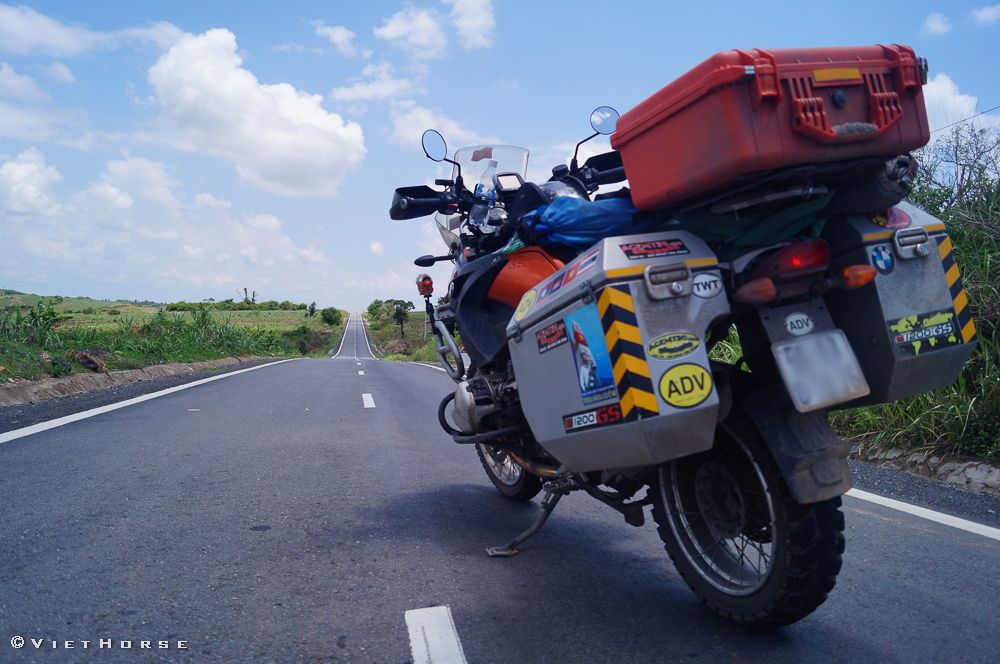 Got some signs of human around: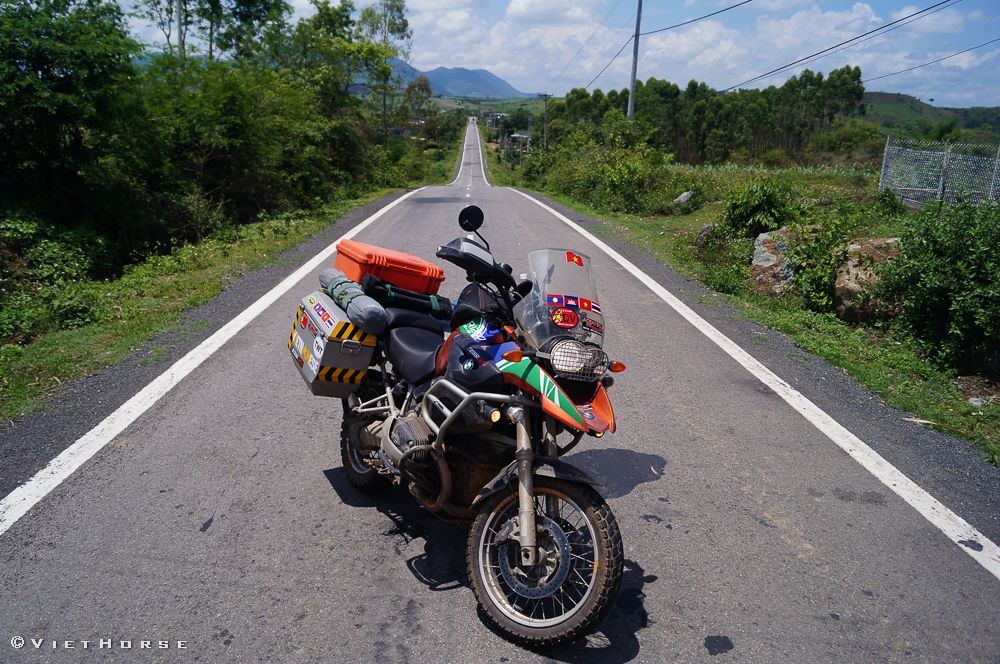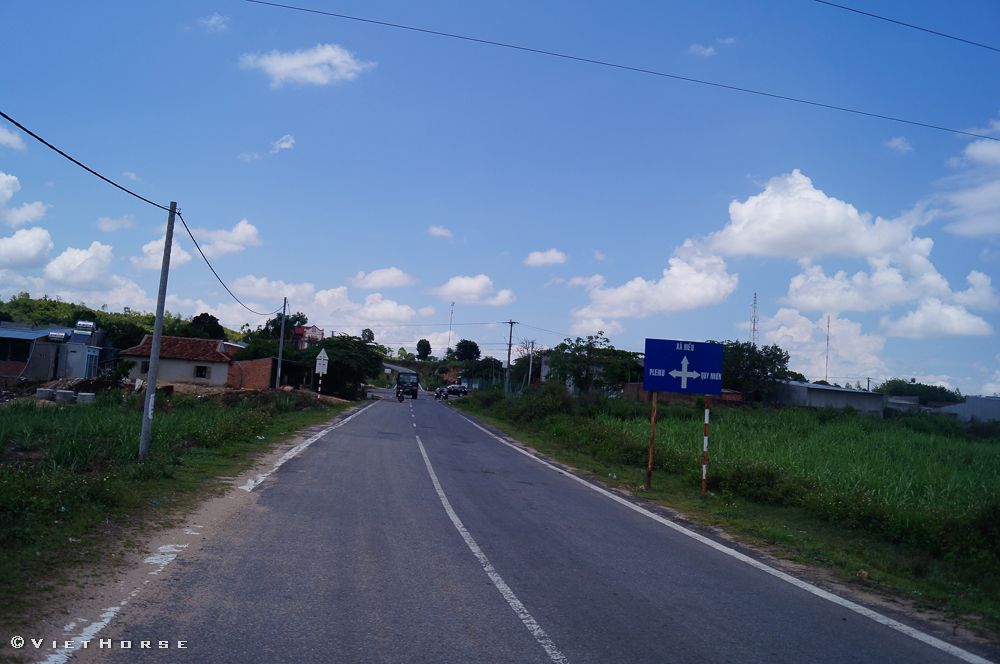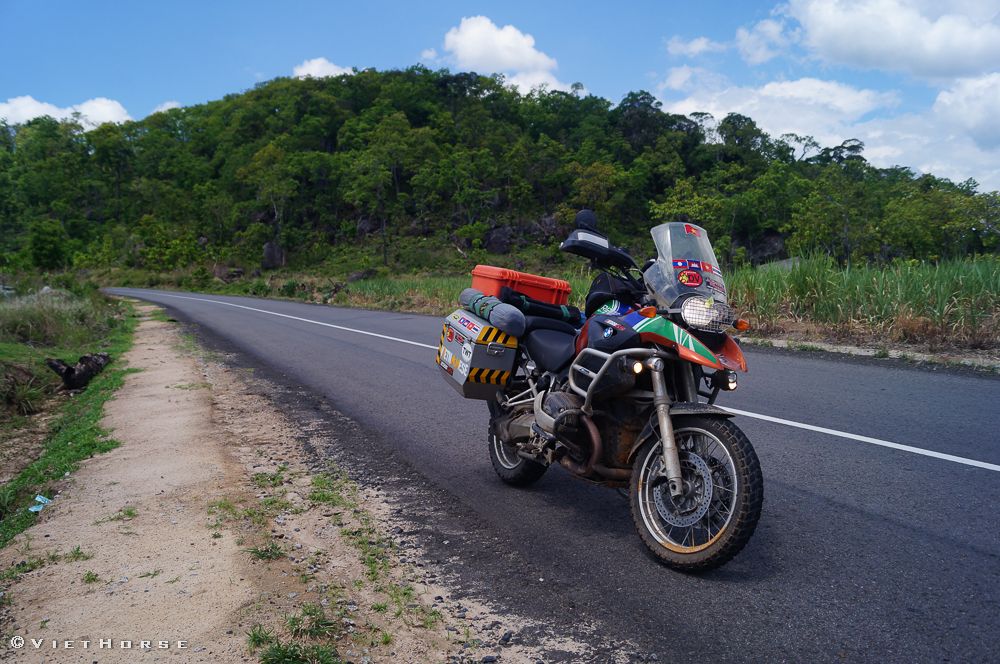 I had no idea what are they farming there: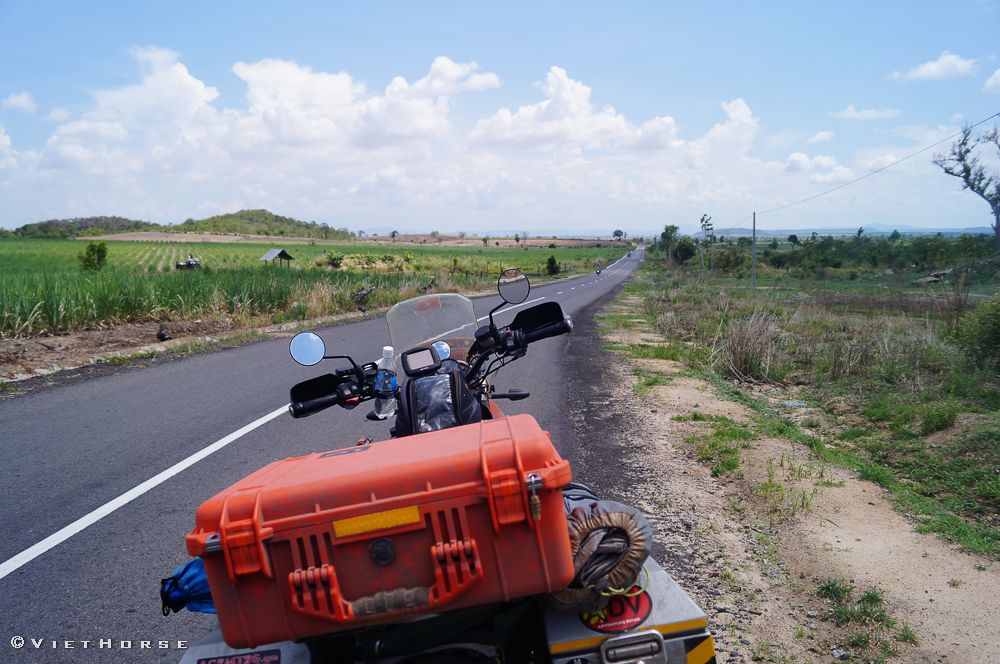 Now, that's the thing: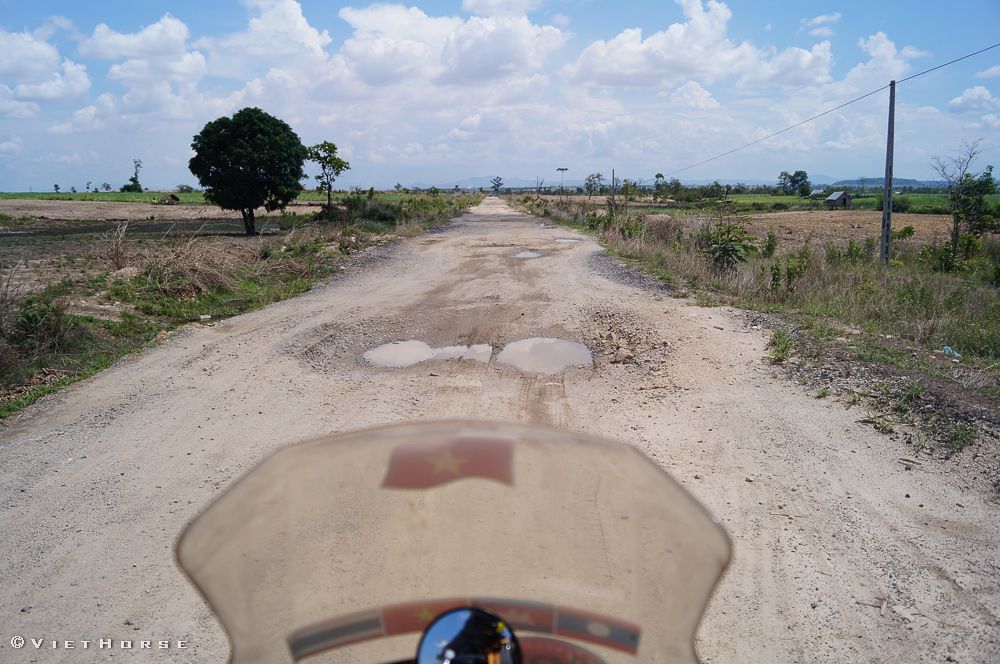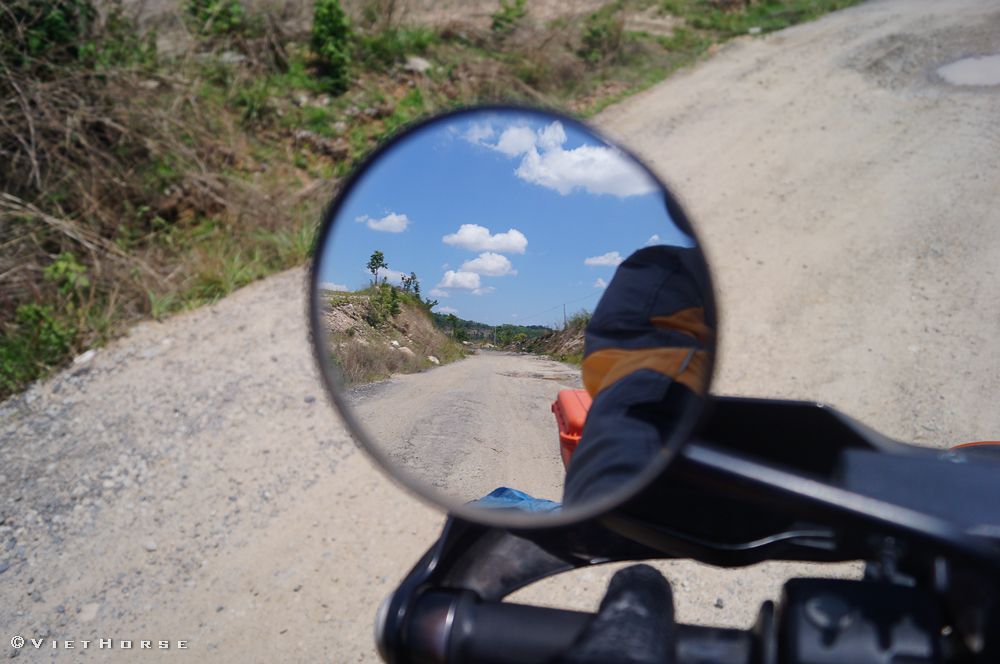 Will you close your eyes and fly over?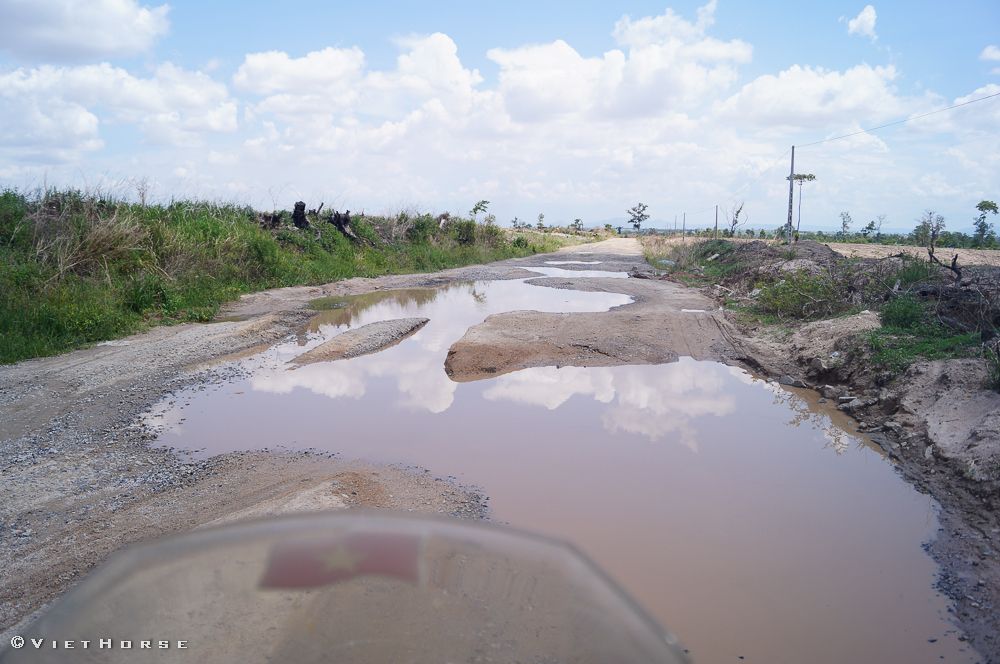 Passed the offroad segment, reached the population area :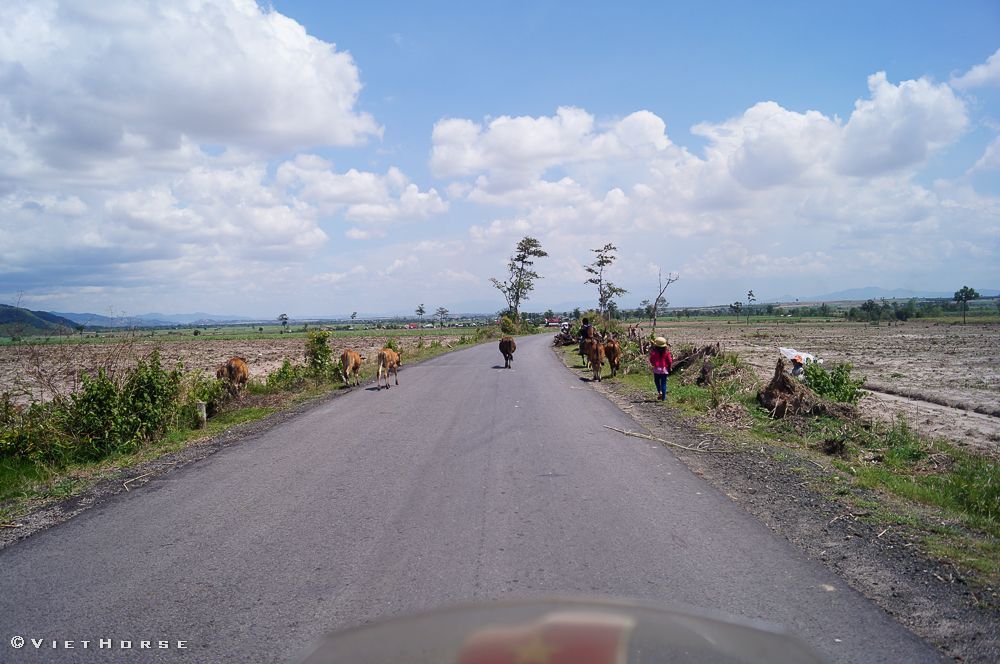 See what put on the road side – that's rice:
Packing:
Finished field: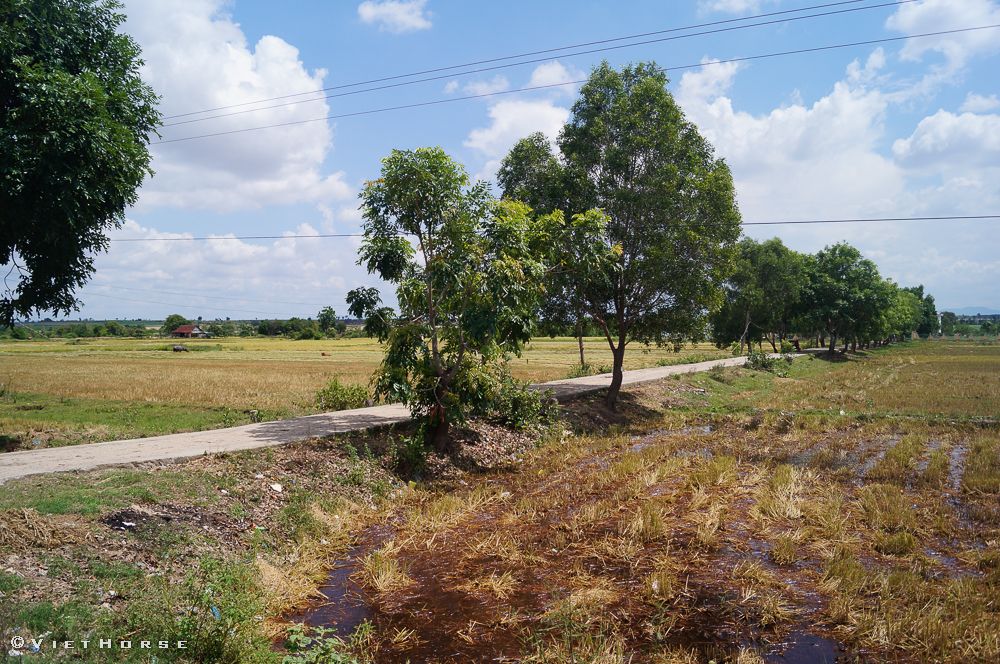 It's a provincial border: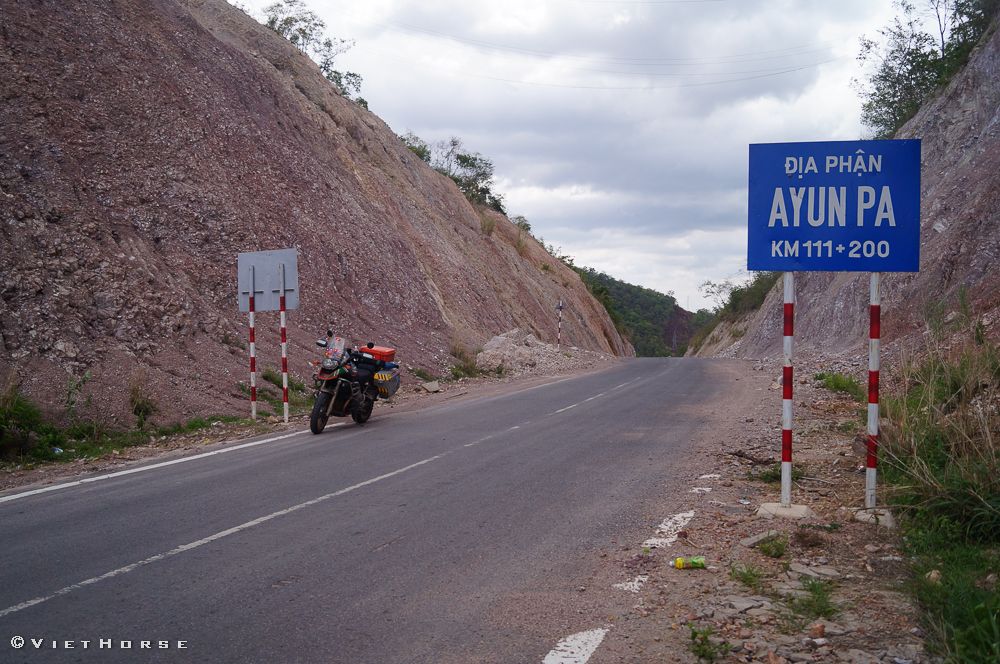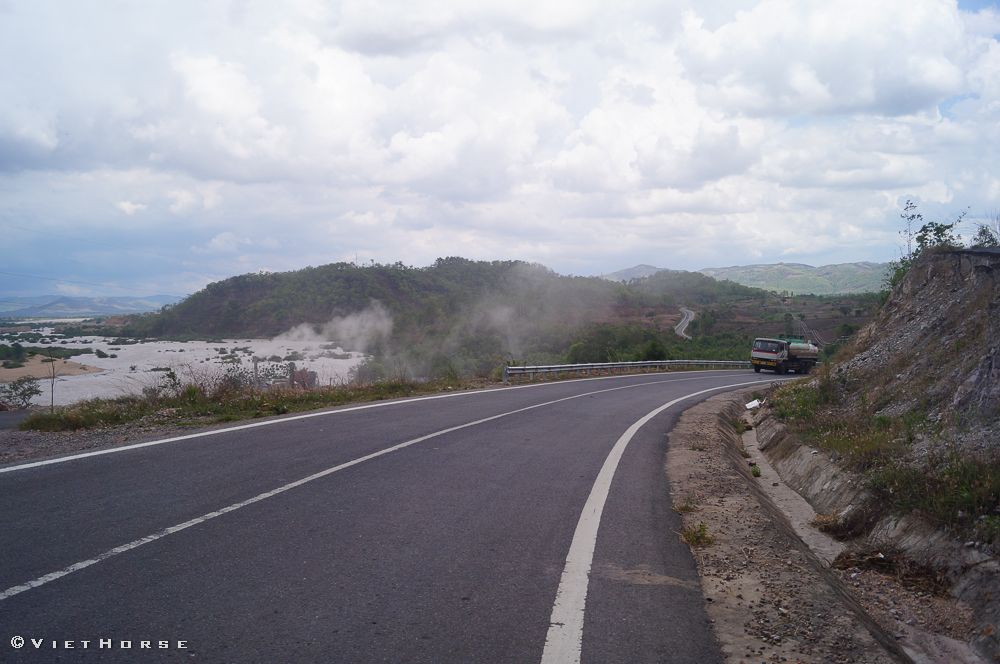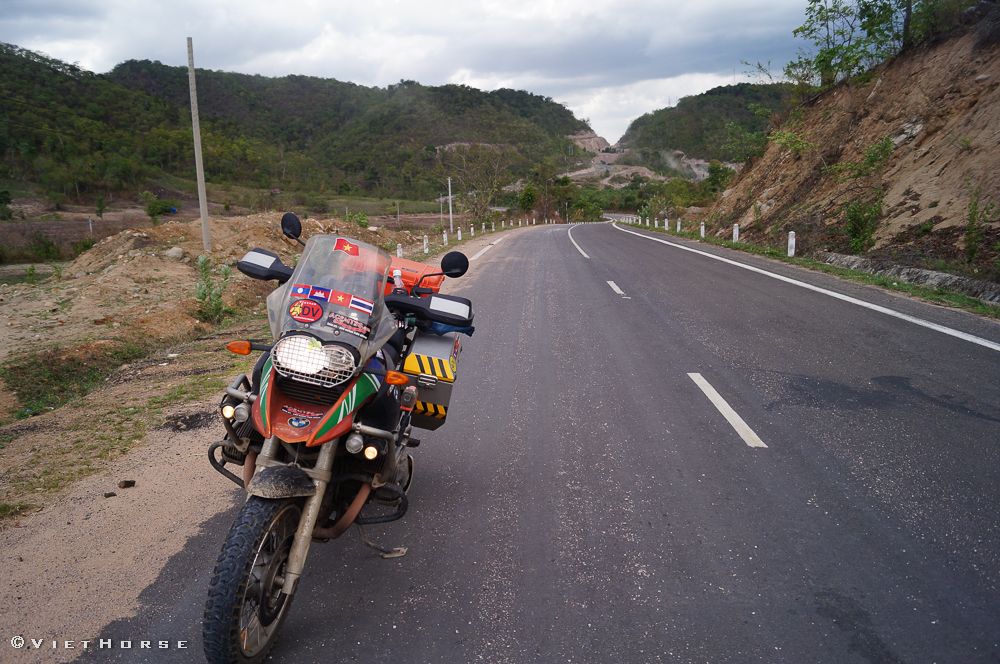 2929 km – and almost out of fuel 
: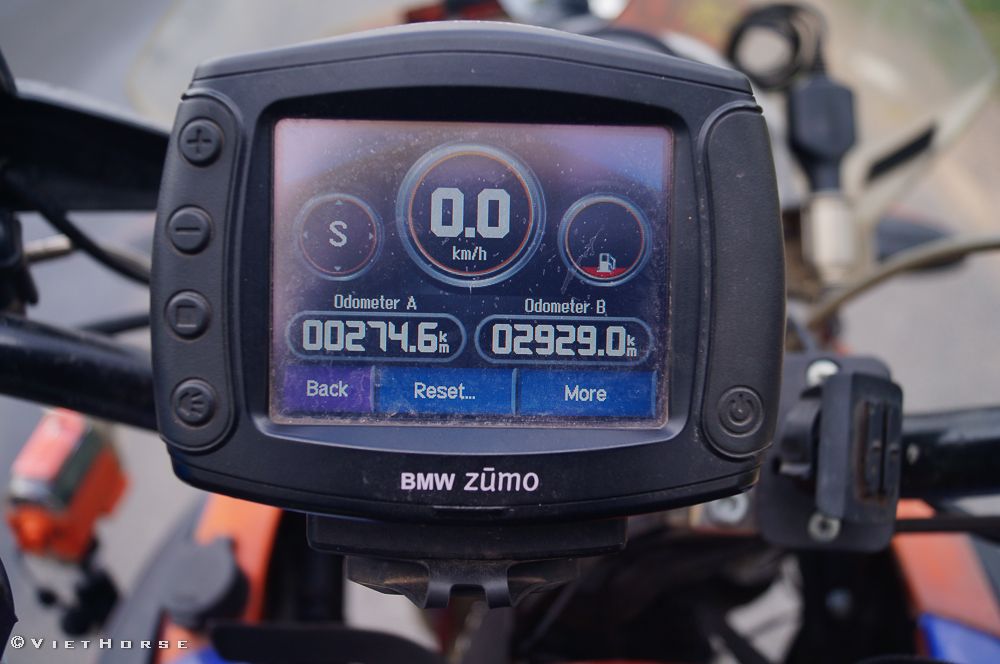 It's familiar scene at any area of Vietnam highland: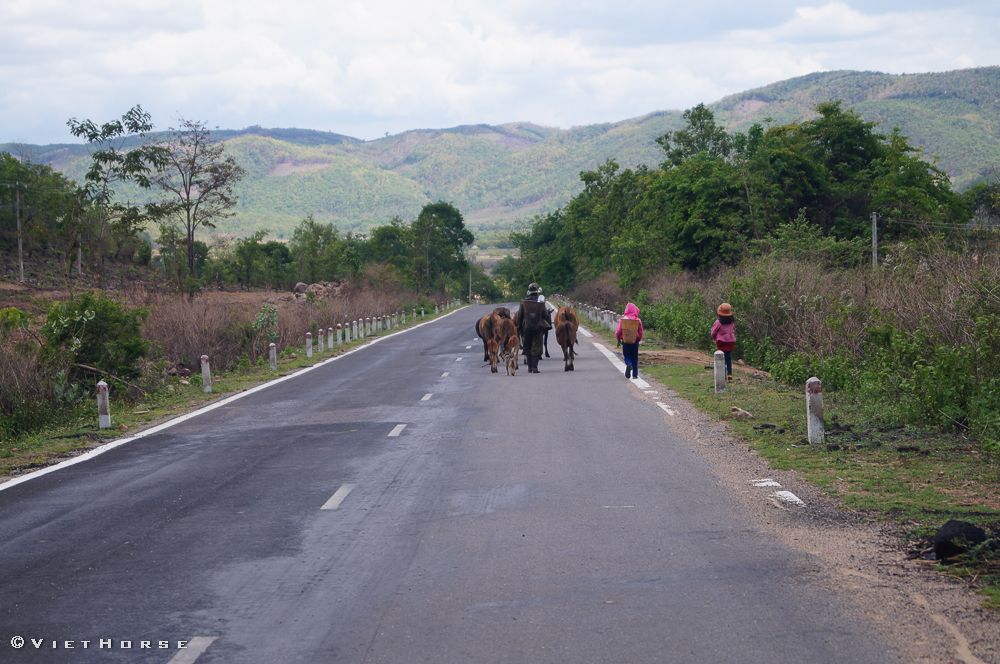 When crossing a bridge, I heard a strange sound from the back.
Stopped the bike, see what I got: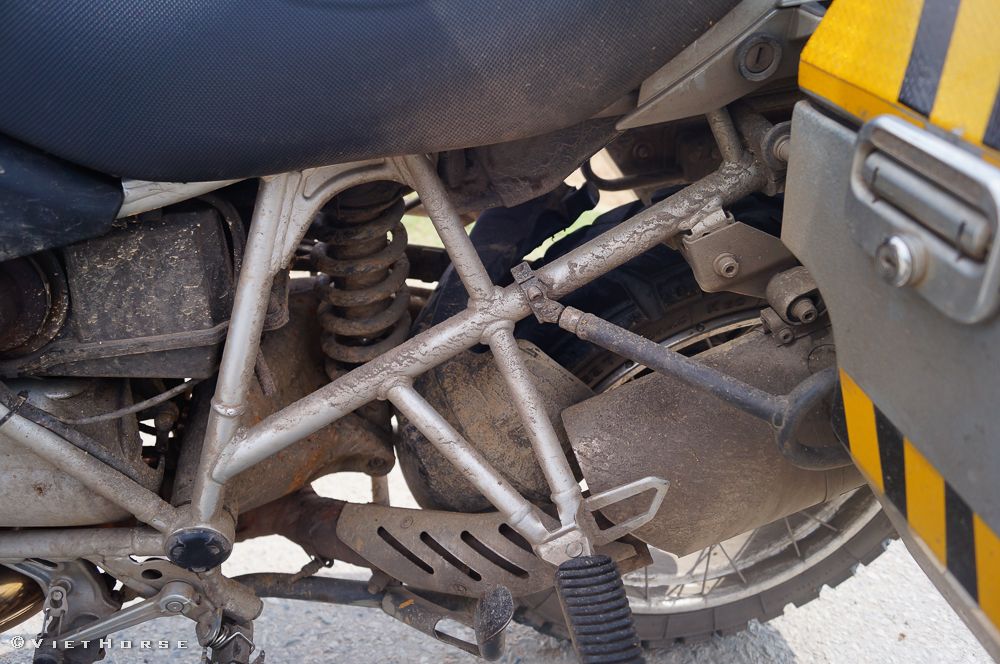 Damn, the rear mud guard was cracked and went inside the bike bottom.
It was quite hard to take it off: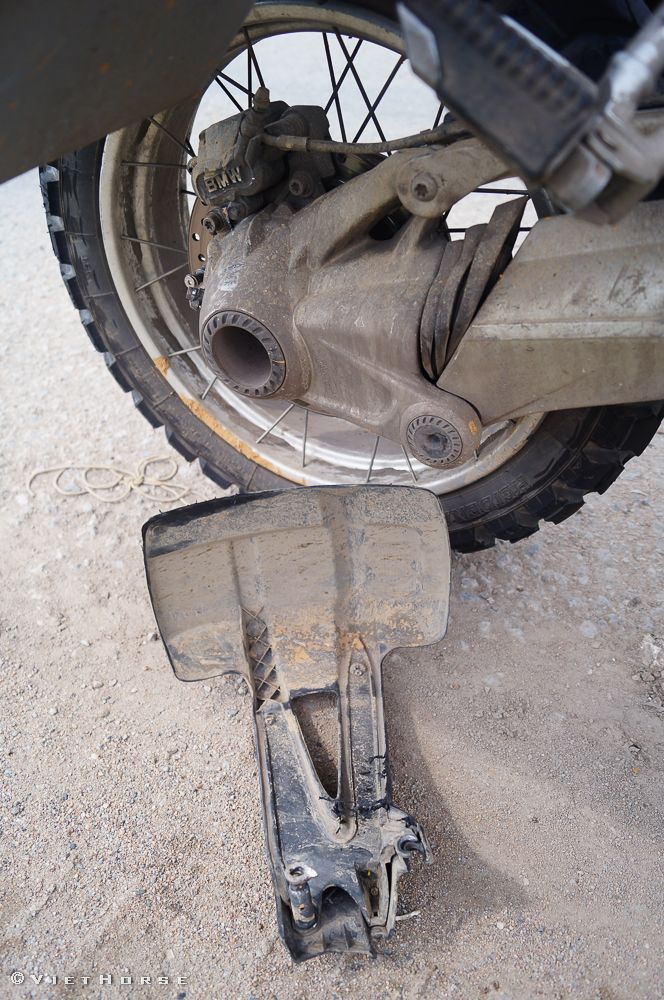 Not a good looking part:
Reached my friend's place in the rain: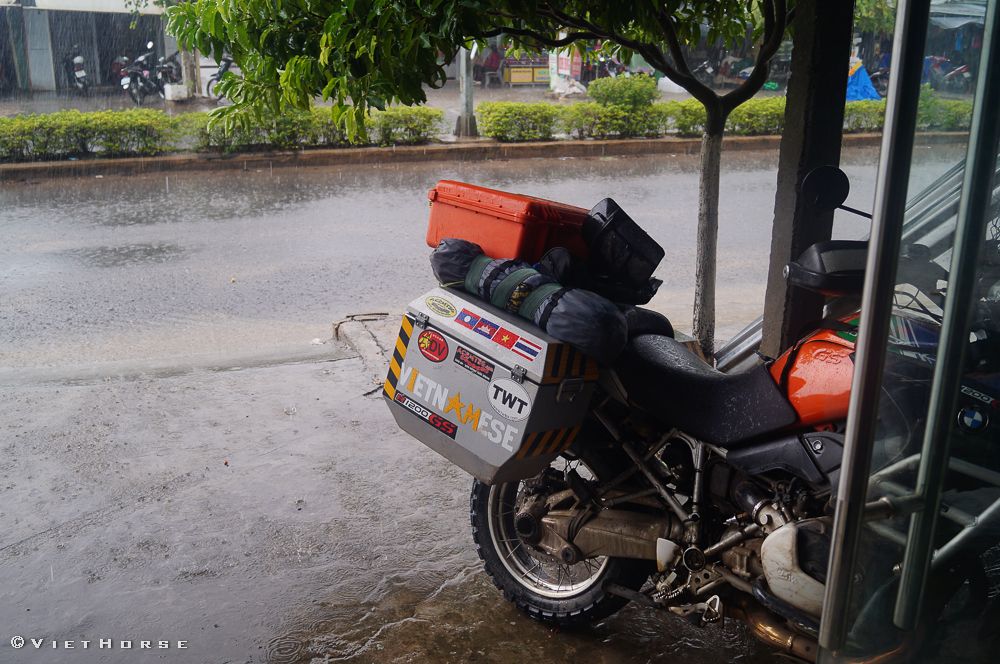 When the rain was almost out, friend guided me out of the province: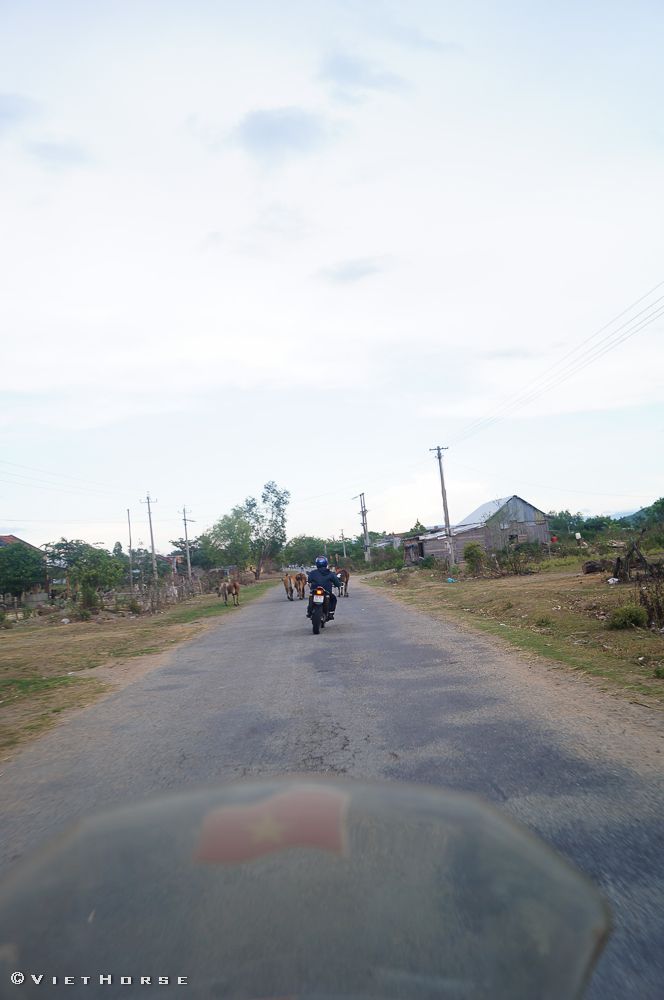 some sort of private roads: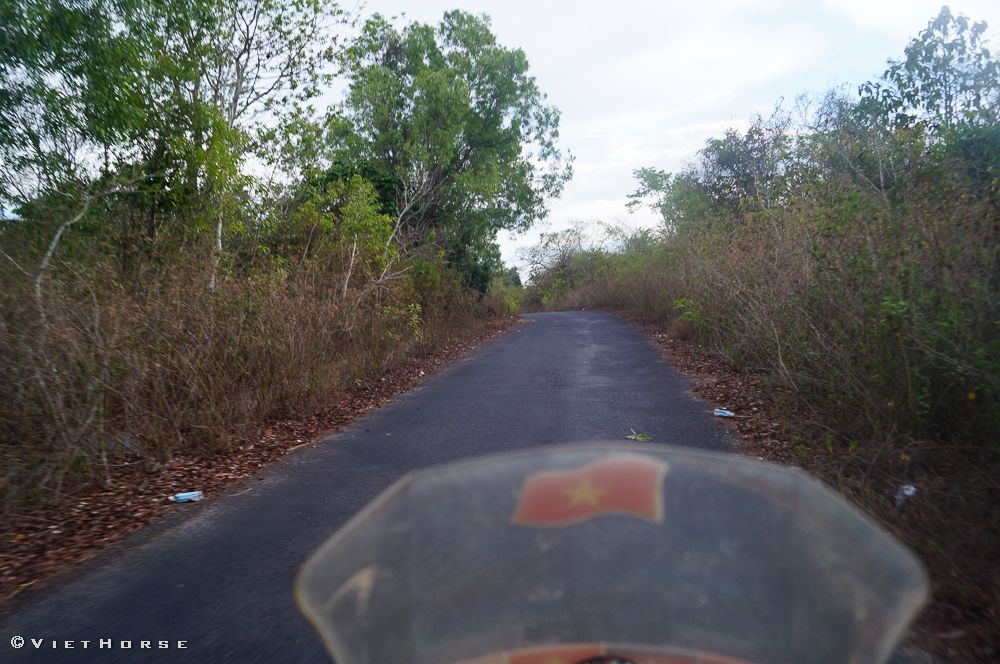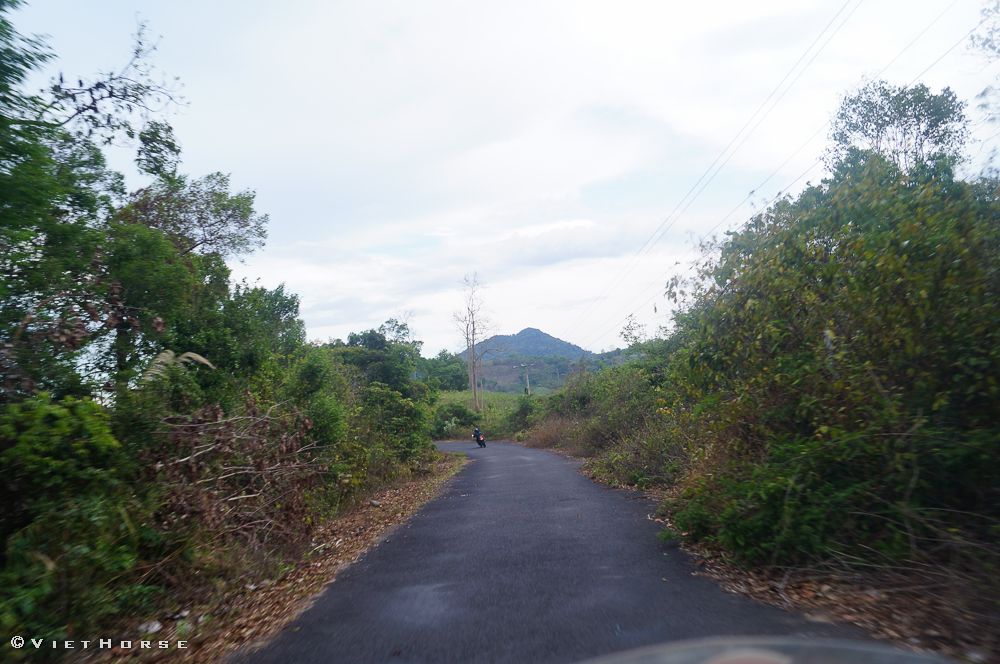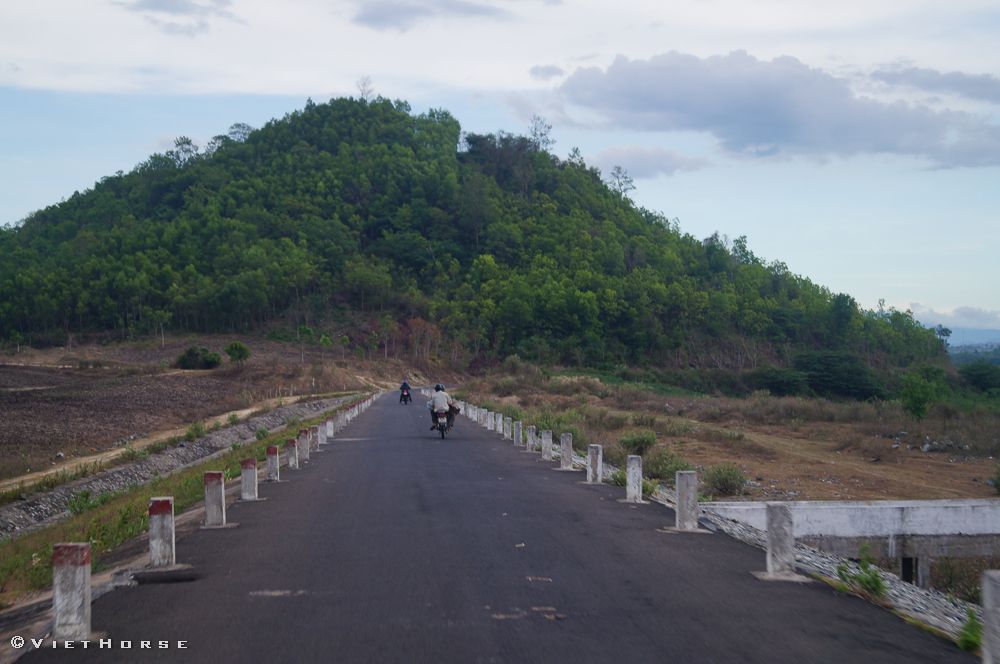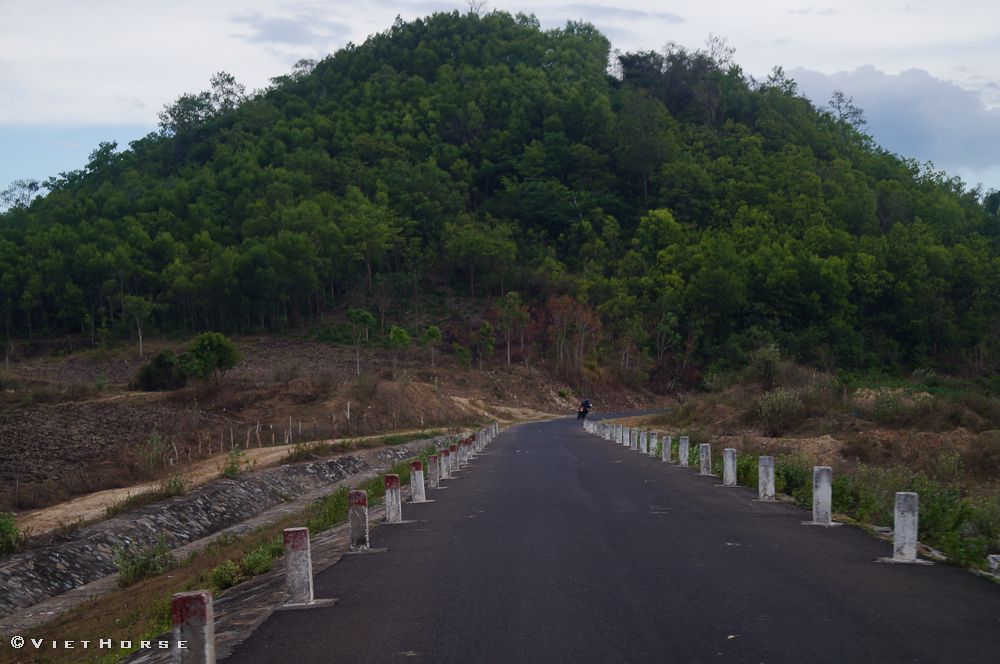 It's a boundary of a hydro-power-plant lake: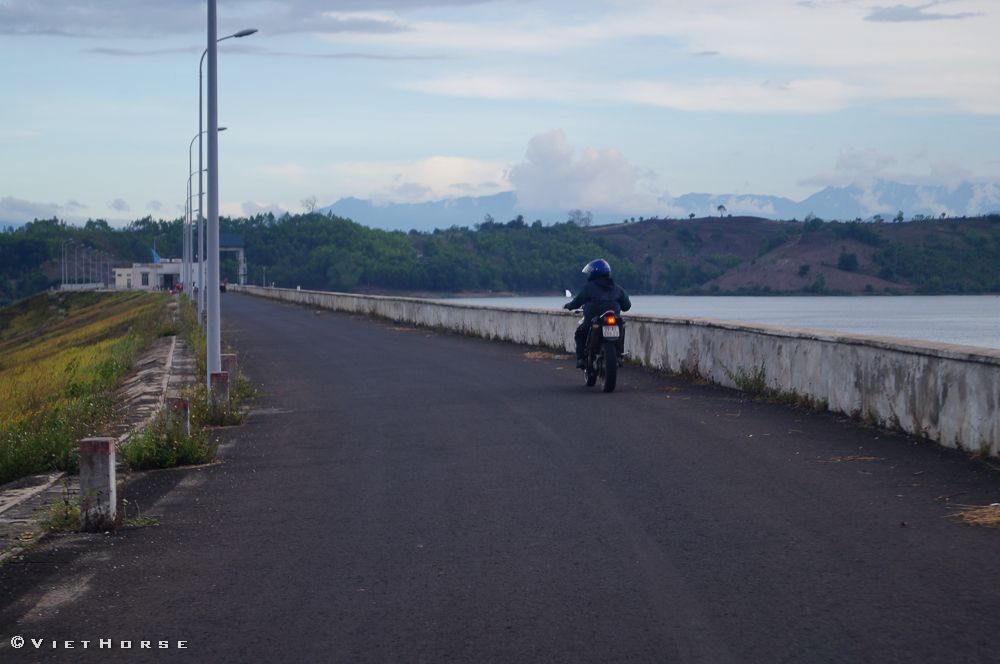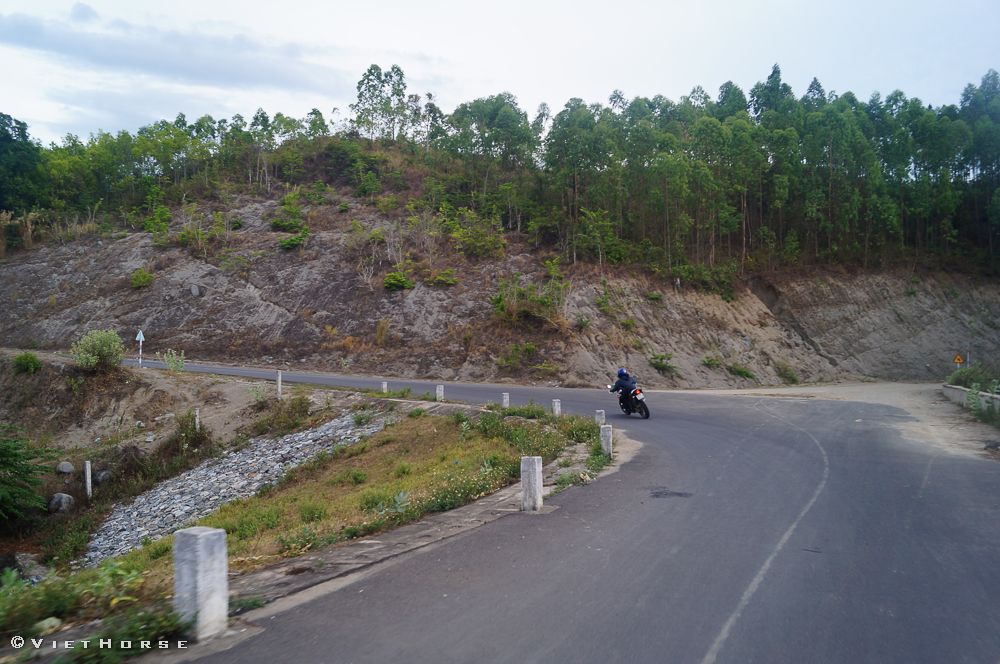 Said good bye to the friend, I continued with the lonely highland road. Reached Daklak province when it was almost dark: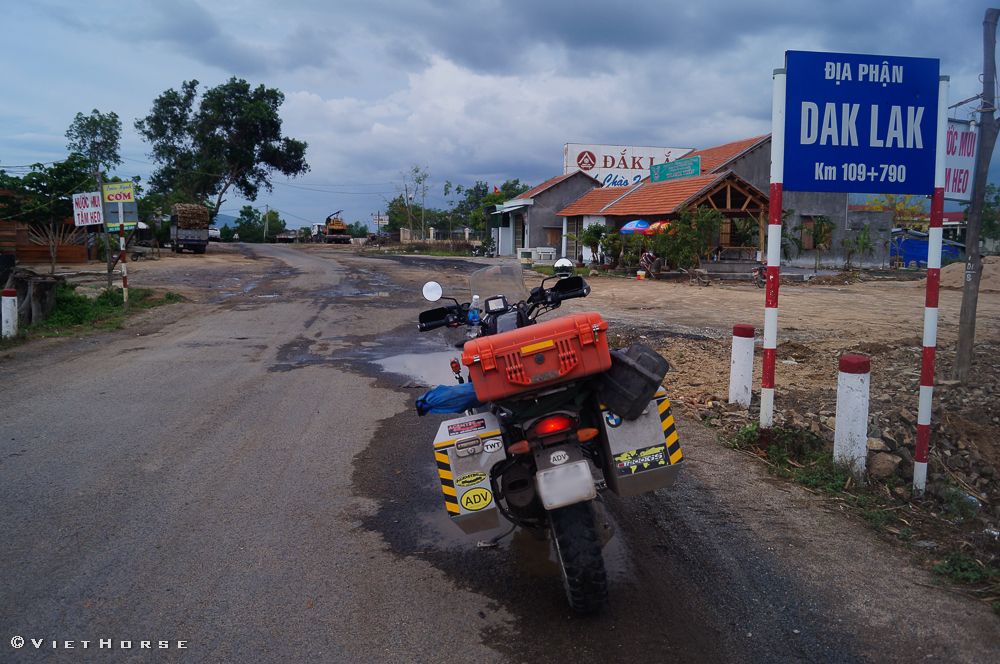 Not a good road, at all: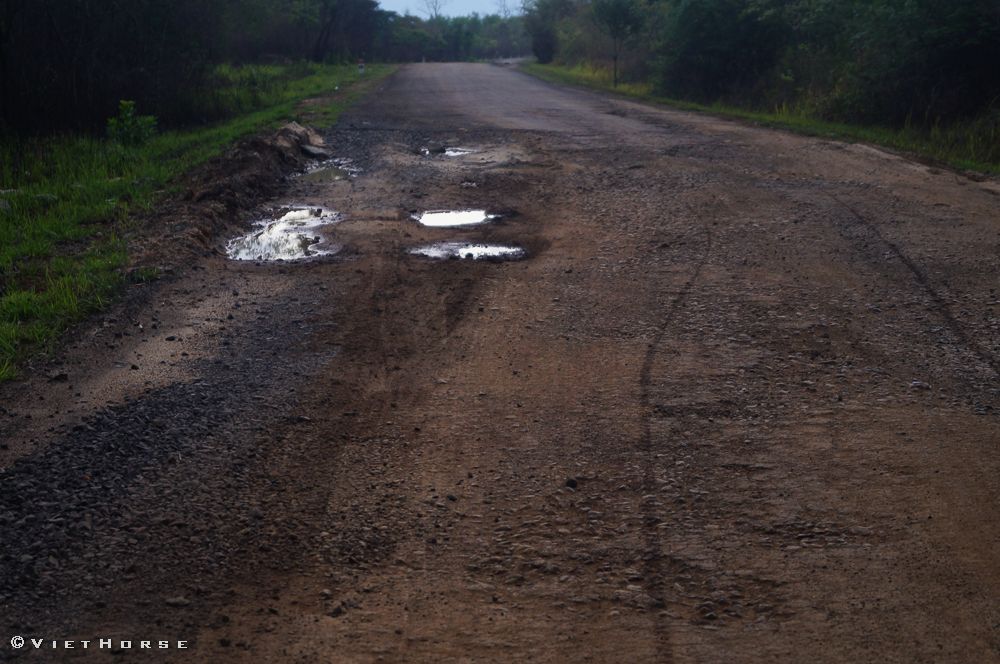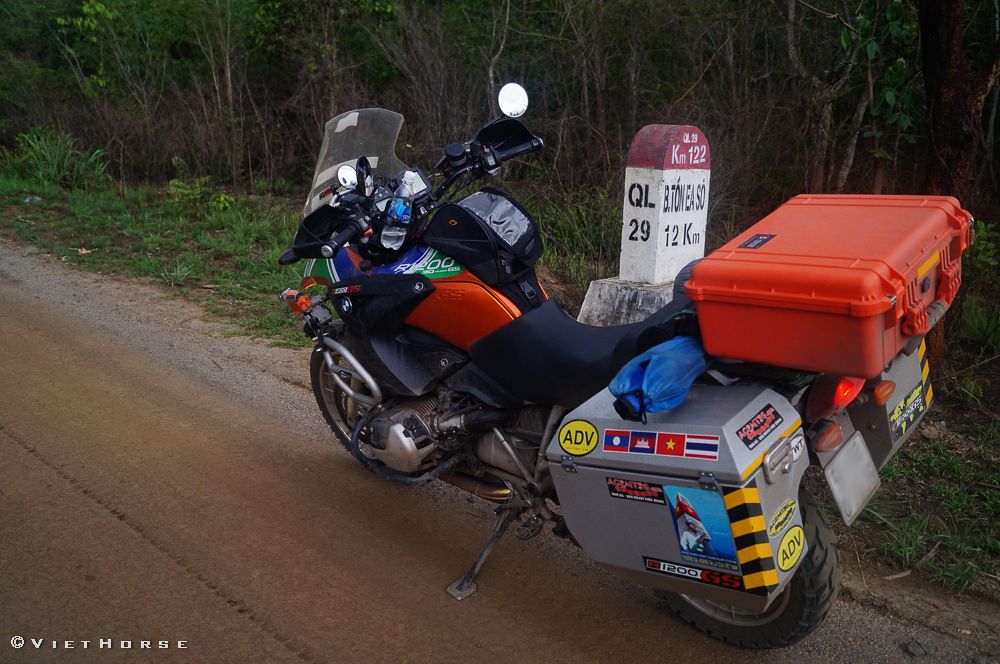 Dark, bad road, lonely, rain,…. every not-good things for an afternoon..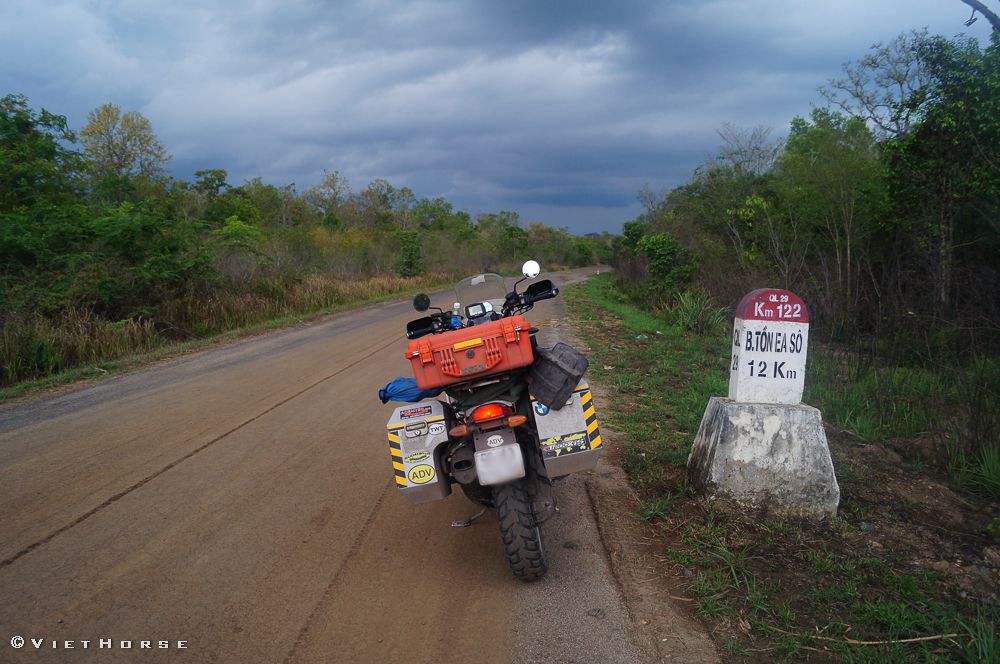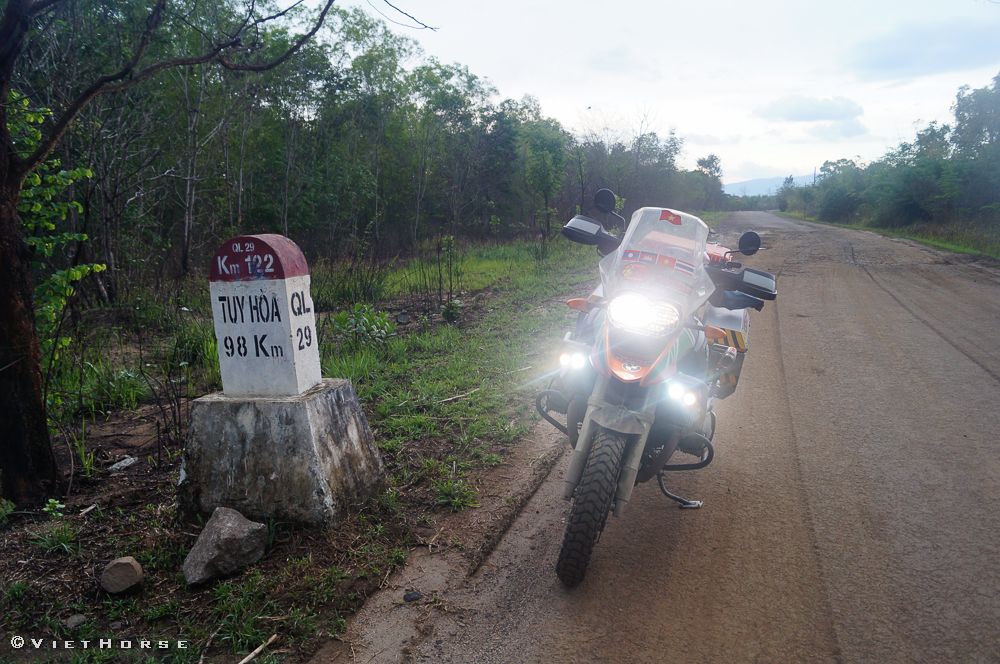 Another milestone for a wet evening: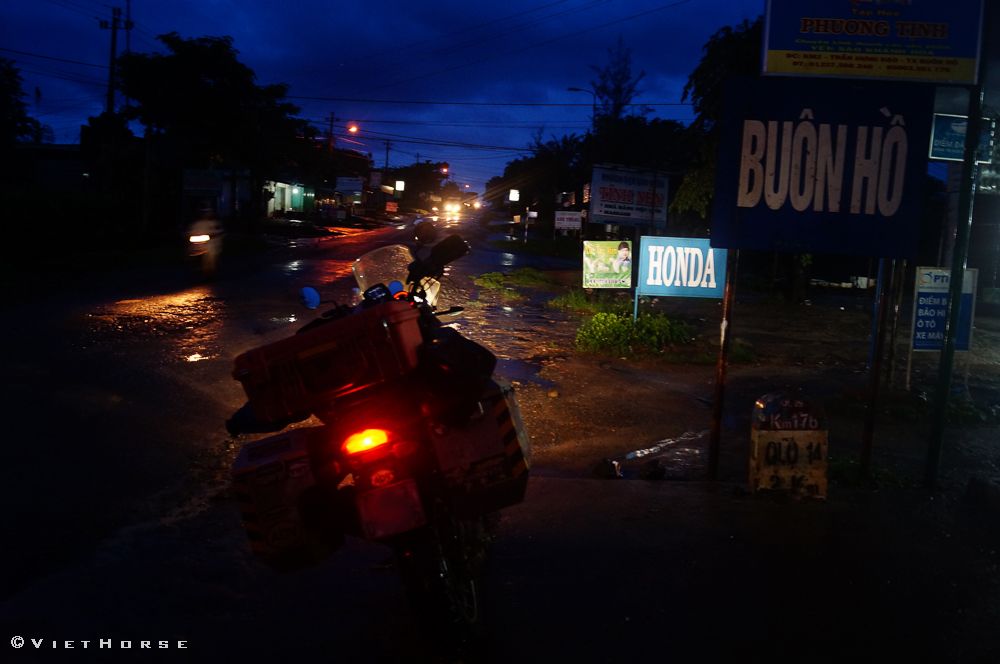 I went into another friend's house for that night.
He has prepared for me a really big room, one for me, and one for the bike. 

Our dinner out: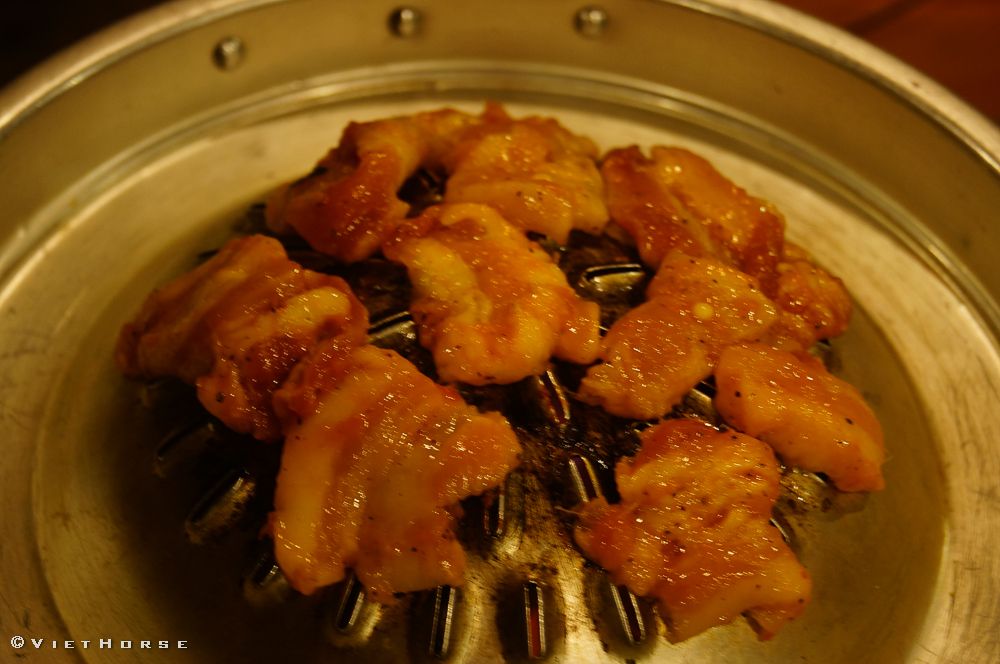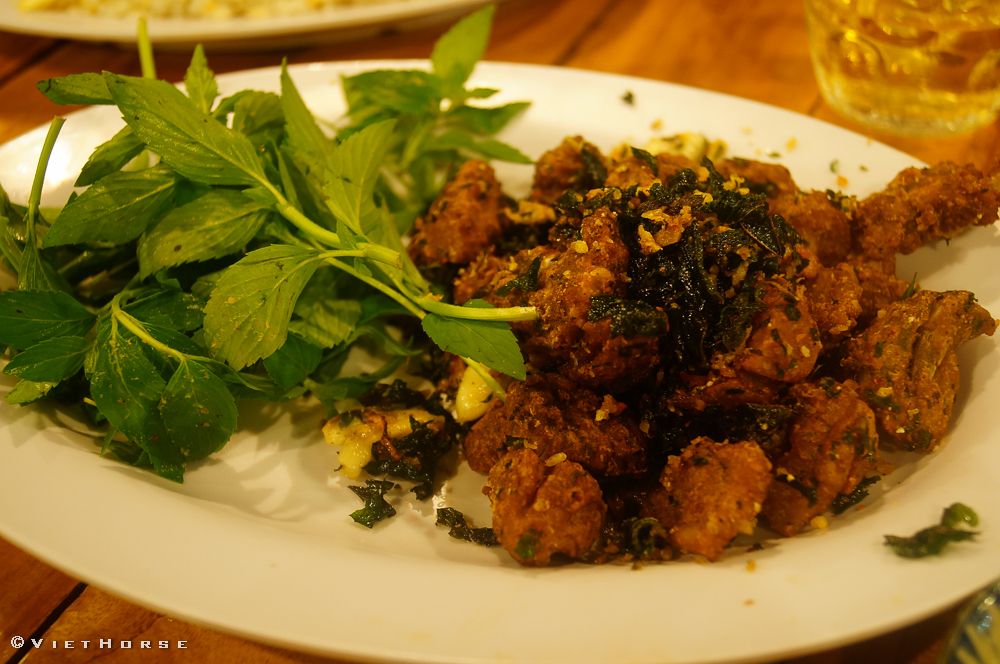 Look, his ground floor – bunch of car care stuff: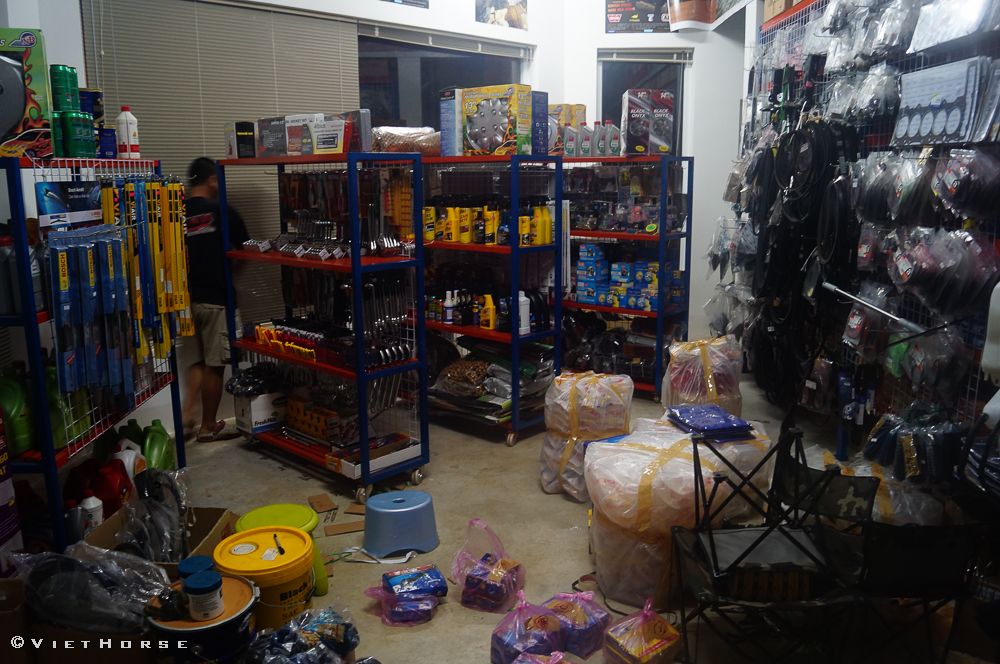 Well, I thru my rear mudguard in his house.