A perfect trip should be a well prepared trip. That's why you need a tool kit to bring along. It helps you to fix some issues along the way.
Depending on each riding trip, bike selection, road type, trip duration as well as your mechanical skill, etc… you can prepare a best fit tool kit. Don't try to buy a "perfect" tool kit for every trip, as it does not exist. All you have to do is to study and try to arrange for the needs of you and your bike.
Some personal tips for tool selection of mine:
– As light as possible: several types of wrench available, I like to bring the dual size wrench type, that allow me to bring one wrench with two sizes, same thing for the screw-driver, use the dual type one,…
– Only bring with the critical tools: best if you can identify some regular issues of your bike and bring with appropriate tools. If your bike required some special tool, bring it with you (e.g. my front wheel tool)
– Use multi-function tool: combination of knife, scissors, pliers, screwdriver, etc…
– Use a small spanner – instead of many size wrenches
– Zip ties and electrical tape are mandatory
And here is my tool kit for 2-4 days trip, by BMW GSA, less than 30% offroad, no matter rain or not.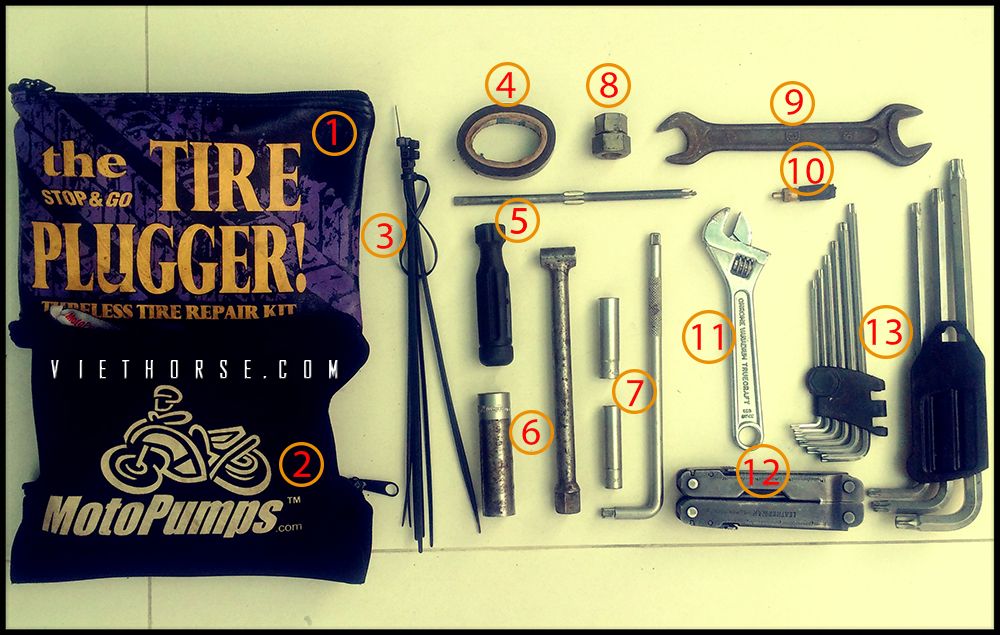 1. Bộ vá vỏ không ruột / Tubeless tire repair kit
2. Bơm hơi / Air pump
3. Dây rút / Zip tie
4. Băng keo cách điện / Electric tape
5. Tuốc-nơ-vít 2 đầu / Dual screwdriver
6. Bộ đồ mở bugi / Spark plug opener
7. Tuýp 8-10mm / 8-10mm hex head socket
8. Đồ mở trục bánh trước / Front wheel tool
9. Cờ-lê 17-19mm / 17-19mm wrench
10. Đồ tháo ti van / Tire valve stem tool
11. Mỏ lết / Spanner
12. Dao đa năng LEATHERMAN / LEATHERMAN multi-tool
13. Bộ khóa lục giác bông / Torx key set
This weighs 1.26kg excluding the tire plugger and air pump:
The tool kit fits just fine inside the Plelican top box
Click HERE for the Pelican topcase DIY
Wish you have best selection of your tool kit.